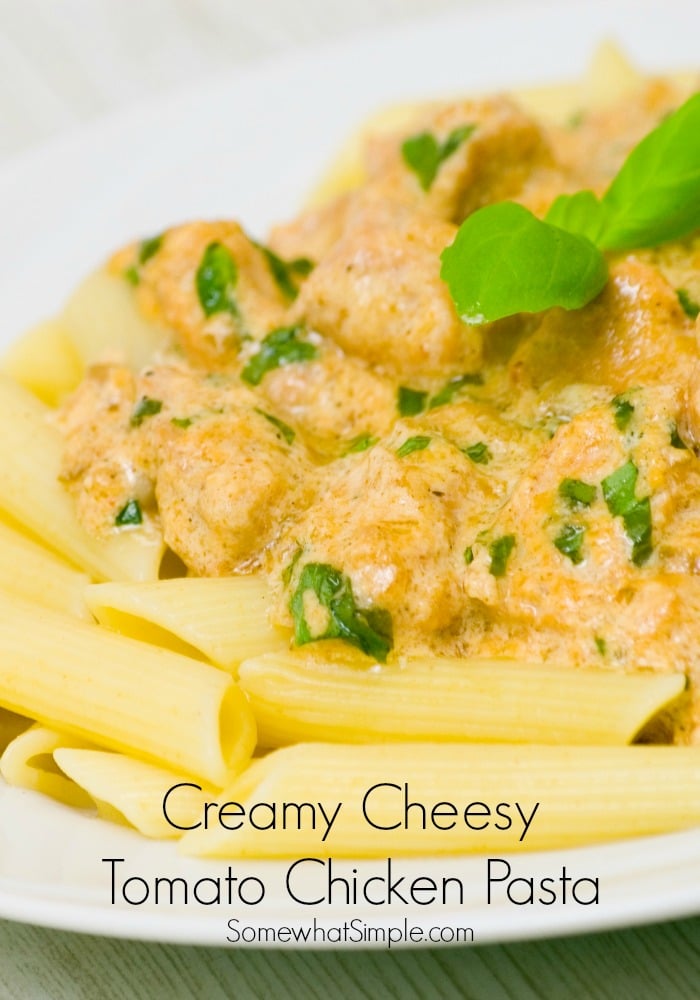 My fantastic sister in law, Megan, made this dish for our family last week and I couldn't get enough of it. Best of all, my kids loved it too! She calls it "Creamy Cheesy Tomato Chicken Pasta" – but around here, my kids know it as "Aunt Megan's Pasta." (which is even easier for me to say too!)
Ingredients:
4 thin sliced chicken breast
6 cloves of garlic
2 tsp flour
1 c. chicken broth
1/2 c. heavy cream
2 oz. cream cheese
8 oz. tomato sauce
1 tsp. red pepper flakes
1 tsp. oregano
2 tsp butter
1 c. shredded Parmesan cheese
Notes:
The 1 tsp. red pepper flakes makes it pretty spicy, so I would add less if you are feeding to the kiddos.
You can also add one can of drained petite diced tomatoes to the mix, just to add a little something extra.
Directions:
Melt butter in a pan; add chicken and cook until just done; move chicken to a baking dish and cover (keep drippings in the pan)
Add flour to the pan and stir until pasty
Add chicken broth, red pepper flakes, and minced garlic, simmer 1 minute
Add cream cheese, cream, tomato sauce and most of the Parmesan cheese, and oregano
Cook over medium-high heat until thick and bubbly; stirring almost constantly
Pour sauce over the chicken; top with the rest of the Parmesan cheese
Bake uncovered at 400 degrees for 10-15 minutes
ENJOY OVER YOUR FAVORITE PASTA!
This recipe originally featured on Somewhat Simple in July 2009