10 ways to decorate with benches in your home that are both charming and functional!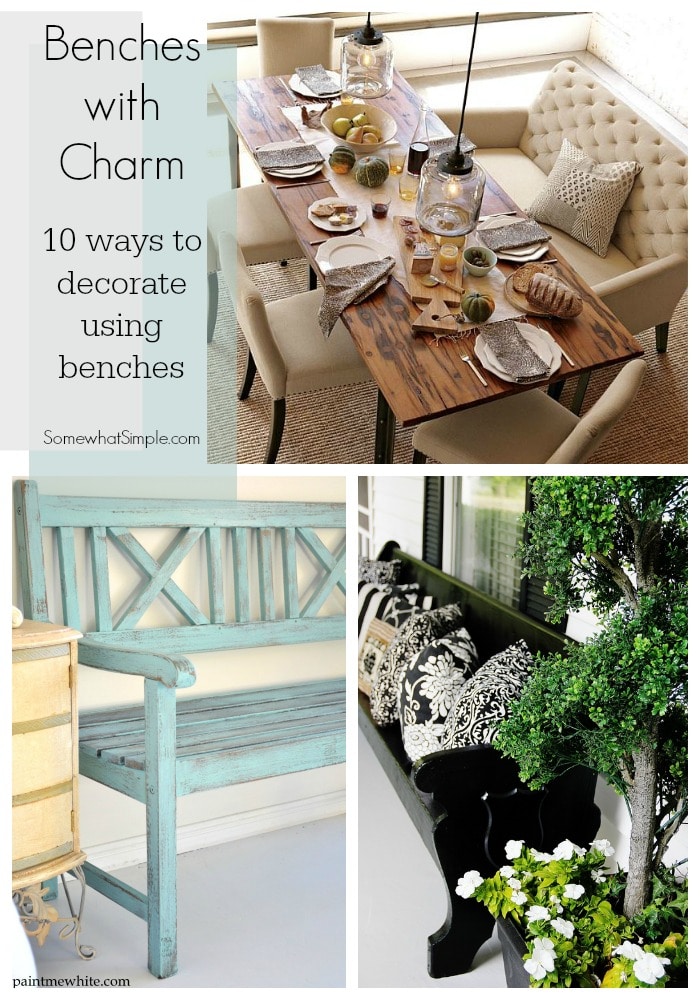 There are a number of ingredients that go into cooking up a perfectly decorated space – there should be a defined color scheme, light fixtures, furniture, as well as accessories. Accessories can run the gamut from tabletop decor and lamps to charming pieces like benches. I love benches – benches on the ends of beds or perched in a living room, in an entryway and even outside. Here are 10 ways to decorate with benches that I think are conversation-worthy.
Indoor Picnicking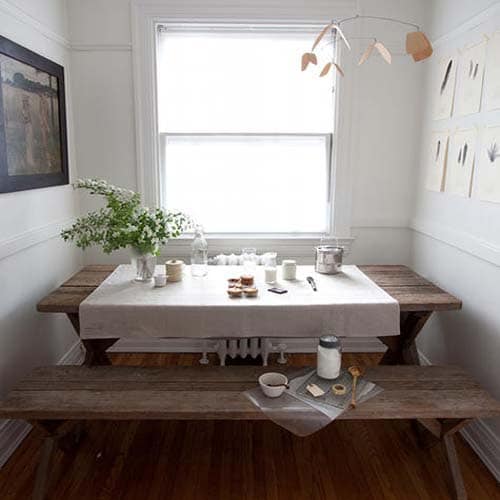 Herriott Grace featured on Design Sponge
A classic wood picnic table with bench seating is the perfect way to bring some of the coziness of the outside in. A simple white tablecloth and fresh floral blooms in a clear glass add a touch of elegance.
Enchanting Antique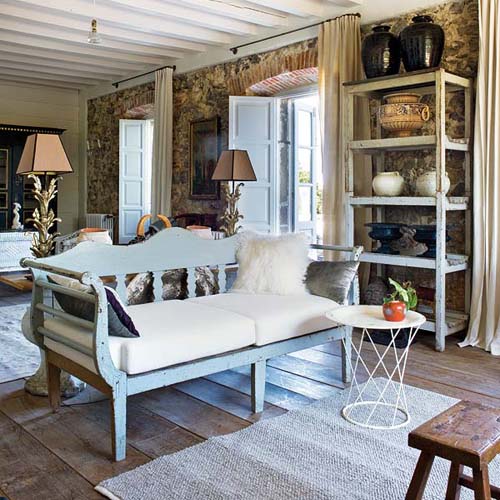 Eclectic Revisited by Maureen Bower (update: site has been taken down and the link no longer works)

A pale blue sleigh-style antique bench is an inviting place to sit and read a great book or simply just daydream. The matching lamps and ample windows illuminate the space.
Delicious Dining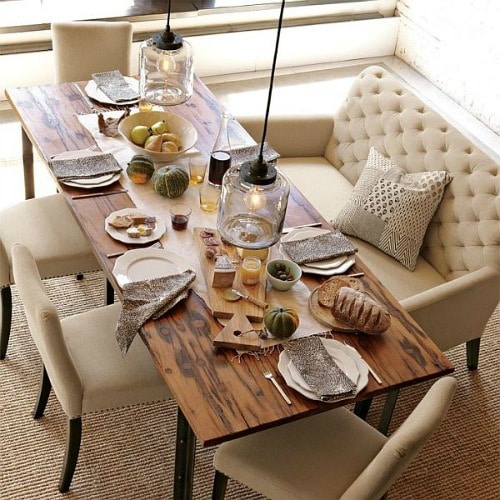 Exquisite, rich, lavish – these are just a few words to describe this tufted gem of a bench, which sits amid a modern/rustic dining room table and chairs.
Wonderful White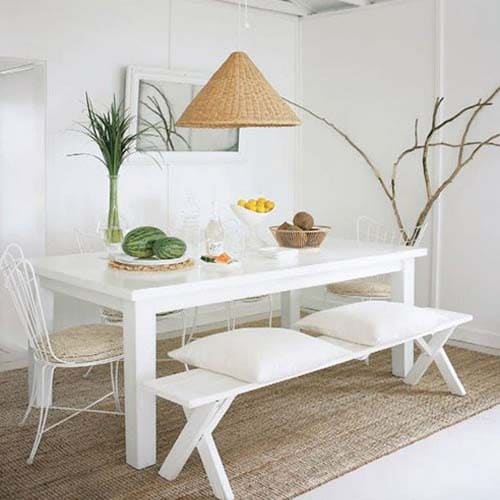 a priori via New Home Scenery
Like a beachy getaway, this casual dining set-up looks relaxed with white chairs and a bench, minimalist floral decorations and an organic wicker ceiling light.
Mod Endnote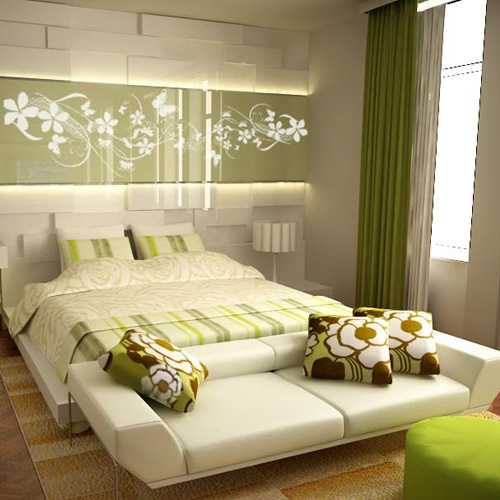 This contemporary spin on the classic gives the end of this bed a much-needed burst of classiness. The white striped table lamps are also a great touch.
Warm and Welcoming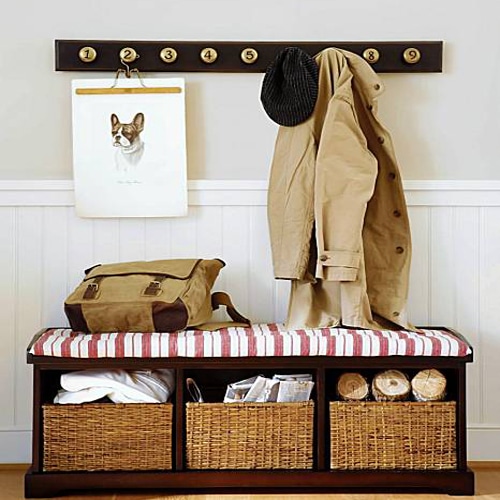 Via Pottery Barn
One of the best places for benches with charm is in an entryway – they can pull double-duty as a comfy place to sit as well as a stylish storage area.
Vintage Glam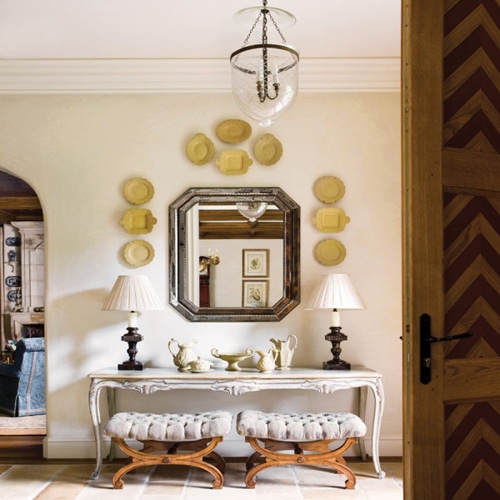 Inspired Mrs. Stevens via Decoist
Two tufted antique benches, paired with antique lamps, earthenware and a glass ceiling fixture, are a stunning hallway display.
Spectacular Separator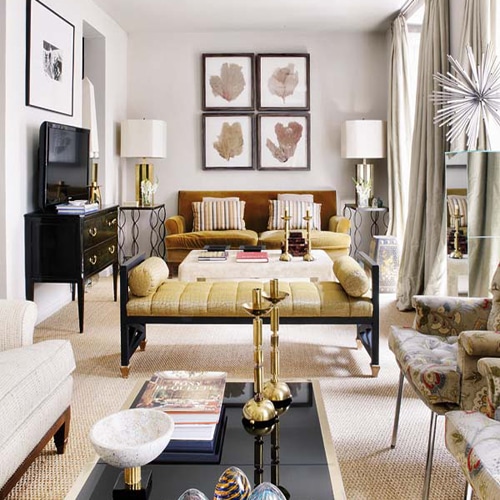 If a room is quite long, a pretty way to visually "divide" the space is with a bench, like this vintage model with gold-encrusted feet and long oval pillows on either end.
Perfect Porch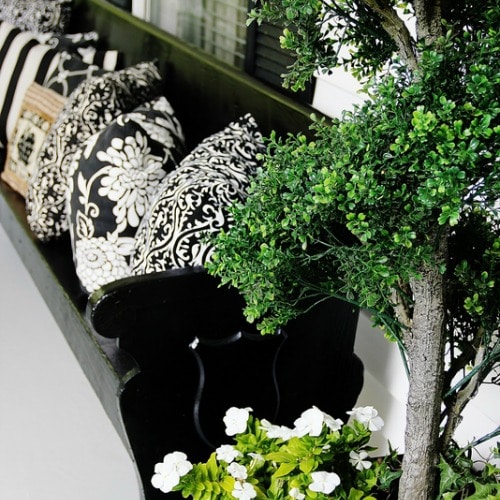 I love a cozy place to sit and watch the kids play when the weather is nice! This bench on a porch with pretty pillows is calling my name!
Cute and Casual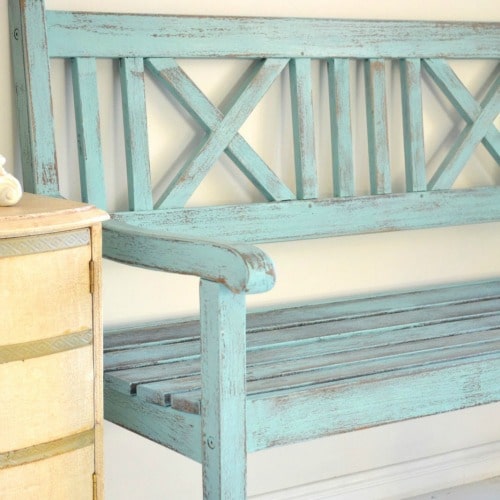 Via Paint Me White
Often times a small piece of furniture can become quite the statement piece if painted an eye-catching color, like this darling blue bench.
. . . . .
So there you have it! 10 Ways to Decorate with Benches- do you have a favorite?
ABOUT THE AUTHOR: Hi all! I'm Jennifer and I write for Arcadian Lighting Blog, a site that specializes in lighting trends from around the world. I've been writing about home decor since graduating and I love it. I'm addicted to patterned fabrics, Jonathan Adler, chaise lounges, old doors, milk glass jars, antiques, and chandeliers.
This post originally published on Somewhat Simple in August 2011 but was updated in November 2014