Fabric bookmarks are a perfect beginner sewing project for kids! It's also a great way to use up some of those fabric scraps!
Learning to use a sewing machine can be a bit nerve-wracking for both kids and adults. This fabric bookmark tutorial makes it super easy for kids to make a simple project using the sewing machine. Plus it's a great way to practice sewing straight lines. The kids will love being able to use something they created to save their places in books!
DIY Bookmarks
FABRIC BOOKMARKS – MATERIALS :
fabric
scissors
interfacing, such as Pelon
sewing machine
ribbon
pinking shears
match or lighter
BOOKMARK – DIRECTIONS :
Cut 2 pieces of fabric slightly larger than the finished size of the bookmark. I cut my pieces about 3 inches wide by 6 inches long.
Cut 2 pieces of interfacing the same size as the fabric pieces.
Fuse the interfacing to the BACK side of both fabric pieces by following the manufacturer's directions. This will give you bookmark some strength and durability.
Place you fabric pieces together, right sides facing out.
Using the sewing machine, stitch around the entire perimeter of fabric, leaving a small opening at the top to insert your ribbon into.
Using pinking shears, cut the raw edges all the way around, including the top where you will be adding ribbon.
Insert a few pieces of colorful ribbon into the opening at top of bookmark, then stitch across to secure.
Snip off any loose threads.
Fray check your ribbon by burning the edges.
Curl up with your favorite book and colorful, new bookmark!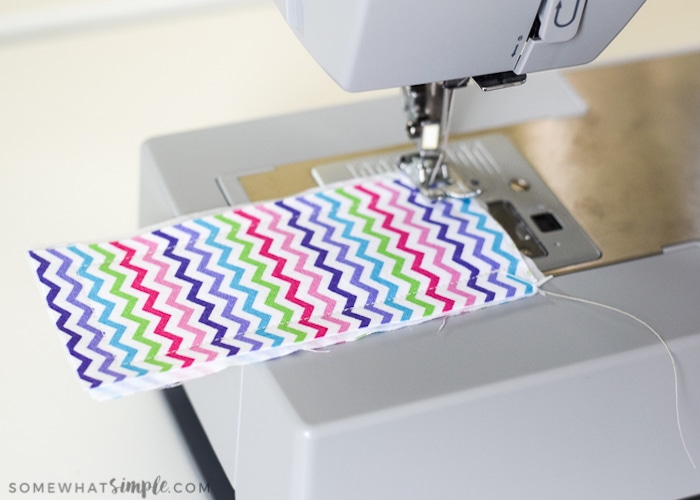 How fun would these fabric bookmarks be to give as a gift with a book? Especially if you happen to use some book-themed fabric print! Now go dig through that fabric scrap pile and start sewing!