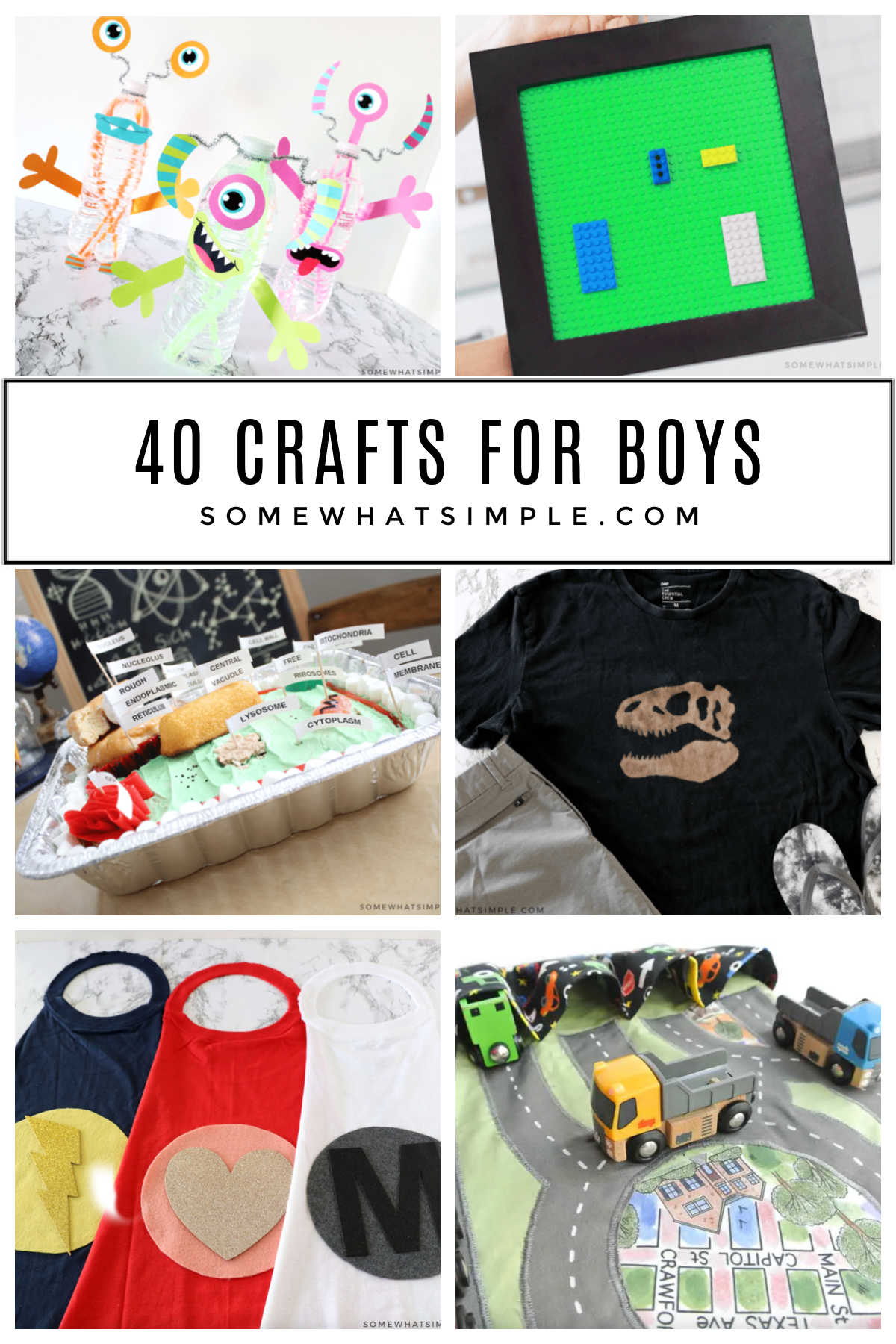 From Catapults to Light Sabers and everything in between, here are 40 crafts for boys that are a great way to spend the afternoon!
For more ways to pass the time this summer, be sure to check out our lists of 20 Outdoor Activities for Kids and 30 Indoor Activities for Kids.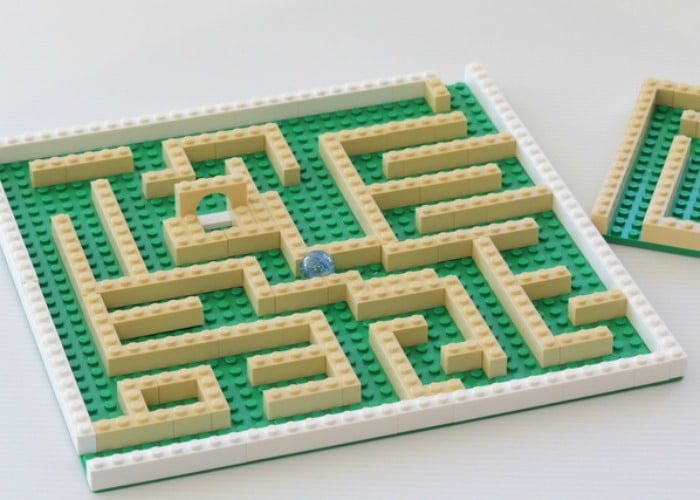 Boys Craft Ideas
Skip the bracelets, necklaces, and all things glitter! Today we're featuring some simple projects that your little men are sure to LOVE!
Most of these projects use items from the dollar store, or items you might have laying around your home – scissors, glue, tape, construction paper, scrap fabric, yarn, etc.
Moms of boys, this one is for you! Take a look at our list –
40 Cool Crafts for Boys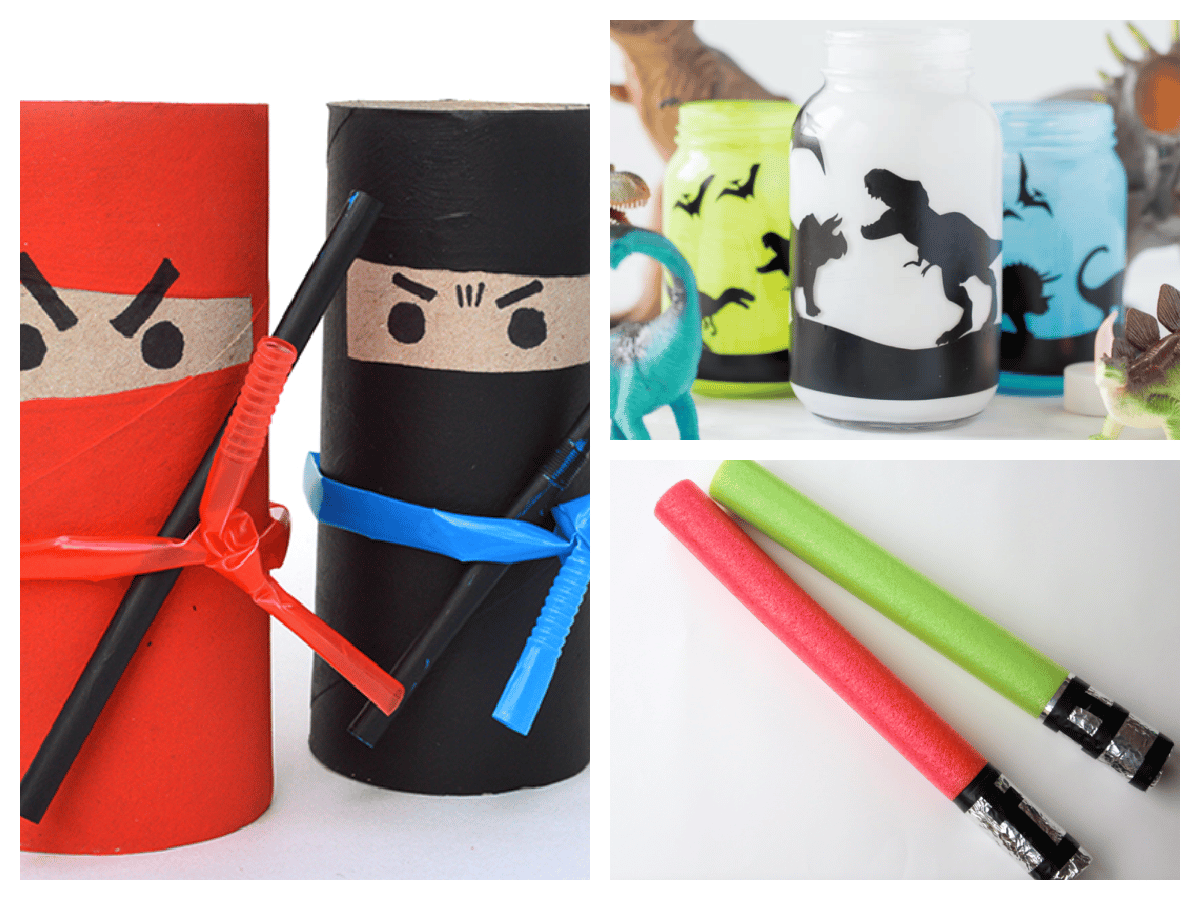 1. Ninja Toilet Paper Rolls. What boy wouldn't love to make a recycled cardboard tube look like the characters of his favorite movie? – Molly Moo Crafts on Kid's Activities Blog
2. Glow in the Dark Dinosaur Lanterns are a fun glow-in-the-dark craft that can be personalized with his favorite colors and dinosaur species. – Made to Be a Momma
3. A Light Saber made from a pool noodle is a fun toy and a perfect party gift, too! – Kix Cereal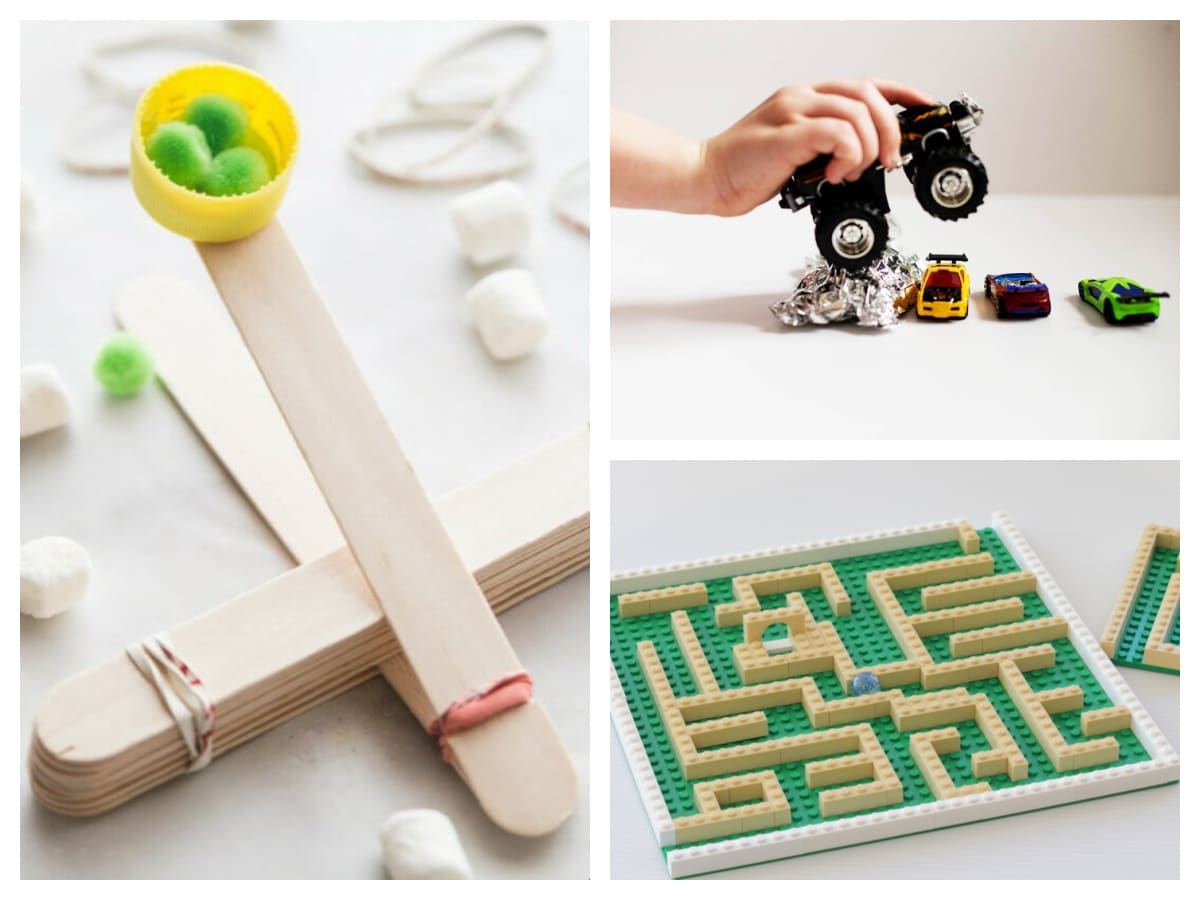 4. My oldest son and I put together this simple DIY Catapult for a project at school. It is super easy and so much fun! – Little Bins for Little Hands.
5. Make some matchbox car molds from foil, then create your own Monster Truck Rally Smasher for some simple, destructive fun! – All For The Boys
6. Grab a lid to a cardboard box and some craft sticks, or use a lego tray and make your own marble run! – The Crafty Mummy.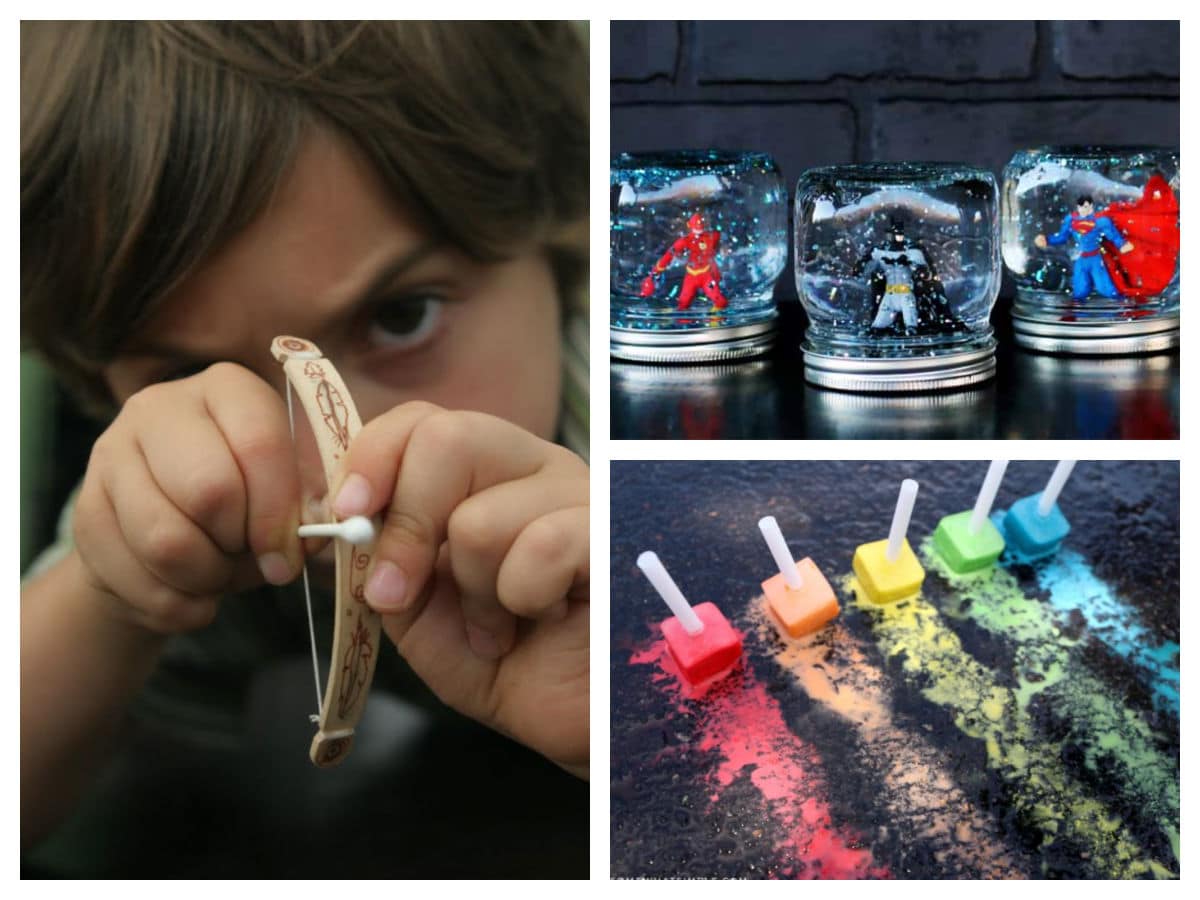 7. Making a miniature bow and arrow set is one of the coolest kids' crafts I've seen! – The Brooding Hen.
8. A great way to display his favorite superheroes is by making an easy DIY Snow Globe. -The Shabby Creek Cottage.
9. Take your sidewalk chalk up a level with a fun summer activity that the kids will LOVE! Chalk Ice is easy to prepare and a perfect way to encourage creativity! – Somewhat Simple Living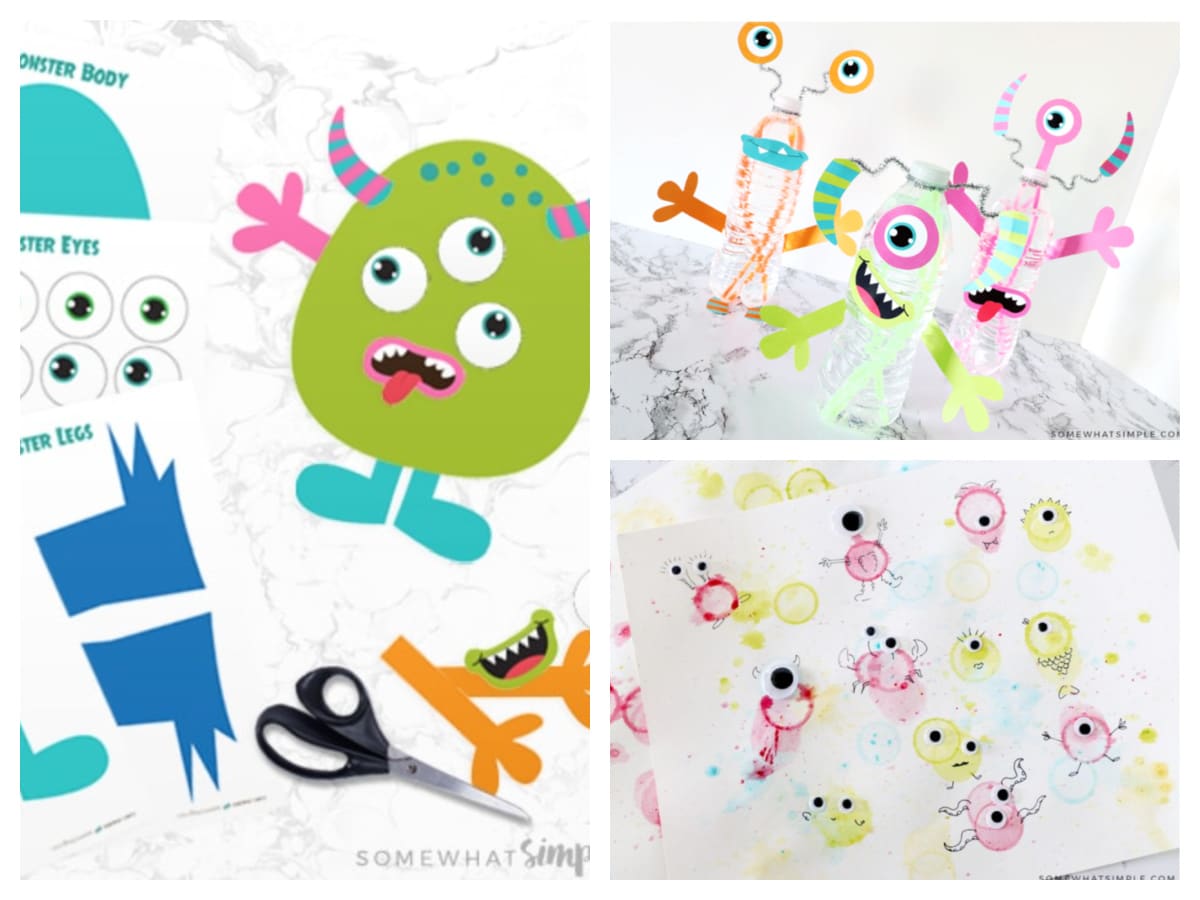 10. A Build-A-Monster Craft Kit is perfect to keep little hands busy! Our free printables make this craft nice and easy!- Somewhat Simple
11. Make a Glowing Monster Craft with water bottles, glow sticks, and our fun monster face printables! – Somewhat Simple Living
12. Grab the kids and get ready to create some really fun art prints with bubble painting! Simply mix paint with bubble solution and get ready for a fun art project your kids will love! – Somewhat Simple Living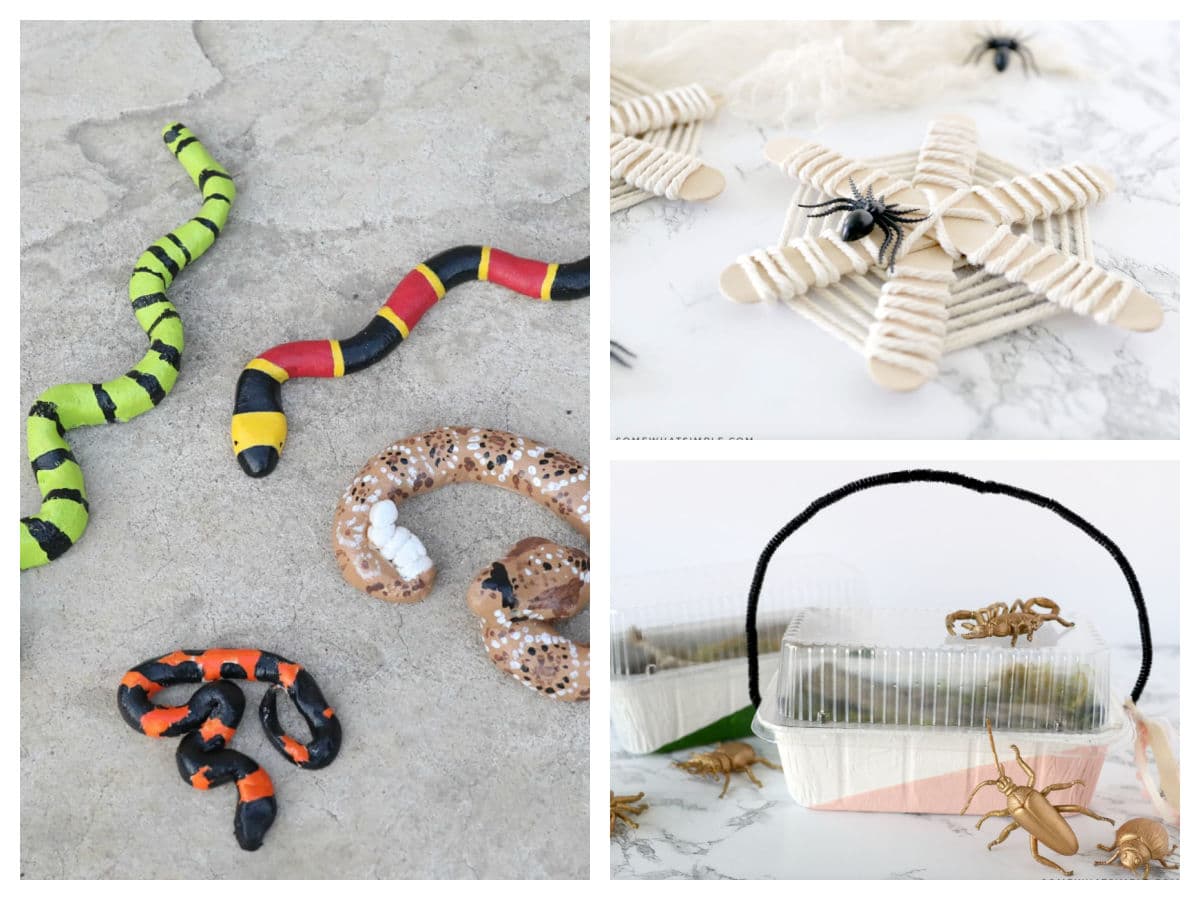 13. What little boys wouldn't love making Salt Dough Snakes? Easy and affordable fun for hours! – Frugal Fun 4 Boys.
14. Popsicle Stick Spiderwebs are a great craft for a classroom Halloween party. Made with just a few simple supplies, these spider webs are adorably spooky and so simple to make! – Somewhat Simple
15. A fun way to explore the outdoors, and capture insects without harming them, here's how to make your own bug catchers from a disposable bread pan. – Somewhat Simple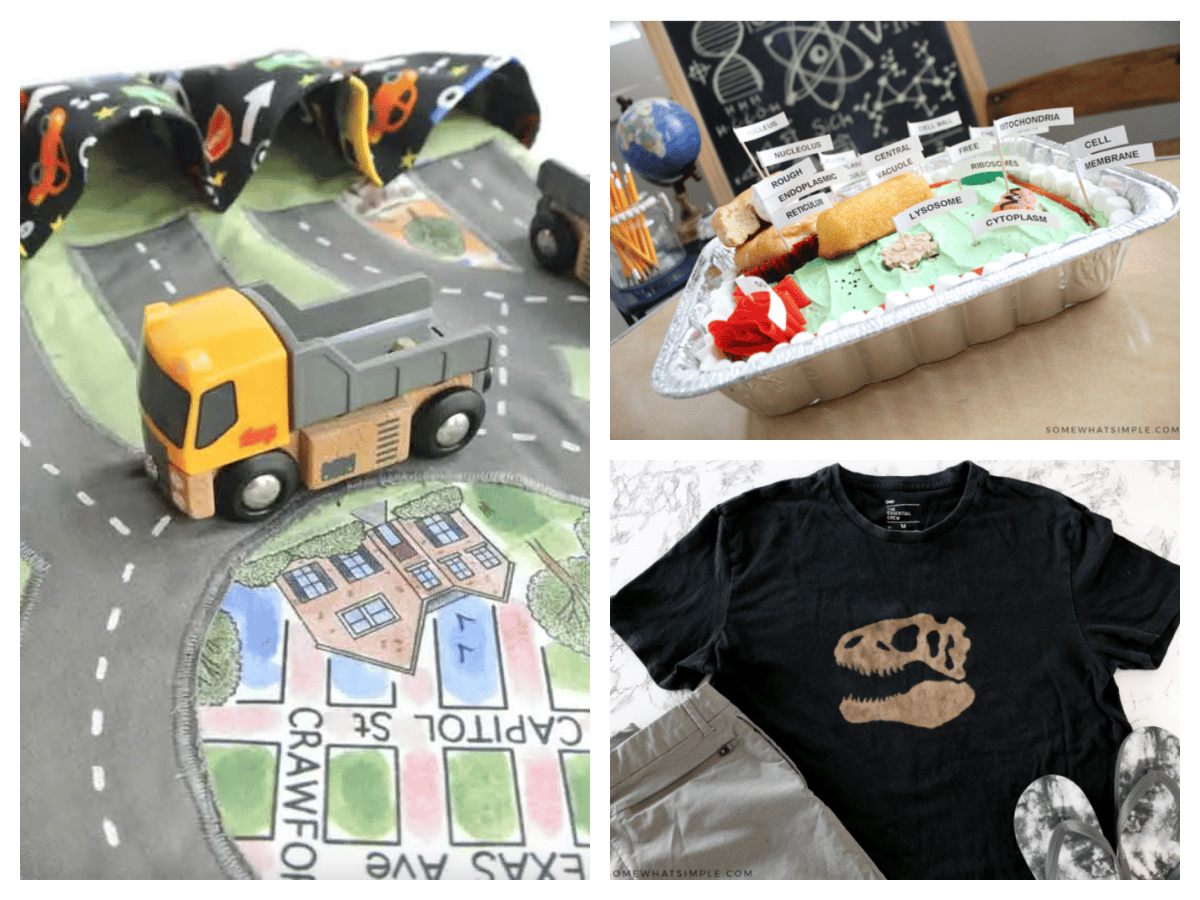 16. A DIY Car Caddy makes a fun travel toy that folds up and carries all his favorite matchbox cars! – Mindy Makes
17. Making a plant cell model is a great way to have some fun with your kids in the kitchen! This edible science project is both educational and tasty!
18. A bleach pen shirt is a fun and simple DIY project that can be done in one afternoon. These shirts are perfect for summer camps or school spirit days, and they make great gifts for family and friends.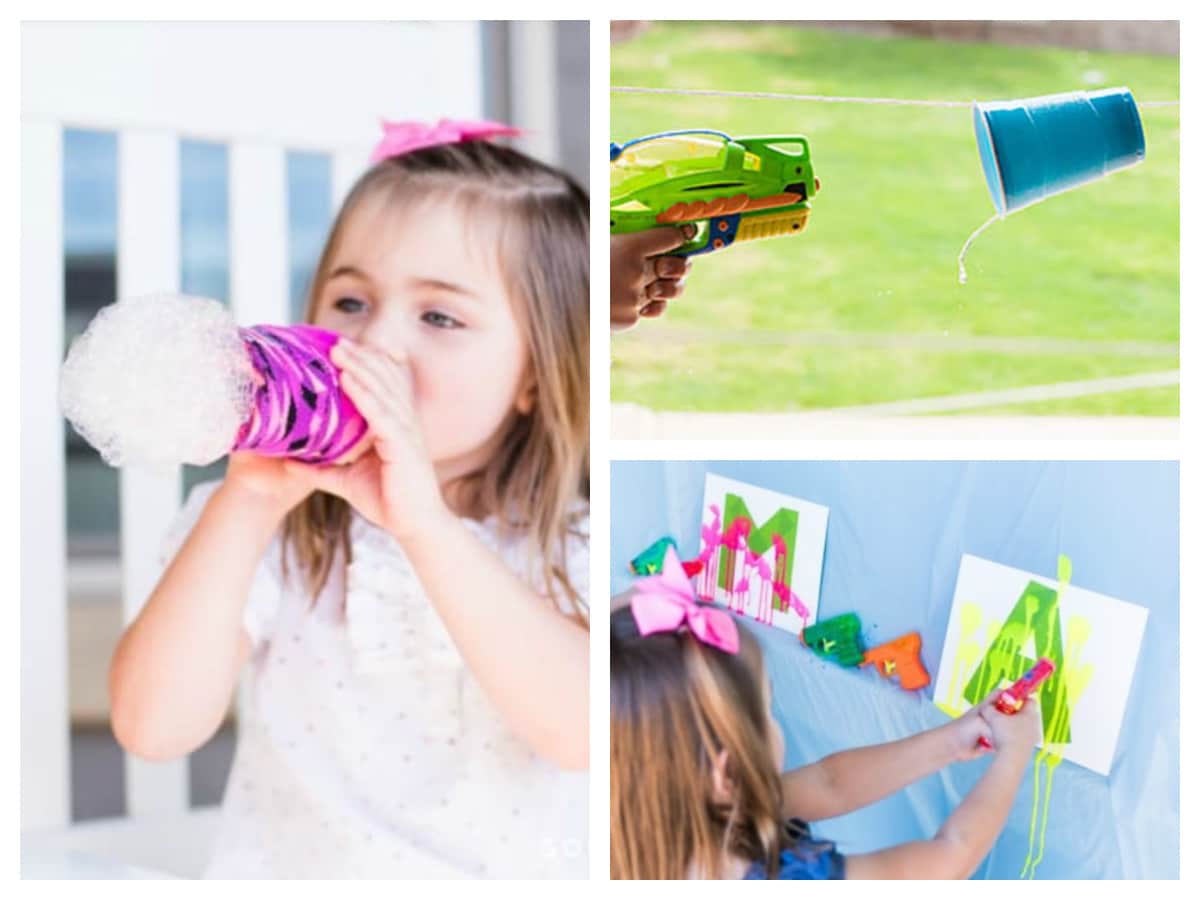 19. Looking for some good, clean fun? These bubble snakes can be ready in two minutes or less!
20. This Water Gun Race works great for parties, or just to keep the kids busy this summer. – All For The Boys
21. If you're looking for some fun, inexpensive art projects for kids this summer, add painting with water guns to your list! Make a plain canvas into a fun piece of artwork.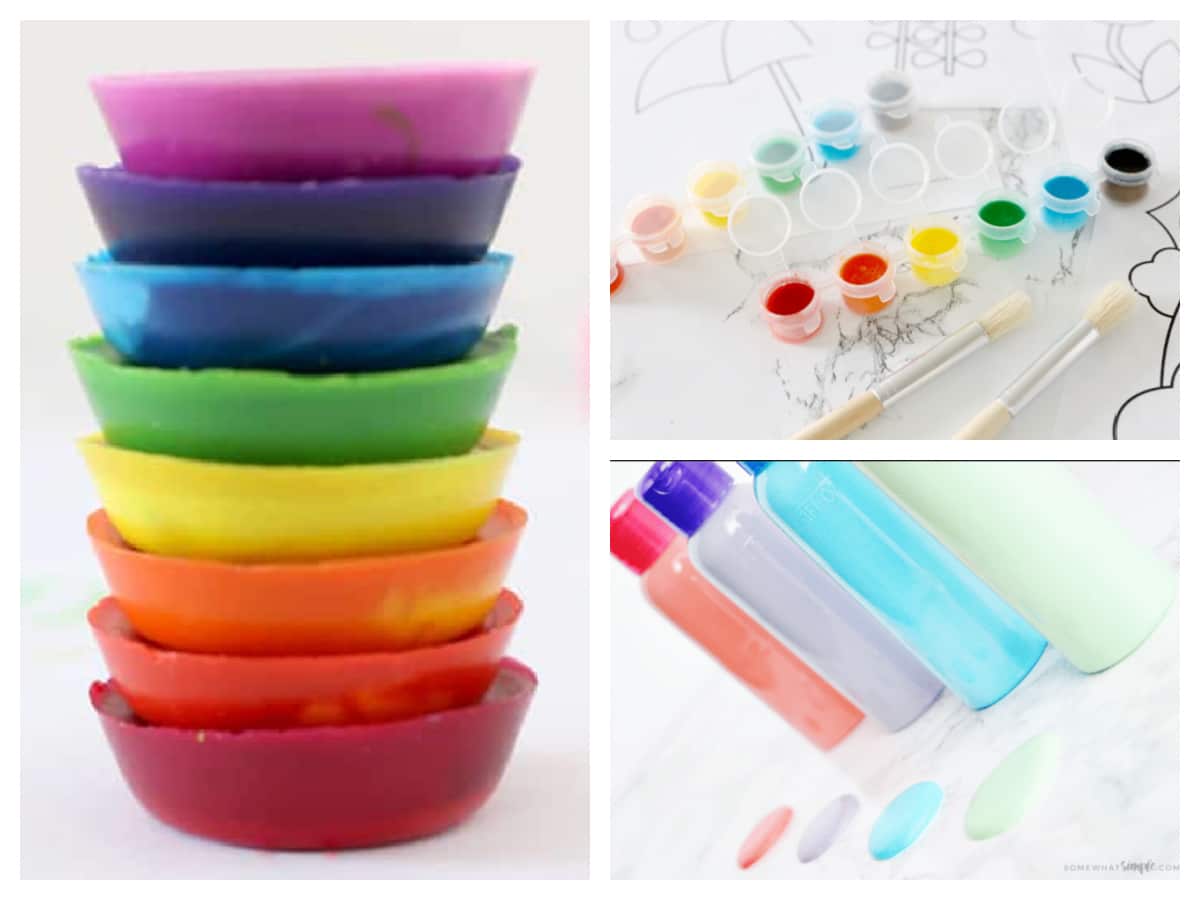 22. Making homemade crayons is a fun and simple gift that saves old, broken crayons from being dumped in the trashcan!
23. Handmade watercolor paint is made with just 5 simple ingredients and comes together in a snap!
24. Using just a few supplies you have laying around the house, kids will love making their own puffy paint!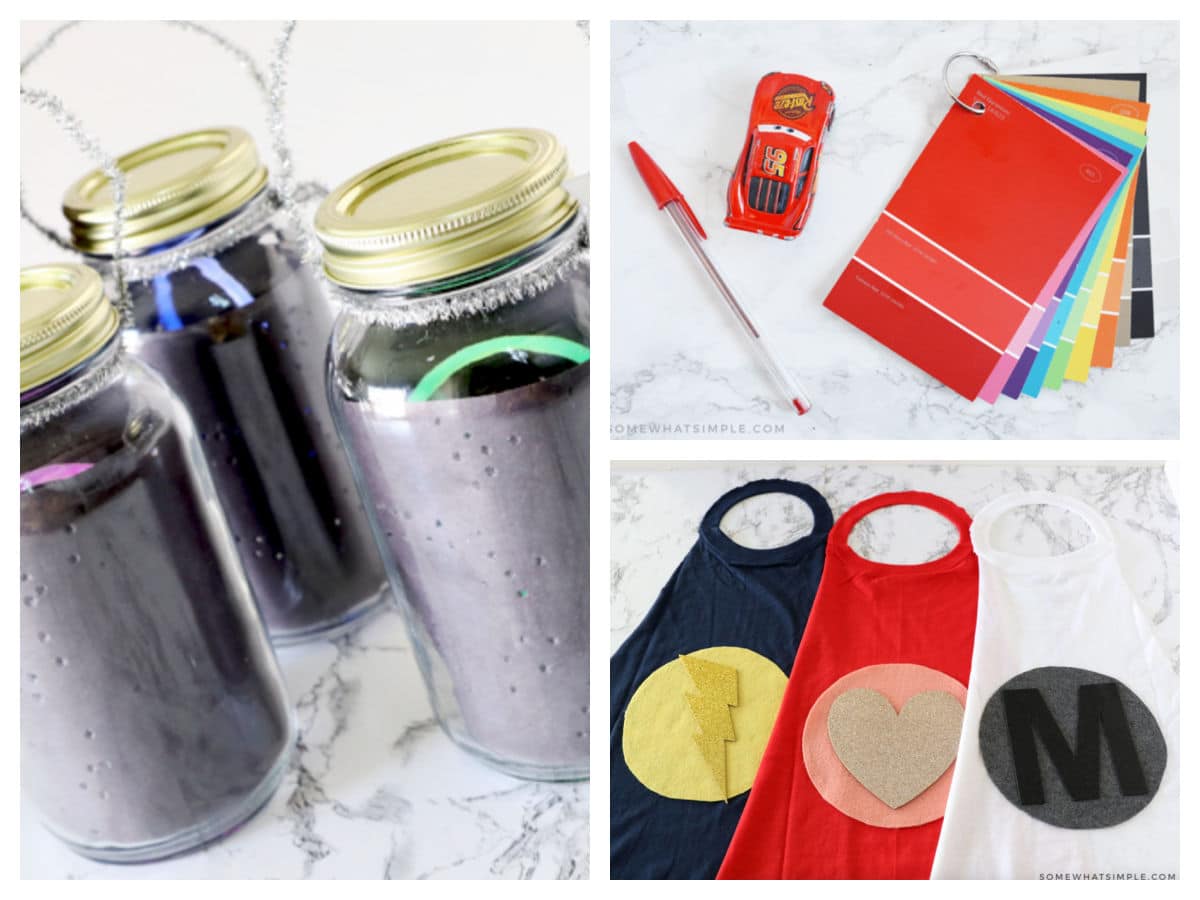 25. DIY Lanterns are a simple craft your kids will love! Made with mason jars and a few simple supplies, this project is easy to make, it's mess-free, and it's totally fun!
26. A Paint Chip Scavenger Hunt is such a fun way to beat summer boredom!
27. You don't need lots of fancy supplies or sewing skills to make fun superhero capes for kids. These easy superhero capes can be made with an old T-shirt, a hot glue gun, and about 10 minutes of your time! See the step-by-step instructions and make a bunch today!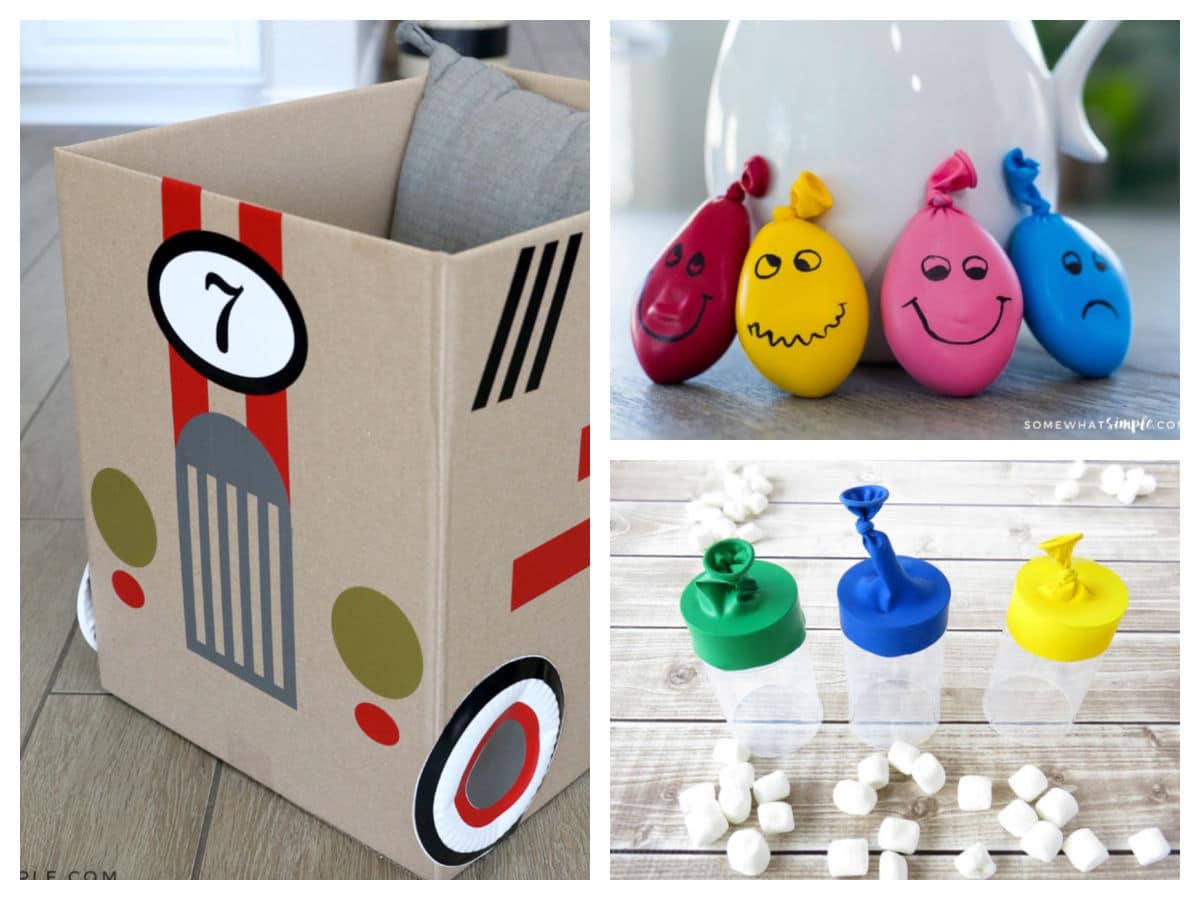 28. Plan the best movie night at home with this easy peasy drive-in movie cardboard car that the kids will totally LOVE!
29. Wacky Sacks are DIY stress balls that are easy to make and provide my kids with HOURS of enjoyment!
30. Your kids will have HOURS of fun with these Marshmallow Shooters! They are easy to assemble and they can be played indoors or outdoors for year-round entertainment!!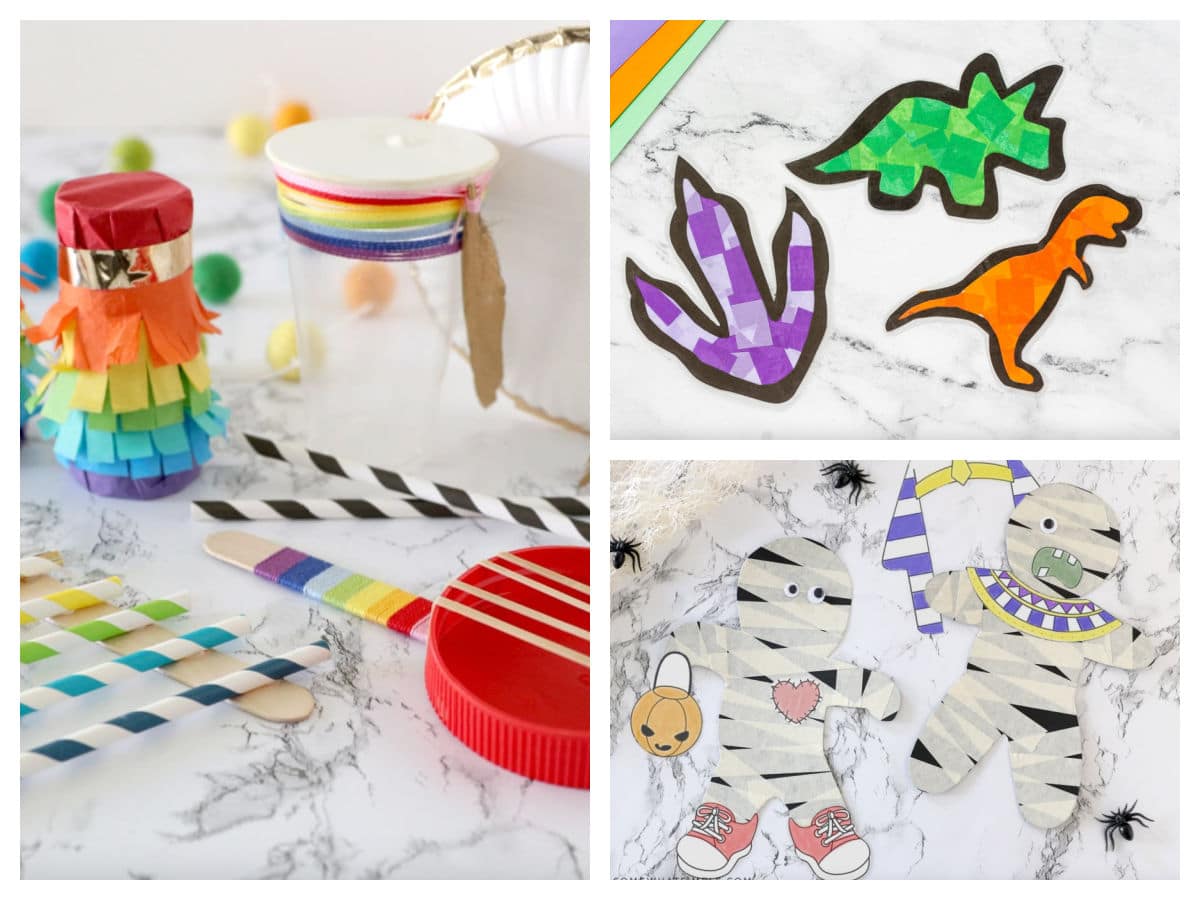 31. Toddlers and preschoolers will love to make noisy, silly homemade toy instruments out of everyday household objects.
32. These Dino Suncatchers are a fun craft that can be used to decorate your windows, too! – Made to be a Momma
33. With some masking tape, googly eyes, and our free printables, you can create a fun and simple mummy craft your son will love!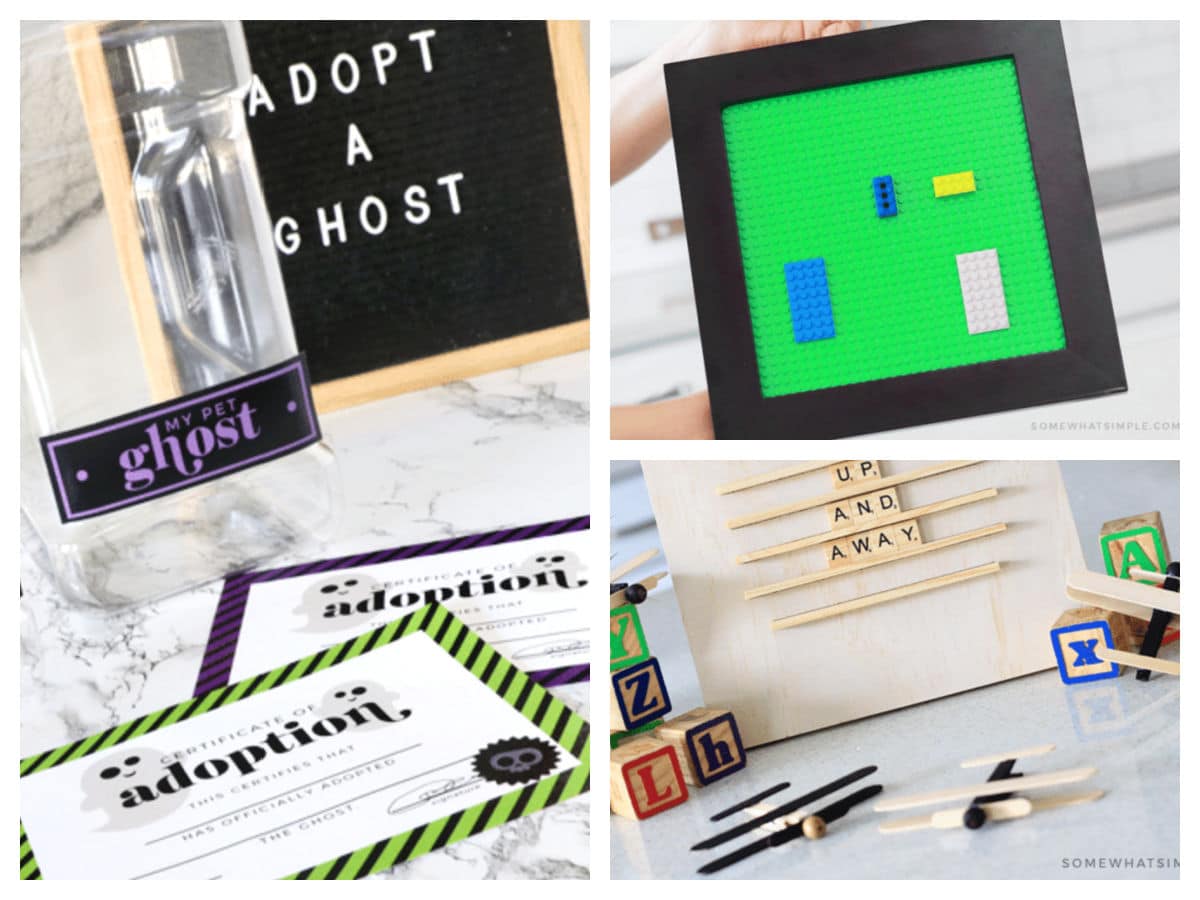 34. Adopting a pet ghost is a fun activity to do with the kids that won't require any trips to the pet store!
35. You won't believe how easy it is to build your own Lego Tray! No power tools are needed!
36. Boys love things that GO! Airplanes, cars, trains, etc. Make these Clothes Pin Airplanes and let his imagination run WILD! – Somewhat Simple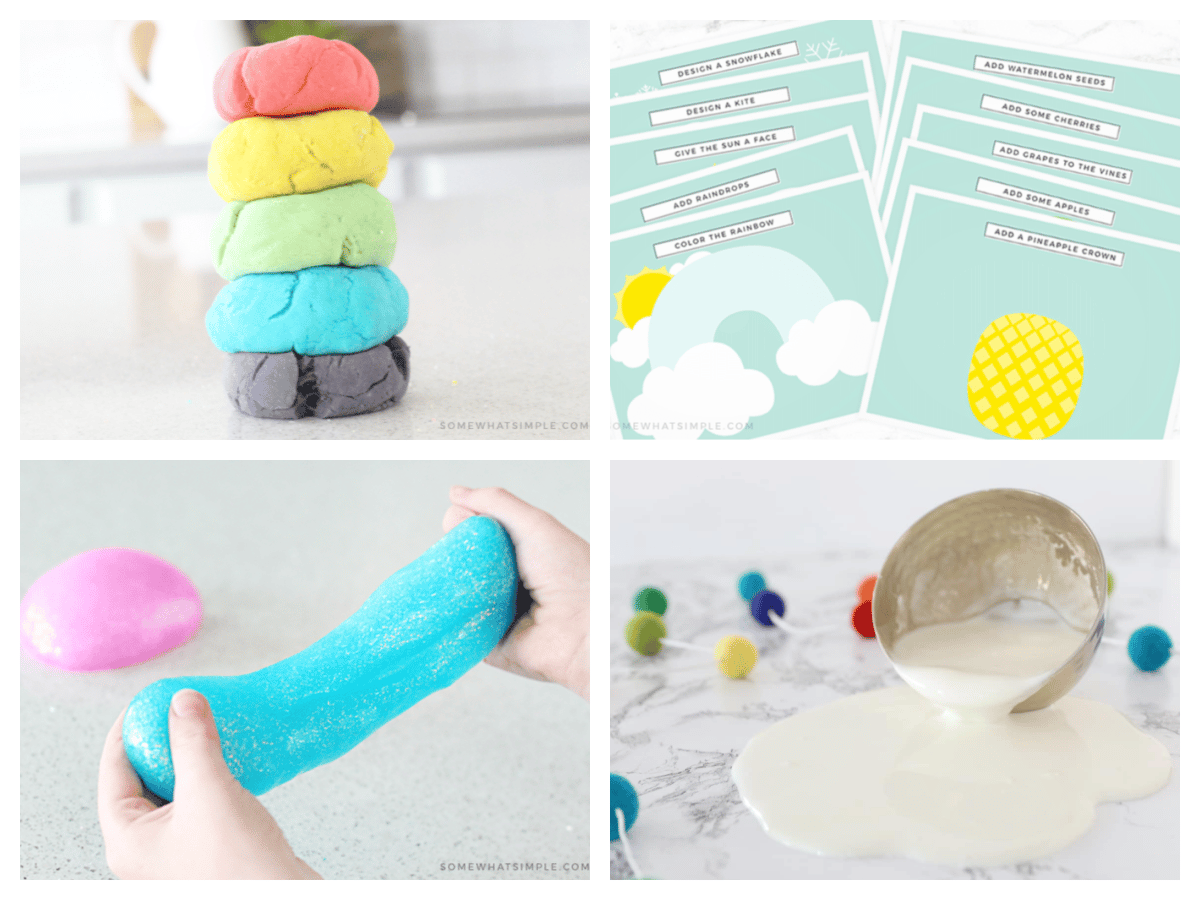 37. This easy playdough recipe turns out super soft and is simple to mold and will provide hours of fun!
38. Our free printable playdough mats are a great indoor activity that your kids will love! Download and print them today for some easy, creative fun!
39. This three-ingredient slime recipe uses no cleaning chemicals and no food coloring!
40. This cornstarch and water experiment is a great way to teach the States of Matter and non-Newtonian fluids. Is it a liquid or solid? YOU decide!
Go have some fun with all the little men in your life!
Here are a few more Ideas for Boys we think you'll LOVE –