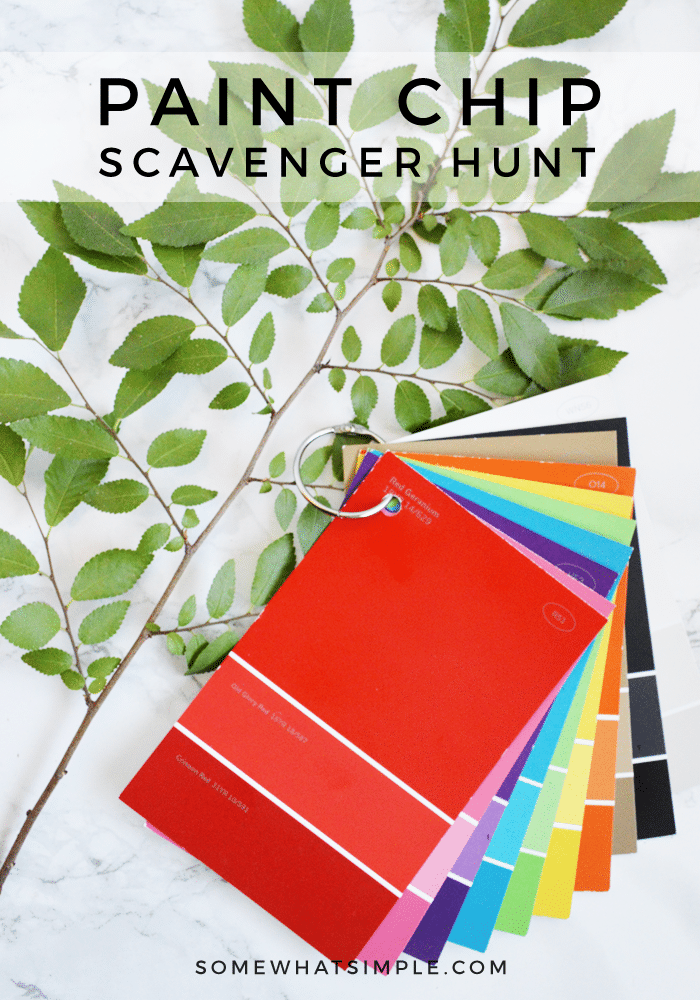 Get ready to explore the great outdoors! A Paint Chip Scavenger Hunt for Kids is such a fun way to beat summer boredom!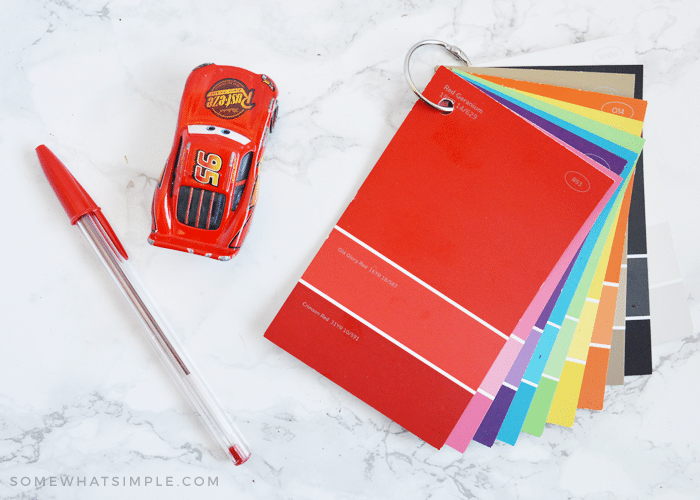 Color Scavenger Hunt
I am always looking for ideas that keep my 5 kids busy when they are all home from school. I prefer activities that encourage creative play, that don't take too much time to set up, and activities that don't cost an arm and a leg. Not only is this color scavenger hunt idea completely free and simple to set up, it is also perfect for kids of all ages. My 15 year old teams ups with my 4 year old, and they play against my 11, 9 and 5 year old. It's a friendly competition that gets them all away from the Xbox for a while… which is what makes this mom super happy!
Scavenger Hunt for Kids using Paint Swatches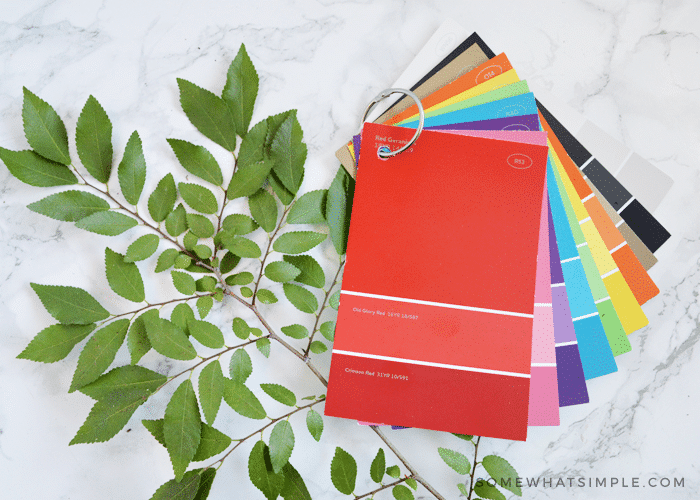 Scavenger Hunt Materials Needed –
multiple paint swatches (5-10 for each team)
a single hole punch
metal key ring or ribbon
pencil or camera, optional
Scavenger Hunt Directions –
Give each team a stack of paint swatches and tell them to find things around the yard or neighborhood that match the color on the swatch.
When you find a match, put a check on the corner, or take a picture with your cell phone of the item next to the swatch.
The first team to get an object to match each color in their swatch wins!
… it doesn't get any easier than that!
A Paint Chip Scavenger Hunt is an easy activity for the kids that can be taken on the go too! It is a great way to keep them busy and pass the time.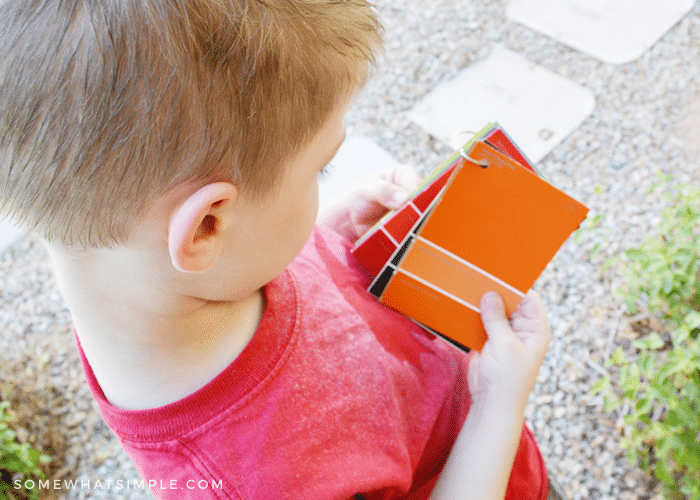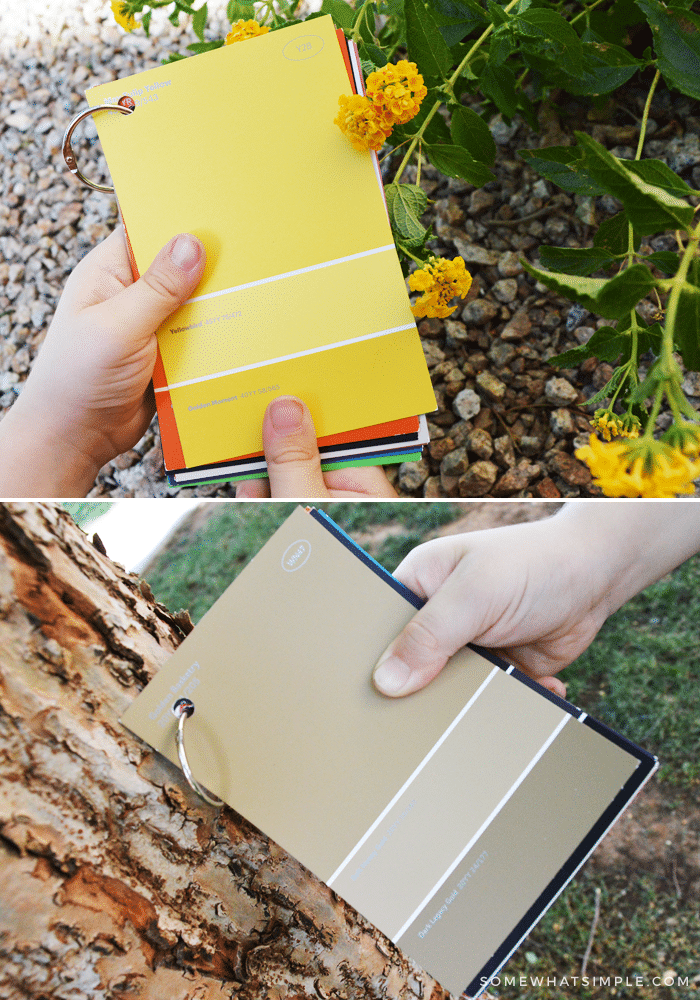 If the weather isn't fantastic, a scavenger hunt around your home is plenty of fun too! My four year old had so much fun looking for items in our kitchen while I was making dinner one night.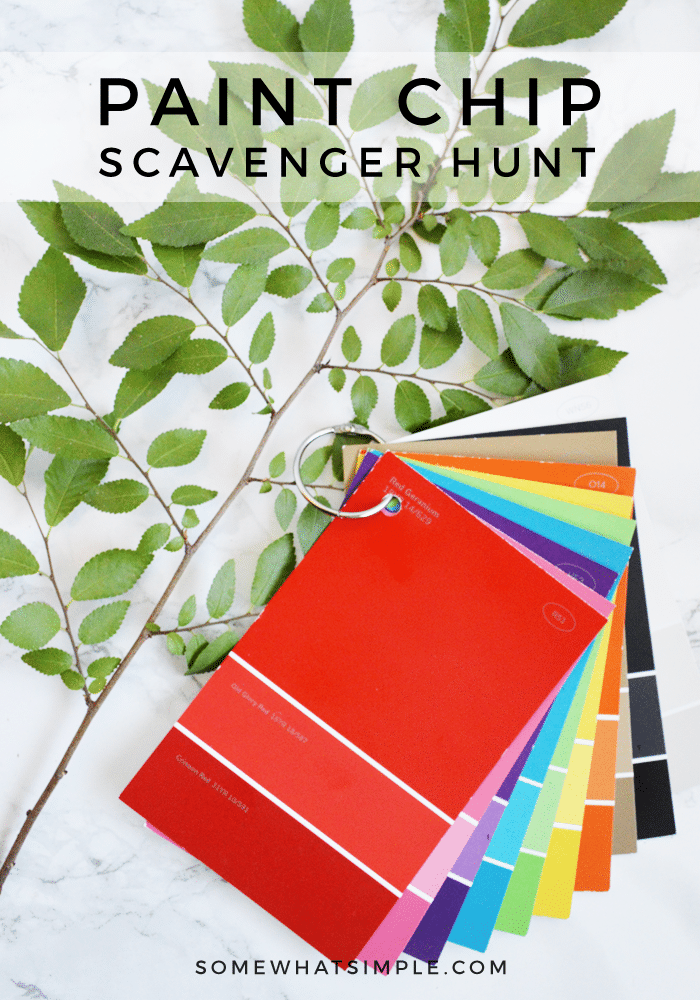 I love watching my kids try to fid the perfect match! A paint chip scavenger hunt is one of the easiest activities you can plan!
ENJOY!
Looking for more summer boredom busters? Here are some we think you'll love –