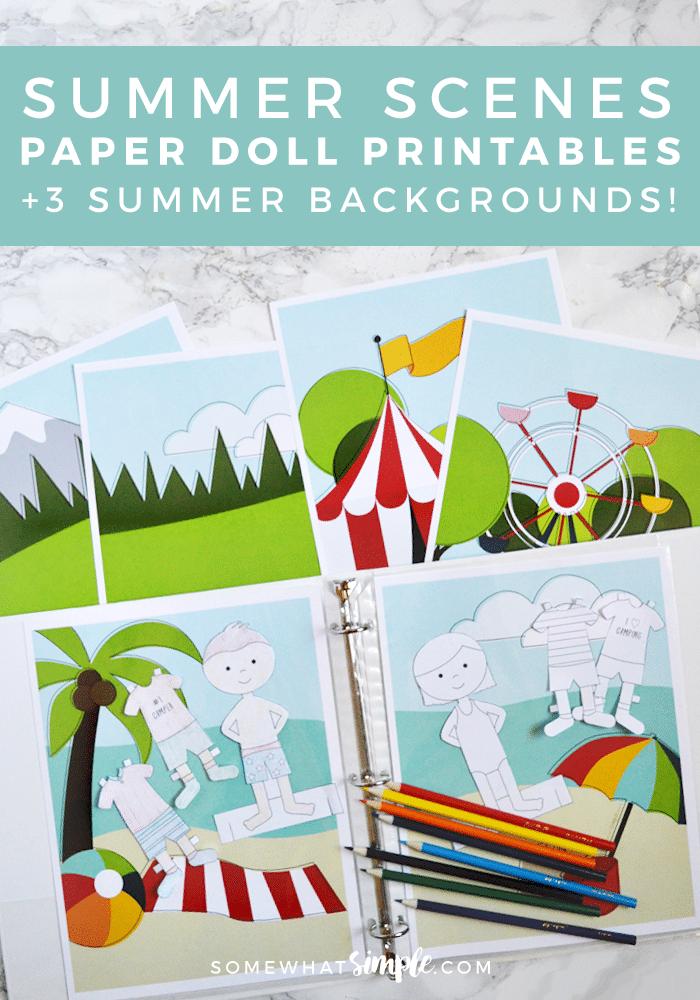 These paper dolls printables are a perfect way to combat summer boredom and spark children's imaginations! Color the paper dolls + enjoy our colorful scenes!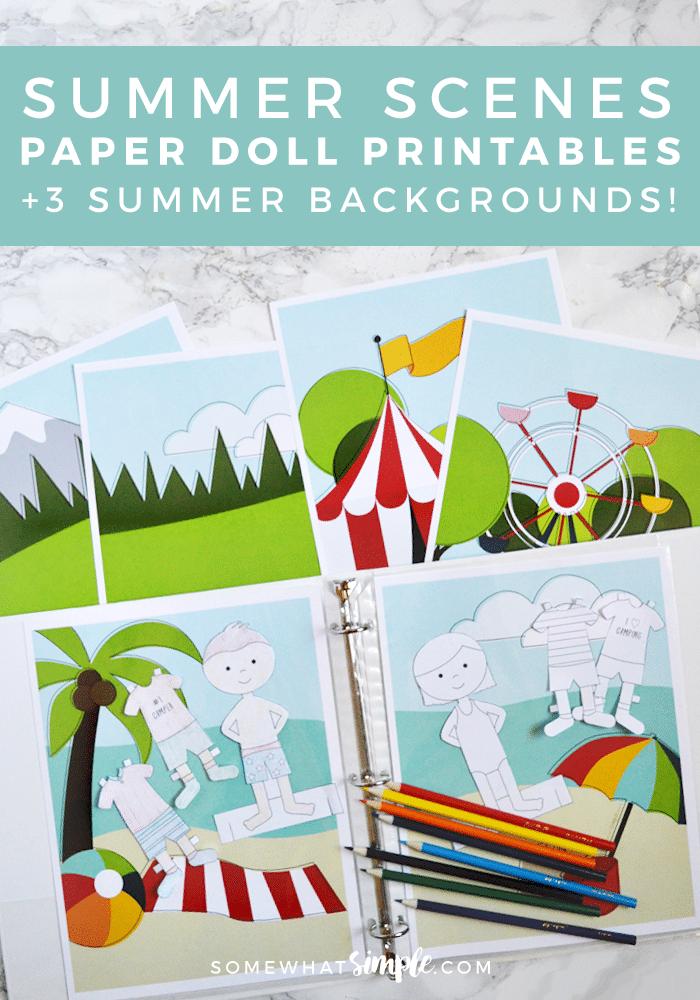 I enlisted the help of my kids to help plan and prepare some boredom busters. This Summer Paper Scenes Printable is something my daughter came up with entirely on her own- I love her creativity! There were a lot of back and forth conversations about the logistics and I loved every second of it. I hope you will feel the creativity and logic that went into this project for you from a very sweet (and clever!) little girl.
This free printable is 10 pages. It includes two paper dolls (boy & girl), three 2-page background scenes (beach, camping, and state fair), and lots of accessories! The background scenes are full color, while the paper dolls and accessories are black and white, ready for your children to color. This allows for extra fun and versatility. Have your little one make the paper doll look more like himself or herself!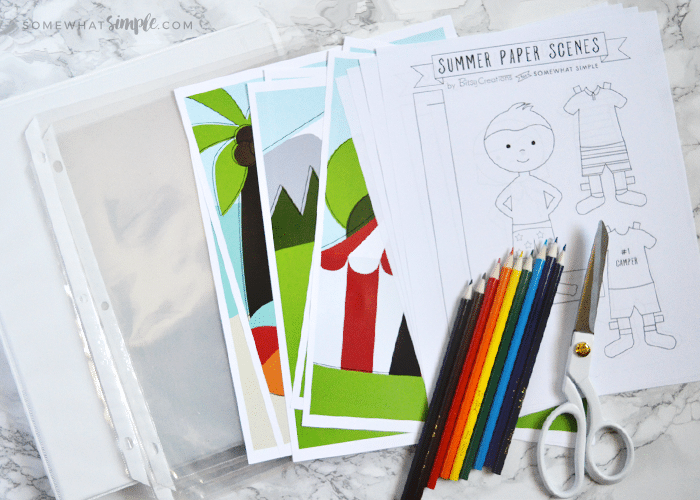 summer scenes paper dolls printables
PAPER DOLLS SUPPLIES
printed copies of the paper dolls, accessories and background scenes

3 ring binder

crayons

,

colored pencils

or

markers

scissors
DIRECTIONS
First, print off the pages (download below).I found that a copy center printed out the color backgrounds beautifully, but just used my home printer to print out the paper dolls. Card stock is recommended, but not necessary.
Have your child color the paper dolls and accessories. Here's where there is plenty of room for imagination and creativity. Or you can leave them black + white – totally up to you and your kids!
Cut out paper dolls and accessories.
Laminate paper dolls for durability. This is optional, but will definitely help them hold up over time.
Place the colorful Summer scenes into sheet protectors, then place in binder.
Use an extra sheet protector to hold your paper dolls + accessories when not in use.
Last, but not least, HAVE FUN!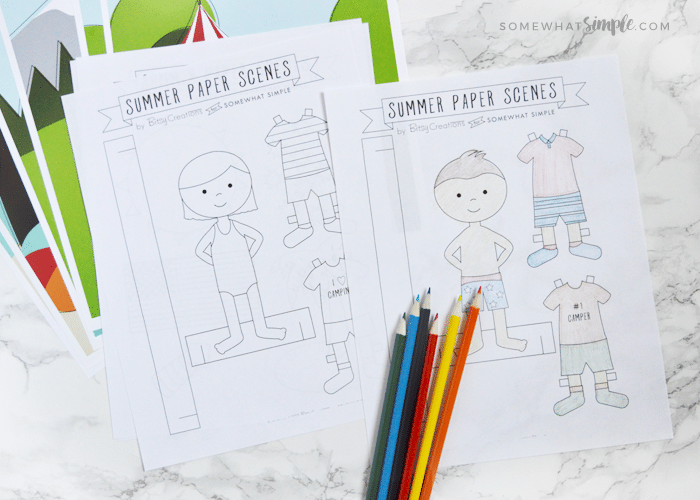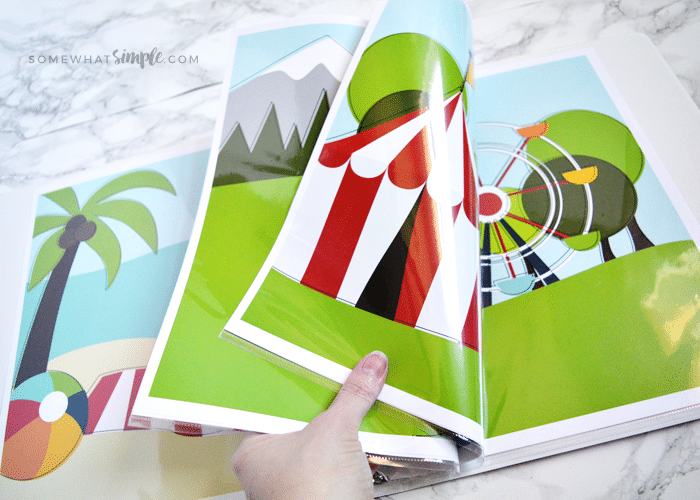 I love how vibrant the colors turned out!
Your kids use their imaginations and take their dolls to the beach: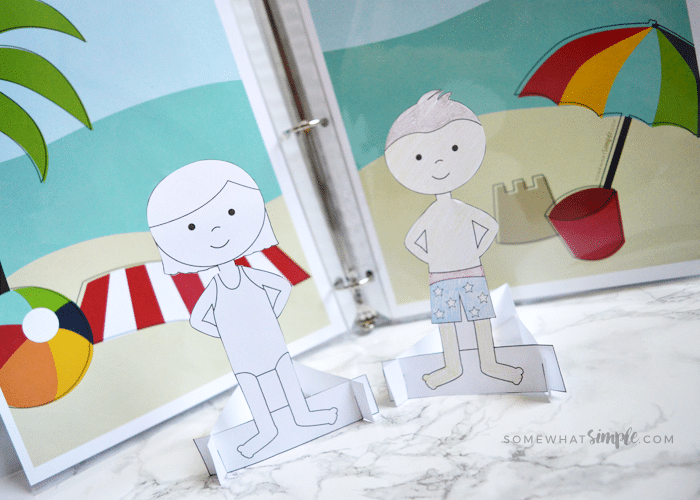 Out camping: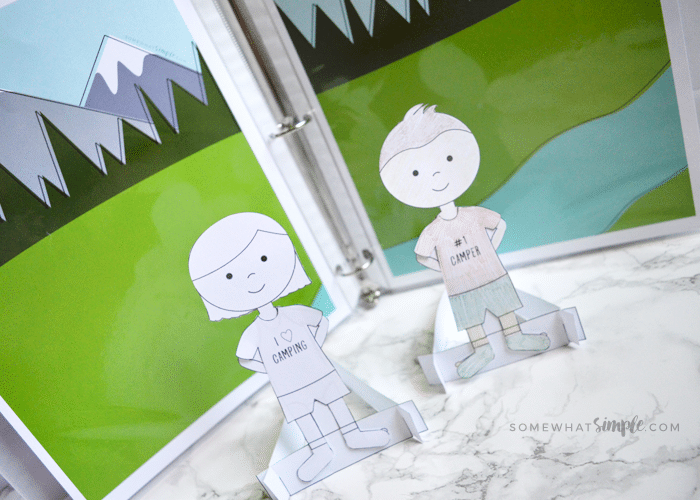 Or take a trip to the state fair!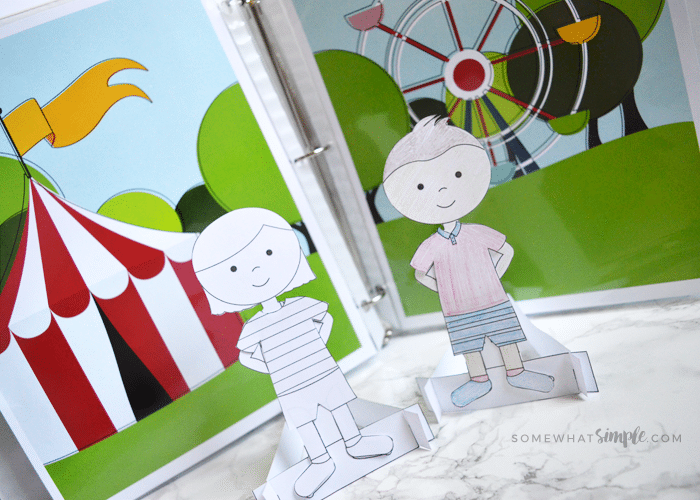 This activity is perfect for a long car ride, a new quiet time activity, or a nice indoor activity on a hot or rainy day.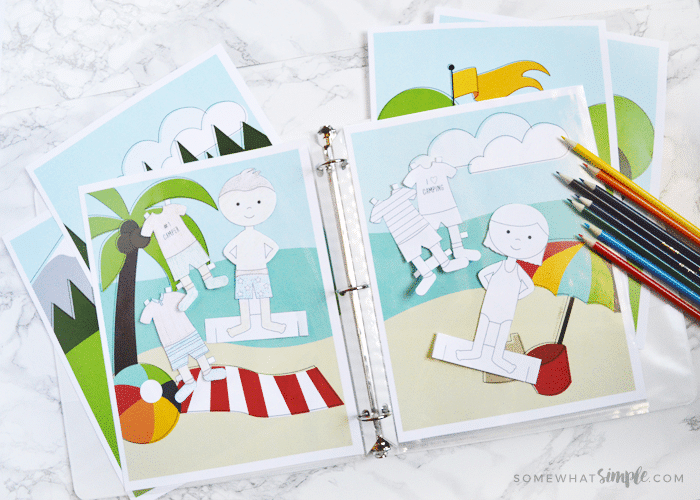 Ready to grab your own?
CLICK HERE for our PAPER DOLL AND ACCESSORIES (black ink only)
Click HERE for our SUMMER SCENES BACKGROUNDS (color ink needed)
Please remember these printables are free for personal use! Please do not claim them as your own. They are not to be resold or changed. They're yours to print on your own or take to a copy center.
Our readers also enjoyed these posts:

Paper Pinwheels // Beach Bucket Adventure Kit // Mom, I'm Bored! Jar
We updated this post in 2017 with new summer scenes backgrounds and images.