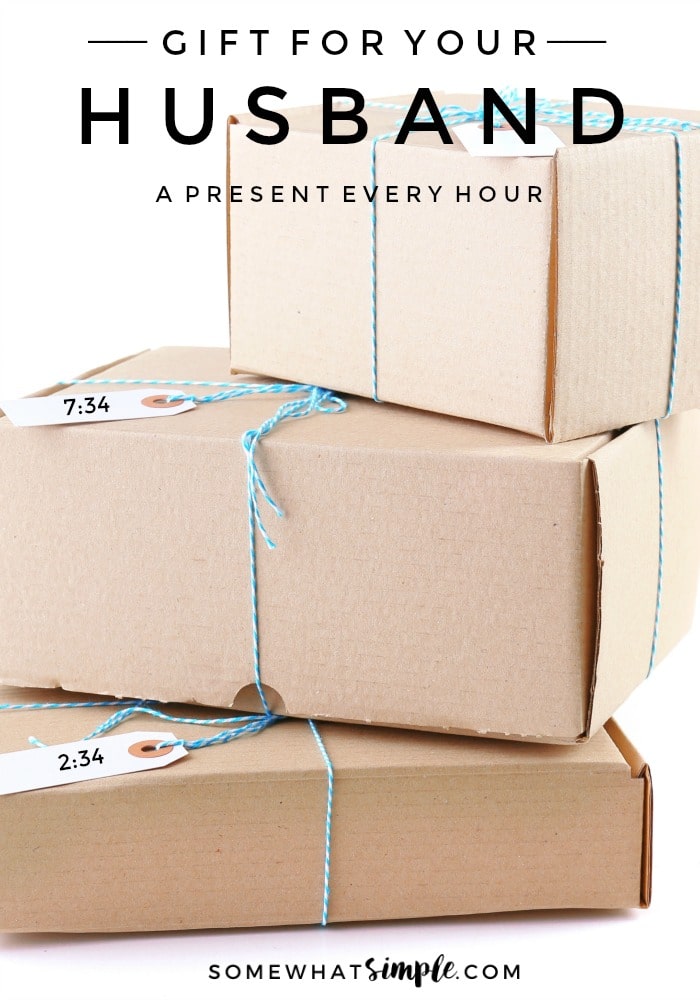 A basket of presents to be given every hour is an affordably thoughtful gift for your husband. It's the perfect way to celebrate his birthday, Valentine's, Christmas, etc. and it's a simple way to make him feel loved!
Struggling to know what to give the person who has everything? Here are a few more classic ideas we think he'll love – Reasons Why I Love You Book, Easy Homemade Tie Cookies, and A Year of Dates.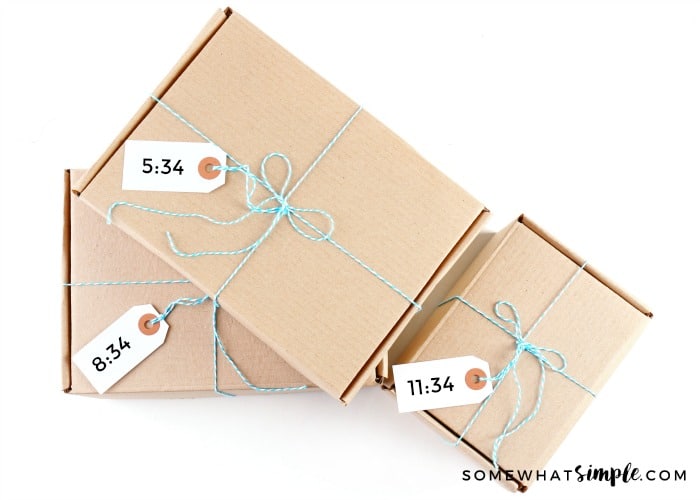 Birthday Gift Idea For Your Husband
My husband is super thoughtful, and he happens to be the best gift-giver in the entire world! The only problem with this is that I have to be thoughtful and creative with the gifts I give to him too… and I am definitely not as thoughtful as he is!
He likes a gift with meaning- something thoughtful that he can't just go buy for himself. Each year for Christmas and his birthday, I struggle with what to give him. Because what do you give a man who has everything?
For his birthday this year I racked my brain and came up empty until finally, THREE DAYS before his birthday, I saw an idea that Mique did for her husband on their 8th anniversary. I adapted this great gift idea to fit a birthday present instead of an anniversary and it turned out perfect!
Here's how it works: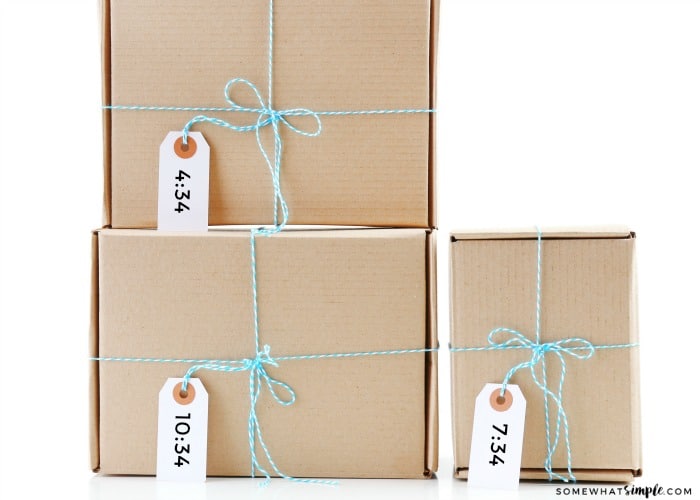 Easy, Thoughtful Gift For Your Husband
The basic idea is to get your guy a bunch of presents (as small or big as you'd like) and give him a gift every hour of the day.
This year my husband was turning 34, so the kids and I had him open a present on the 34th minute of every hour- from 8:34 am to 8:34 pm.
The kids and I hit Amazon and Target and bought him things he needed and things he loved. (Shopping for these presents was almost as fun as giving them!)
Then, I simply wrapped each one and labeled each gift box with the time of day he was supposed to open it.
Here are a few unique gift ideas for any special occasion –
favorite candy bar or snack (my husband LOVES beef jerky)
a new t-shirt
gift cards to his favorite shops + restaurants (Dick's, Taco Bell, Texas Roadhouse, etc.)
headphones
toiletries
pajamas
shoes
beard trimmer
reflexology or massage gift card
framed picture for his desk
water bottle or coffee mug
subscription to his favorite magazine
novelty hot sauce or craft beer
wallet
slippers
BBQ tools for the grill master
a new gadget or upgrade his devices
(There are even more ideas in the comments section from our readers, so continue reading below!)
Remember, these gifts don't have to be huge or expensive – the thoughtful part is in the delivery!
Because the fun came in the actual giving of the gifts, we got him things that would otherwise be boring. Like his favorite kind of potato chips and beef jerky – if I gave my husband a bag of chips for his special day, he'd probably shrug and say, "Gee thanks!" But knowing the kids and I bought a bunch of items that reminded us of him made it more sentimental and thoughtful.
Hourly Gift Variations
If your guy is working, send him to work with a present for each hour.
If he is out of town, mail him a big package with all these presents inside!
For Father's Day – Give a gift on the minute of how many kids you have.
For Valentines Day – Give a gift on the minute of how many years you've been together.
For an Anniversary Gift – Give a gift on the minute of how many years you've been together.
I like this idea because it made the entire day special. (And the kids had a blast watching the clock all day waiting for the hour to pass!)
More Gift Ideas For Your Husband