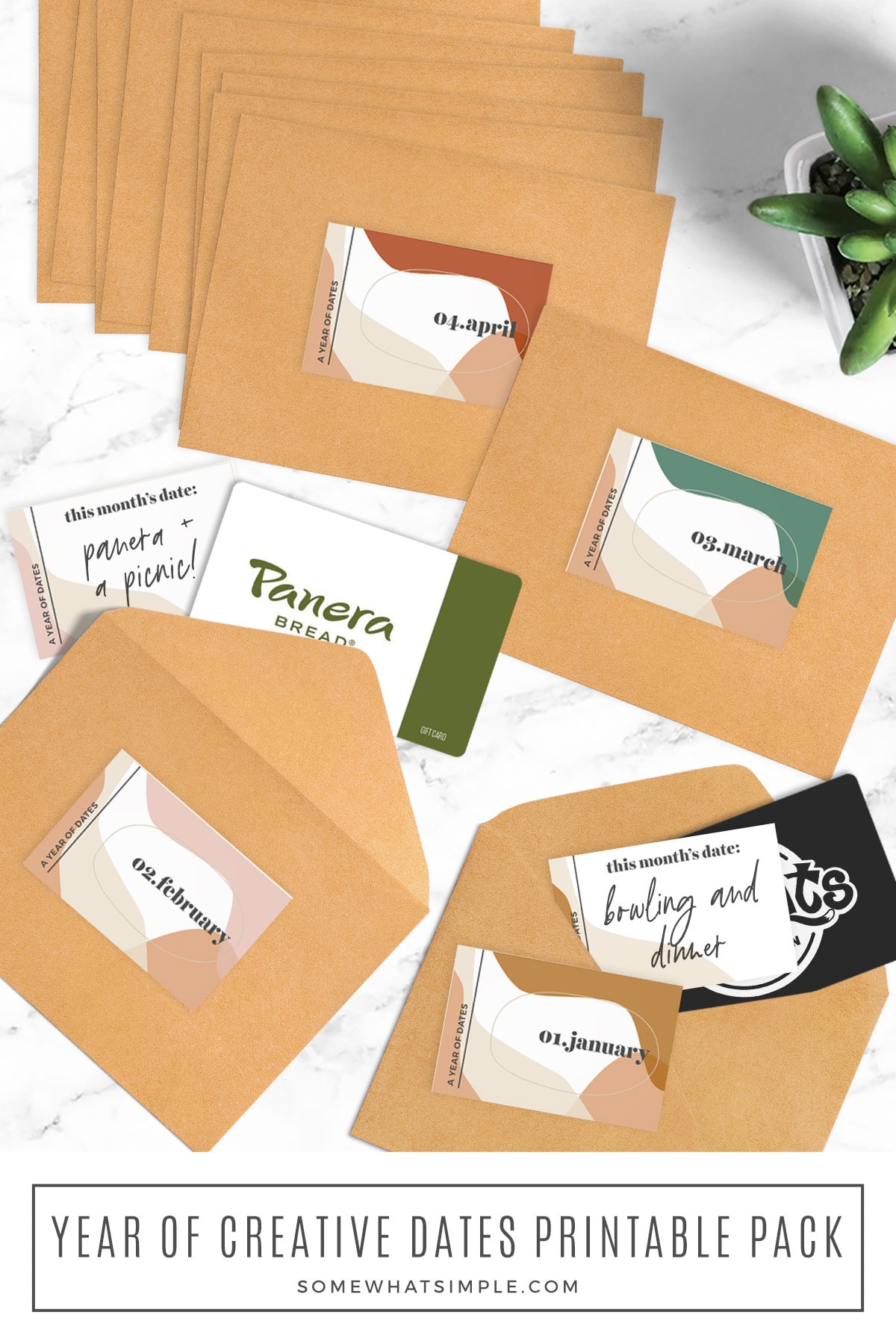 This date night gift idea is the best way to make your relationship a priority. Grab our printables and plan an entire year of dates for you and your spouse!
Here are a few more creative date ideas we think you'll love – Date Night in a Jar, Conversation Starters, and 12 Daytz of Christmas.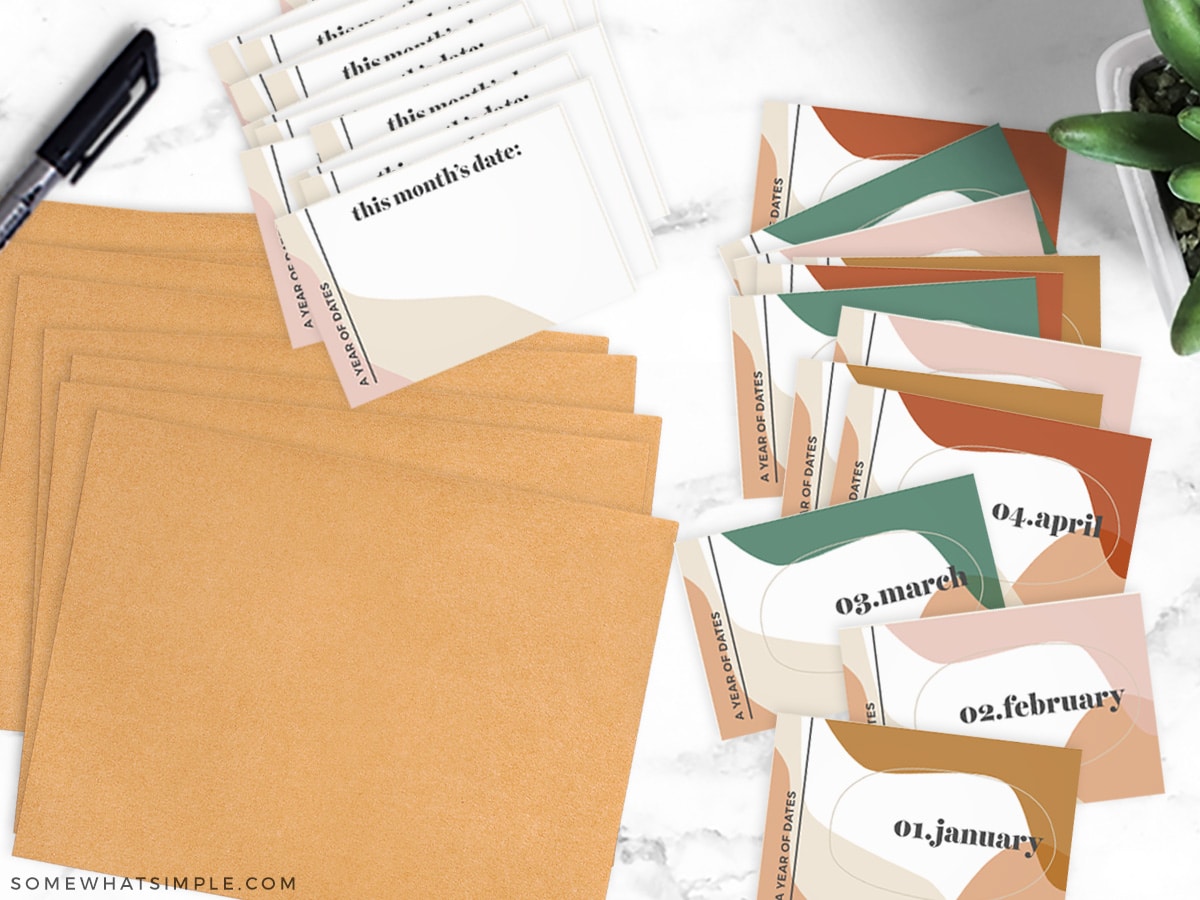 Date Night Gift
If you're a couple that loves to try new things together, then a gift that encourages you to explore a new activity or go on a new adventure each month can be the perfect gift idea for Christmas, a birthday, or your anniversary!
Whether you're stuck in a rut or if you are looking for some fun date nights, this year of dates gift will force you to think outside the box, put your relationship first, and spend time together each and every month of the year. Here's how it works –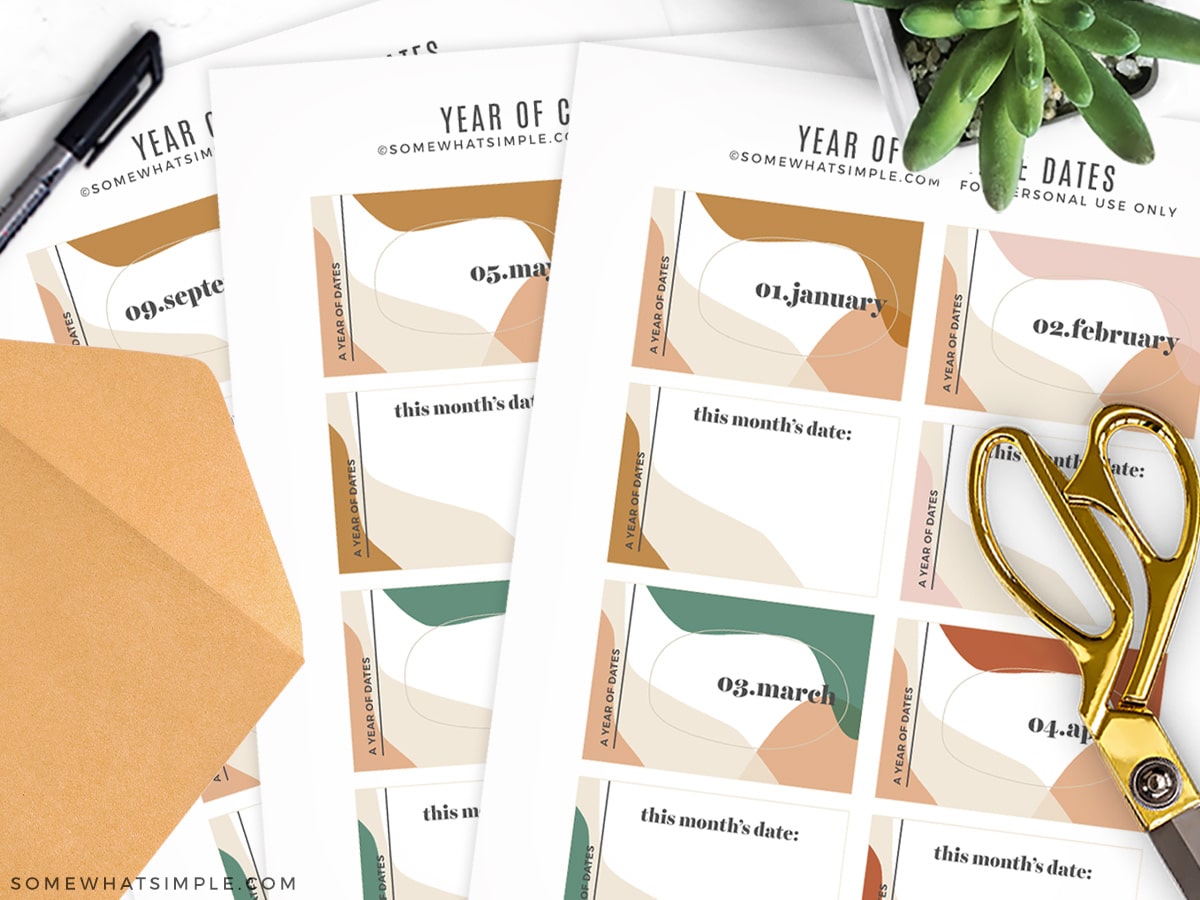 What is the Year of Dates Date Night Gift?
It's a package of 12 envelopes you put together containing a date idea for each month of the year. Inside each envelope is everything you'll need for the night – cash/ gift cards, concert tickets, etc.
Does it Take a Lot of Money to Create This Gift?
The great thing about this gift idea is that YOU get to decide how expensive and elaborate you'd like your adventures to be. You can create an entire year of free dates, or splurge on something special – the choice is up to you!
Give yourself as much time as possible to plan this. If I had to go out right before Christmas and purchase all the items, it would hit my wallet pretty hard (even with some very frugal nights planned!) But planning in advance and knowing exactly what you'll need means you can start collecting a little bit over time are less likely to feel the financial pinch.
Does it take a lot of time?
Putting this idea together doesn't take much effort, but there is a little bit of planning involved. Here's what you'll need to do –
CHOOSE YOUR DATES – Pick 12 ideas you want to do next year. I used a few of my favorites from the 12 Daytz of Christmas, but I also chose several from ideas I found on Pinterest. (Some of my favorites are listed below.)
GATHER YOUR SUPPLIES – You'll need the following:

Year of Dates printable pack (download below)
scissors
12 envelopes
glue stick
pen
cash/ gift cards / tickets etc.
ribbon

PUT IT TOGETHER –

Cut out the names of each month from the printable, then glue them to the front of each envelope.
Write the name of the date/ idea on the form provided, then slip that and any money or tickets inside the envelope.
Seal the envelopes and then stack them in a pile. Tie the stack with ribbon and get ready for a gift that keeps on giving!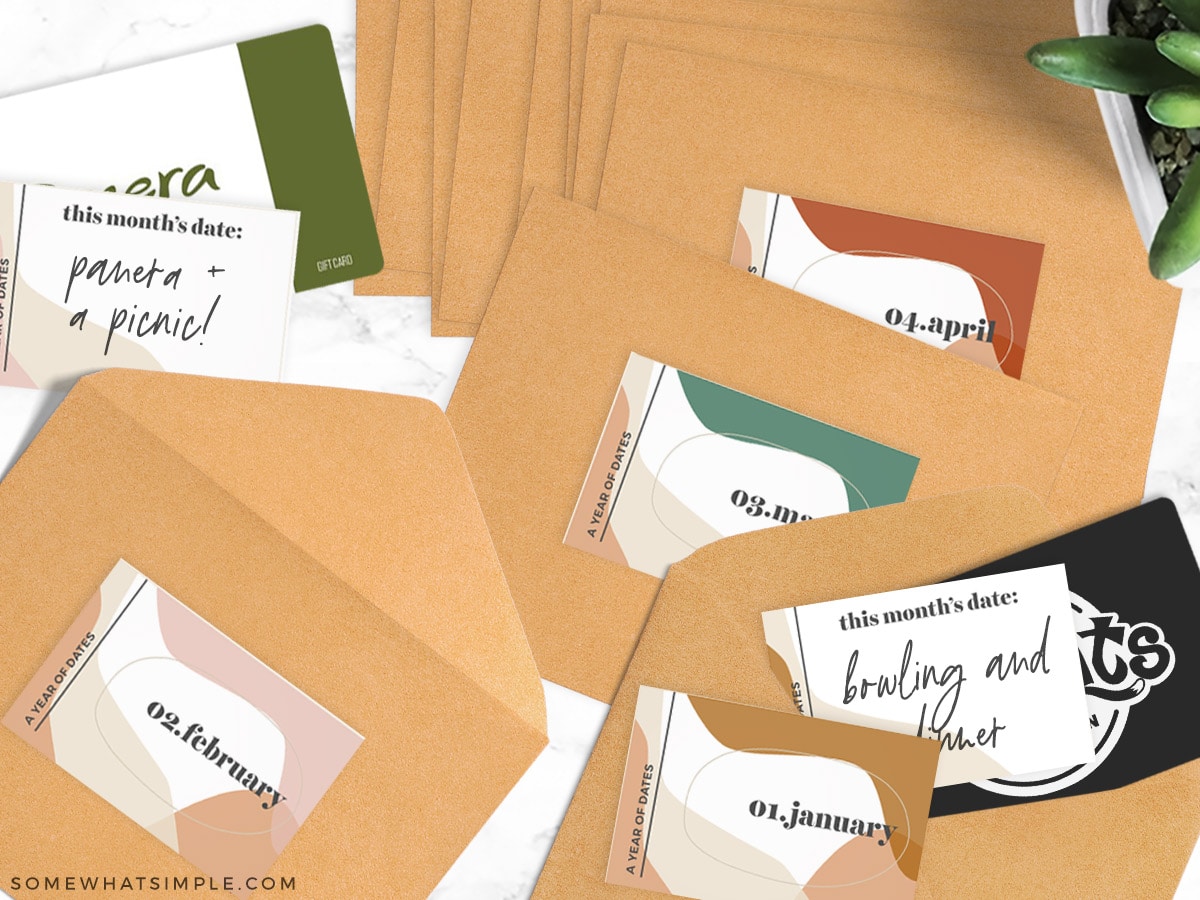 Date Night Ideas
Book a babysitter for the kids – it's time to turn up the romance! Here are some fun date night ideas –
Valentine's Day Picnic day date
Your Choice, My Choice date at home
DoorDash DInner + Game Night with Friends
corn maze
haunted house
Look at Christmas Lights
museum
dinner + movie night
concert
carnival
festivals
carve pumpkins
go on a hike
comedy show
live play
bowling
cooking classes
ballroom dance lesson
couple's massage
day trip/ road trip
make homemade cookies and hot chocolate
popcorn and a movie in bed
Top Golf
Gun/Shooting Range
Ice Skating
Laser tag
Mini Golf
backyard campout
Year of Dates Free Printable
Enter your name and email address in the form below for immediate access to this printable. Please remember, this printable pack is for personal use only. Please do not mass0distribute them, sell the printed or digital copies, or claim them to be your own. Thanks for understanding!