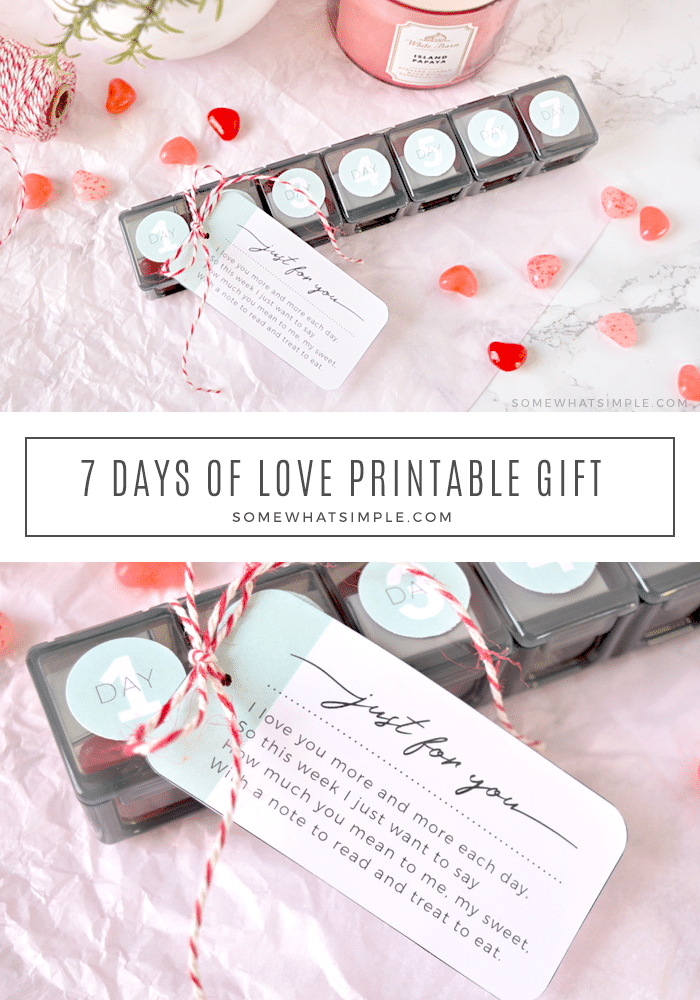 Surprise your special someone with seven cute love notes + small treats that you can have ready within minutes!
Here are a few more of our favorite ways to show love to your spouse – Marriage Makeover Challenge, 10 Ways to Say "I Love You", Intimacy Printables, 5 Actions that Speak Louder Than Words, and the very popular 30-Day Love Challenge.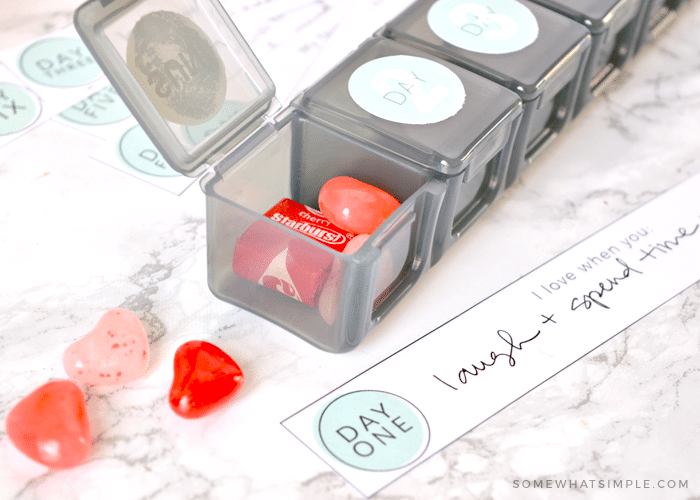 Cute Love Notes
Ready for a fun, affordable way to express love and appreciation? Grab a pillbox next time you're out and about, fill it with cute love notes and favorite candies, and in no time at all, you have a fun little gift that keeps giving all week long! This idea is perfect to slip into your husband's suitcase as he leaves for a business trip. You could hide one in your daughter's sleeping bag as she heads off to summer camp, or put one in your son's backpack for the first week of school… you get the idea!
I put mine on my husband's nightstand. Each night, he will be able to end his day with a little love. Because sometimes in life, it is the simple things that make us happy!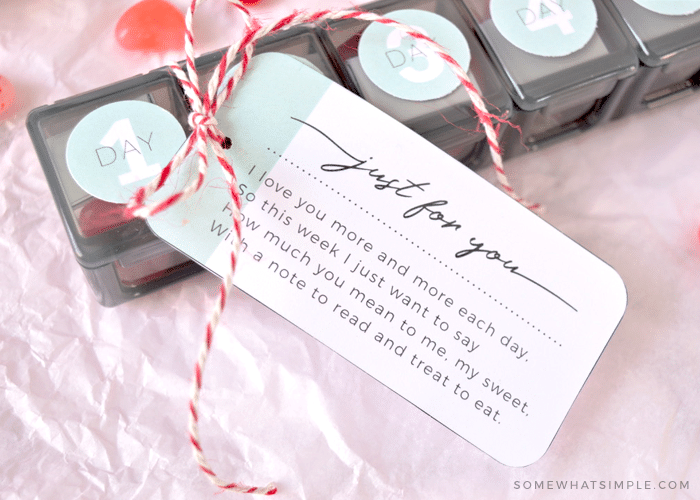 Printable Love Notes
We're making it even easier for you with our FREE Printable Love Notes Pack! A cute poem, labels + fun prompts each day of the week so you can make each message extra personal and super special!
Here is how to put it together –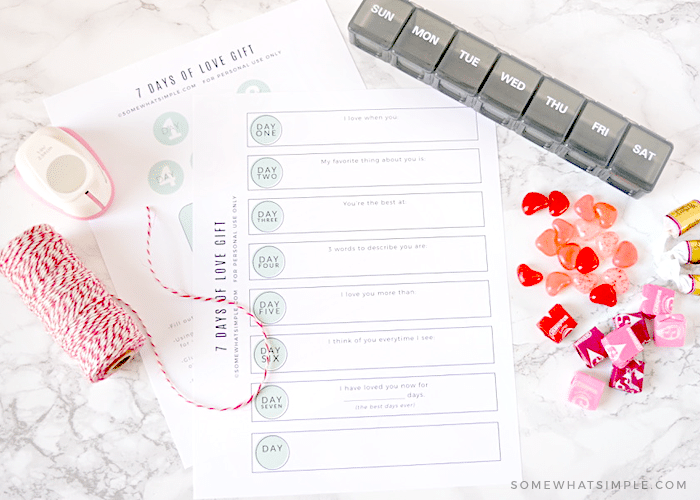 7 Days of Love Printable
MATERIALS –
Free printable (download below)
Vitamin/pillbox – the bigger, the better! (HERE is the one we used.)
Scissors
Pen / marker
Small candies
Round circle punch, optional
Glue stick or tape, optional
Twine
DIRECTIONS –
Download and print the Love Notes printable.
Cut out each love letter and fill in each prompt. Fold or roll up each paper to fit inside the spaces of your pillbox.
Add some candies to each space and close each tab.
If you want to cover the words on top of your box, cut out the labels with scissors or a circle punch, then tape or glue them over the words.
Cut out the poem and attach it to your box with some twine.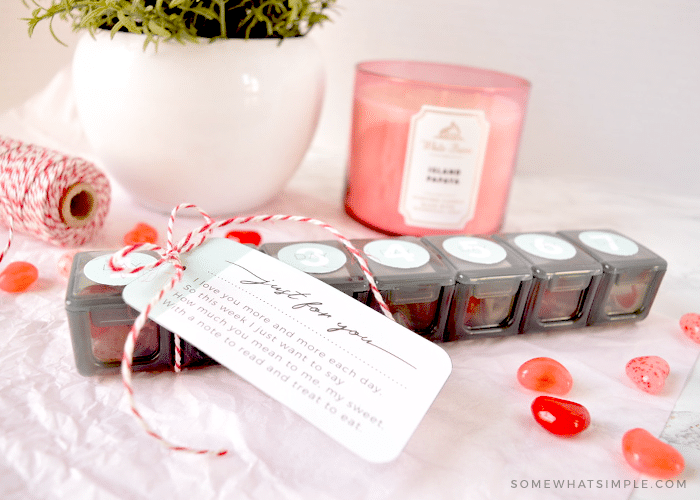 …and that's it!
Ready to Make Your Own?
Enter your email address below for immediate access to this printable.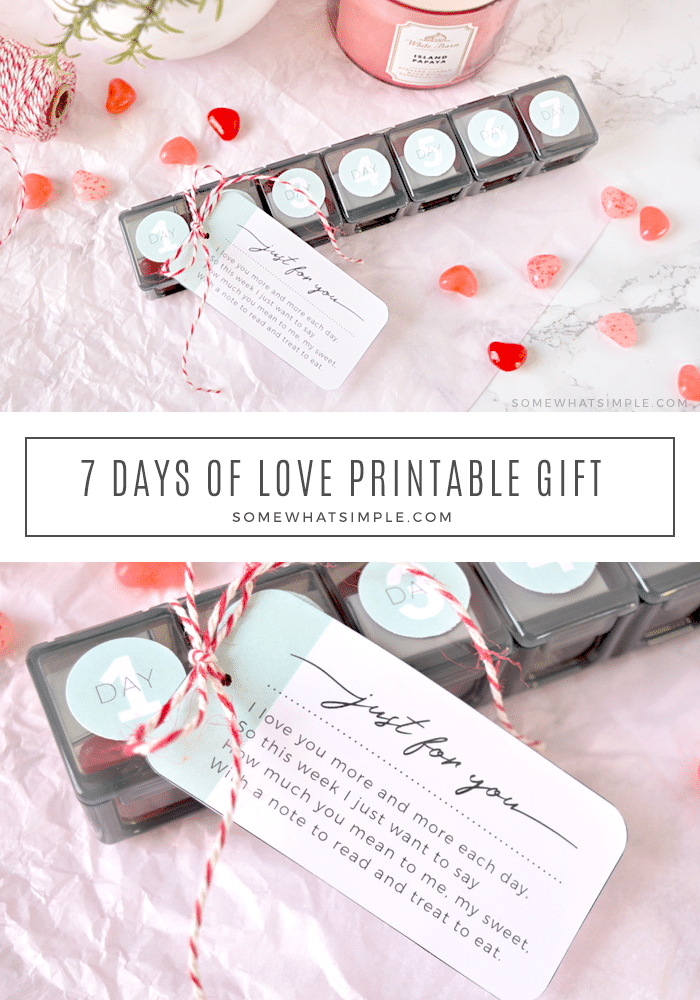 ABOUT THE AUTHOR: Corie is the creative mom and loving wife from The Dating Divas – a site that shares inexpensive and fun date ideas that help strengthen marriages! The Dating Divas were contributors to SomewhatSimple in 2010.
This post was first published on Somewhat Simple in 2010. It was updated with new printables in 2020.