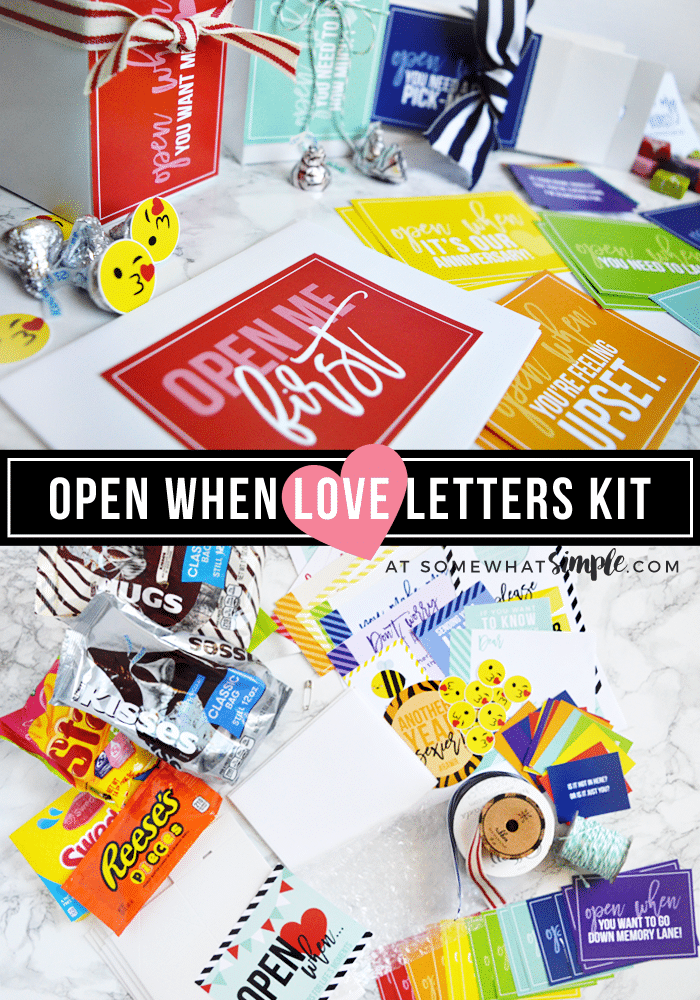 These open when letters are a fun + creative way to let your sweetheart know how much you love them, even when you're not around to tell them yourself! You'll have just as much fun putting this together as your significant other will be opening them!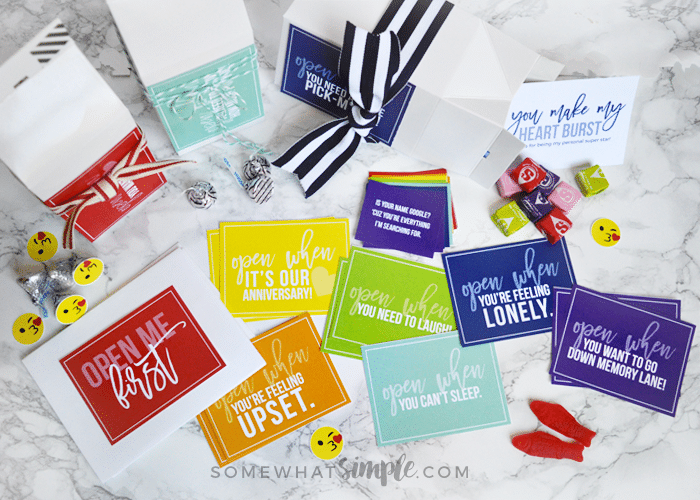 Open When Cards
Have you ever wanted to give a gift, or write a love note, but weren't sure how to start? Or you keep coming up with the same thing, and are looking for a little diversity in how you show your love? This darling open when letter printable pack is here to help!
You guys. I can't get over how darling this turned out! It is literally chalk full of color + creativity! It is perfect for those who have spouses serving our country oversees, or those who are traveling a lot on business… these truly make a darling gift for those long distance relationships!
But it doesn't have to be just for your spouse! Some of these letters would be perfect for kids away at college, or a family member (mom, dad, sibling, grandparent, etc) or friend who might be going through a rough time. These cards are truly a fantastic gift to anyone! Yes, some portions of it are definitely just for couples, but everything in this kit is easily customizable to fit any situation.
How To Make Open When Letters
Here's a quick Valentine's video we put together showing this fun kit up close and personal –
Open When Card Supplies:
scissors, paper cutter*, 1″ circle punch*
glue or paper cutter
envelopes
small boxes*
candy + gifts mentioned in the kit packet
medium/large box to put everything in
ribbons, string, + other embellishments*
*optional
Directions:
Print off our darling Open When Letters kit (remember to print off the last 2 card pages twice).
Cut out all the cards, tags, etc. using scissors or a paper cutter. We recommend cutting out the kiss emoji's with a 1″ circle punch (TONS easier).
Fill out the love note cards, the Memory Lane and A to Z pages.
Assemble everything and place in their envelopes, or if you'd like, small boxes for the bulkier gift letters.
Put everything into a larger box and send to that special someone!

What's In The Open When Letter Pack
14 Envelope labels that announce "when" to open your fun DIY love letter cards and gifts.
14 Cute coordinating love note cards to capture a message – make it saucy for your sweetheart, or keep it tame for mom. 😉
Extra printable elements to make your Love Letter just that much more special and fun! These are definitely something the recipient will never forget!
Each love note includes a theme and coordinating insert (which you can totally customize if you're giving it to someone besides a spouse!) that's wrapped up in one beautiful, printable bundle.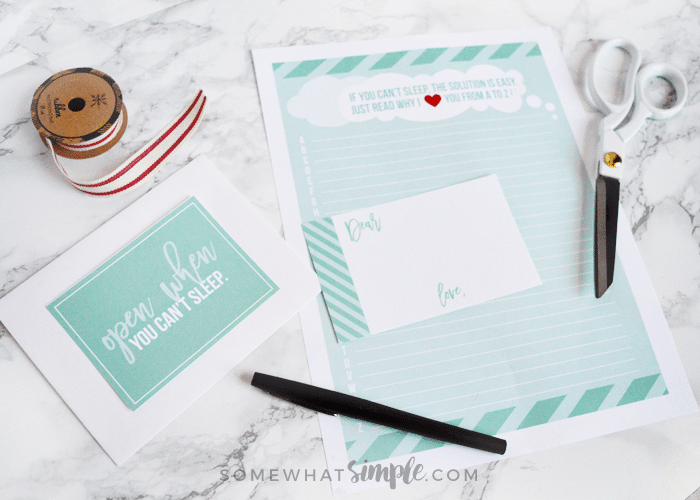 Open When Letter Ideas
Here are some of the topics we came up with for times when your loved one would want to open one of their cards. Here are a few we came up with or you can create your own.
Open when you can't sleep
Open when you're feeling upset
Open when you're feeling happy
Open when you miss me
Open when you need a hug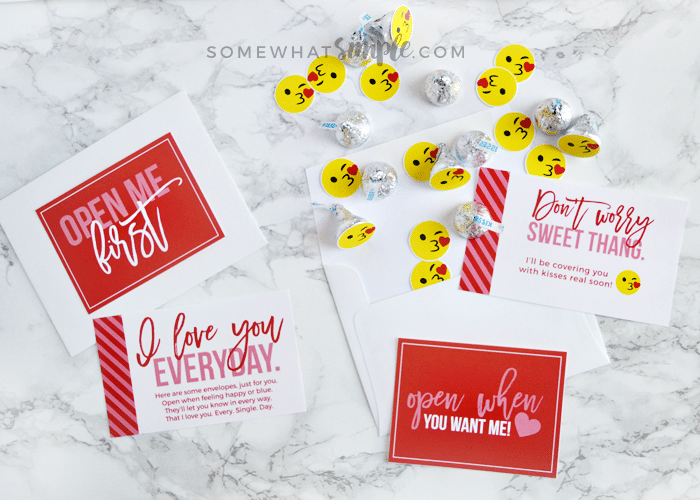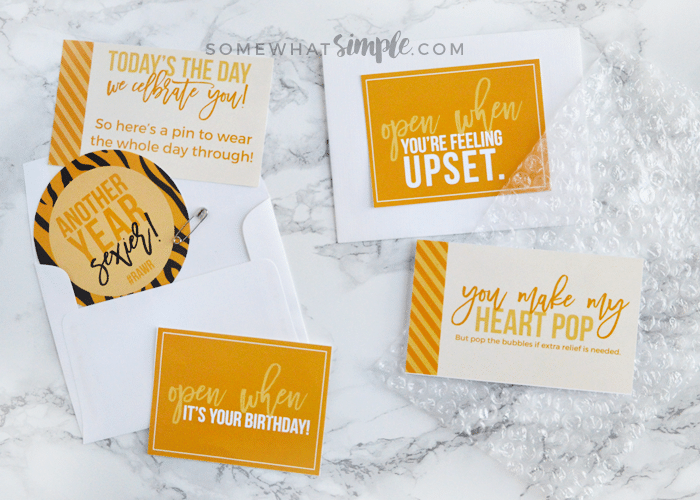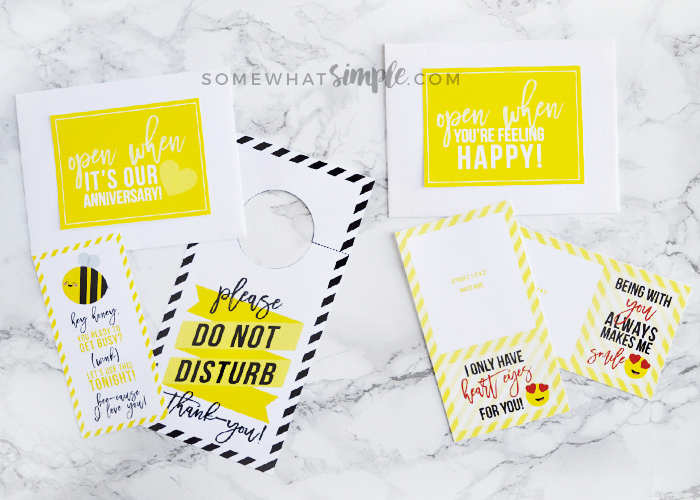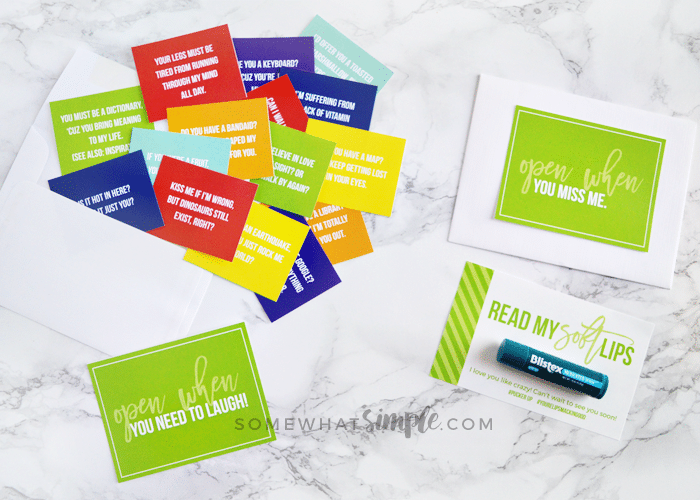 Other Printable Gift Ideas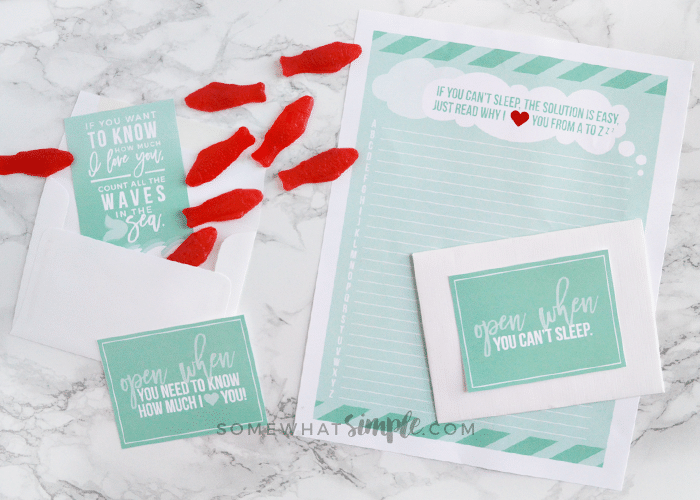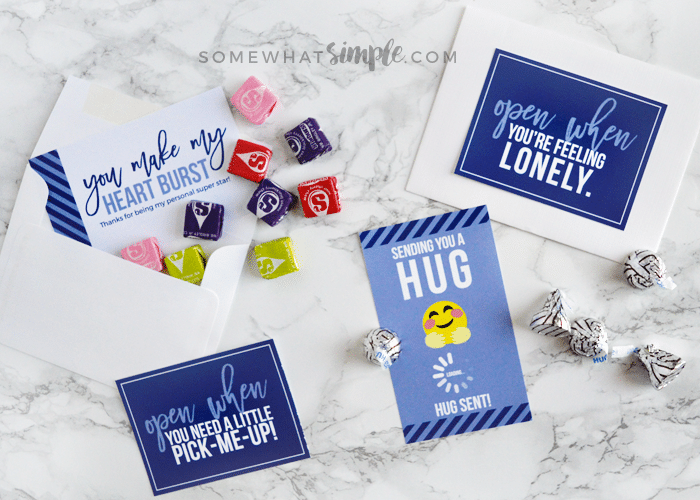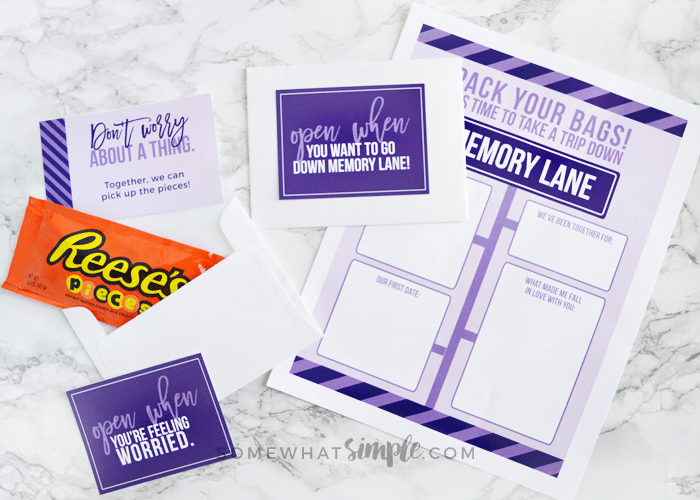 I really love this open when topic idea – what a darling way to record your story!
Here's some ideas if you want to use little boxes to hold some of the bulkier gifts: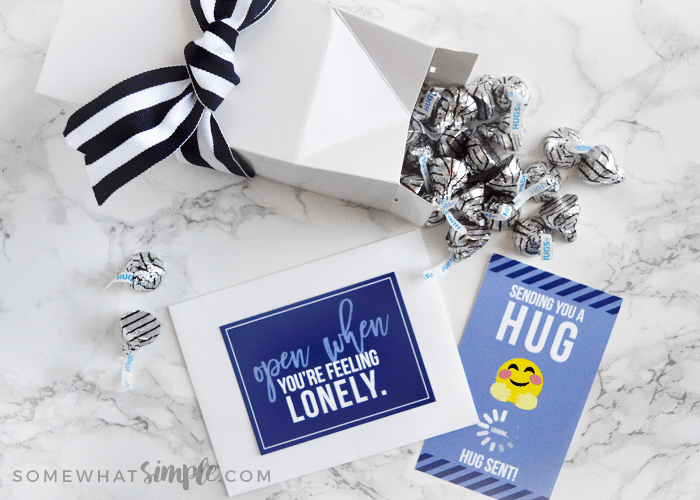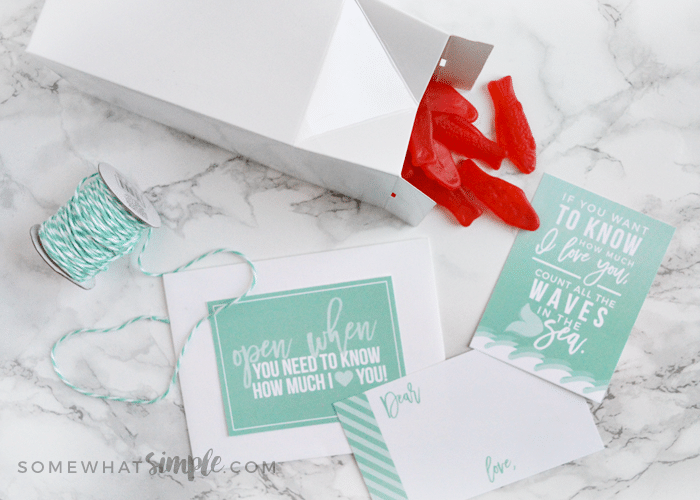 Aren't those milk container boxes adorable? (I bought them online forever ago, so if someone can shout out another place to get these, I'd be ever so grateful!) They're definitely on the larger side, so if you're mailing this, these might not be the best option – go for something smaller, or stick with the envelopes. 🙂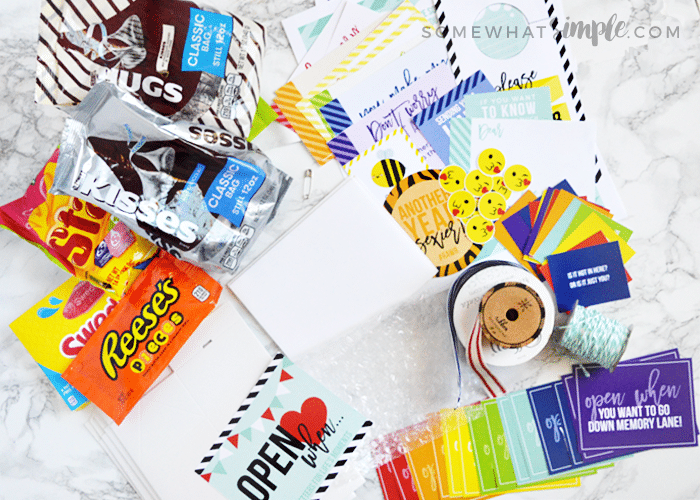 Open When Letters Printable
Could you imagine getting a box like this on your doorstep or in the mail when you're feeling lonely, frustrated, or far away from home?! You now have the opportunity to be there for anyone, just when they need you! Whether it be a far away place, or just a rough time in life.
Any other clever ideas on how to use this darling open when letters kit? Let us know in the comments! And we'd love to see what you create – tag us on social media! xoxo