This chocolate Reasons Why I Love You gift idea is a creative way to tell someone all the things you love about them!
Easy Valentines gifts are kind of our jam. We love showing love with this fun Balloon Idea, and our Sexy Gift for Him is something he'll be asking for each and every holiday. But this Reasons Why I Love You Idea is not only simple, it's totally thoughtful too!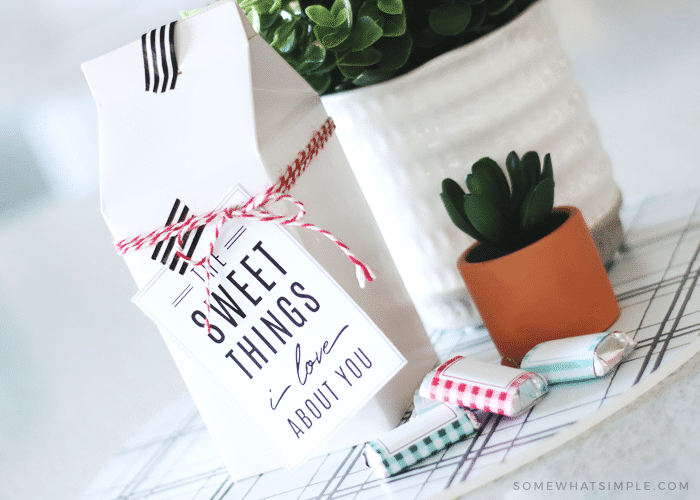 Reasons Why I Love You – Gift Idea
Today we are sharing a creative gift you could literally give to anyone you love! I've made these wrapped chocolates before for my husband and kids on Valentine's Day, but you could use them for Mother's Day, a good friend's birthday, or just a fun surprise to let someone know you care! Here is how to make them –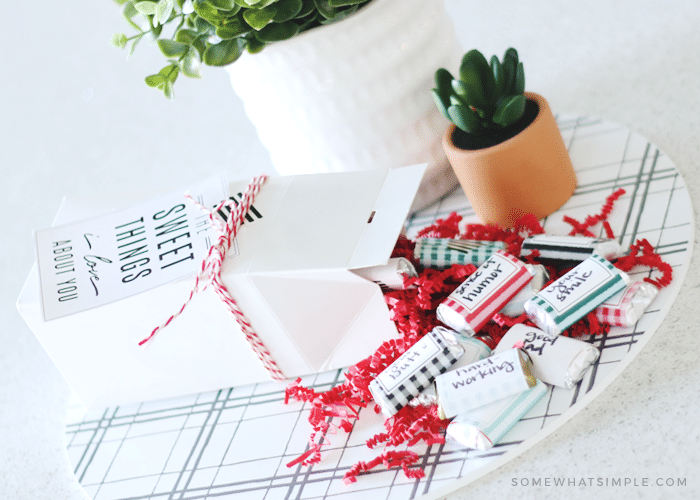 Top Reasons Why I Love You
MATERIALS:
printable candy wrappers (download below)
scissors
pen or marker
tape
mini chocolate candy bars
basket or gift box
ribbon, optional
DIRECTIONS:
Download, print and cut out the candy wrappers.
Write something you love about your special someone on each individual wrapper. The more ideas you come up with, the more chocolate your receipt gets – so get creative!
Wrap a chocolate wrapper around each piece of chocolate, securing with a small strip of tape.
Place the chocolates into a cute basket or gift box, then attach the tag with some tape or a ribbon.
…and that's it!
Ready to make your own Chocolate Gift?
Please note: As with all of our printables, these chocolate candy wrappers are for personal use only. Please do not mass produce them, sell them, or claim them to be your own. Thanks for understanding!
We hope you have fun putting this simple gift together!
Cheers!