Looking for some quick and easy Valentine's Day gifts? Here is one that is sure to get a smile from the recipient, and it couldn't be any easier to put together!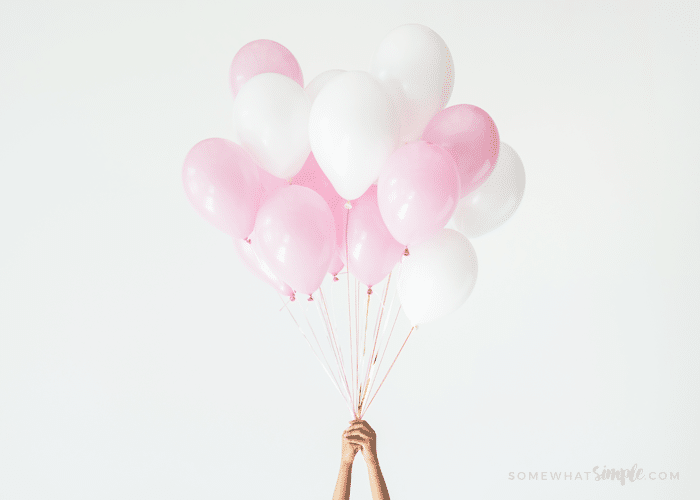 2 Favorite Valentine's Day Gift Ideas
My husband and I usually don't exchange big presents on Valentines Day. We decided years ago to plan a fun date sometime during the week of Valentine's Day, and then we exchange thoughtful cards or something small. No chocolates and no flowers- just something simple, yet meaningful. I came up with this Valentine Balloon Idea several years ago… and it was a hit! The kids helped me, and we had a blast putting it together! I've used this idea twice now, each time with a little twist and I'm going to tell you allllll about it!
A Few More Gifts Ideas HE WILL LOVE –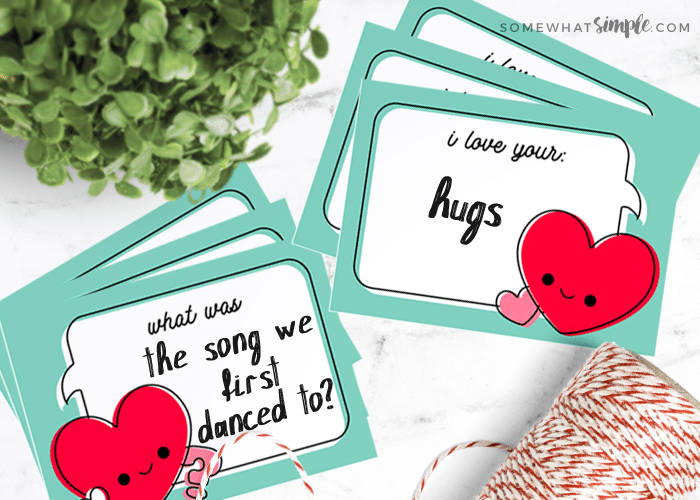 Easy Valentine's Day Gifts
MATERIALS NEEDED :
for option 1 –
helium-filled balloons, attached to ribbon or long strings
printable love note cards (download below)
for option 2 –
helium-filled balloons, attached to ribbon or long strings
small gifts (his favorite snack or candies, gift cards, new socks, sunglasses etc.) You can spend as much or as little as you want on this!
printable trivia cards (download below)
you will also need –
DIRECTIONS :
for option 1 –
Download and print the love notes.
Write something you love about your sweetheart on each note, or a favorite memory of the two of you etc. Just something sweet that will make him smile!
Punch a hole in the love note and string it through the end of each balloon string.
Place balloons over his bed and wait for him to come home and see it!
The kids were SO excited to follow him upstairs when he got home- they could hardly contain themselves! … and of course he loved it. The surprise of a room full of balloons plus the simple little love notes was enough to make him feel pretty special. And that is what Valentine's Day is all about!
for option 2 –
Download and print the trivia cards.
Write a trivia question on each card about the two of you and your relationship. (ie. Where was our first kiss? What was I wearing on our first date? etc. You can make these as simple or as difficult as you want them to be!)
Attach a trivia question and a small gift to each balloon.
Place the balloons over his bed to surprise him when he comes home.
Play some trivia! For each question he gets right, he can keep the prize attached to it. (If you're nice, you can let him keep all the prizes, regardless of his answer, haha!)
This idea was such a fun walk down memory lane! My journal from college is where I found most of our trivia questions- that way it wasn't just "his word against mine." (Journal entries are as good as the law around here!) If was funny seeing if his answers were the same as my recollections.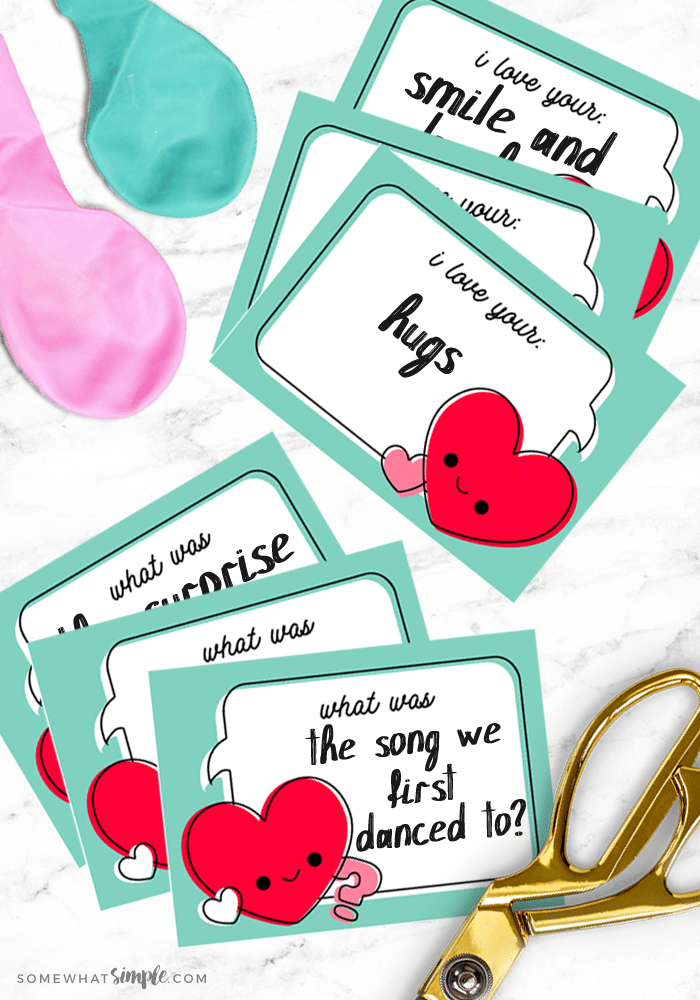 Ready to create your own awesome Valentine gift?
So there you have it! Simple, thoughtful, EASY Valentine's Day Gifts!
Happy Valentine's Day!