Popsicle Soap is a fun project you can make in an afternoon and enjoy for months to come! These soaps are easy to make and look adorable!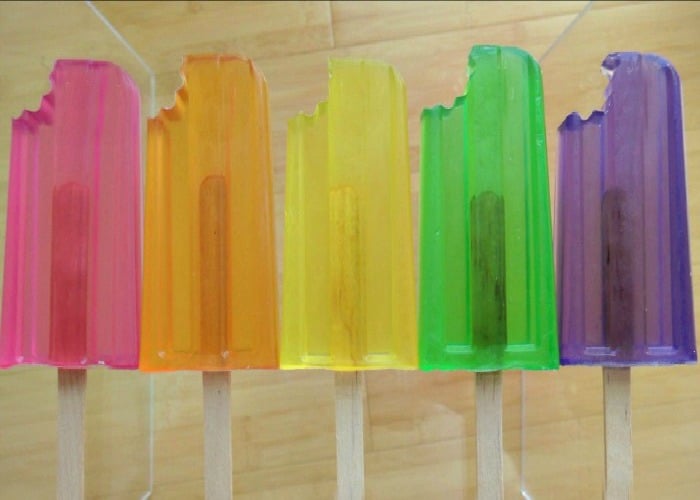 It's never too early to start washing your kid's mouth out with soap… and now it can be done with these soapsicles! (I'm thinking I'm not going to be asked to babysit anytime soon!) Anywho… thought I'd write up a tutorial on how to make these yummy tasting smelling popsicle soaps. Let's get started…
How to Make Popsicle Soap
MATERIALS NEEDED:
popsicle sticks
large binder clips
clear melt and pour soap*
glass measuring cup
soap colorant (I prefer liquid over the powder or gel)
fragrance oils
rubbing alcohol in a spritzer bottle
tiny little scalloped circle cutter, optional
* It takes about 2 1/4 ounces for one soapsicle- solid weight, not liquid.
DIRECTIONS:
Cut soap into cubes and place them in a glass measuring cup. Microwave for 1 minute, then do 30 second bursts until it's completely melted. Melt it completely, but do not let it boil.
Spritz liquid soap with rubbing alcohol to take the bubbles out, then add a couple of drops of colorant. (A little goes a long way!)
Add your desired amount of fragrance oil. Stir, then spritz again with the rubbing alcohol until there are hardly any white bubbles.
Pour slowly into your mold. Get rid of the bubbles by spritzing with alcohol until they're gone! Put the cover on.
Put the binder clips on the popsicle sticks so they don't get lost when you stick them in the mold. Let it set for about an hour, or until set completely.
Get them out of the mold by squeezing all around. Eventually the soap will pop up a bit. Grab the stick and slide on out. Let them air out to rid any condensation on the soap.
If you want your soap to look like it has a bite mark, use the tiny little scalloped circle cutter. Press down right on the corner.
Place in baggies and tie 'em up!
It's totally up to you whether or not you want to tell the kiddies it's soap! (You can just let 'em find out for themselves! Haha!)

Enjoy!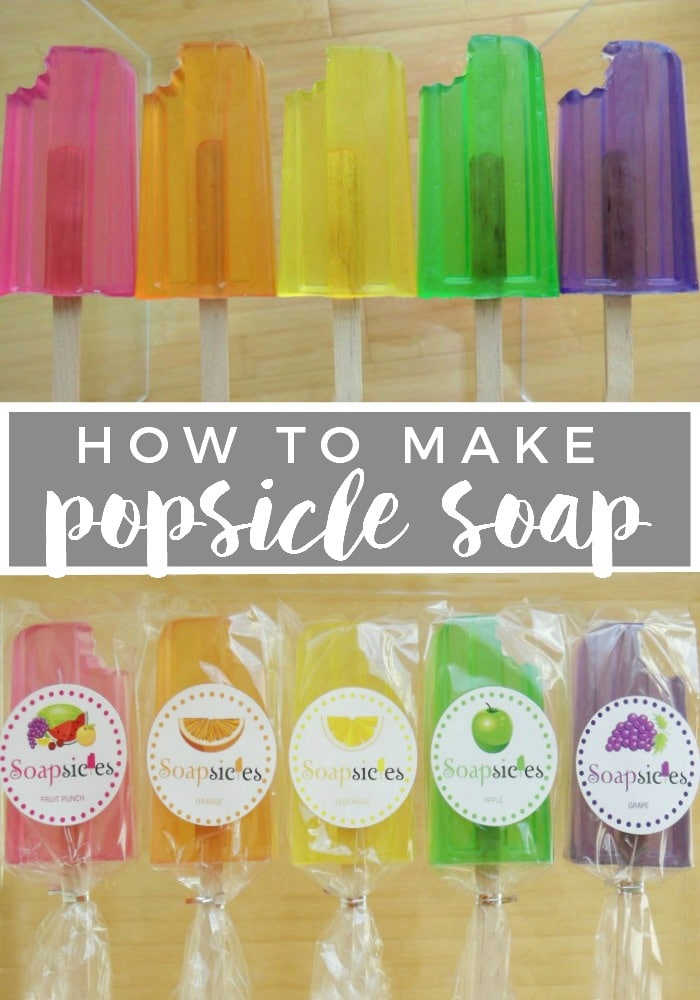 ABOUT THE AUTHOR: Crafts, crafts, and more crafts! Visit the Greenbean Crafterole Blog for TONS of creative inspiration, mixed with a daily dose of refreshing humor!