If you've never tried chocolate cherry thumbprint cookies, you're in for a delicious treat!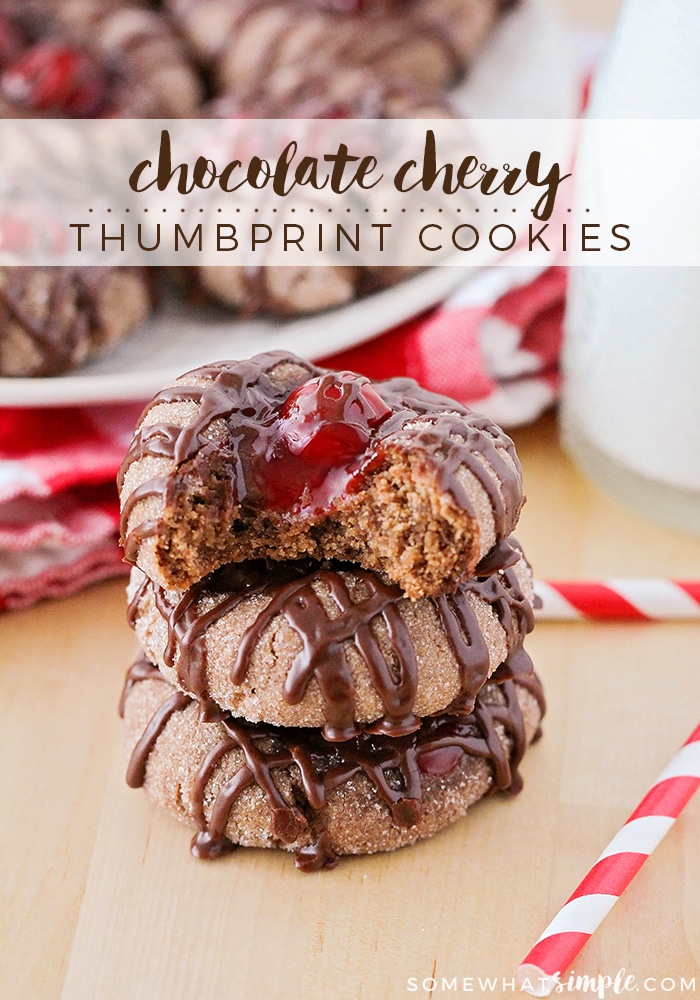 Raise your hand if you LOVE the flavor combination of chocolate and cherry!!!
When I think of a sweet treat lately, chocolate and cherry is the first thing that pops into my head. Maybe it's pregnancy.  Or maybe it's how wonderful the two are together.  Maybe it's some sort of subconscious thought because I have a delicious homemade cherry filling in my fridge… who knows!?  But, for whatever reason, I've been deep into the world of chocolate and cherry and these fine little Chocolate Cherry Thumbprint Cookies are a new favorite treat!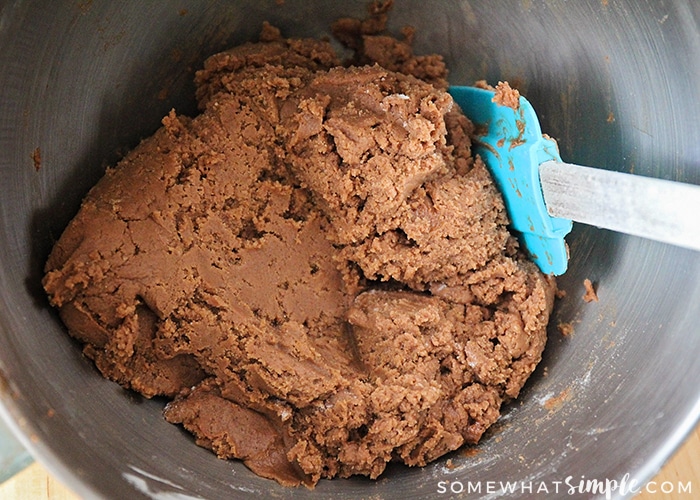 The chocolate cookie base is a cookie dough recipe is one I found years ago from Better Homes & Gardens. The cherry thumbprint filling is one I made and canned last summer, though any cherry pie filing will do.  The chocolate glaze is the icing on top and definitely pulls it all together!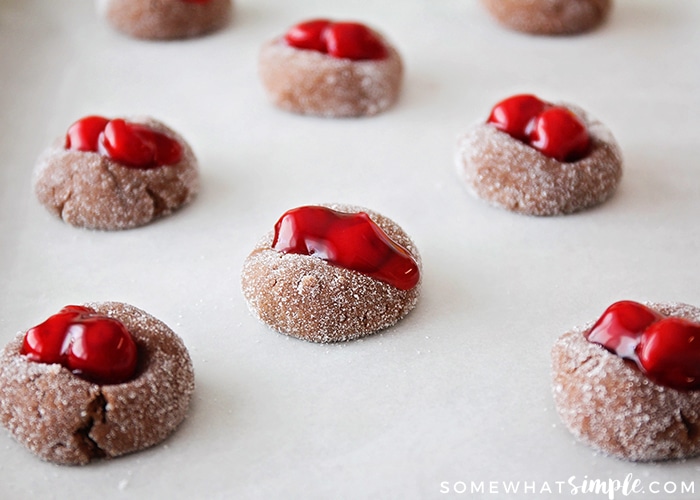 Easy Chocolate Cherry Thumbprint Cookies
makes about 4 dozen cookies
Chocolate thumbprint cookies ingredients- 
1/4 cup softened butter
1/4 cup shortening
2 ounces softened cream cheese
1 cup packed brown sugar
1/4 cup unsweetened cocoa powder
1/2 tsp baking powder
1/4 tsp nutmeg
1/2 tsp salt
1/2 tsp ground cinnamon
1 egg
2 tsp vanilla
2 1/4 cups all-purpose flour
1/4 cup white sugar
Cherry pie filling ingredients-
Chocolate glaze ingredients-
1 cup sifted powdered sugar
2-4 Tbsp heavy cream (or whole milk)
1 tsp pure vanilla extract
1 ounce (1 square) unsweetened baking chocolate, melted
Chocolate cherry cookies directions- 
Preheat oven to 375°F. Line a cookie sheet with parchment paper.
In a large bowl, beat butter, shortening, and cream cheese using an electric mixer on medium to high, about 30 seconds or until creamy.
Add brown sugar, cocoa powder, baking powder, salt, cinnamon, and nutmeg, beating until combined. Scrape bowl occasionally.
Beat in the egg and vanilla until combined. Beat in as much of the flour as you can with the mixer, stirring in the remaining with a wooden spoon.

Shape dough into 1-inch balls. Roll the cookie in the white sugar and place about one inch apart on the prepared cookie sheet.

Gently make an indentation in each cookie using your thumb.

Spoon about 1/2 teaspoon cherry pie filling into each thumbprint.

Bake in the preheated oven for about 10 minutes, until the edges are set. Cool on the cookie sheet for one minute and remove to a wire rack to cool.
Chocolate glaze directions –
Mix ingredients until a drizzle consistency is reached.
Pour the glaze into a plastic storage bag and clip a tiny hole in the corner.
Drizzle the glaze over the top of the cookies.
Allow to set before storing in an airtight container.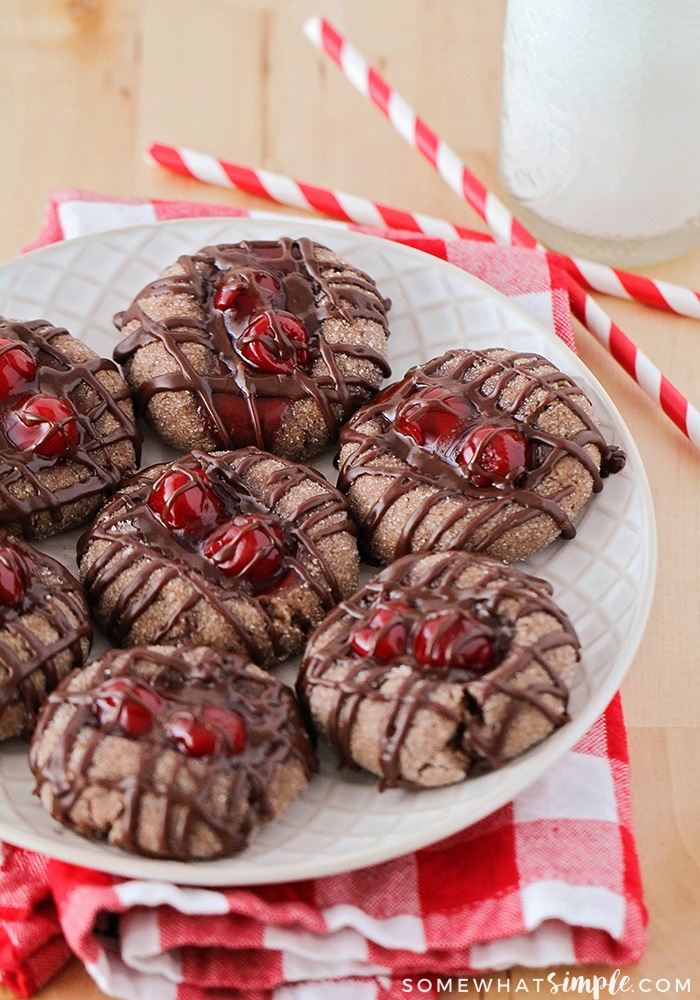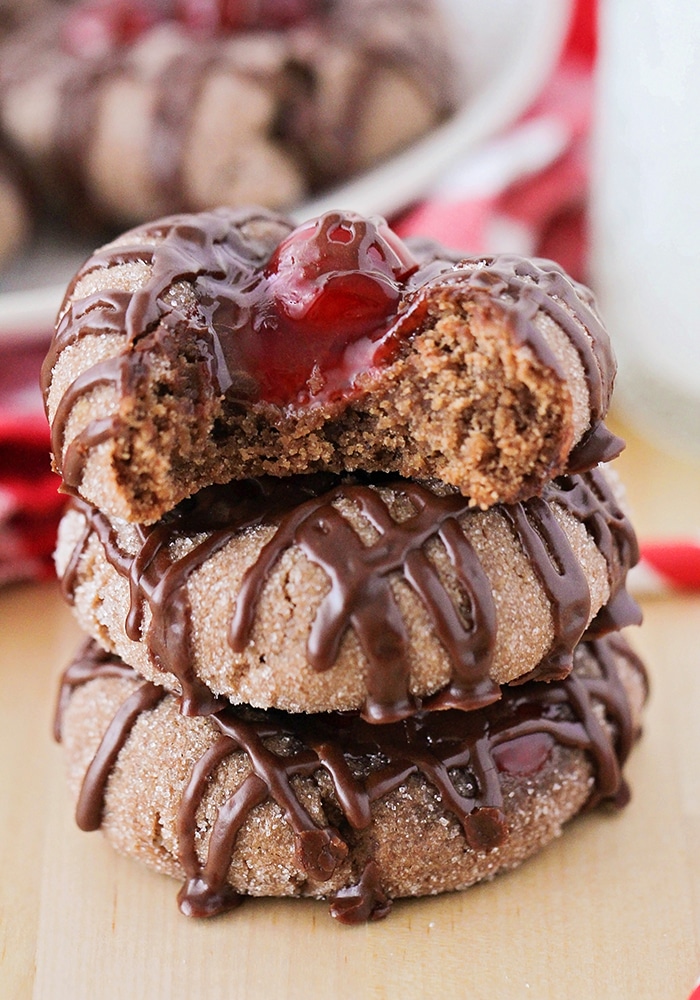 I hope you love this little cookie as much as we did!
. . . . .
About the Author: Anne, a former contributor on Somewhat Simple (2014), now shares her creative adventures full-time on her own blog Circus Berry.
This post originally published on Somewhat Simple in April 2014. It was updated in July 2017.