They're like cupcake wrappers, but for terra cotta pots! These Graduation Gift Plant Wrappers will add just the right touch to that gift for your grad!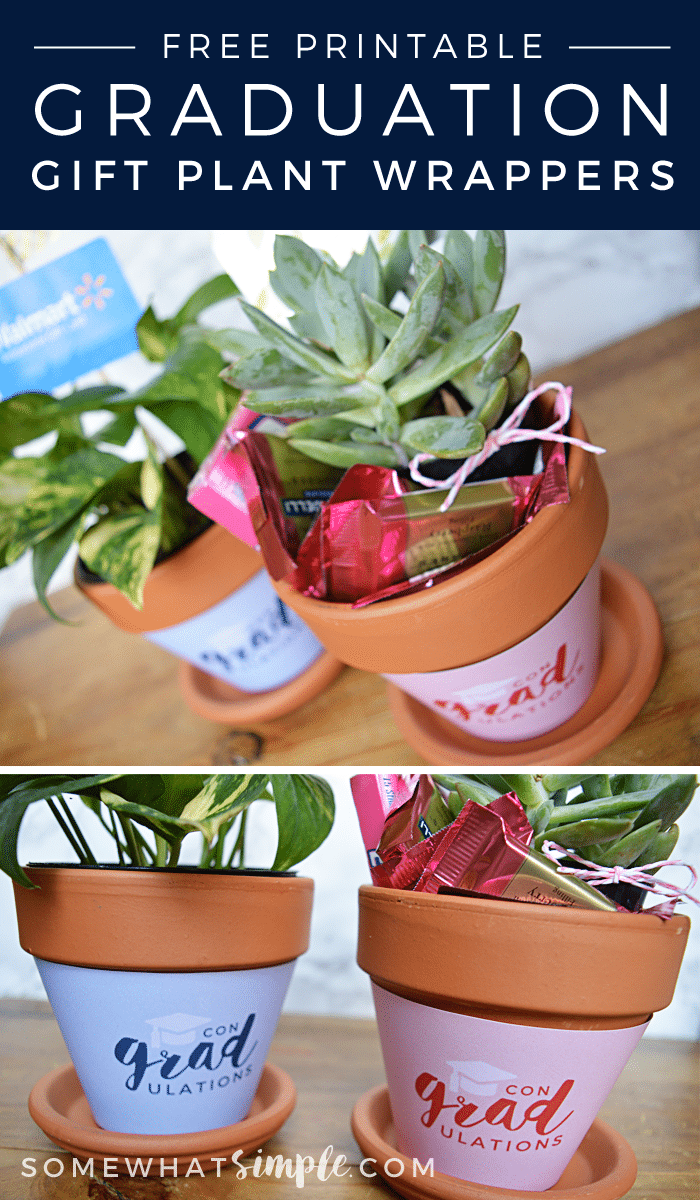 These Graduation Gift Plant Wrappers are perfect for any grad of any age, and totally customizable! Depending on your budget, you can go as simple or as generous as you want!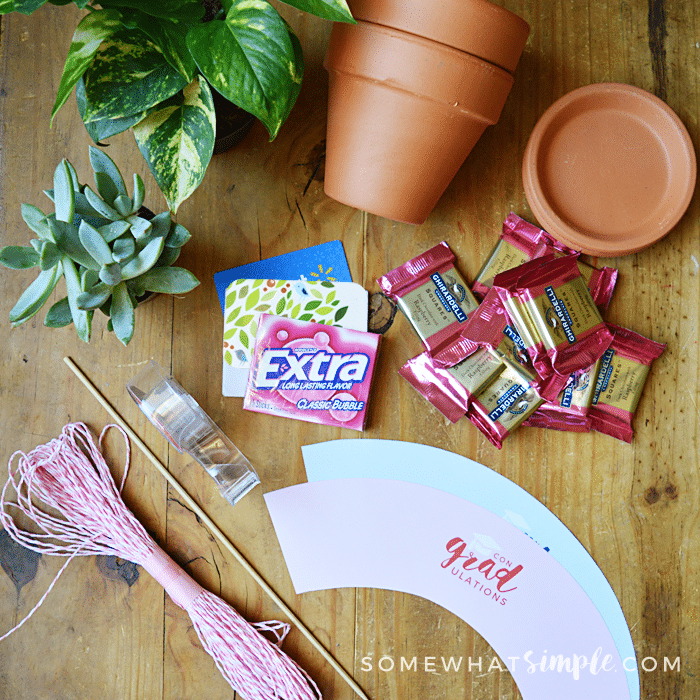 GRADUATION GIFT PLANT WRAPPERS
MATERIALS NEEDED:
Here's a list of supplies I grabbed to create these adorable graduation gifts:
4″ terra cotta pots + saucers
small plants – one was 13 oz, the other was 4 oz
wooden skewer
candy + gum
gift cards
tape
string
scissors + washi tape (not shown)
terra cotta pot wrappers printable (below)
DIRECTIONS:
First, download our darling graduation gift plant wrappers by clicking on the text below. Then print out at a printing store (I always use the laser 32 lb paper option) or print off from home. (Just make sure your printer is set to print at 100% and not zoomed to fit page.)
blue wrapper // pink wrapper // grey wrapper (not pictured)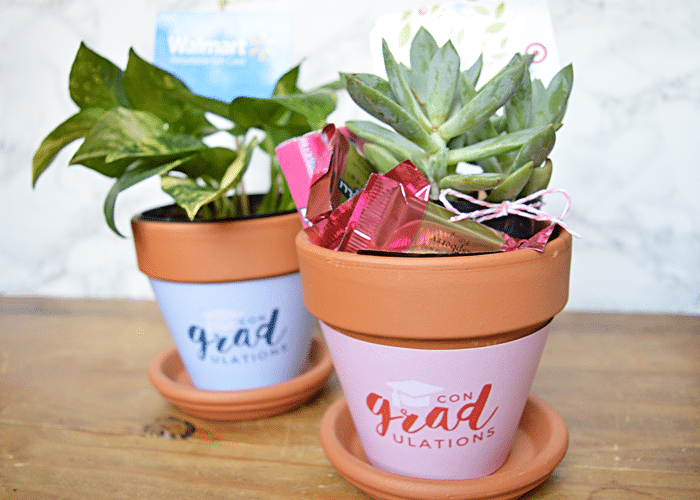 BLUE EXAMPLE ASSEMBLY INSTRUCTIONS:
Cut out wrapper, place on, and tape in the back.
If you choose to be a mature grown-up, cut your skewer in half with a tool of your choosing. I apparently am not a mature grown up and opted to just break the darn stick with. my. bare. hands. If you have some slight aggression issues to work out, I suggest this method for sure. 😉
Place ugly part of skewer (if you decided to go all Hulk on it) into the dirt of the 13 oz plant.
Plop (technical term) the whole thing into the terra cotta pot.
Tape gift card onto skewer.
Make a little tiny flag out of washi tape to put at the top of skewer.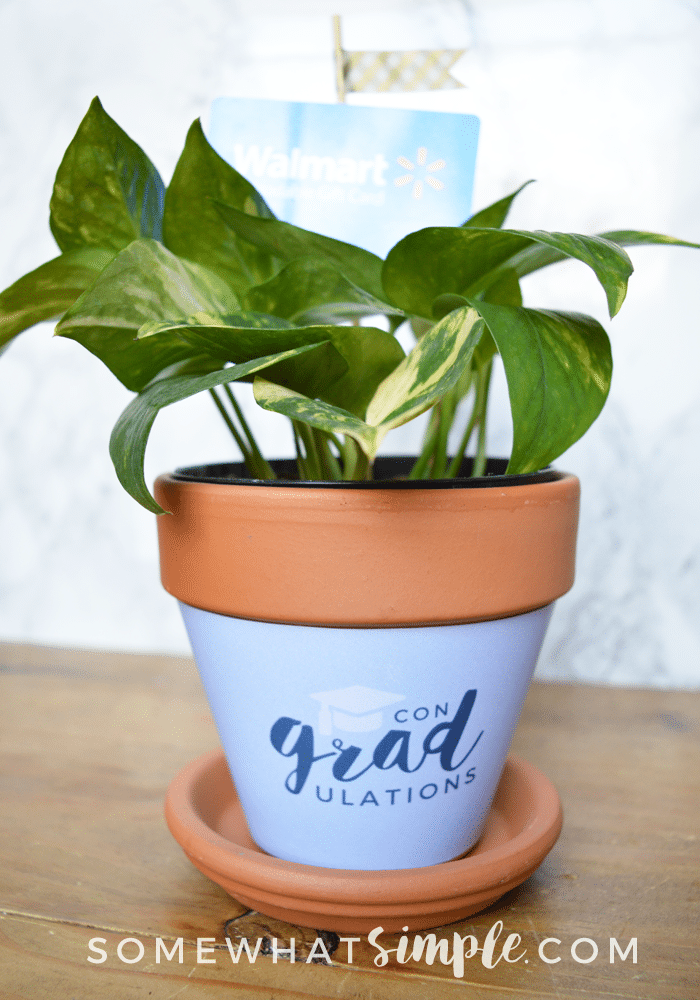 Seriously. Does it get any easier than that?!
But let's keep going.
PINK EXAMPLE ASSEMBLY INSTRUCTIONS:
Cut out wrapper, place on, and tape in the back.
Grab other half of skewer.
Again, place ugly part of skewer into plant dirt.
Tie a tiny bow around the 4 oz plant. Because, tiny bow. <3
Place a few candies in the bottom of terra cotta pot.
Place plant on top and surround with gum and remaining candies.
Tape gift card to skewer.
Make a tiny flag out of washi tape to place on the top of skewer.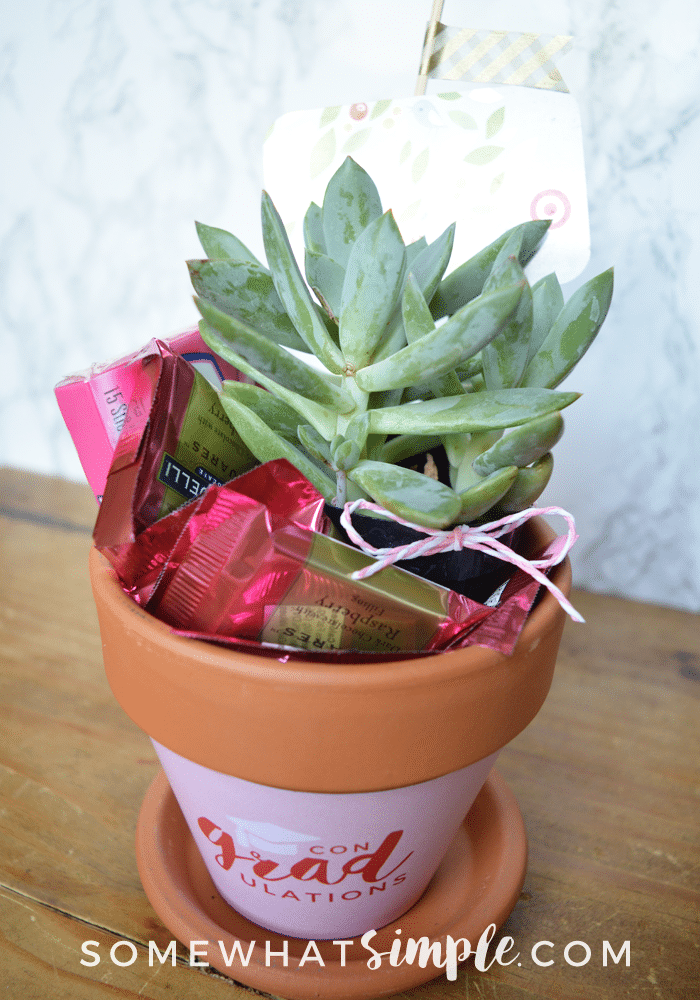 You guys. I die.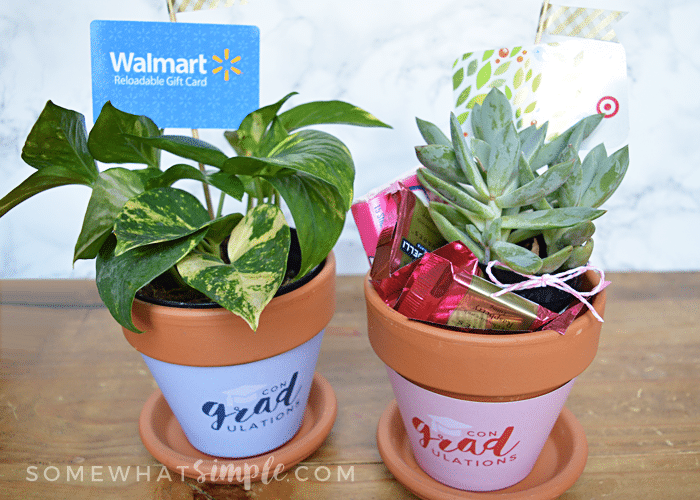 I adore how these turned out! And with a few supplies you can create your own awesome grad gift! so go. Get out there and make a graduate happy! 😉
*Disclaimer: these Free Printable Terra Cotta Plant Wrappers are for personal use ONLY, and are not to be sold in any way, digitally or physically. These and all of our printables are NOT to be altered or changed. Do not use or copy any part (shape, outline, style, art) to claim as your own. Thank you for understanding!