Want to learn How to Make Tear Off Notepads for your Craft Room? You're in luck!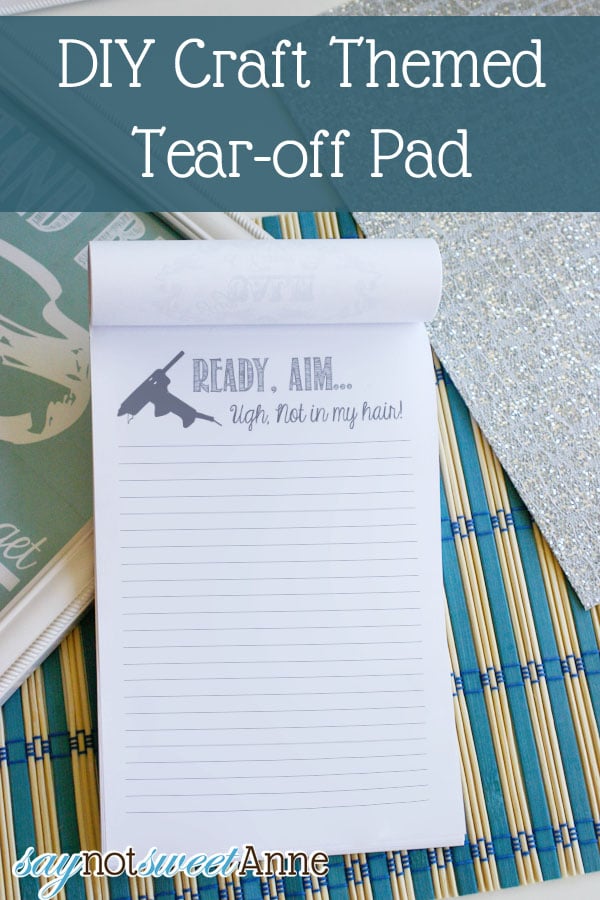 Squee! After being in our new house for about 2.5 months, I'm finally able to start moving in to my craft room. I haven't been able to devote a ton of time to the space (what with Kitchens and other communal spaces to renovate/unpack) but I did manage to make some Awesome Craft Room Printables and some Printable Organization Labels.
As part of my move-in-madness, I've been looking around for a cute to-do list for the craft room. I would have settled for pretty much anything so long as it was craft themed. But sadly, but department store shopping left me empty handed.
So, I did what any crafty girl would do. I made my own!

WHAT YOU NEED:
This FREE TEMPLATE

Paper (I did mine on white, but try it on a pretty colored paper!)

Printer
Chip board (I used the back of a used up notebook. Any sort of heavy board to serve as the backing will do.)
Scissors, cutter or copy shop to cut the pages in half neatly. (When I make a bunch for gifts, I get them cut at a copy shop, only about $2.00!)
Mod Podge
Paint Brush
Clips
HOW TO MAKE IT:
First, download and print the FREE TEMPLATE. Make sure not to scale the document in any way. It needs to print full size. 10 copies will get you 40 list pages. That is about what I did.
Cut the paper in half. I used my trusty rotary cutter.
Arrange the pages so that there aren't a bunch of the same design together. Use a binder clip, clothes pins, whatever you can to clip them in a nice, neat stack.


At the top of your pad, use a paint brush to apply some mod podge. It may take a few layers with dry time in between.
Let sit for a few hours until completely dry.
Done!
I hope you love your to-do list as much as I love mine! I've already used to to write down some supplies I need for an upcoming project. And, it makes me smile reading the funny sayings. I'm sure only other crafty people get it. Like you! Oh, and don't forget to grab the matching Craft Room prints– they work so well together!

♥ For more neat stuff (recipes like DIY Creeper Marshmallows, printables like my Free June-To-June Student Planner and crafts like DIY Double Jar) don't forget to visit me at SayNotSweetAnne.com, or follow on Facebook and Pinterest!