This post is sponsored by NESTLÉ® PURE LIFE® 8oz "Share-a-Smile™ Kid Designed Edition.  . As always, all opinions and text are my own. 
This simple and fun outdoor play station has everything you need to keep the kids entertained and hydrated all summer long!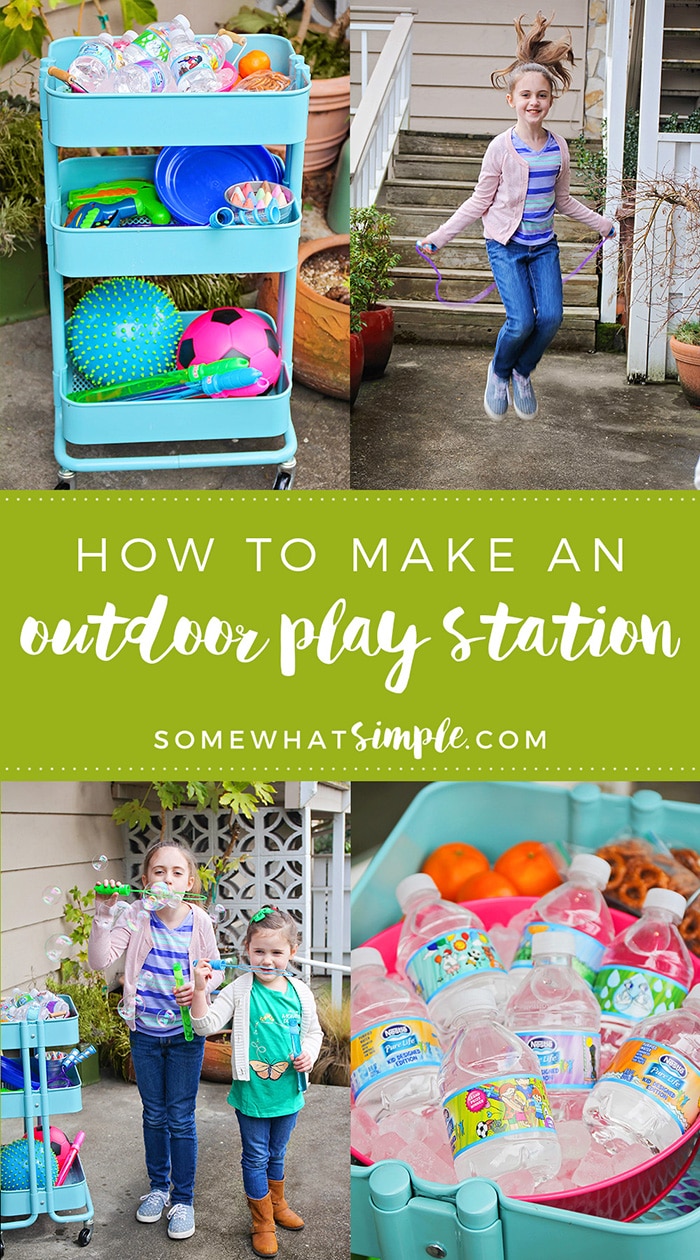 With the weather getting warmer lately, my kids have been begging to go outside every day. We had a long winter, and the kids can't wait to run free and enjoy the sunshine! Whenever we decide to play outside, though, it seems to take us forever to find all the stuff we need. Our jump ropes and bouncy balls are scattered all over the house, the bubble wands are empty and forlorn, and the chalk has been left out on the driveway, cracked and broken.
This year, I decided that enough is enough. I created this fun outdoor play station, perfect for corralling all of our outdoor toys! It's also a great place to put our snacks and water bottles, to keep everyone hydrated and ready to play. I like that it has wheels, so it's easily roll outside when we're ready to play. It's tidy and organized, and everything has its own place.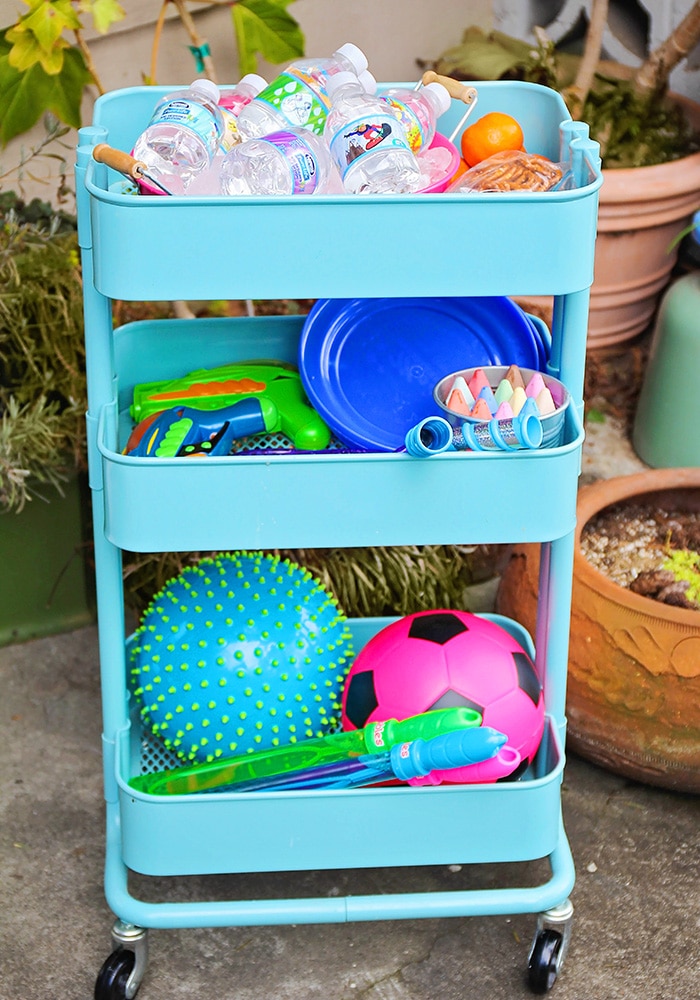 Outdoor Play Station
To make this simple and fun outdoor play station, you will need:
a variety of fun outdoor toys
healthy, low-mess snacks, like pretzels and fresh fruit
water bottles to keep the kids hydrated as they play
I chose to stock our outdoor play station with NESTLÉ® PURE LIFE® 8oz "Share-a-Smile™" Kid Designed Edition water bottles. They are so adorable and the perfect size for kids! The labels have cute and colorful designs drawn by kids, and they are so vibrant and fun! My kids loved choosing their favorite designs, and I have never seen them more excited about water bottles. 🙂 Next to the water bottles, I added a few healthy snacks to keep the kids happy and energized.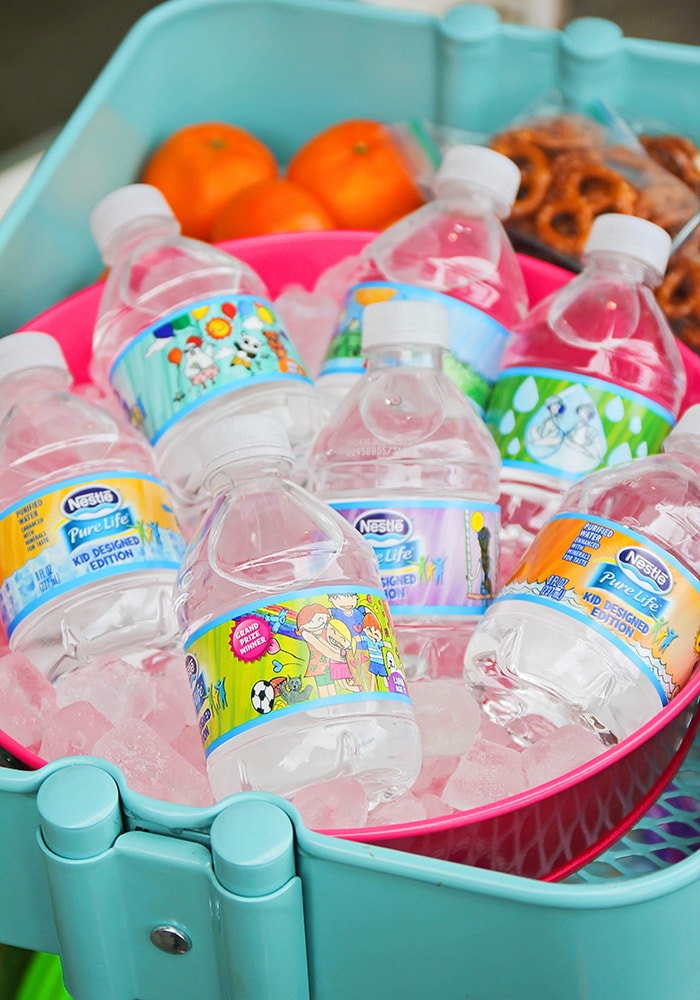 On another shelf, I added our sidewalk chalk, jump rope, water guns, and frisbees. I'm hoping the little tin I added for the chalk will make it easy to keep it all together. We've lost many a stick of chalk over the years because it was left out and accidentally smashed.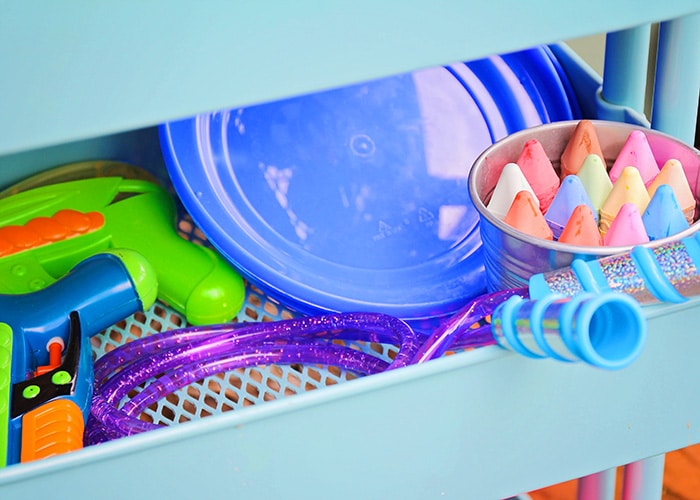 On the third shelf, I put our bouncy balls and bubble wands. My kids aren't always great about replacing the lids tightly on the wands, so I figured this would be a great way to minimize the mess from wands leaking.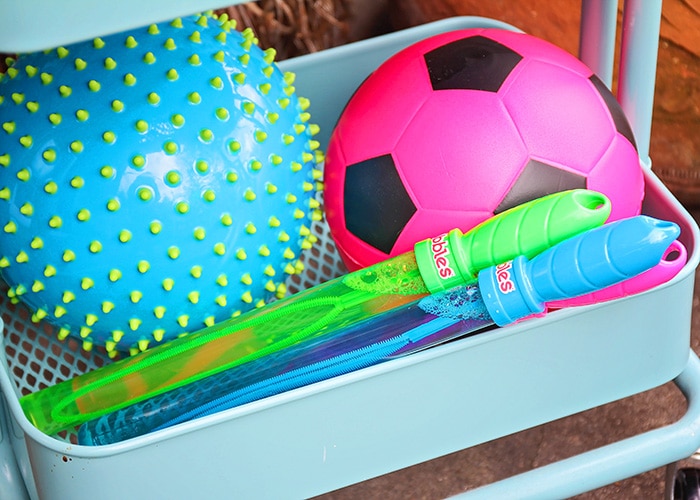 Once we had our outdoor play station ready to go, it was time to play!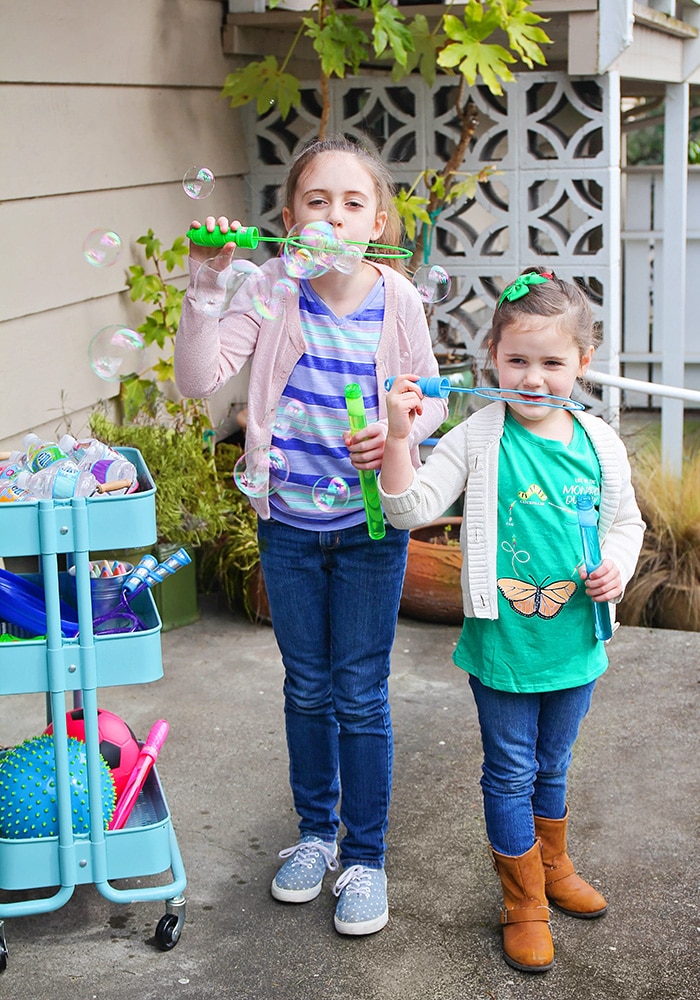 We don't have a lot of outdoor space at our house, but our little patio is perfect for jump rope, bubbles, and chalk!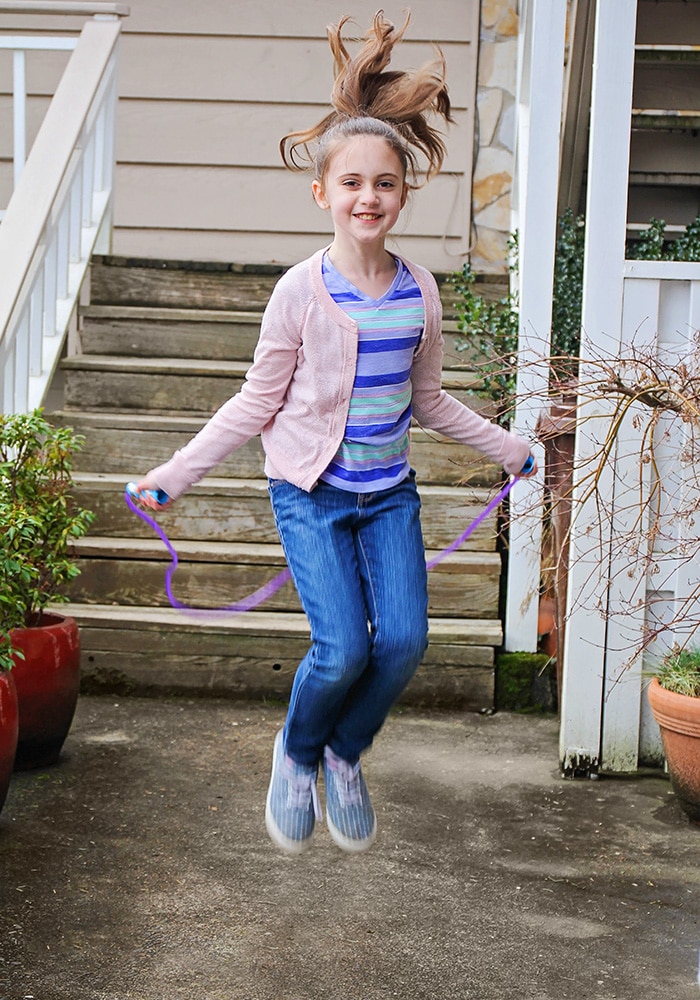 Is there anything cuter than a cat drawn by a six year old? I don't think so. 🙂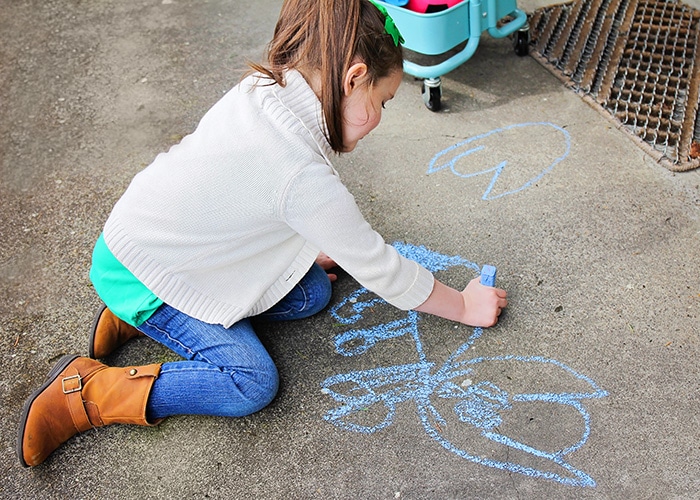 Healthy Hydration
As we played, I reminded the kids to take a break periodically and have a little snack and a drink. Adding healthy snacks to our play station helps us avoid crankiness and meltdown. Drinking water as they play helps the kids stay hydrated, especially when it's warm out.
Keeping kids hydrated can be a challenge. In fact, in a 2015 survey conducted by NESTLÉ PURE LIFE, moms said that getting their kids to drink enough water was a bigger challenge than many other healthy habits, including eating enough fruit, getting enough exercise, and eating breakfast. Kids who drink more than four glasses of water every day are more likely to participate in other healthy activities, including eating fruits and vegetable at meal times without reminders, and requesting healthy food items for school lunches.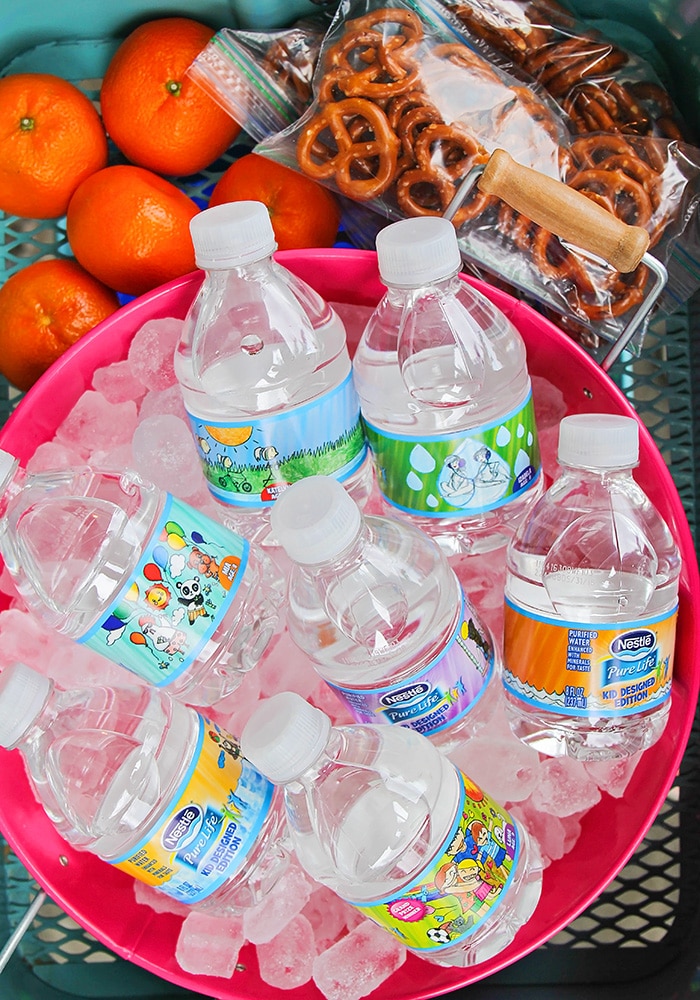 Replacing a single 12-ounce, 140 calorie sugar sweetened beverage with water each day for a year can cut more than 65 cups of sugar from one's diet. That's a small change that can really add up! NESTLÉ PURE LIFE "Share-A-Smile™" 8oz water bottles are a convenient size for families on the go, making it easy for kids to stay hydrated throughout the day. Plus they're so fun and adorable too! From a panda and his pals floating through the sky, to a surfing hippo, to friends frolicking at the beach– you can't help but smile and let your imagination soar.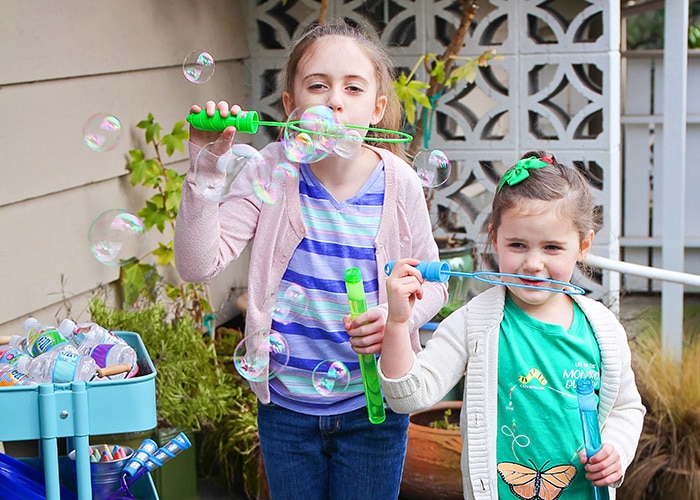 To learn more about NESTLÉ PURE LIFE and find the limited edition "Share-A- Smile™" bottles at a store near you, CLICK HERE.
Share what makes you smile and how the NESTLÉ PURE LIFE "Share-a-Smile™" bottles help to keep your family's healthy hydration on track with the hashtag #NestleShareaSmile on social media. 
Be sure to visit NESTLÉ PURE LIFE on Facebook, Instagram, and Pinterest as well!
Thank you to Nestle® Pure Life® for sponsoring this blog post. All opinions are my own.
Our readers also enjoyed these kid activity posts: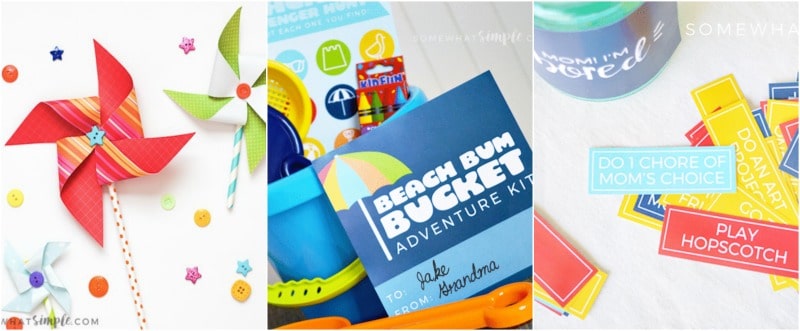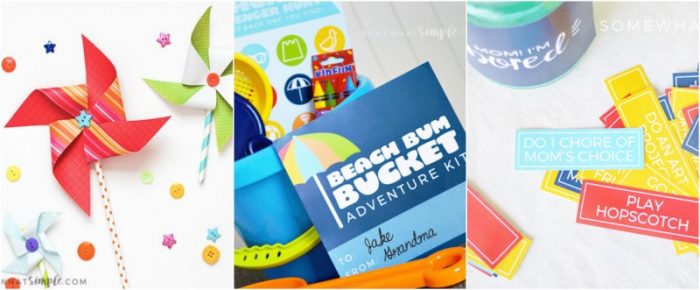 Paper Pinwheels  //   Beach Bucket Adventure Kit   //   Mom, I'm Bored! Jar