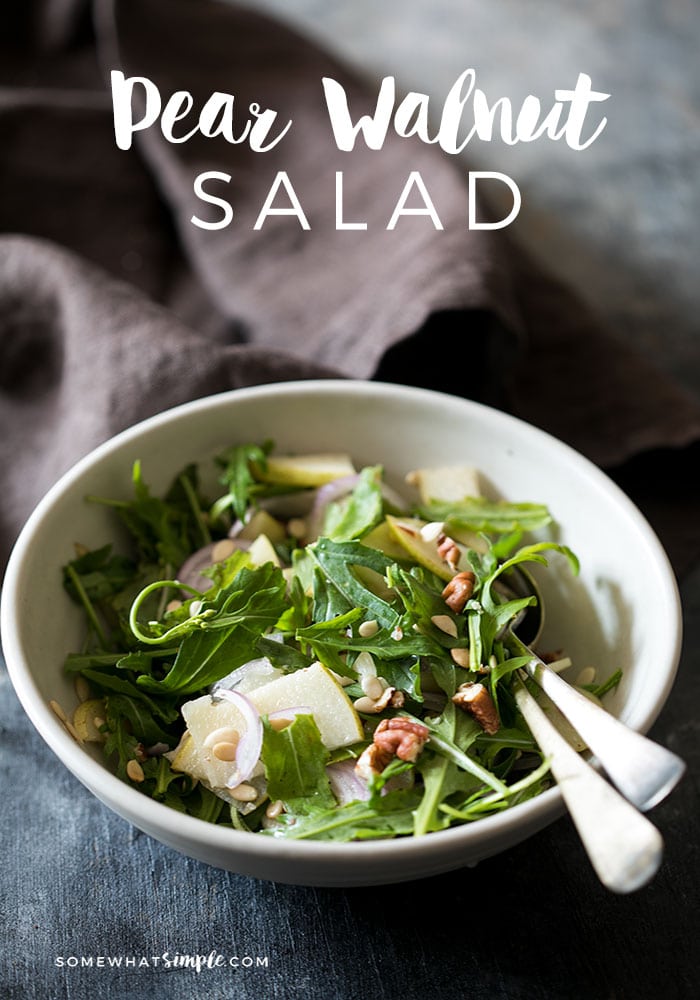 This pear walnut salad is simple, healthy and loaded with flavor! It is the perfect side for any meal!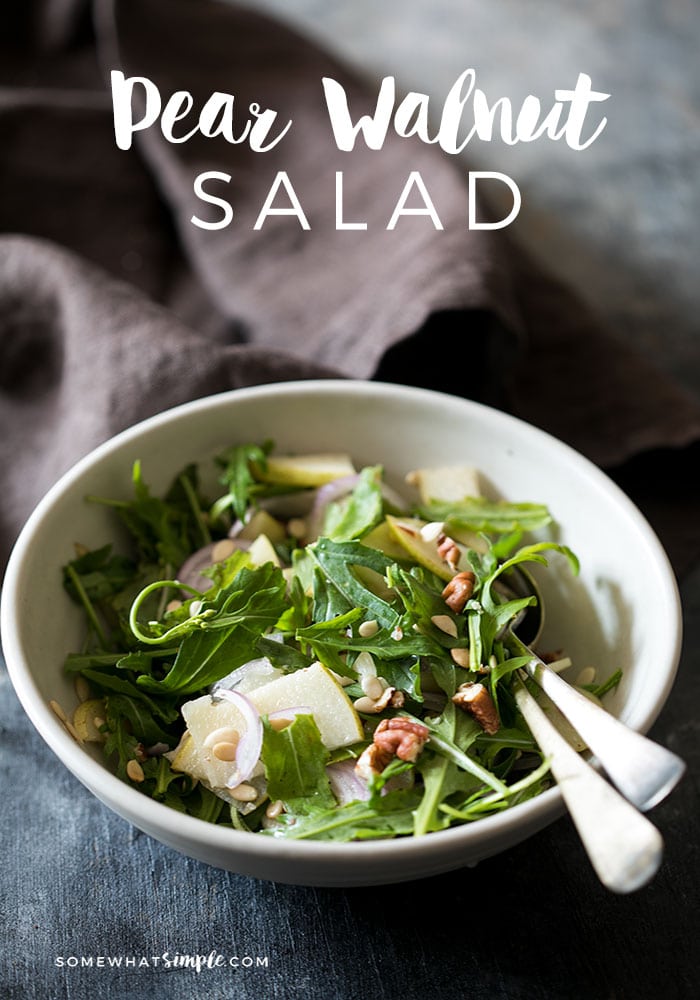 I'm a through and through salad lover and this pear walnut salad is one of our favorites! It's the perfect mix of crunchy, healthy and incredible tasty. Give me a bowl of this and I won't need anything else. I combine a bag of mixed greens which must include arugula or rocket leaves, sliced red onions for that perfect sharp taste, lots of walnuts, melon or sunflower seeds and sliced pears.
It's really as simple as that. I usually toss it up and keep the bowl ready in the refrigerator during the day. The dressing which is a delicious spicy honey mustard is usually lying around and then whenever we are ready for dinner, I just mix it up.
Now some of you might turn your nose up at mixing fruits in a salad but I'm going to change your mind. I think fruits add the perfect balance to a salad. They can take a salad from boring to amazing. The sharp mustard flavor of the arugula leaves and the juicy sweetness of pears… it really is the perfect contrast! I like to add a pinch of cayenne pepper to the dressing which will add just a hint of spice. And that slightly spicy makes everything taste incredible!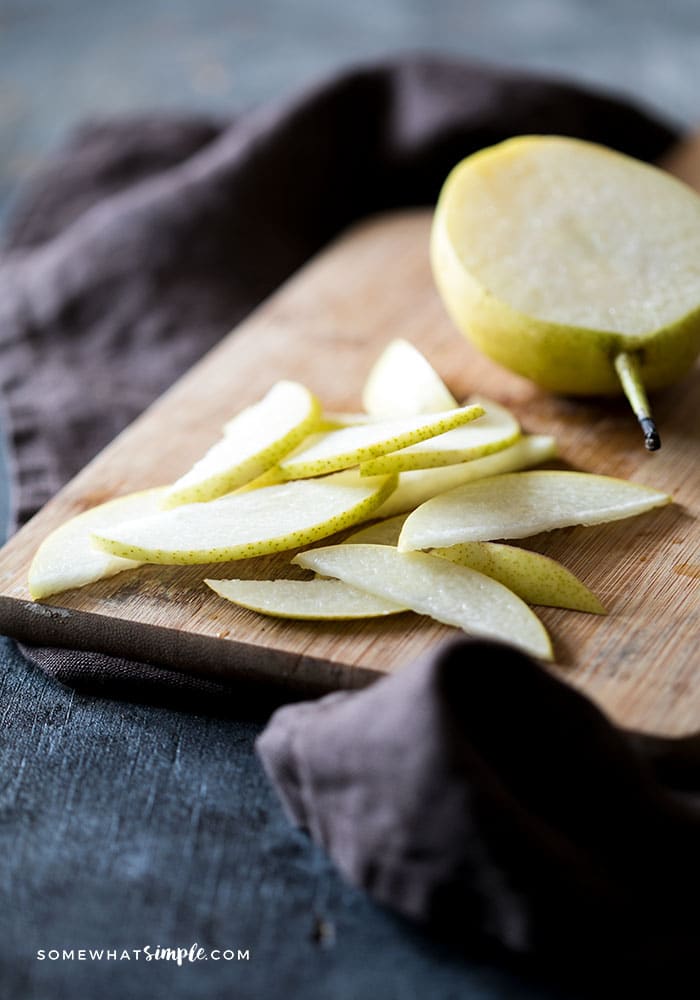 Since this salad literally has five ingredients, apart from the dressing of course, don't skip anything! You can, however, swap items – apples instead of pears, pecans instead of walnuts etc. Use whatever you like or whatever's in the fridge.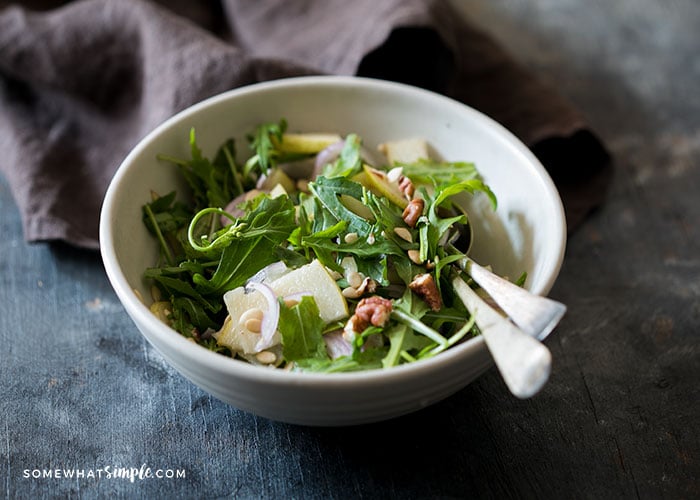 HOW TO MAKE A PEAR WALNUT SALAD
SERVES 2-3 | TOTAL TIME: 15 MINUTES
INGREDIENTS –
for the salad:
3 cups Salad Greens (arugula, lettuce etc.)
2 Pears, sliced
1 small Red Onion, sliced
1 cup Walnut, roughly chopped
1/2 cup Melon Seeds
for the salad dressing:
1 tablespoon Whole Grain Mustard
3 tablespoons Olive Oil
2 tablespoons Vinegar
2 tablespoons Honey
1/2 teaspoon Cayenne Pepper
Salt to taste
DIRECTIONS –
Add all the ingredients under salad dressing to a blender and blend for a minute till the dressing emulsifies and has a creamy consistency.
Toss all the ingredients under salad and add 3-4 tablespoons of the dressing and mix well. Serve immediately.
If serving the salad later, add the dressing just before serving or the salad will become soggy.
Here are a few more salad recipes you might enjoy: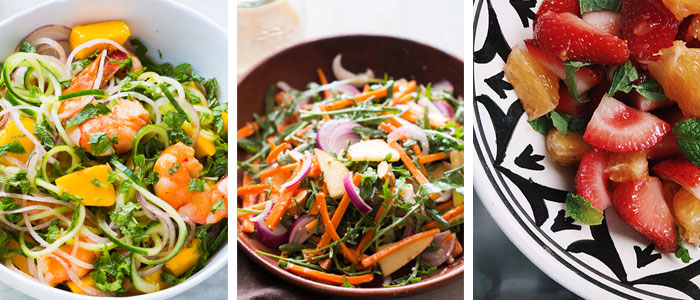 Cucumber Noodle Prawn Mango Salad || Apple Arugula Almond Salad || Strawberry Orange Mint Salad