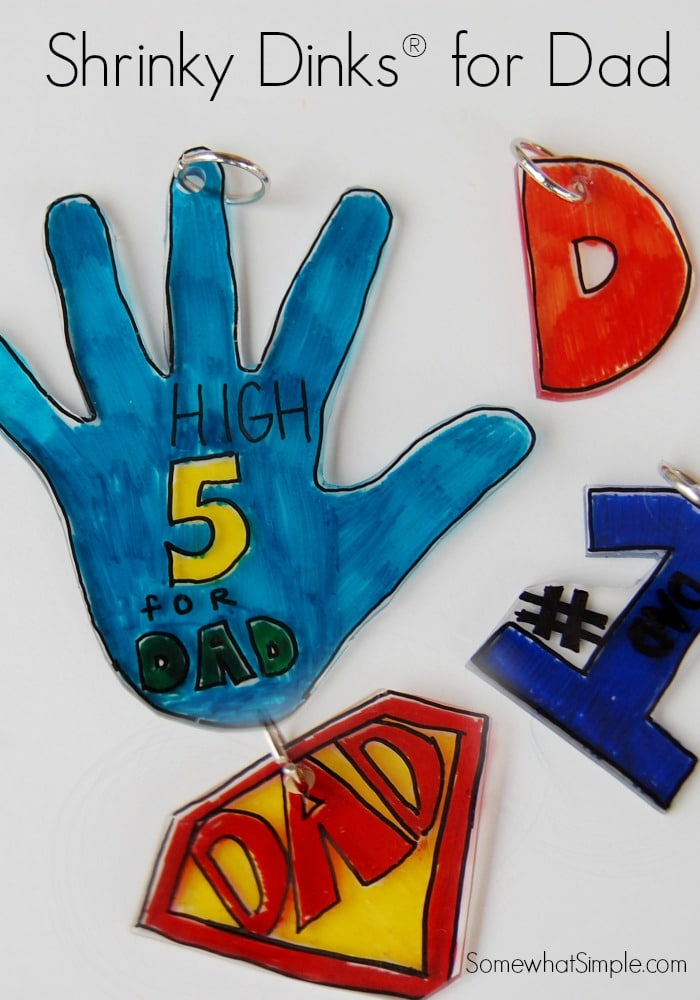 I remember making Shrinky Dinks® as a kid, I loved to watch my creations curl up and shrink like magic and once they were done I'd have a pocket sized treasure I created. When I found out they still made Shrinky Dink® paper, I was so excited to share the magic with my own kids! For our first creations, we decided to make Shrinky Dink Key Chains for Father's Day. My kids had a blast making these, I think everyone's favorite was my daughters hand. We traced her life size hand and the end result was a tiny hand print the size of a doll. They are so excited to give their dad a gift they created all by themselves for Father's Day!
MATERIALS NEEDED:
Clear Shrinky Dink® Paper (found at most craft stores)
Permanent Markers
Hole Punch
Brown Paper Bags
Key Chain Rings
DIRECTIONS:
Preheat oven to 325°.
Begin by outlining desired shape onto Shrinky Dink® paper with black permanent marker.
Flip paper over and use colored permanent markers to color inside design.
Cut out your creation and use a standard hole punch to create a hole where key chain ring will go.
Cut out a piece of the brown paper bag large enough to place Shrinky Dink® creation onto. Place the paper bag onto cookie sheet and then lay Shrinky Dink® on top of paper bag with the colored side facing up.
Cook for 1-3 minutes, or until Shrinky Dink® has curled up and then laid down flat for at least 30 seconds.
Remove from oven, let cool for 10-15 seconds.
Once your creation has cooled, add key chain ring.
Such an easy, creative, personalized gift for daddy!
Happy Father's Day!