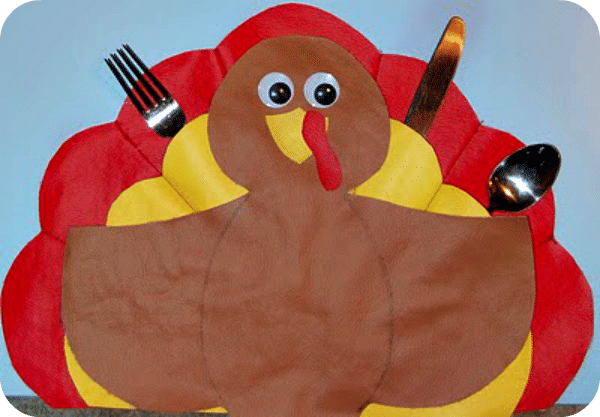 I first came across these turkey placemats on examiner.com while I was looking for kids table ideas for Thanksgiving. It was a McCall's pattern, but it looked so simple, I figured I could replicate it without buying the pattern!
What I Used:
Brown, Red and Yellow Vinyl fabric with flannel backing (Because these are going on the kids table, I wanted to use a material that would clean easily, so I chose vinyl with flannel backing.)
Hot Glue
Craft Glue
Googly eyes
Dark brown thread
THIS Pattern (Click to download the free PDF I made!)

1. Trace template onto flannel portion of fabric and cut out. The templates I provided have separate body and wing portions, you'll want to cut those three pieces out and tape them together to get the full body/wing.
2. Pin small feathers on top of large feathers, and draw diagonal lines where you are going to sew the "feathers".
3. Sew the "feathers", creating pockets for silverware and napkins, starting in the center and working your way out to avoid puckering.


4. Peel the flannel backing off the beak and wattle, it comes off really easily. Once it is off, rub the vinyl with your fingers to get all the little flannel stragglers off.
5. I used hot glue to glue the eyes to the body and the body to the back wings. I recommend a low temp gun, my high temp started melting the vinyl. I used tacky glue or craft glue to glue the beak and the wattle down.
6. To get the grayish body outline, I traced the body template onto the body with a dry erase marker, let it dry and then rubbed it off, it left a nice light stain, just as I hoped!
These were seriously so quick and easy to make, a perfect last minute addition for your kids table!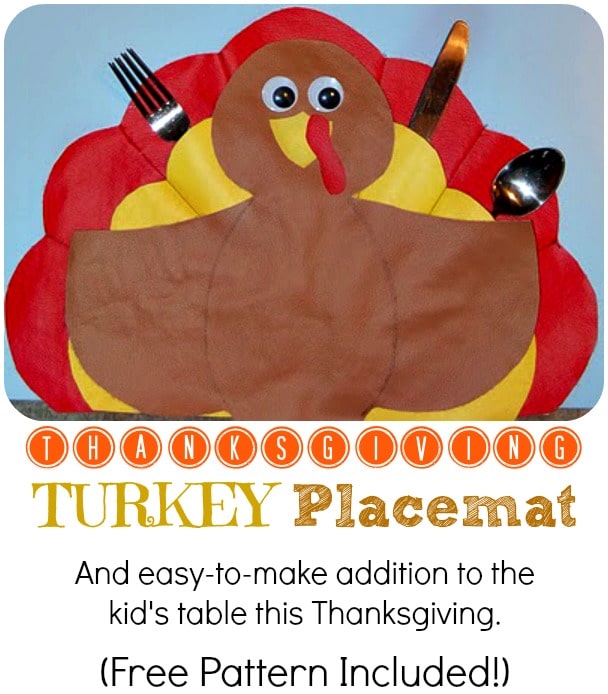 This idea originally published on Crazy Domestic in November 2010