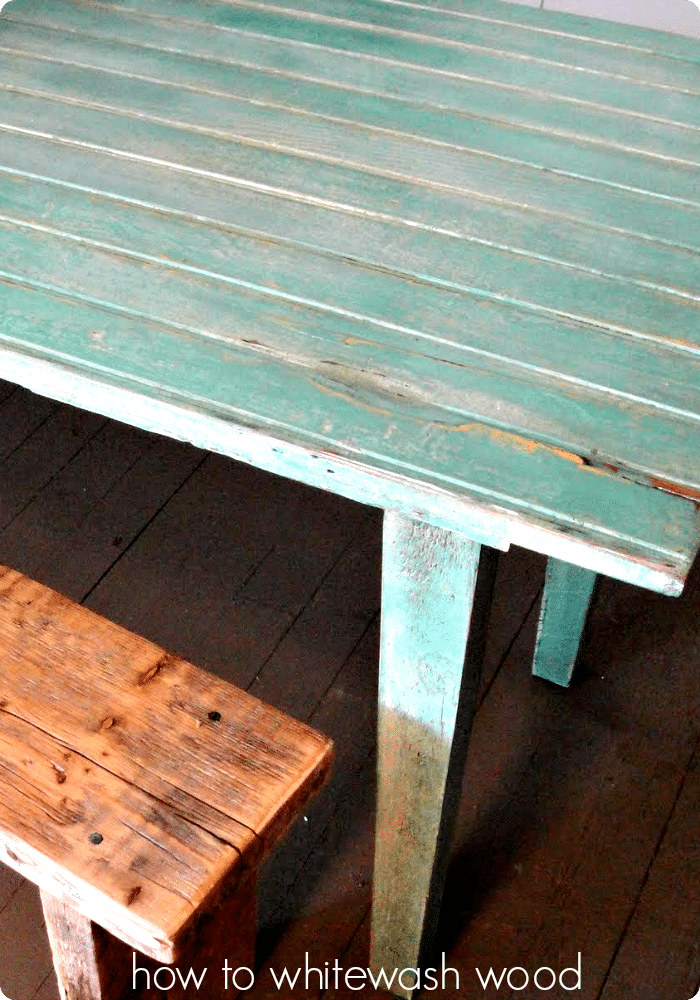 In this easy step by step tutorial I am going to show you how to whitewash wood to give your furniture that classic vintage look.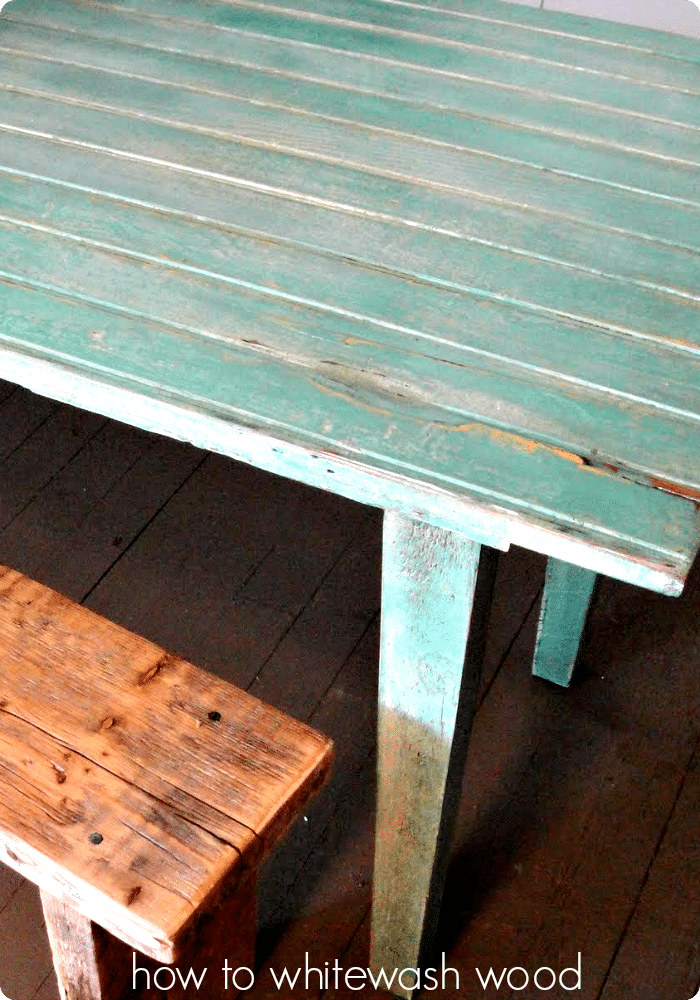 Hi everyone! Today I am going to teach you how to whitewash wood! It might look complicated because the results are AWESOME, but the process actually goes pretty fast and isn't hard at all!
I had a custom order for a table made from an old pine farmhouse door that had yellow paint as the original finish. The request was that the paint have shades of aqua and blue with a white wash. They didn't want it too bright, but they asked that I make it look old and original, like it has been sitting on the farm for 100 years. OK – I can do that.
Whitewash Paint
Before you begin the process of whitewashing the wood you need to choose your paint colors. I chose these latex flat paints colors for this project: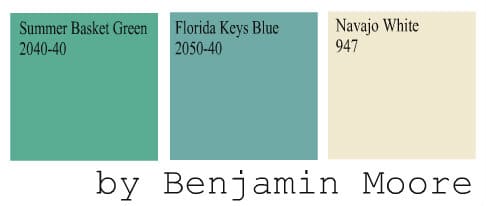 How To Whitewash Wood Furniture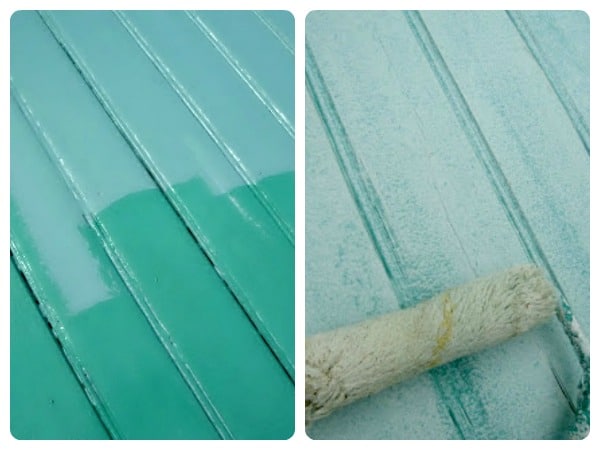 1. PAINT
I painted the entire table with a quick coat of FLORIDA KEYS BLUE using a small paint roller, it does not have to be perfect- you will see why.
Next – mix up a ratio of approximately 70% water with 30% paint in you next color choice that you would like to layer on (paint should be the consistency of skim milk) I chose SUMMER BASKET GREEN because it was a nice compliment to the blue. Roll it on, right on top of the blue. Again, it does not have to be perfect.
Once it is dry it was time for the white wash. Apply one more layer using the same watered down mixture of 70% water with 30% paint of your final paint color- for me it was NAVAJO WHITE to add the look of the white wash.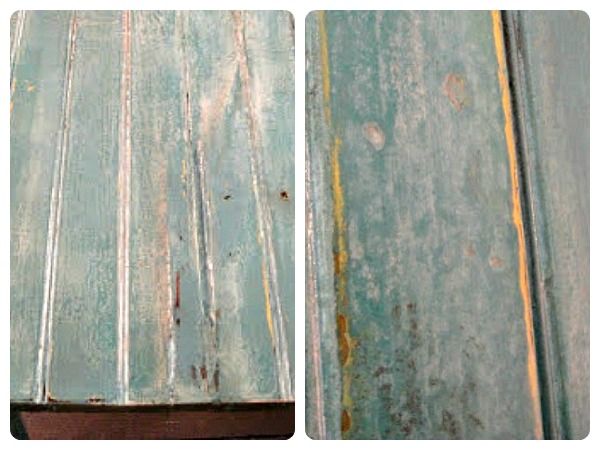 2. SAND
When the paint is dry give it a good overall sanding with 250 to 320 grit sand paper. (I use an orbital sander.) This will remove some of the white on the surface and expose the paint colors underneath plus it gives the table a nice overall distressed look. Can you can see the original yellow paint as well as the pine wood peeking out?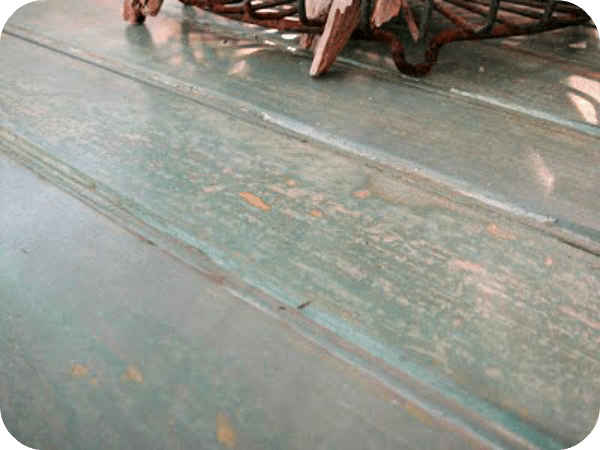 3. FINISH
Lastly I coated the table with a layer of acrylic to seal the finish.
Using the mini roller makes the paint go on super fast. And because of the sanding at the end, it really doesn't matter that the paint be perfectly applied. It actually looks better if you are a little messy.
There 'ya go, now you know how to whitewash wood!

More Easy DIY Projects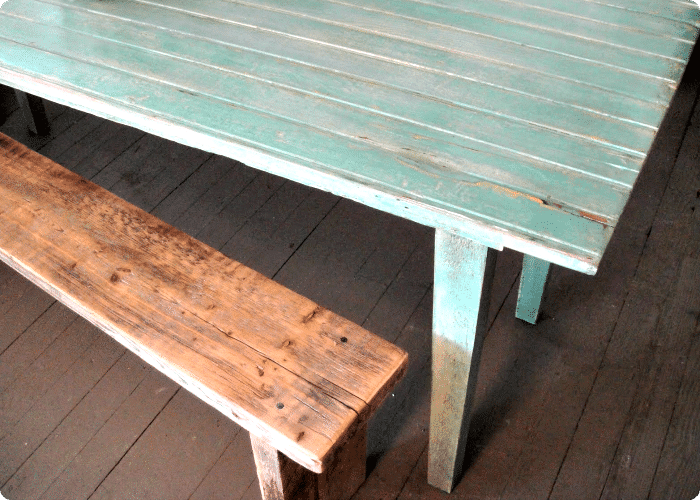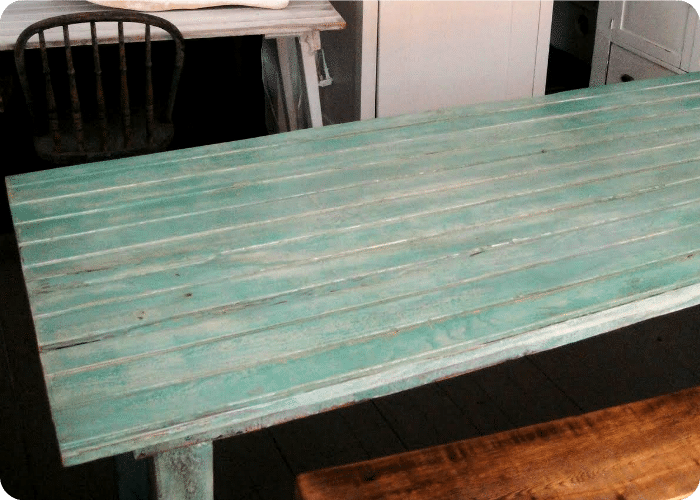 • • •
About the Author: Lori is the talented DIY blogger behind Frugal Farmhouse- a blog she uses to document her creative endeavors. Stop by and see what else she is working on!

UPDATE: It looks like Lori's blog FrugalFarmhouseDesign.blogspot.com has been removed. If anyone knows where Lori might be blogging now, please leave me a comment so I can link to her new site. Thanks! 🙂
This guest post originally published on Somewhat Simple in August 2010 and was updated in July 2014