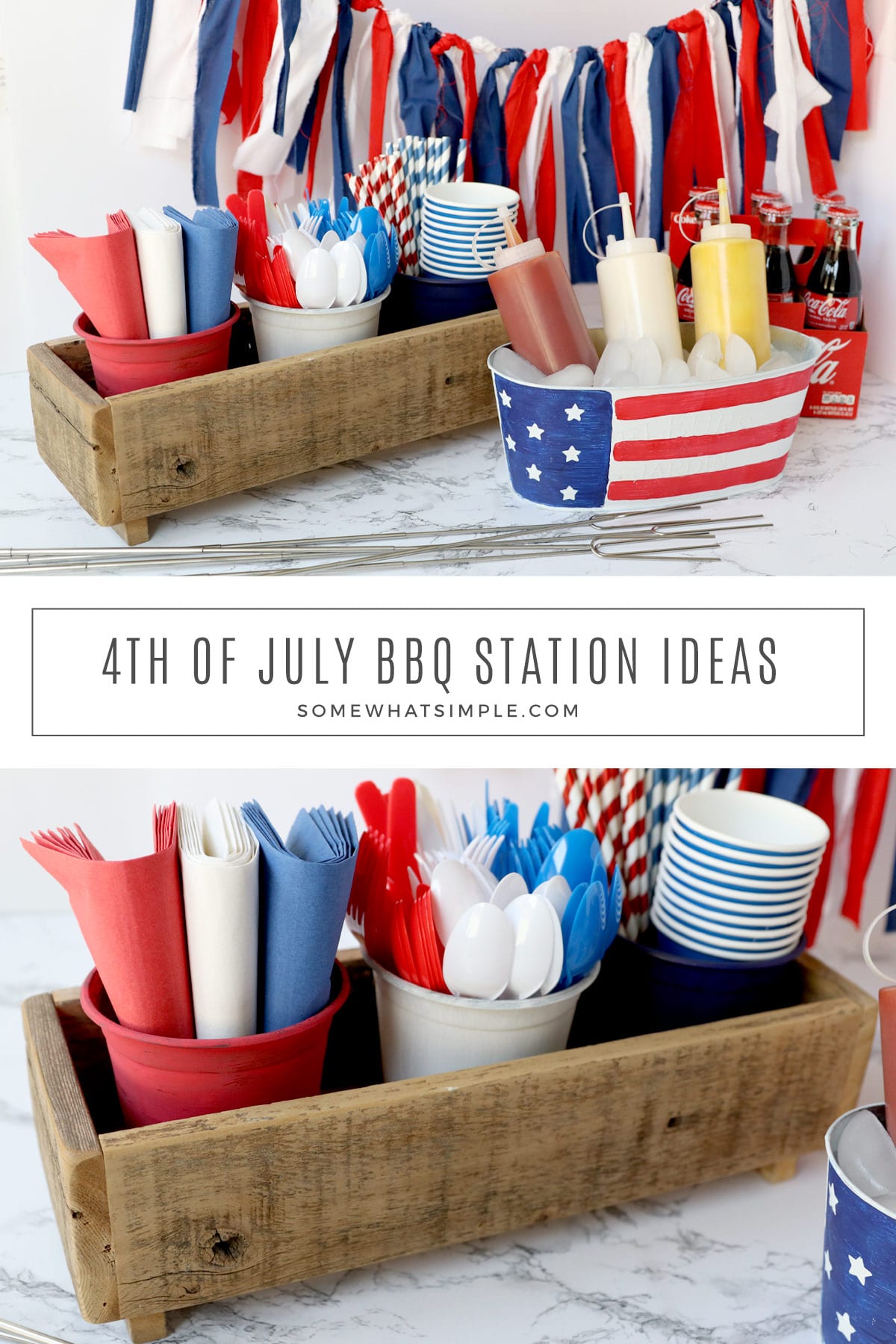 Spice up your Independence Day celebrations with a 4th of July BBQ station that's simple to create and a whole lot of fun to eat!
Here are some 4th of July recipes that will be perfect for your backyard BBQ – 4th of July Cookies, Red, White, and Blue Drinks, and Patriotic Cupcakes.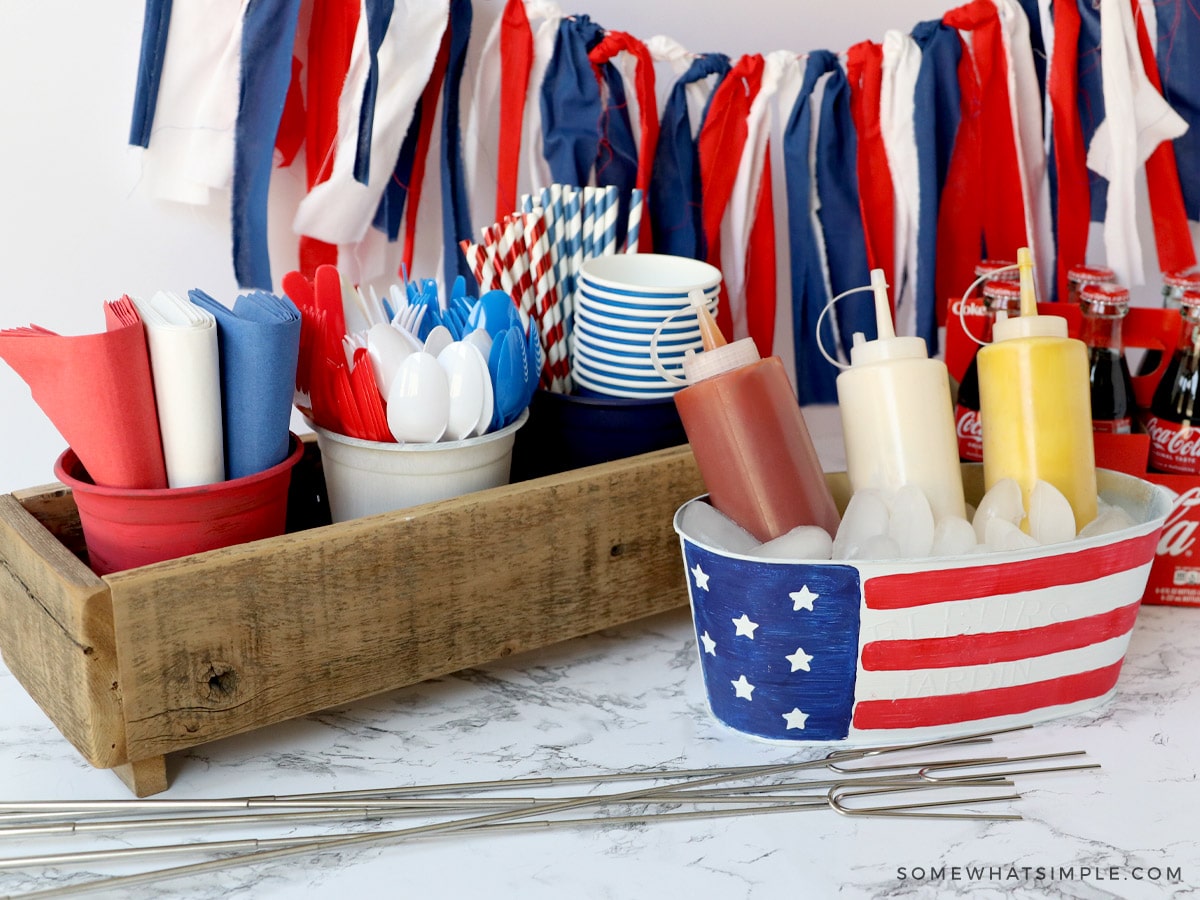 Summer is just around the corner, and that means BBQ season will be in full swing! And if you're planning a Fourth of July party or backyard barbecue, we have a simple project that will make your grilling get-togethers a bit more festive- a 4th of July BBQ Station.
Here is how to make it: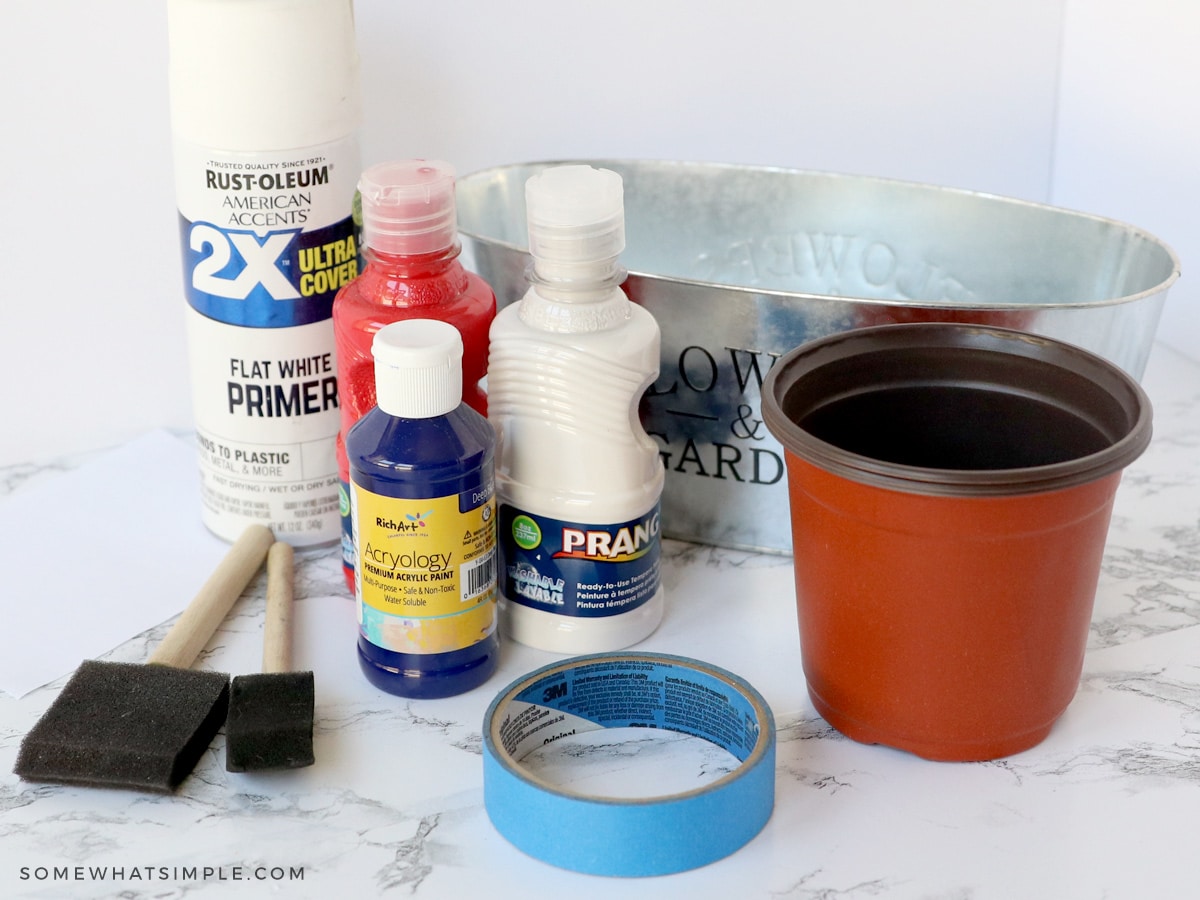 4th of July Barbecue Station
Everything for this project, except the primer, can be purchased at the dollar store – even the paper goods!
SUPPLIES –
planters/ plant pots
spray primer
red, white, and blue paint
sponge brush
painter's tape, optional – I didn't use it, but it can help make your stripes straight if you don't want to freehand
star stickers, optional – I used stickers, but you can definitely hand paint them.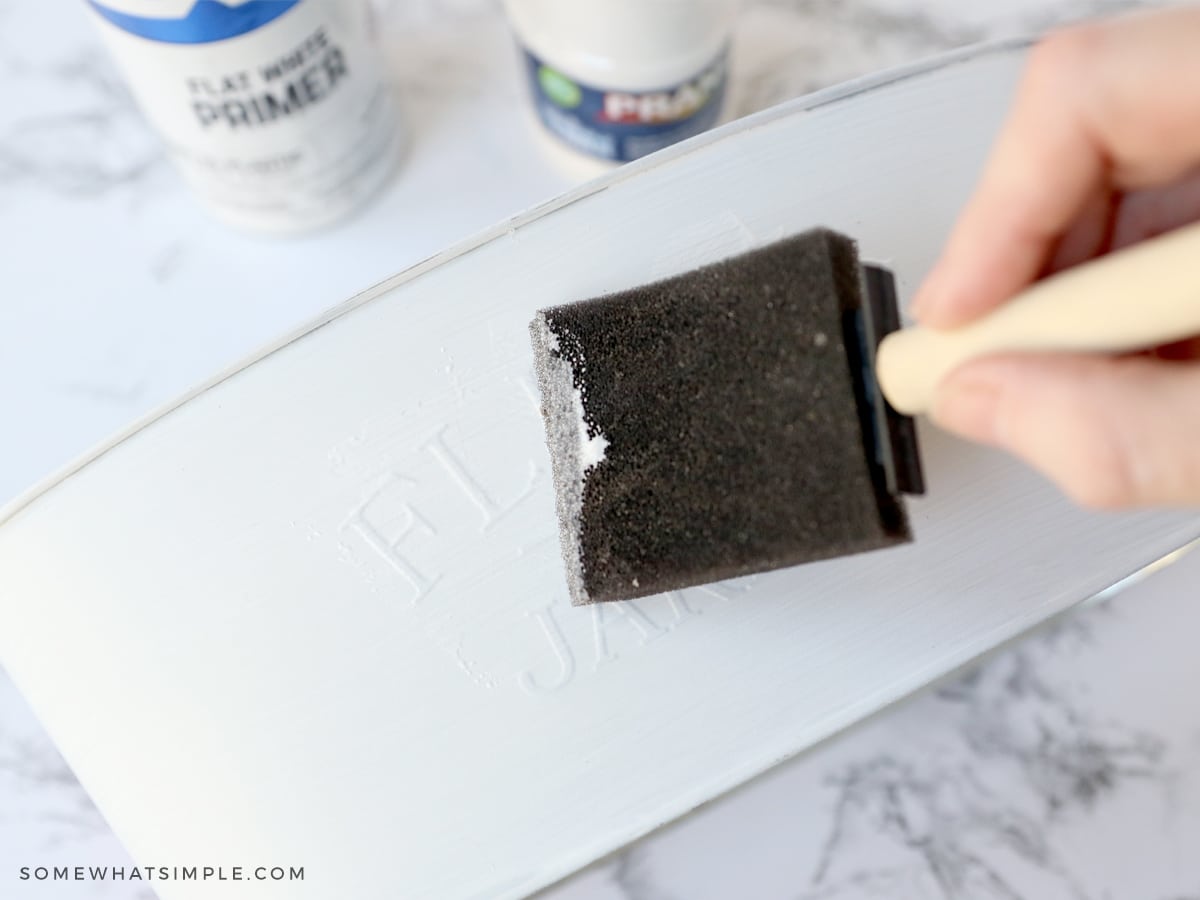 INSTRUCTIONS –
Prime + Paint. Spray a light coat of primer all over your pot/planter. Once dry, paint your pot white. If you are using dollar store paint, you will need multiple coats as it is much thinner (read: cheaper!) than other craft paints.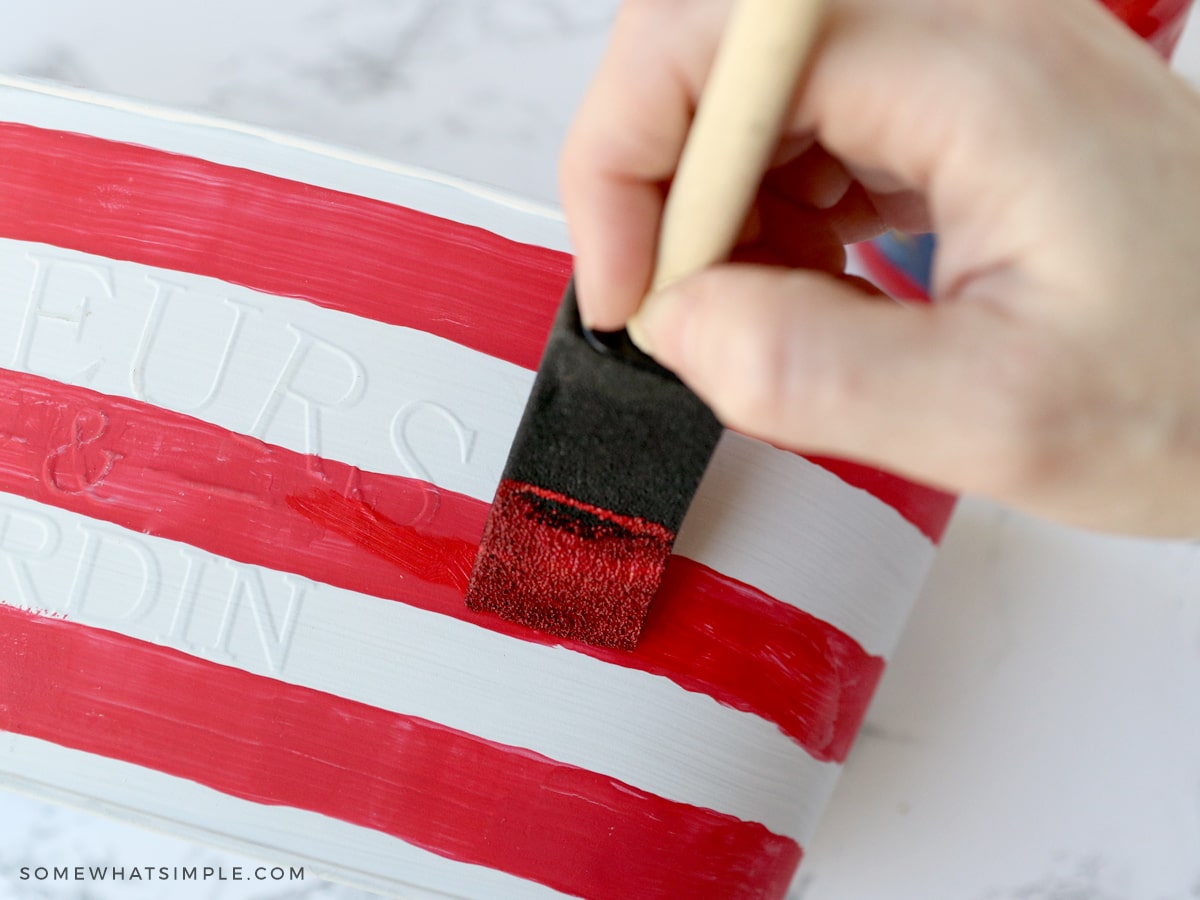 Paint the Stripes. Paint red stripes on the right side of the front of the pot.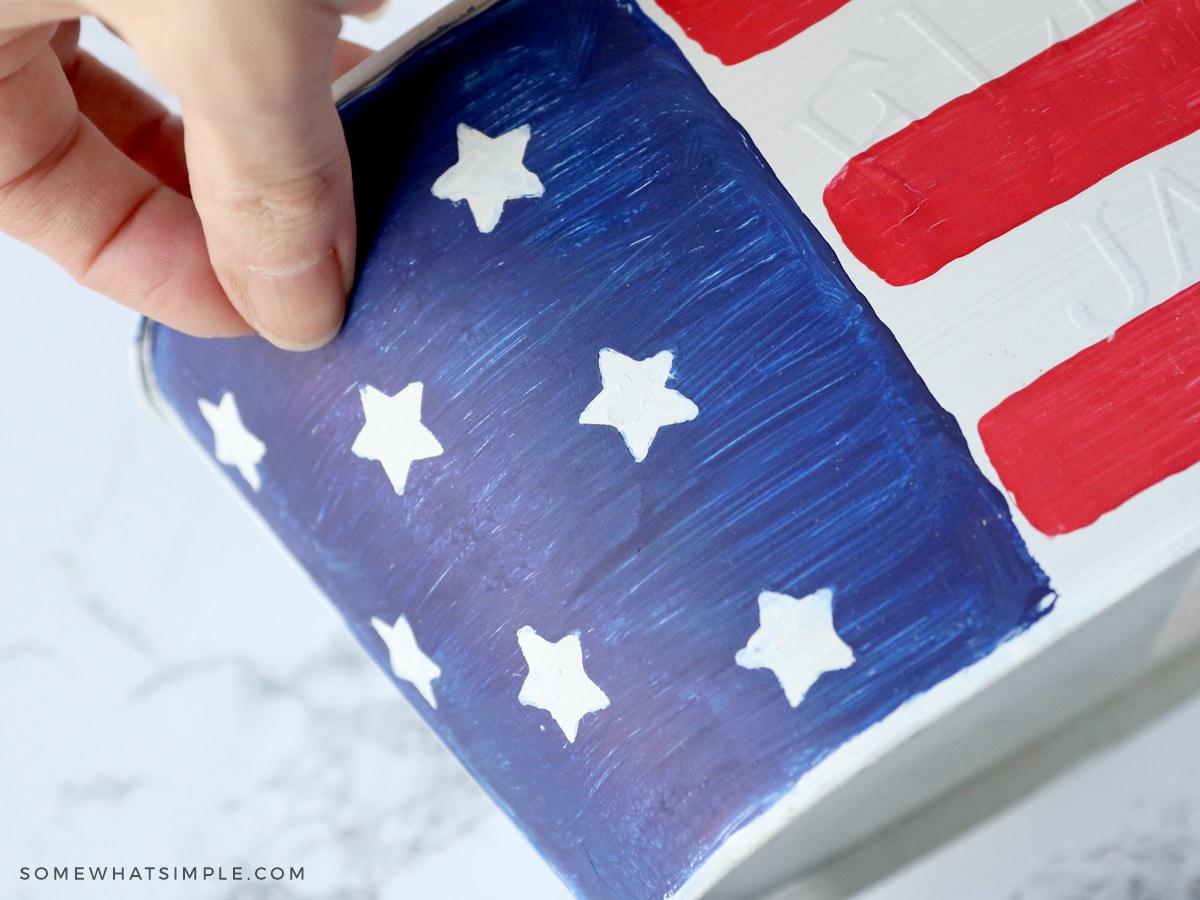 Make Your Stars. Attach star stickers on the left side of the pot before painting it blue. Then paint the background blue and peel off the stickers to reveal the white underneath.
Touch-Ups. If your paint peels or chips, you can touch it up as needed.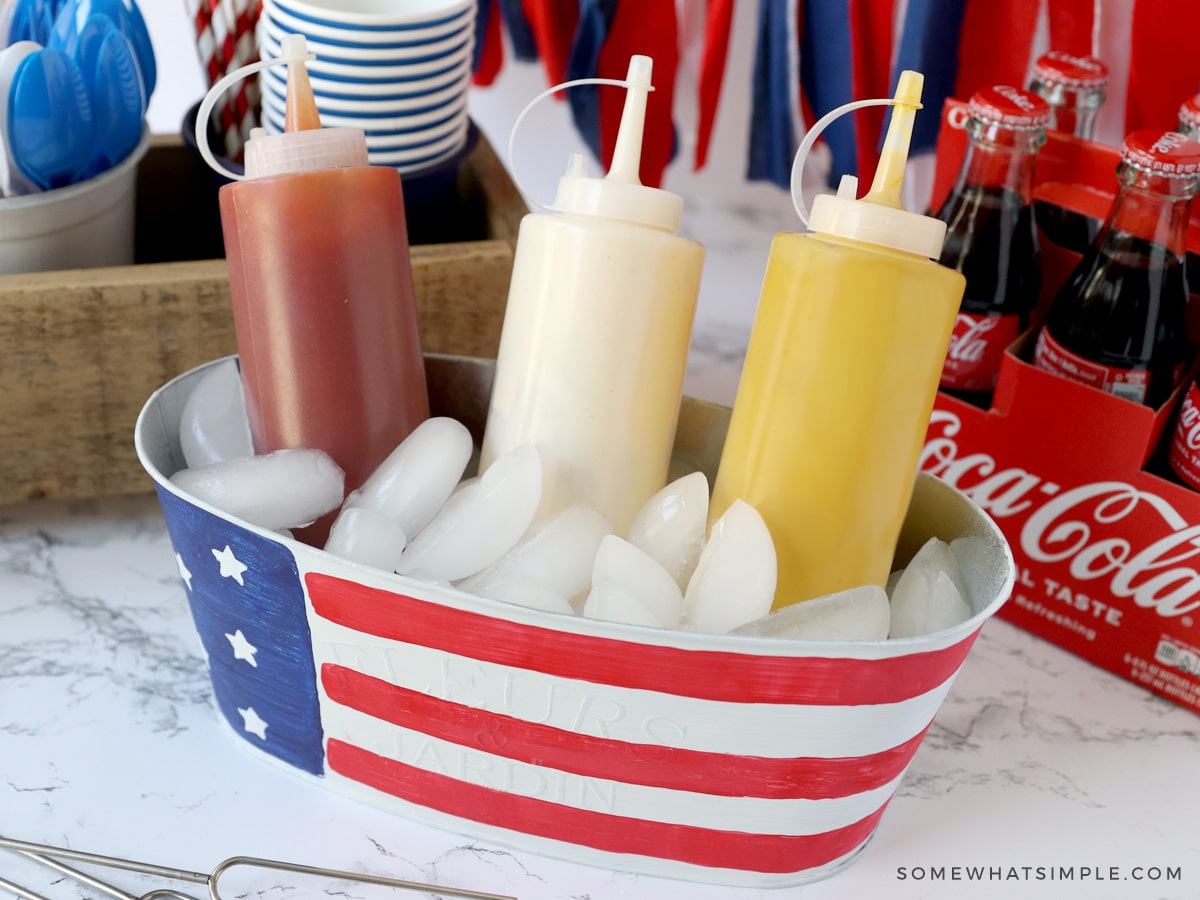 Set Up. Place plastic grocery bags on the bottom of the metal tin, then fill it with ice. (The plastic bags will keep the tin from any potential puddles as the ice starts to melt.) Add your favorite condiments for your hamburgers and hotdogs, and you're good to go!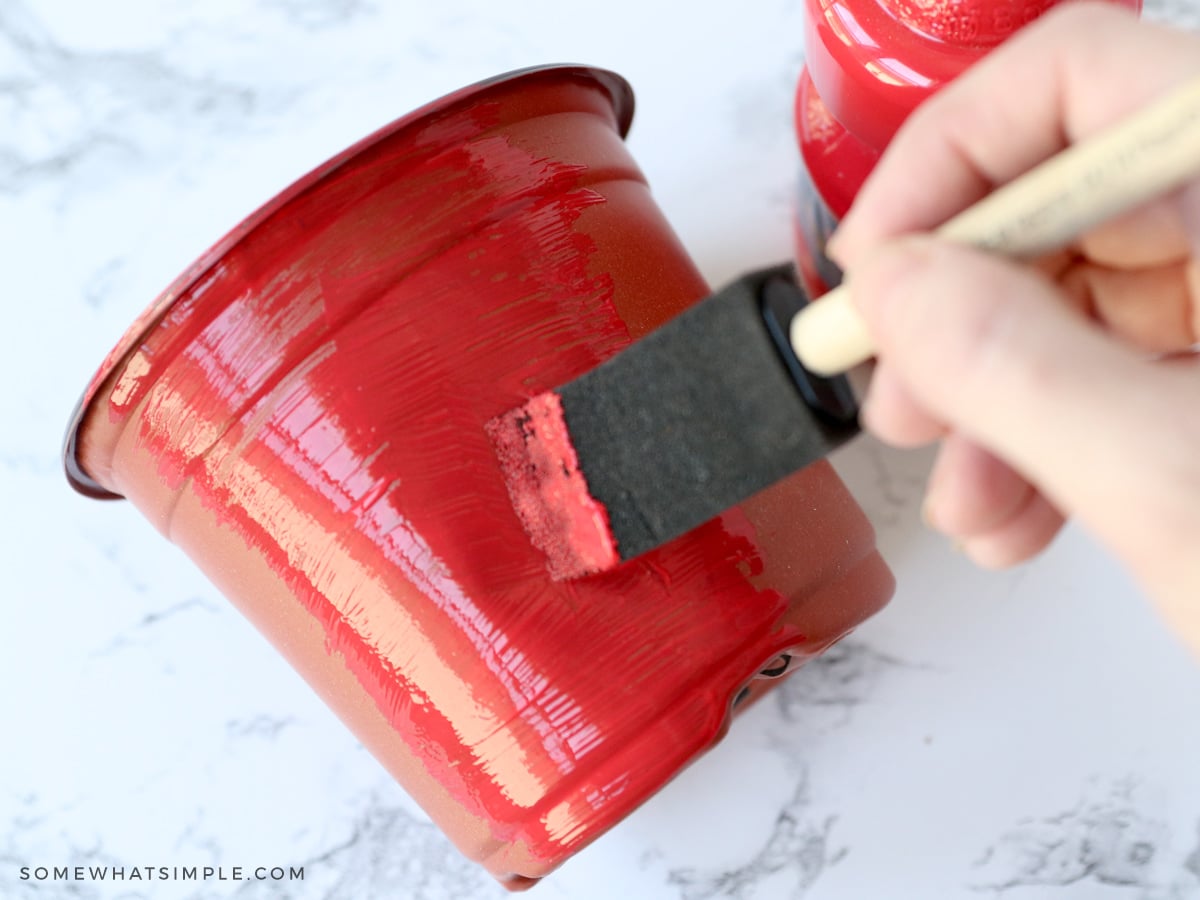 You can paint plastic or terra cotta pots red, white, and blue to hold your cutlery and paper goods.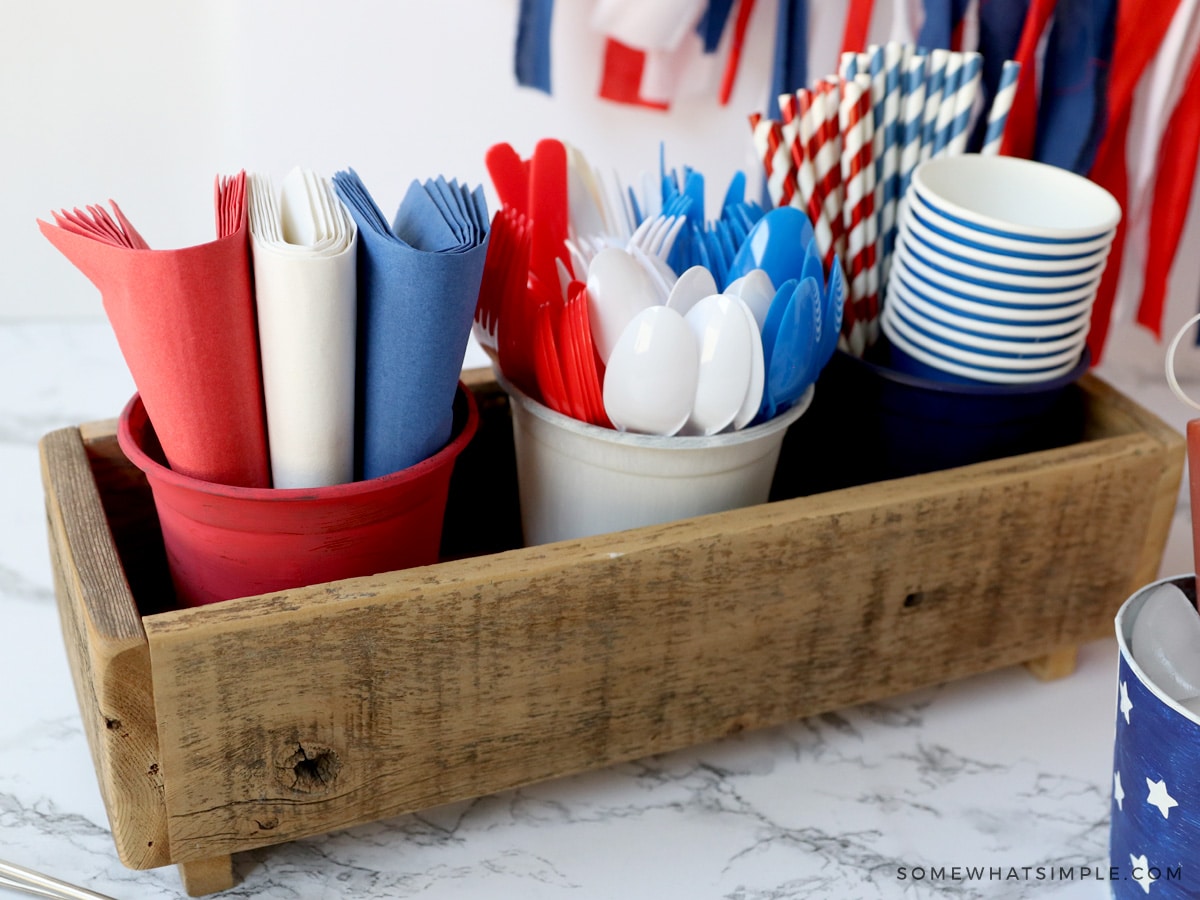 Isn't that so fun?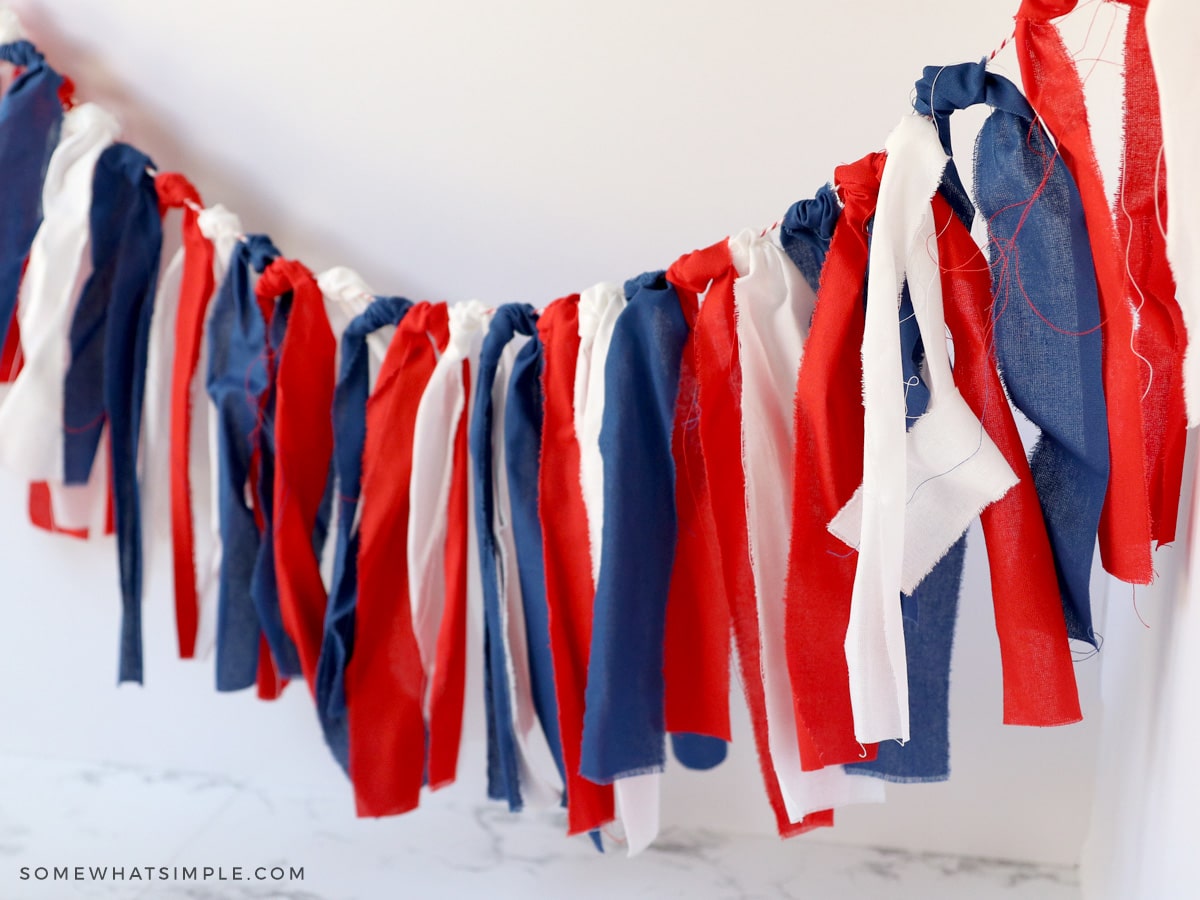 Lastly, make a fabric banner to hang as a backdrop to your condiment station. Just rip red, white, and blue fabric into strips, tie them to a string, and you're good to go!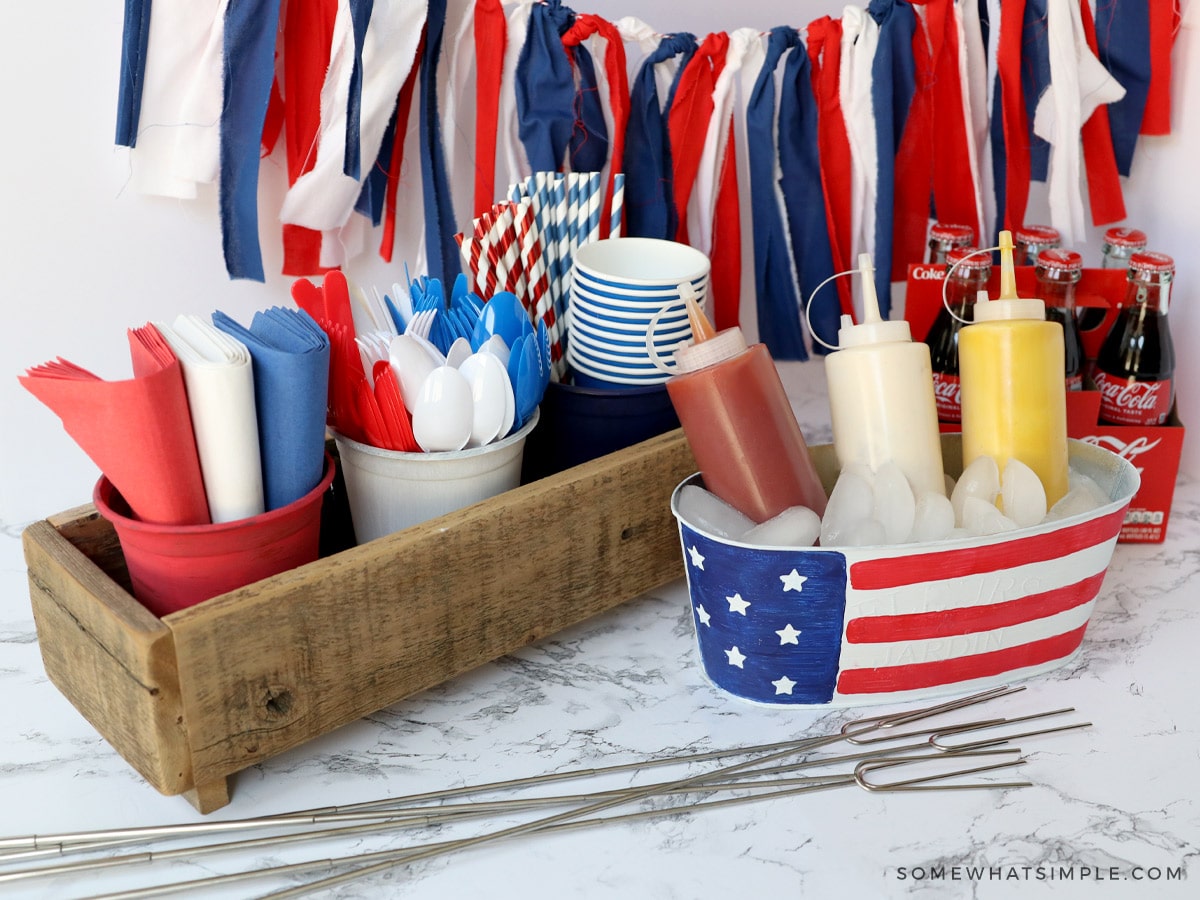 You're summer BBQ just got even cuter!