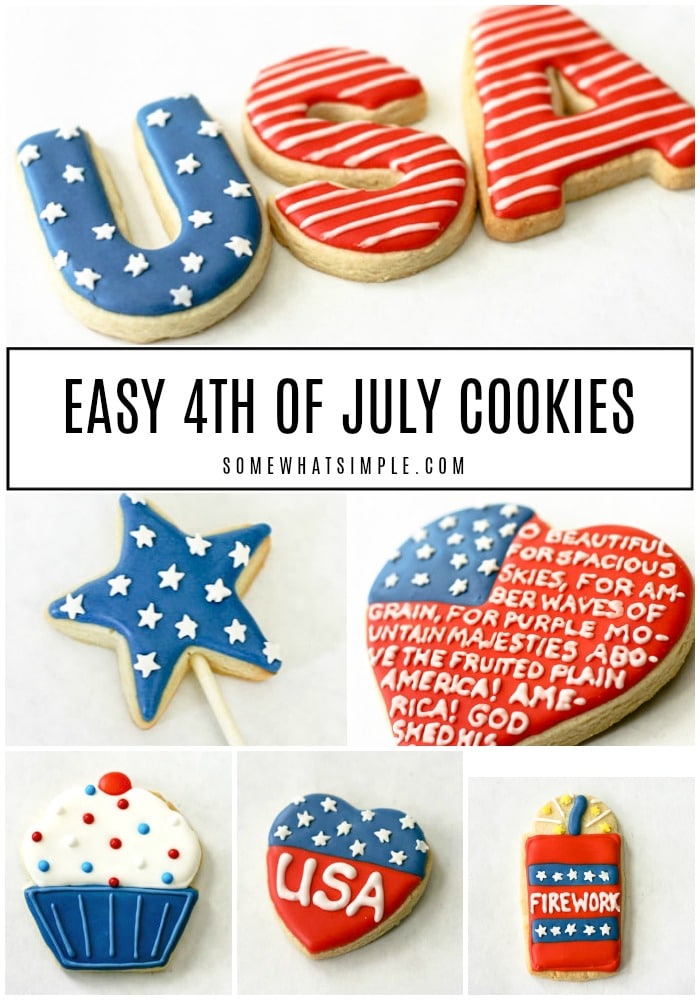 It's time to celebrate the red, white and blue with these all-American 4th of July Cookies! I'll show you how to take your favorite sugar cookie recipe and decorate them to perfection for your Independence Day party.
Be sure to check out a few more of our favorite 4th of July treats – Patriotic Jello Cookies, Red White and Blue Layered Drink, and Patriotic Popcorn,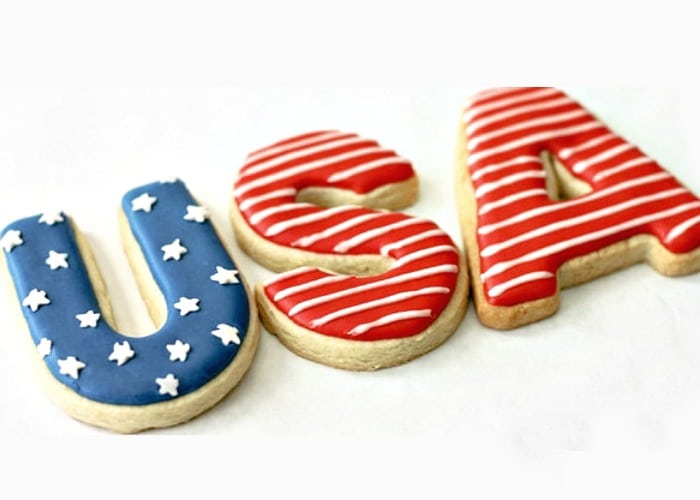 Independence Day Cookies
From BBQs, picnics, pool parties and days spent at the beach, there are so many ways to celebrate the Fourth of July, and these sugar cookies are the perfect little treat to bring! You don't have to worry about these 4th of July cookies melting in the heat or being refrigerated like you do with other festive desserts, and they are sure to bring smiles to all your patriotic friends and family! Here is how to make them!
How To Make 4th Of July Cookies
Sugar Cookies: Start by making the sugar cookie dough and then rolling it out onto the counter. If you don't have one already, Our favorite recipe is HERE.
Cookie Cutters: Because it's Independence Day, I bought a few cookie cutters that would be perfect for the holiday. You can see a few of the ones I made below for some inspiration!
Bake & Cool: Bake your cookies in the oven according to the recipe you used. Allow your cookies to completely cool before decorating them.
Icing: After baking the cookies, it's time to add the icing. I use red, white and blue Royal Icing for my cookies. If you need some help with this, here is the Icing Recipe I used as well as some helpful icing tips.
Sprinkles: Top your cookies with sprinkles or any other embellishments you like
Recipe Tips
Red icing can be hard to make, but if you use gel colorings, you will have a lot more success. I use Americolor brand gel colors. Be aware that when you are mixing red, you will need a lot of the color. I have written my basics for royal icing in this post that should help you get your icing looking perfect.
I didn't have any 4th of July sprinkles, but I'm not afraid to use Valentine hearts, or pick through my sprinkles to find all of the white stars or red, white and blue sugar pearls. You'll see what I mean below.
July 4th Cookie Decorating Ideas
Almost any basic shape can be a 4th of July cookie if you decorate it that way! These heart cookies were made using a Valentine cookie cutter. And just as I was about to make some white stripes to make a heart flag, I thought I'd go the extra (insane) mile. Just a few patriotic lyrics to mimic the lines on the flag.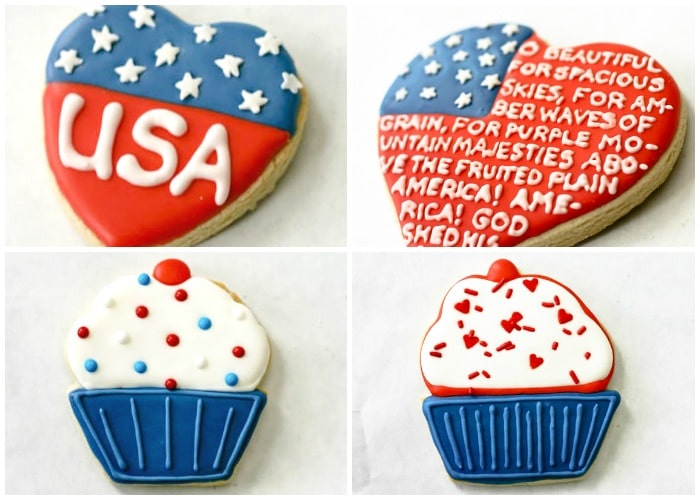 Even a cupcake shaped cookie can look patriotic!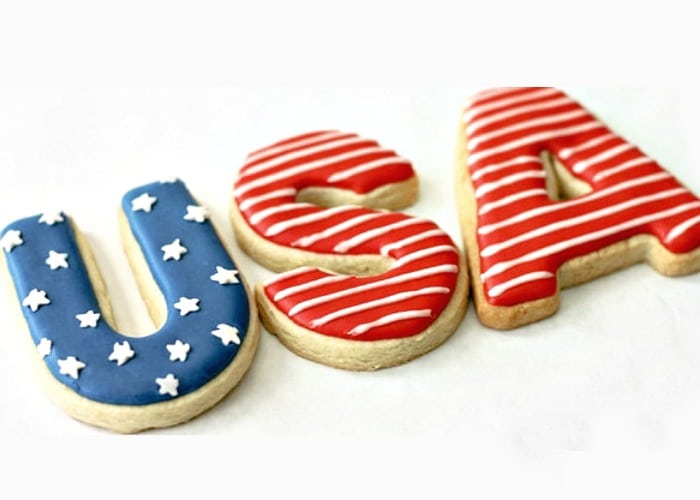 I used my alphabet cookie cutter set to make my favorite 4th of July cookie. Decorate each letter with some simple stars and stripes and transform into something incredibly festive!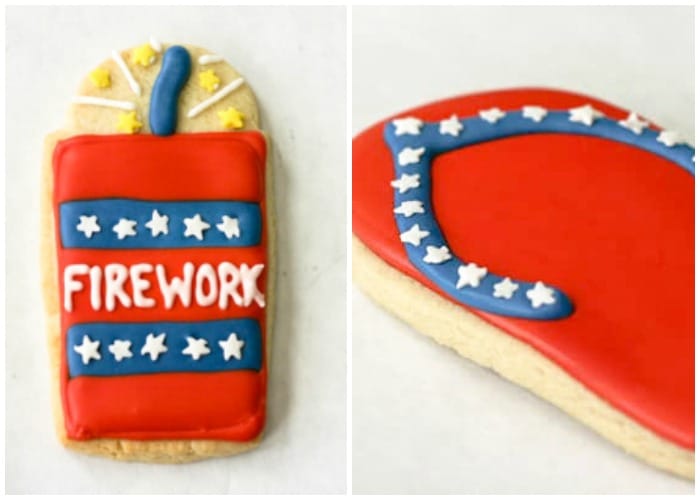 I used a Halloween coffin cookie cutter and turned it into a firework. (#ThinkingOutsideTheBox) A flip flop cookie can always be turned into a 4th of July flip flop… Just ask Old Navy!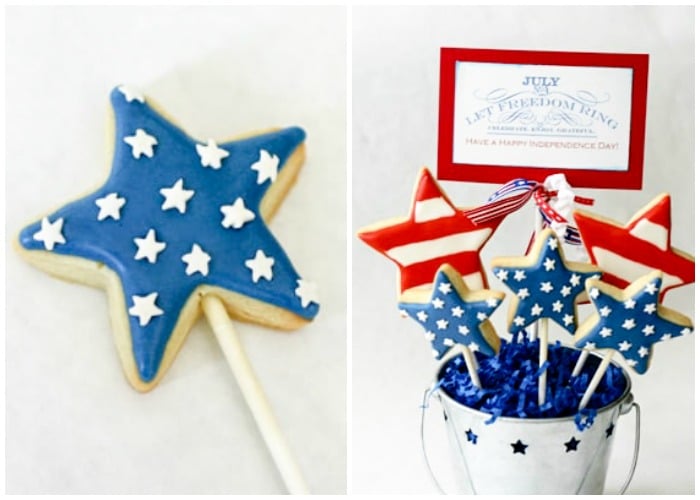 A simple star cookie cutter is easy to find. I used star sprinkles on blue royal icing and it was a super fast way to decorate! (Much less time-consuming than drawing out each star with icing!) And using lollipop sticks with some basic stars and striped designs looks great, don't you think?
There are endless possibilities and decorating ideas to come up with for your 4th of July cookies! Go ahead and volunteer to bring dessert to that BBQ – you can totally do these!
More Festive 4th Of July Ideas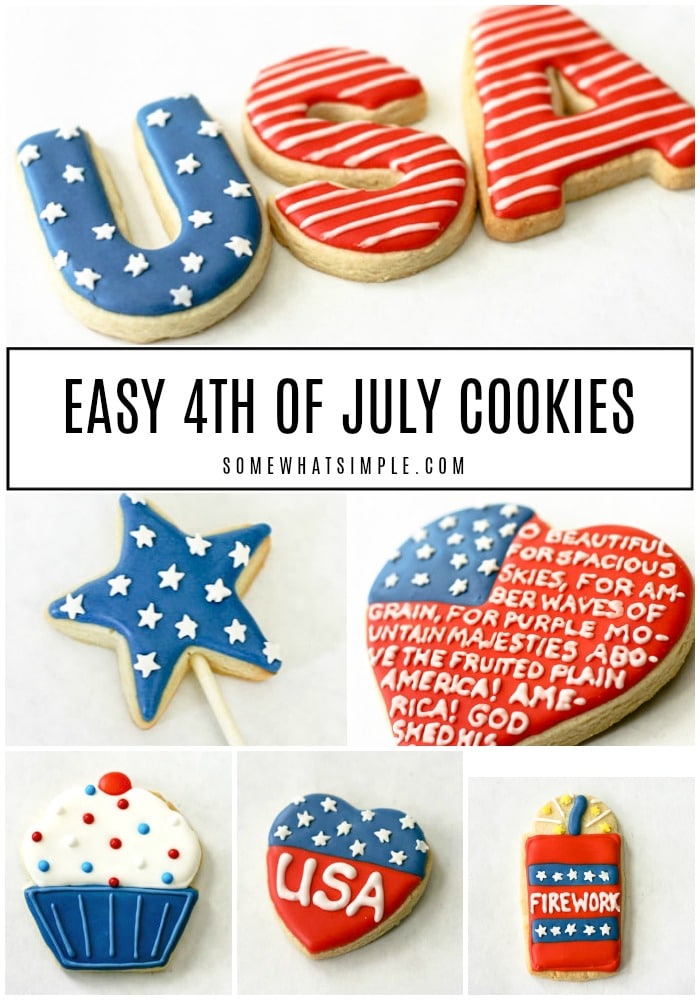 About the Author: Ashleigh is the creative mom of three and blogger from Bee in Our Bonnet . Ashleigh spent a few years blogging on Somewhat Simple as our Baking Contributor.