Celebrate the red, white, and blue with some All-American 4th of July Cookies! Take your favorite sugar cookie recipe and decorate them to perfection for your Independence Day celebrations.
Be sure to check out a few more of our favorite 4th of July treats – Patriotic Jello Cookies, Red White and Blue Layered Drink, and Patriotic Popcorn,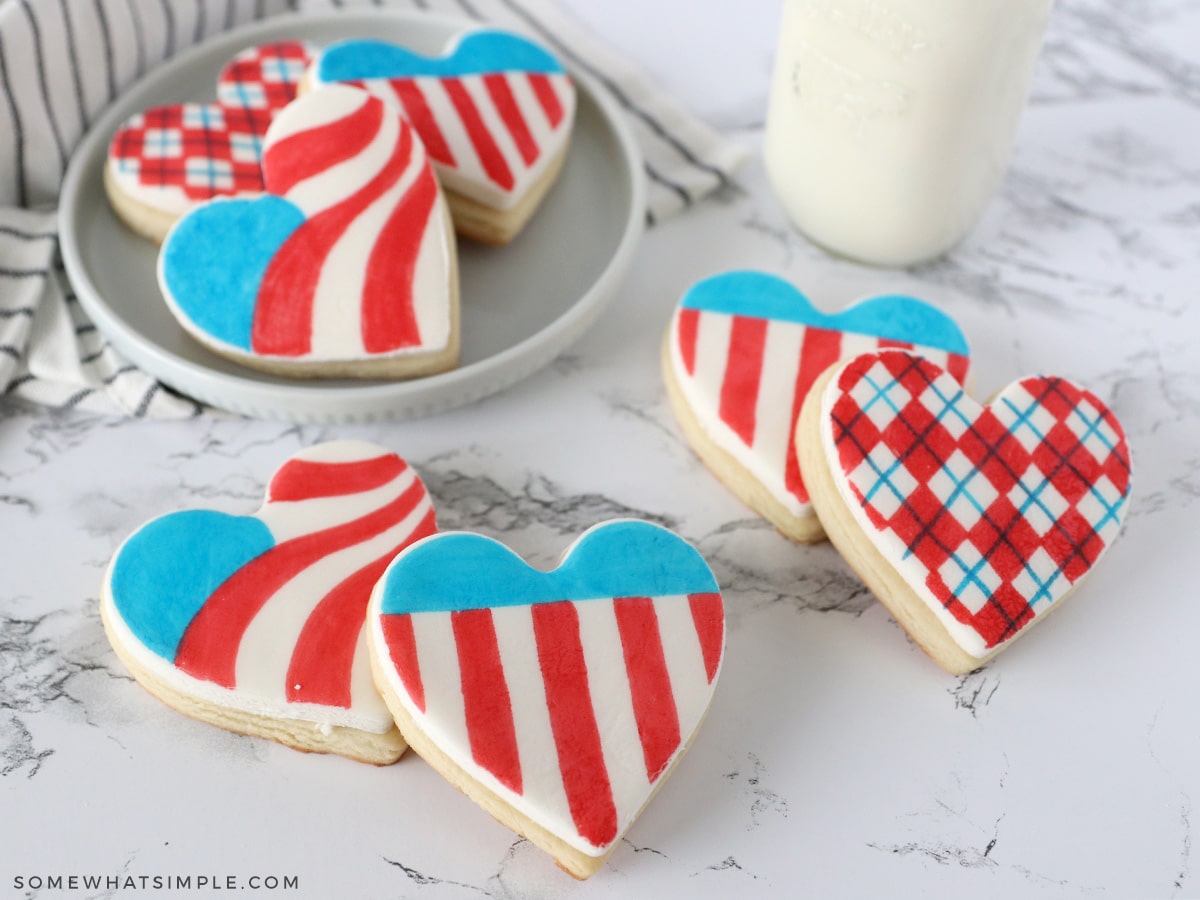 4th of July Sugar Cookies
BBQs, picnics, pool parties, and days spent at the beach, there are so many ways to celebrate the Fourth of July, and these sugar cookies are the perfect little treats to bring to your next gathering! You don't have to worry about these 4th of July cookies melting in the heat or staying refrigerated as you do with other 4th of July desserts, and they are sure to bring smiles to all your patriotic friends and family!
Here is how to make them:
How To Make 4th Of July Cookies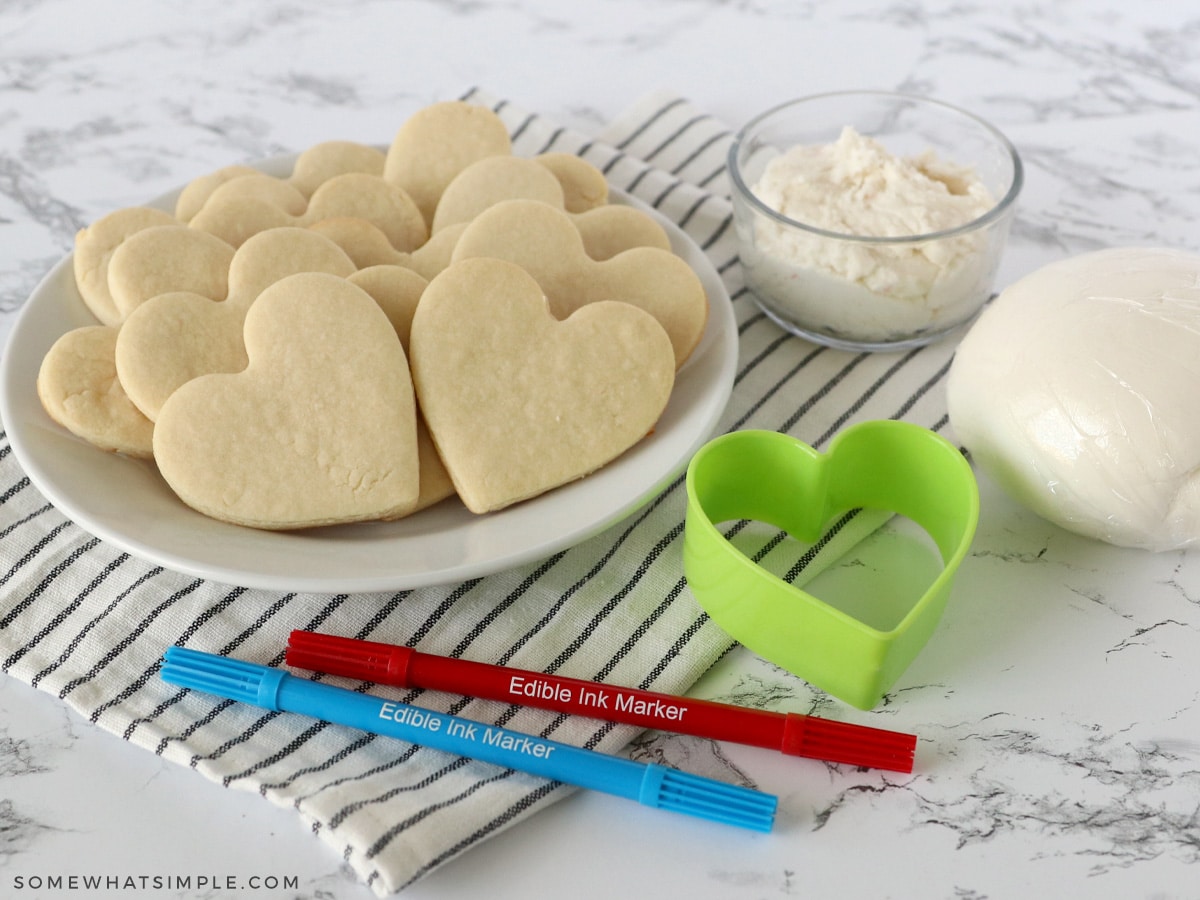 INGREDIENTS –
Sugar Cookies: You can use storebought or homemade sugar cookie dough – whichever is easiest. Here's my favorite Sugar Cookie Recipe that tastes great, it's easy to make, and holds up to decorating quite well.
Marshmallow Fondant: It tastes way better than traditional fondant, and it's easy to make and work with, too! Here's our favorite Marshmallow Fondant Recipe. You can use food coloring or gel food colors to tint your fondant. I kept mine white so my red and blue designs would show up better. Be sure to knead the fondant by hand when adding color instead of adding the ingredients to a stand mixer.
Cookie Cutter: Almost any basic shape can be a 4th of July cookie if you decorate it that way! These heart cookies were made using a Valentine's Day heart cookie cutter. A simple star cookie cutter is easy to find and would be so cute, too! Decorate each cookie red, white, and blue cookie with some simple stars and stripes and it'll easily transform into something incredibly festive!
Frosting: Storebought or homemade buttercream is fine. You'll just need a small layer of this to secure your fondant to your cookies.
Edible Ink Pens: This is the key to easy cookie decorating! You could use Royal Icing, but Edible Ink Pens are so.much.easier to work with! (And kids love them, too!)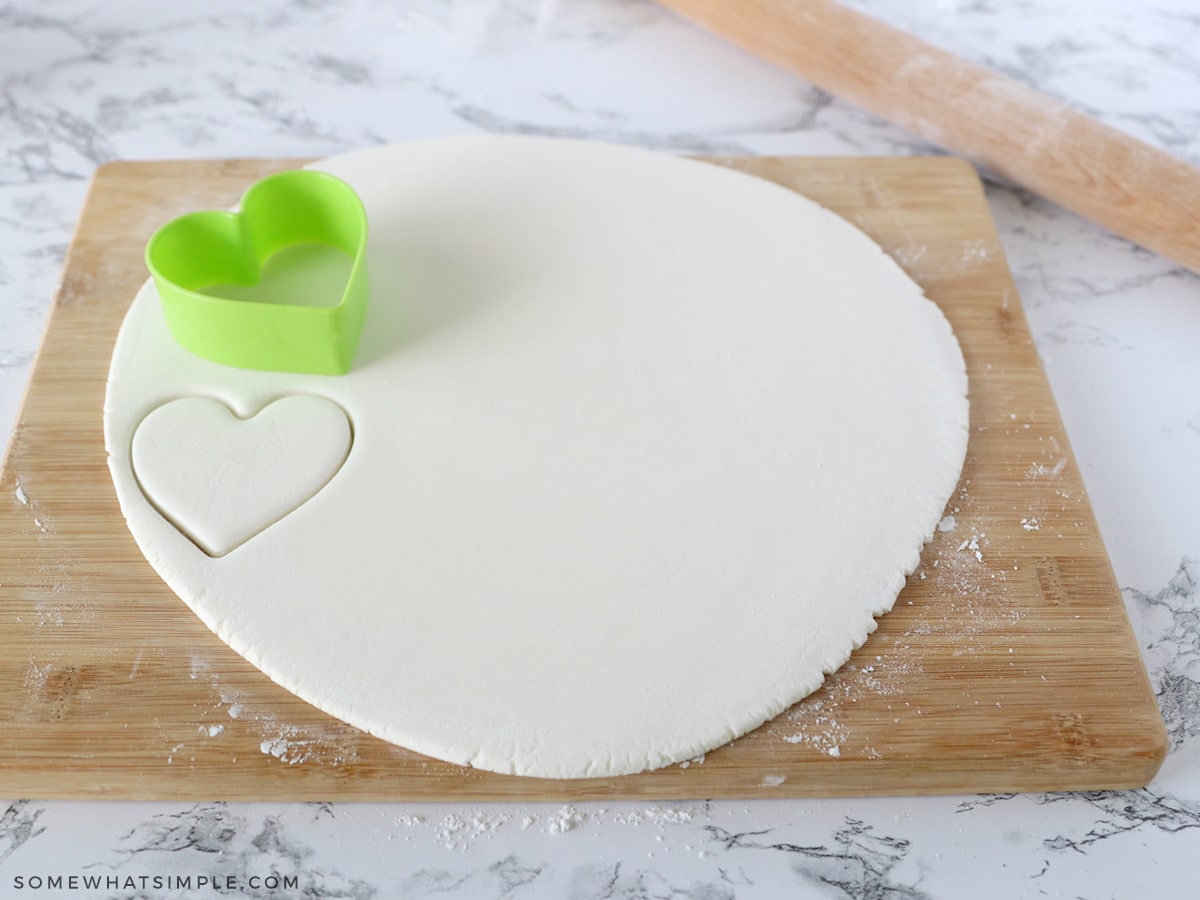 DIRECTIONS –
Bake & Cool: Bake your cookies in the oven according to the recipe you used. Allow your cookies to completely cool before decorating them.
Fondant: After baking the cookies, prep your fondant by rolling it out with a rolling pin onto a surface dusted with all purpose flour. You can make this as thick as you'd like it. Using the same cookie cutter that you used for your cookies, cut out the rolled fondant.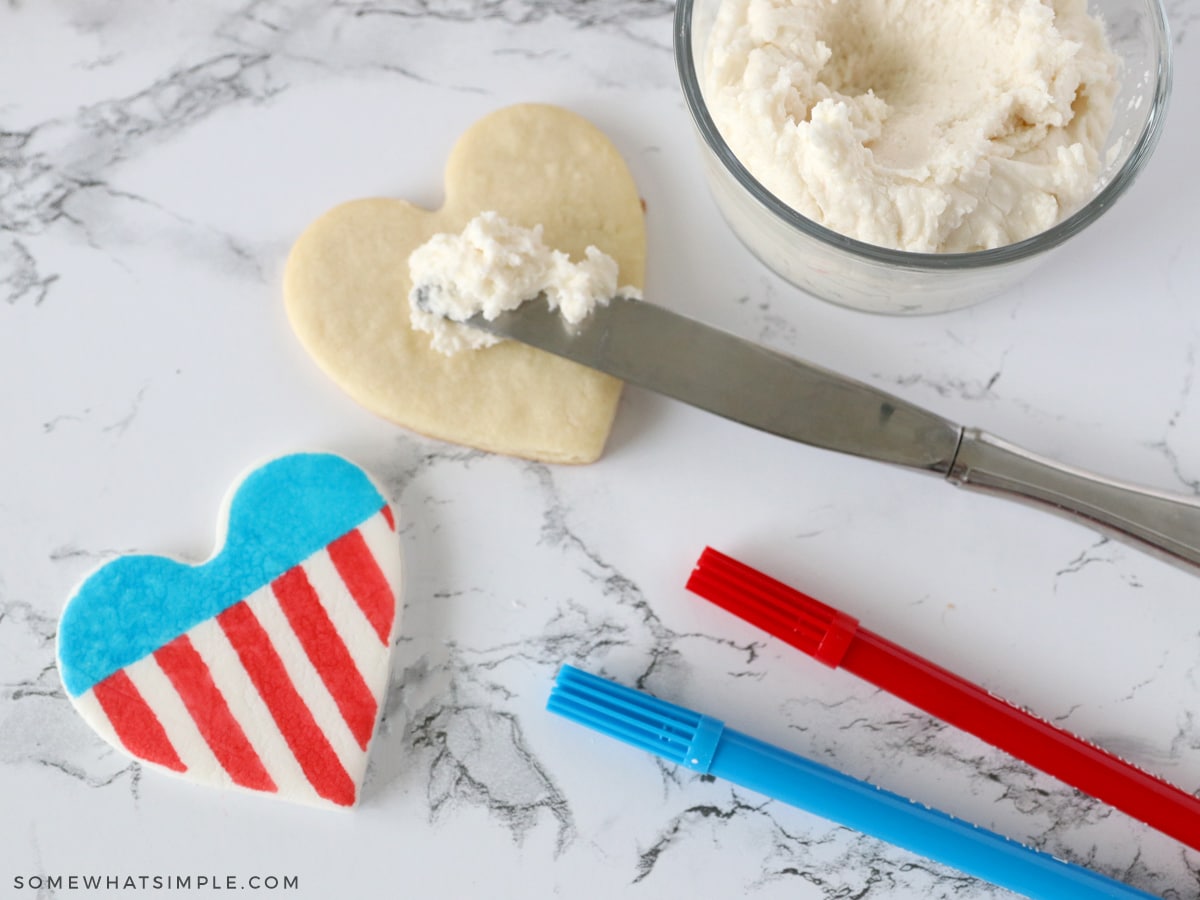 Decorate: Color your fondant in the patriotic patterns of your choice. Spread a thin layer of frosting onto the sugar cookie, then press the fondant on top of the frosting.
Dry. Let the ink on your patriotic cookies dry completely – it'll take several minutes, depending on your design. I line a cookie sheet with parchment paper and let them rest.
Serve + Store. Serve immediately, or store your red, white, and blue cookies in an airtight container. You can leave them at room temperature or store them in the refrigerator. They'll last up to one week.
Who knew flour, butter, salt, and eggs could look so cute???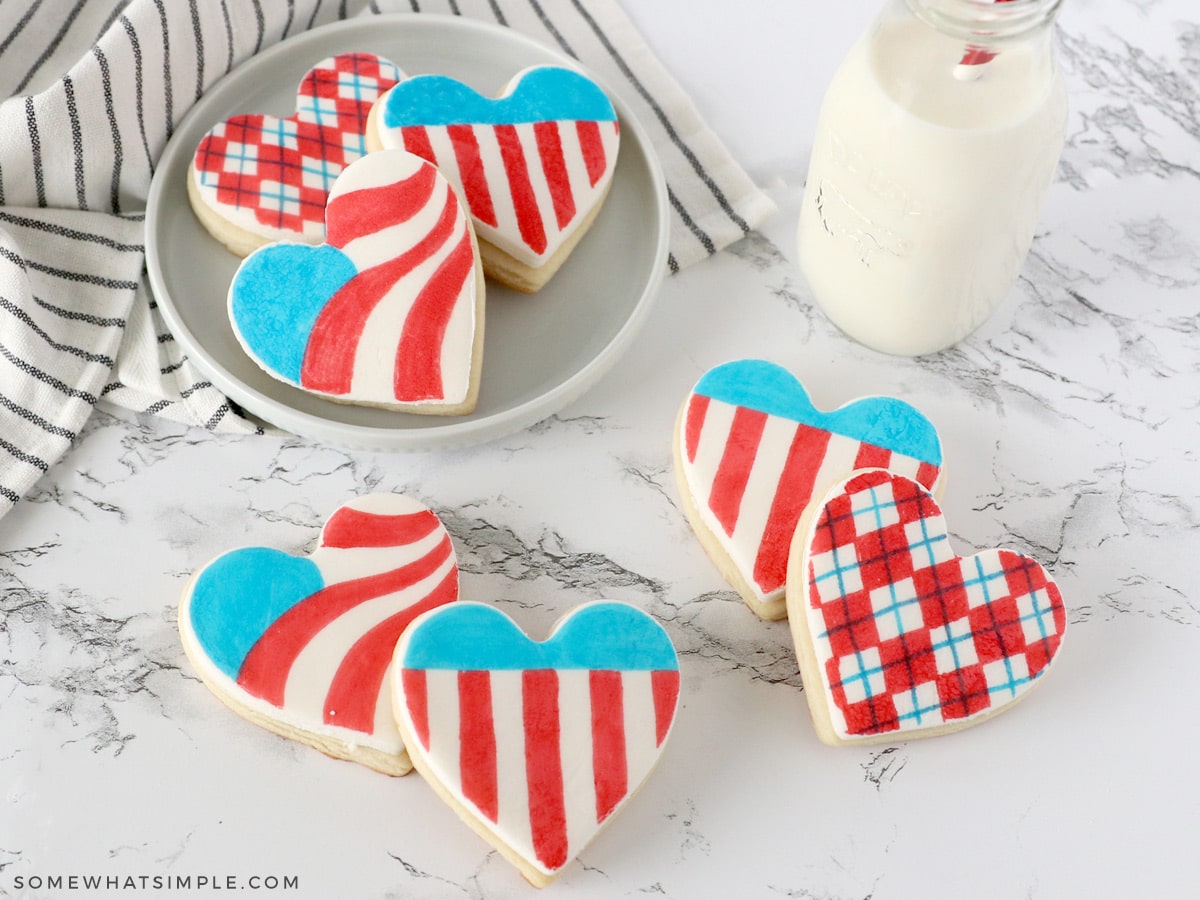 Fourth of July Sugar Cookies – Decorating Ideas
There are endless possibilities and decorating ideas to come up with for your 4th of July cookies!
Skip the fondant and use colored frostings with star sprinkles.
Grab some 4th of July Cookie Cutters and make your cookies in festive USA shapes!
Go ahead and volunteer to bring a dessert to that BBQ – you can totally do these!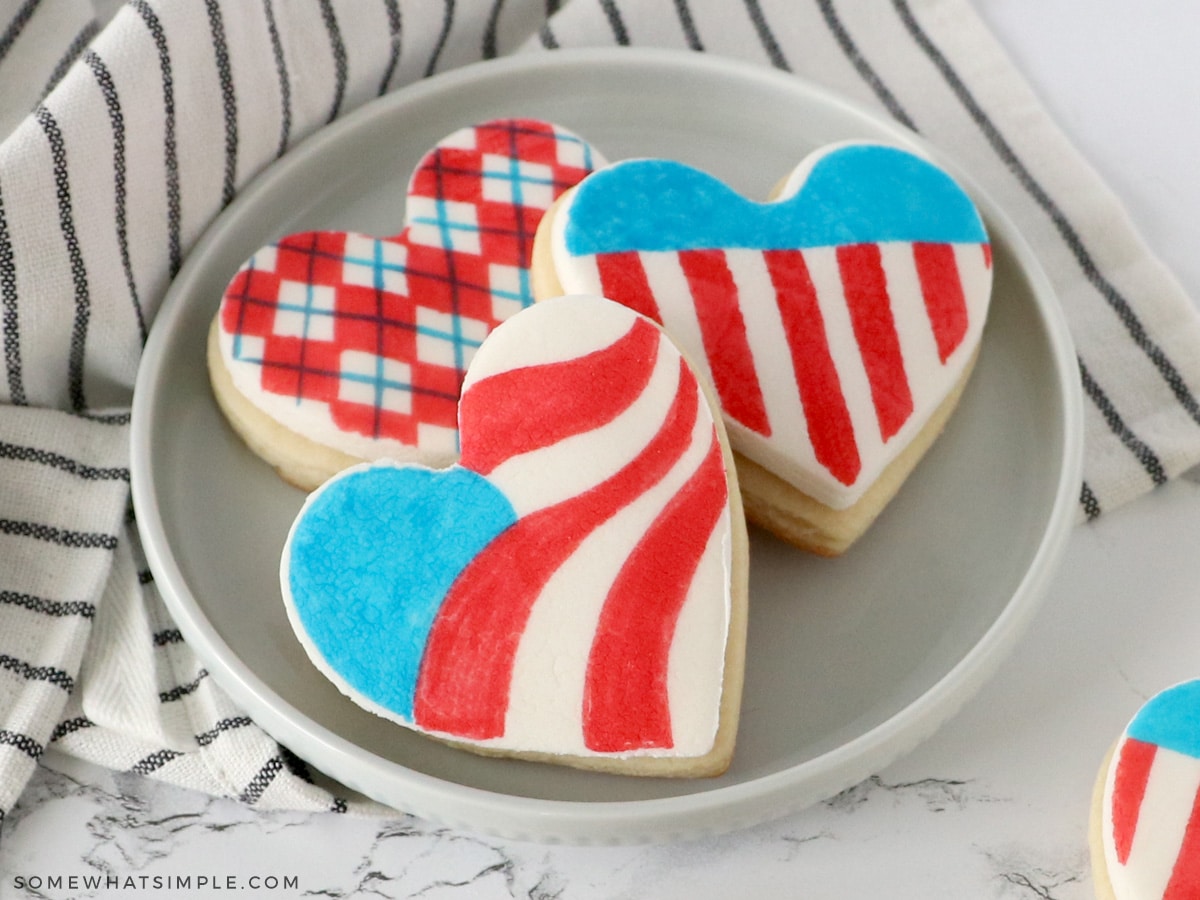 More Festive 4th Of July Ideas