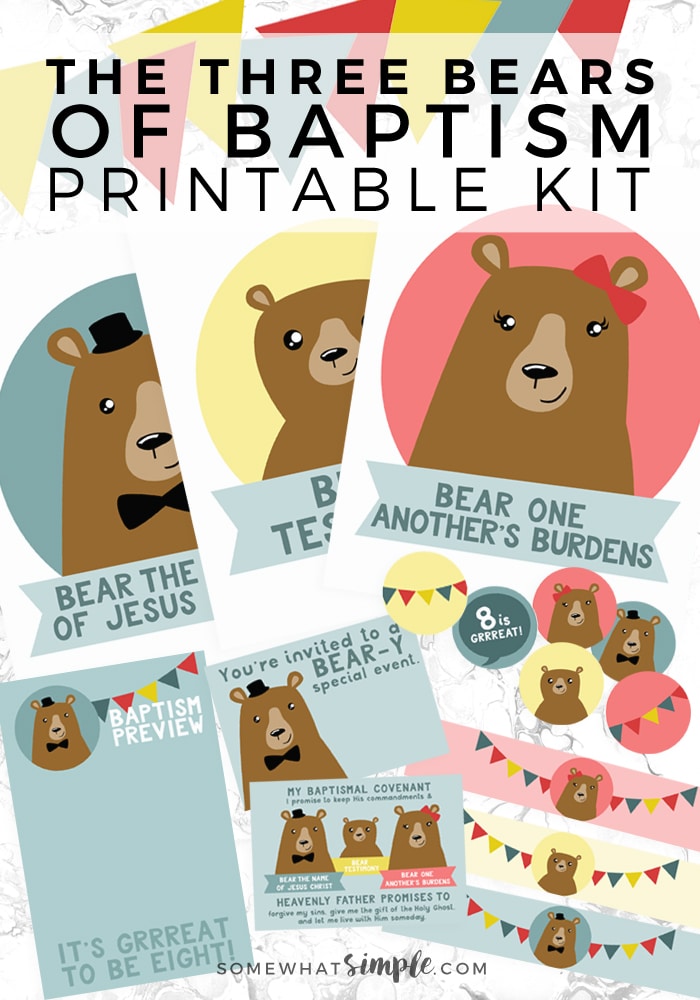 These darling Three Bears of Baptism Printables are sure to make your baptism preview night a huge success!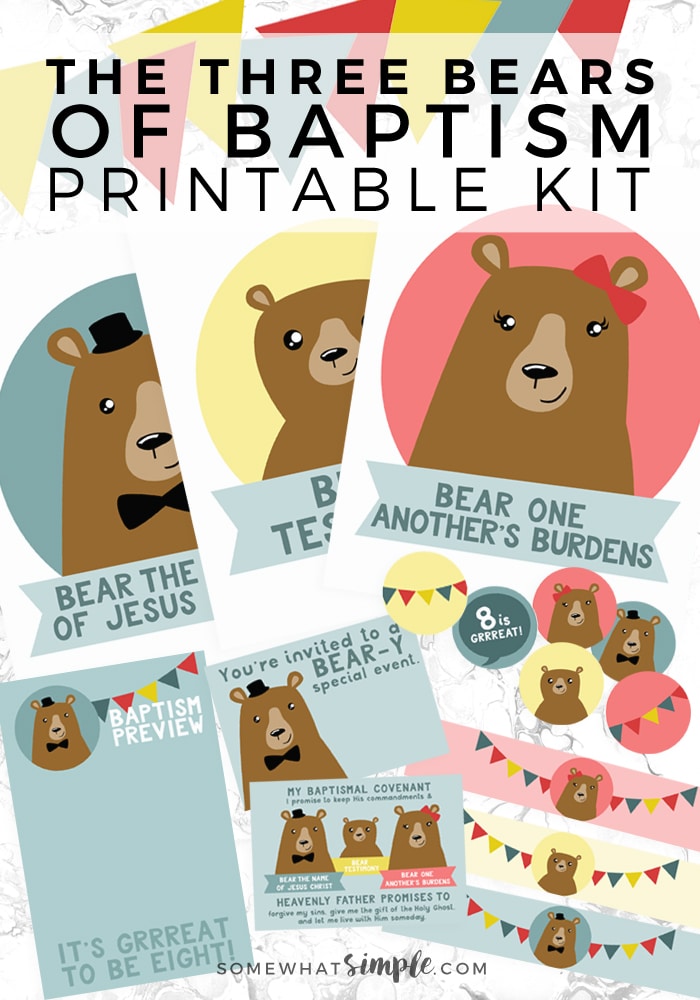 If you're looking for a sweet way to help children learn about the covenants they'll be making at baptism, then you've come to the right place! A little while ago, our Primary President came across a darling story about the Three Bears of Baptism, and naturally I wanted to create a whole matching kit that we could use. Because that's how I work. 😉
This kit includes:
Invites
Program
Baptismal covenant card
The Three Bears of Baptism talk
Three bears talk visual aids
Cupcake toppers
Water bottle labels
Triangle pennants
You can totally tailor this kit to your specific needs, but here's a rundown of what we did.
Three Bears of Baptism Printables
supplies
Three Bears of Baptism Printables Kit (download here)
toothpicks
2″ circle punch
tape
string
water bottles
cupcakes
gummy bears
stuffed bears (you could use any 'bear' related object to give as a gift)
directions for programs and invites
Download our Printable Kit.
To customize the invites and programs, you can use a free editing program, or simply open up any word program and do the following:
In the upper menu, click INSERT -> PICTURE -> FROM FILE. A menu will open up, find the place you saved your download, and then click the specific file.
Then click on the image after it's open, then from the upper menu, click INSERT -> TEXT BOX.
Click and drag your cursor over the area you want to fill. Don't worry if it's not perfect – you can change the size and placement later by using the dot points on the corner and edges of the text box.
Write in what you would like, save, and then you're done!
I used this bluberry font, but you can use any cute font you'd like.
directions for everything else
Punch out toppers with 2″ circle punch.
Tape a toothpick to the back.
Stick into cupcakes.
Place cupcakes in a cup filled with a handful of gummy bears.
Punch 2 small holes into the upper corners of pennants.
Thread with bakers twine or string and hang anywhere you think needs a little splash of color.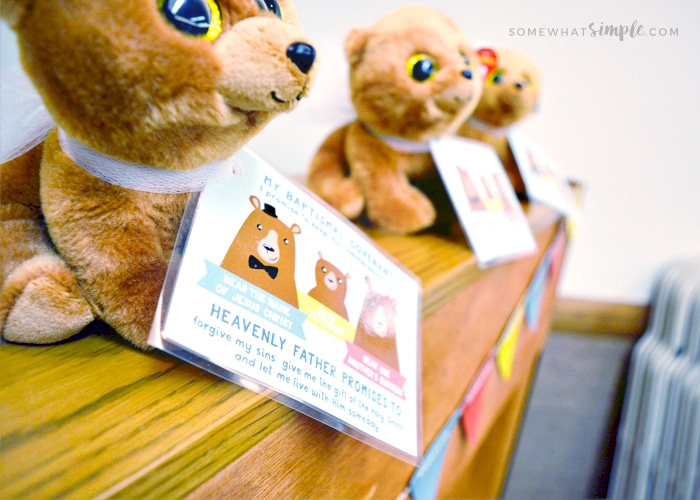 We laminated our visual aid bears that go with the talk, and our bear baptism covenant tags that we tied around the necks of the stuffed bears. We printed off the pennants on heavier paper, so we didn't feel the need to laminate those, but you may want to if you're thinking about using these every year (which we totally are!).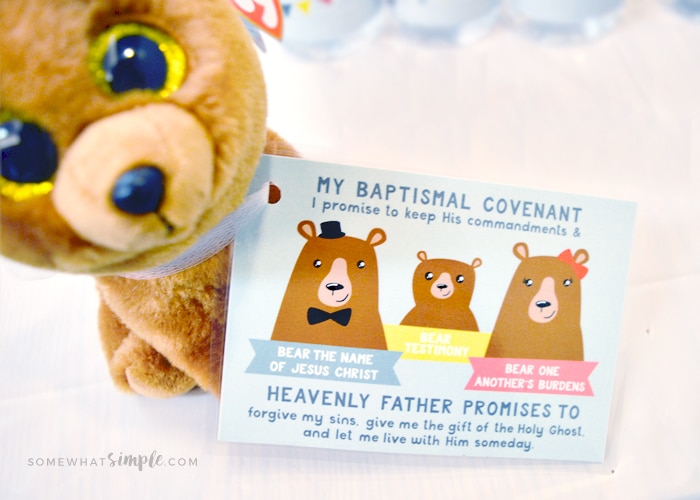 All of us who where in the Primary Presidency brought all the neutral colored stuffed bears we had at home, and just placed them around for decoration. Totally easy. We also brought our older daughters to help out in the nursery we provided.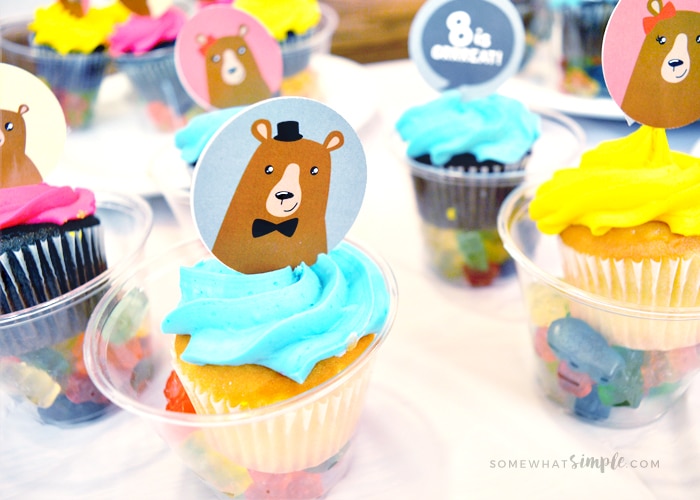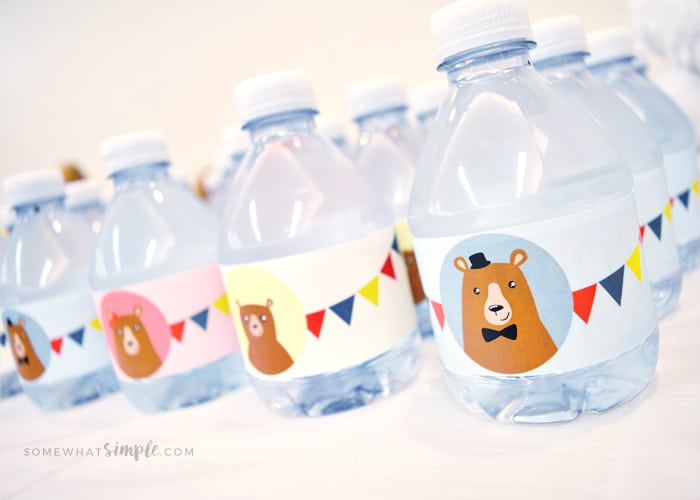 The point of this kit is to take some of the stress off primary leaders, so they can focus on the true importance of the night. Those children were so sweet, and so excited!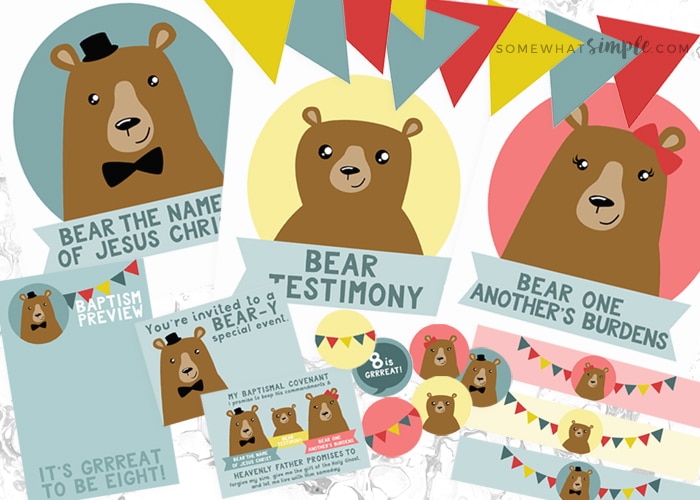 Not sure what a baptism preview or a primary presidency is? Check out mormon.org to see why we love our church and the gospel of Jesus Christ. If you haven't been to an LDS baptism, I highly recommend it. The feeling of peace and happiness is undeniable.
Our readers also enjoyed:


General Conference Activity Packet // Bubblegum Scripture Reading // General Conference Activity Packet