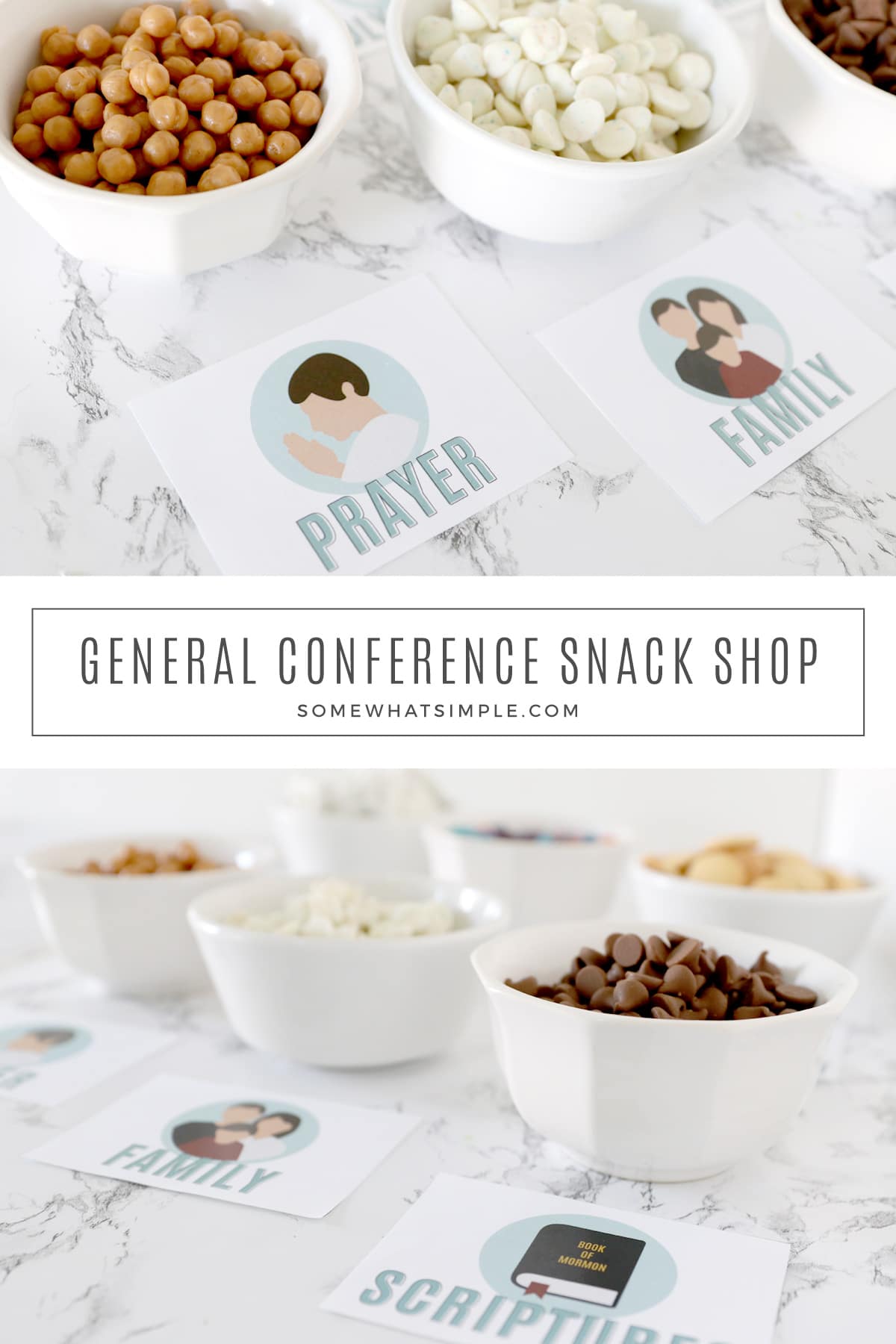 A General Conference Snack Shop is a fun way to keep the kids interested in General Conference. Download our free printables and get ready to "feast" upon the word!
Looking for more ways to help the little ones sit longer? We've also created these fun printables – Activity Packet, I Spy Conference Bingo, and Conference Cash << my kids very favorite!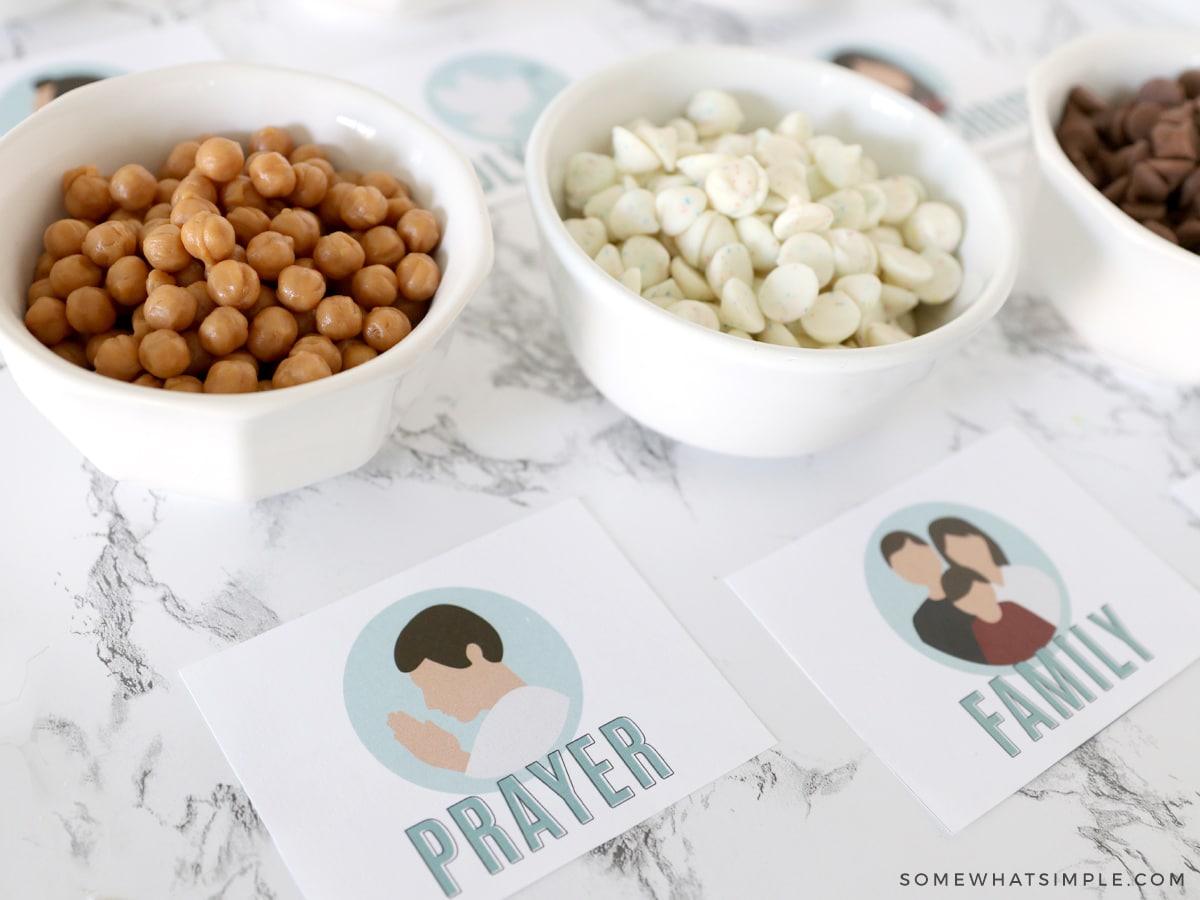 General Conference Idea For Kids
Our family has been doing this fun General Conference Snack Shop for years and years! The kids LOVE it, and I love that it's easy to put together. I also love that it helps them listen to General Conference a little better. Because rewarding good behavior is not beneath me… and neither are bribes. 😉
The concept is simple: Any time a word is said (whether in a talk, song, prayer, or announcement) each child grabs a treat or snack from the bowl by that word. Sometimes my kids choose to eat it right then, but sometimes they put it in their bags and save it for later.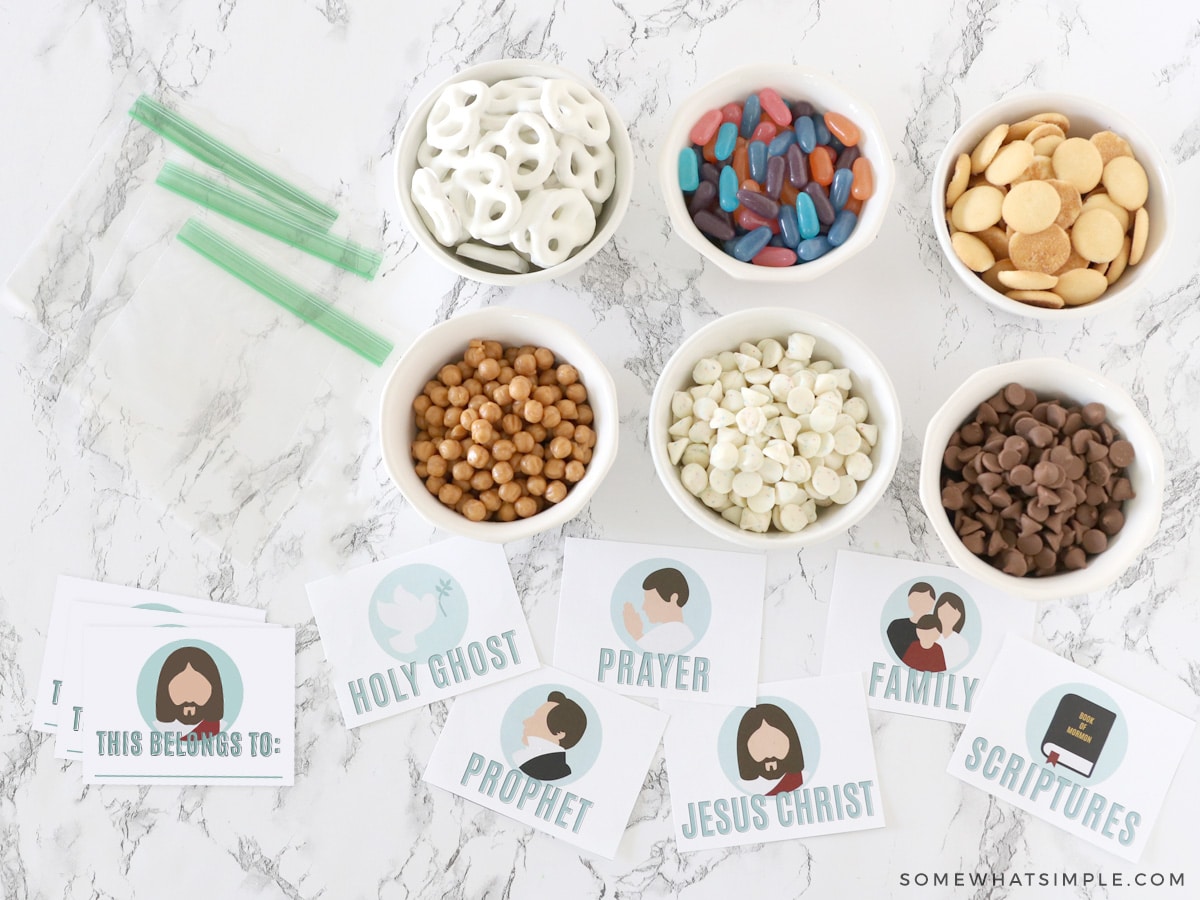 How to Set Up a General Conference Snack Shop
YOU WILL NEED –
6 bowls
6 different snacks or candies
General Conference Snack Shop Cards (download below)
scissors
sandwich bags or lunch sacks
tape or stapler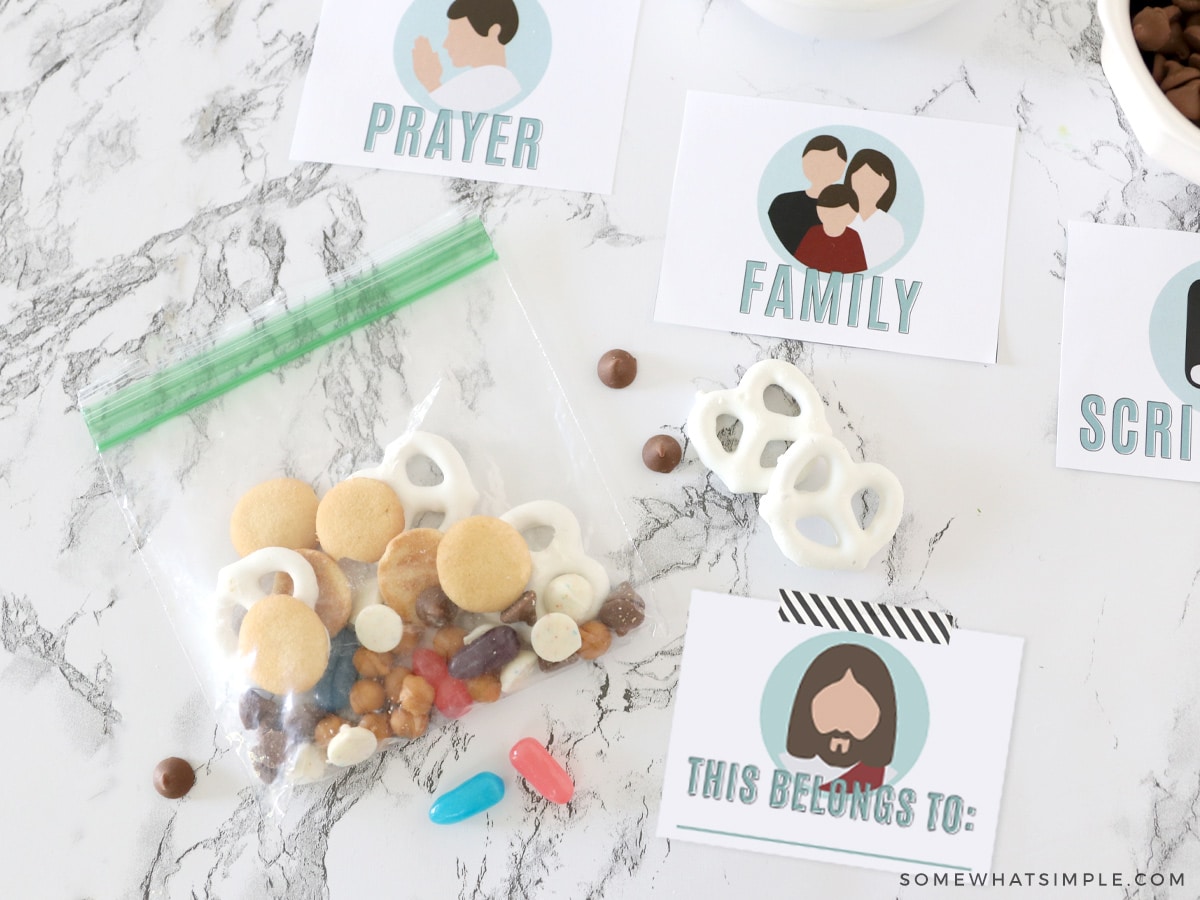 DIRECTIONS –
Download our free printables.
Cut them out.
Attach name plate printables to each bag with some tape or a stapler.
Fill individual bowls with snacks/candies
Place cards in front of bowls.
Start listening and enjoying conference!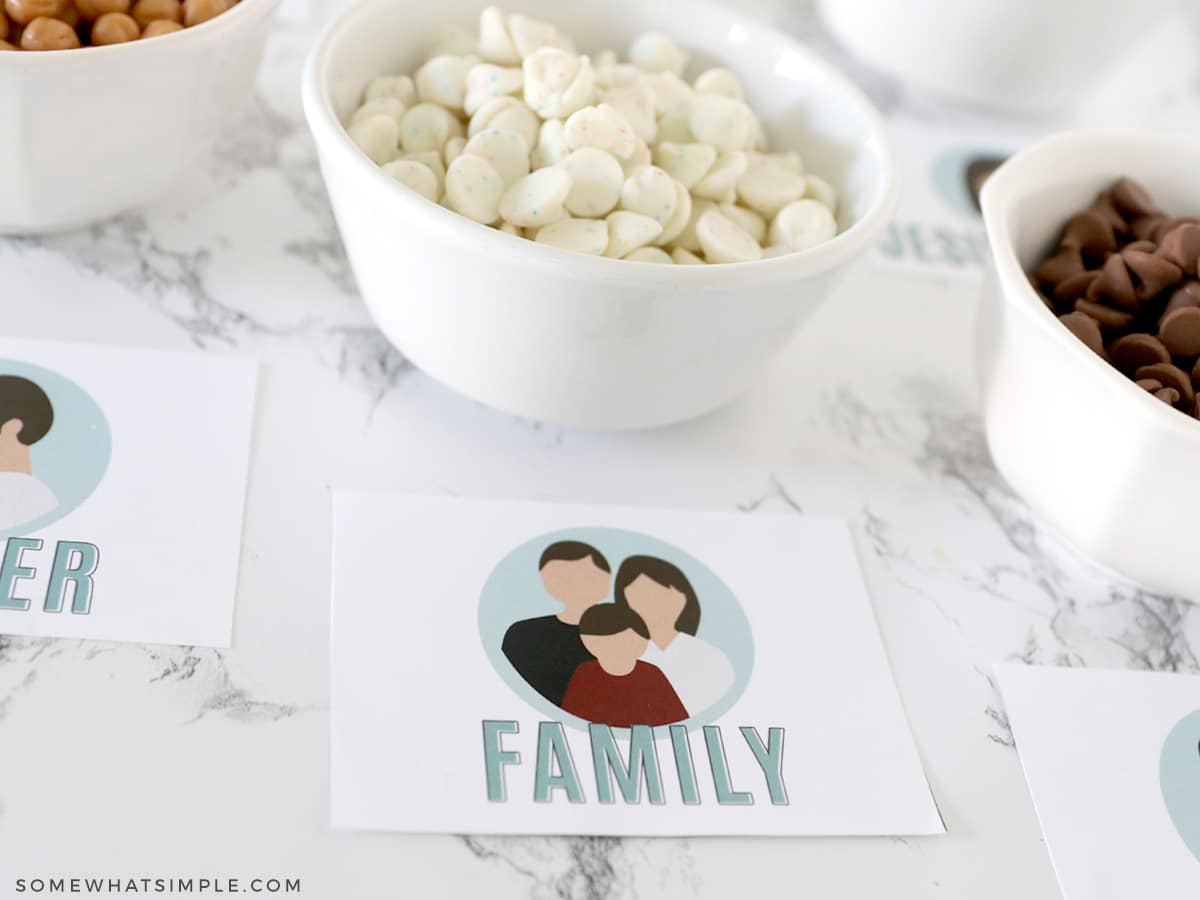 Tips –
Especially if you have younger children, only put a small amount in the bowls at a time – you can always refill as you go. Soggy toddler fingers can be a total game changer, friends.
Some suggestions for your General Conference Snack Shop might include:

Trail mix items
Assorted popcorn flavors
Cut up fruit and/or veggies
S'more mix: 2 bowls each of graham cereal, mini marshmallows, and chocolate chips
Each family member's favorite candy
Assorted bite-sized cookies + crackers
Pizza toppings for individual pizzas later on
Color themes
Flavor themes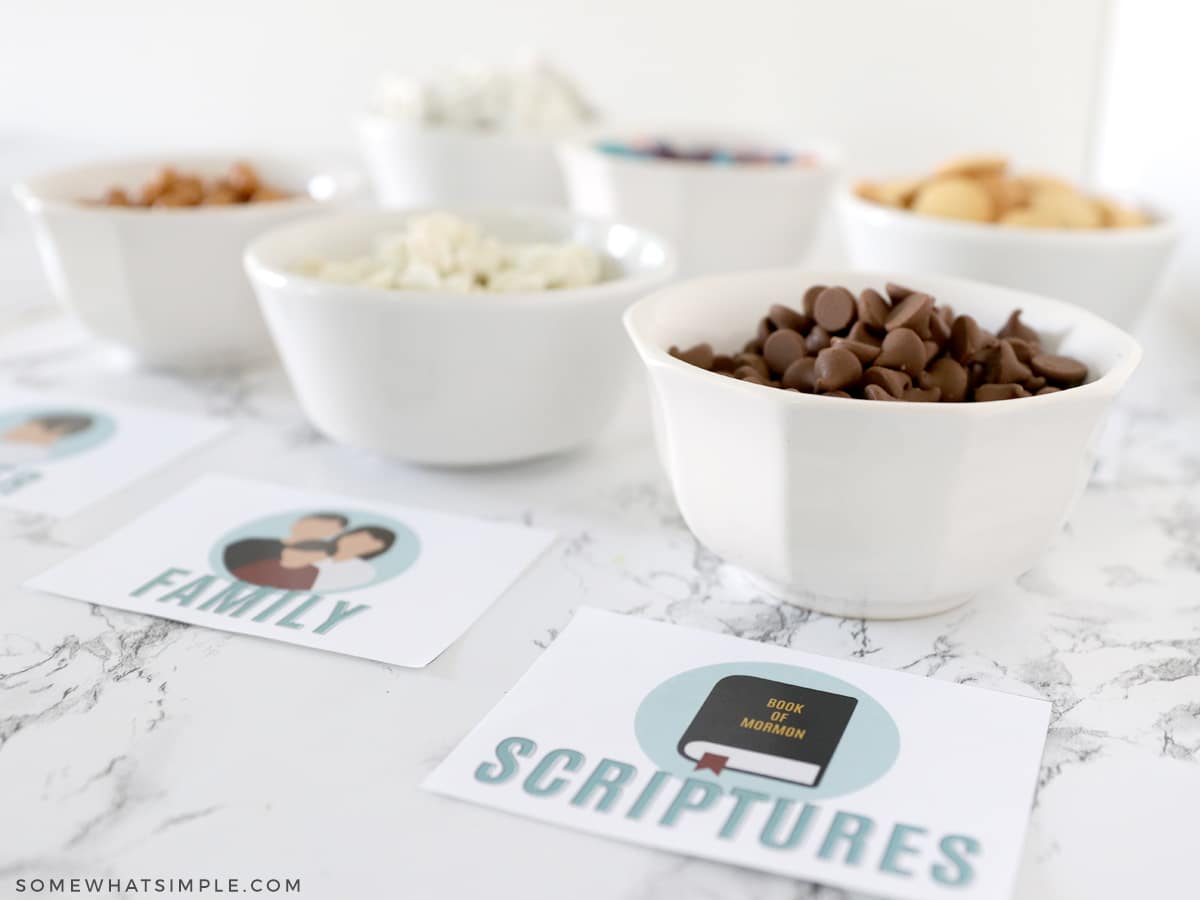 Snack Shop Printables
Enter your name and email in the form below for immediate access to our printables.
Use these together to make your General Conference weekend something the kids look forward to every year!
MORE FAITH + CHURCH PRINTABLES –