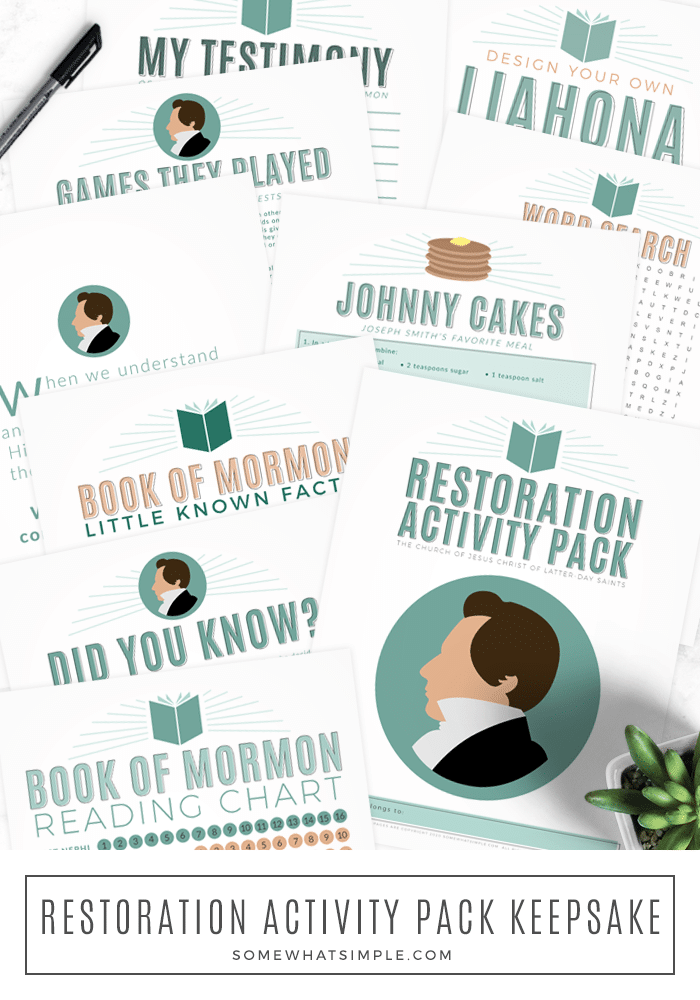 Our printable LDS Restoration Activity pack will help your family prepare for a memorable General Conference!
We have even more General Conference printables available for free! Be sure to check out the following ideas – General Conference Bingo, General Conference Activity Packet, Conference Cash (my kid's favorite!) Conference Goody Box, and the most popular – General Conference Snack Shop.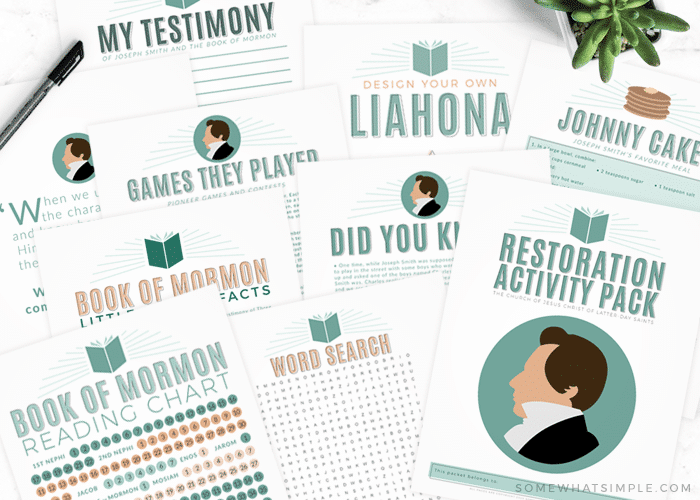 In the October 2019 General Conference, President Russell M. Nelson said,
"In the springtime of the year 2020, it will be exactly 200 years since Joseph Smith experienced the theophany that we know as the First Vision. God the Father and His Beloved Son, Jesus Christ, appeared to Joseph, a 14-year-old youth. That event marked the onset of the Restoration of the gospel of Jesus Christ in its fulness, precisely as foretold in the Holy Bible…

Thus, the year 2020 will be designated as a bicentennial year. General conference next April will be different from any previous conference. In the next six months, I hope that every member and every family will prepare for a unique conference that will commemorate the very foundations of the restored gospel." – President Russell M. Nelson
He then suggested that we begin our preparations by –
Incorporating the Book of Mormon videos in our individual and family studies
Ask yourself / ponder about the following –

"How would my life be different if my knowledge gained from the Book of Mormon were suddenly taken away?"
"How have the events that followed the First Vision made a difference for me and my loved ones?"
He continued with this promise –
"Select your own questions. Design your own plan. Immerse yourself in the glorious light of the Restoration. As you do, general conference next April will be not only memorable; it will be unforgettable." President Russell M. Nelson
Restoration Printables for Kids
In an effort to make General Conference "unforgettable" for our kids, we created this Restoration Printable Keepsake, with fun facts, activities, and quotes from about the restoration. Here is what is included –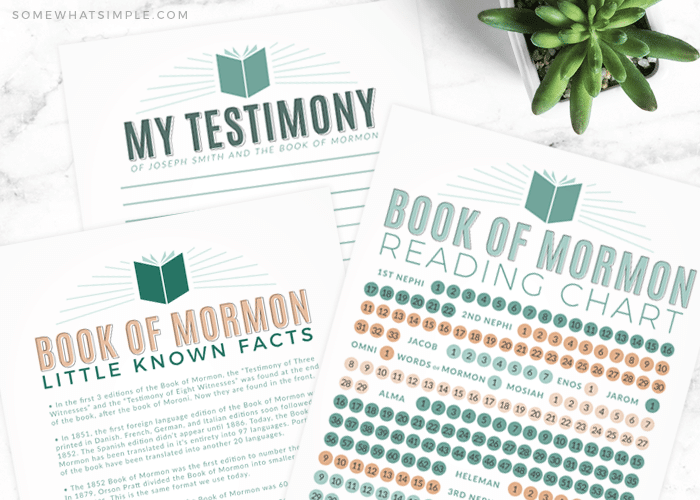 Book of Mormon Reading Chart
Book of Mormon Fun Facts
a place to record your thoughts and testimony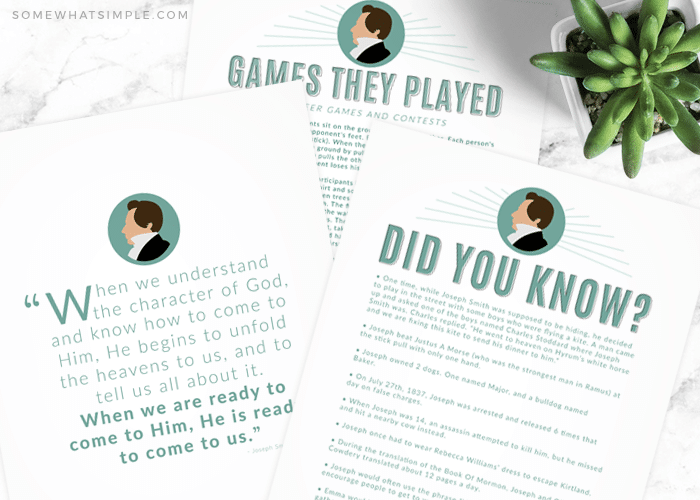 Fun Facts about Joseph Smith + a favorite quote
Pioneer Games to Play with Your Family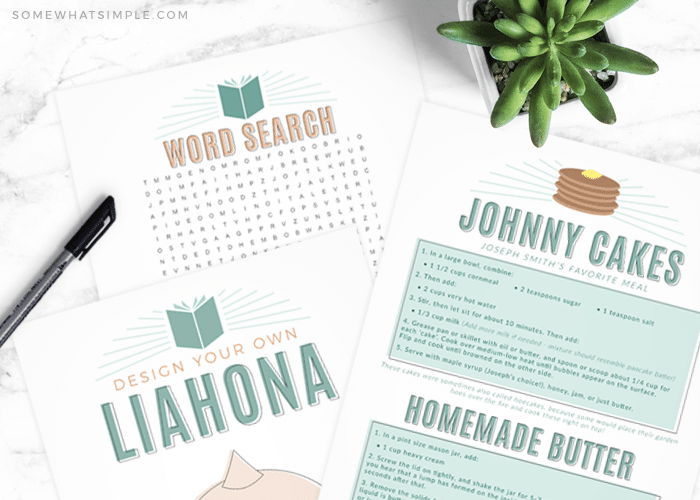 Favorite Recipes
Word Search
Liahona Art + Coloring Activity
Restoration Activity Pack + Keepsake
Ready to download your own? Enter your email address in the form below for immediate access.
Please remember – All of the printables on SomewhatSimple.com are for personal use only. Please do not sell them or claim them to be your own. Feel free to make enough copies for your family and primary class, and if you have any other questions or suggestions, we'd love to hear from you! Email Steph@SomewhatSimple.com. Thanks for your support!
We know the restored gospel of Jesus Christ will bring hope and joy to people who will hear and heed His doctrine. We also know that each home can become a true sanctuary of faith, where peace, love, and the Spirit of the Lord may dwell. – President Russell M. Nelson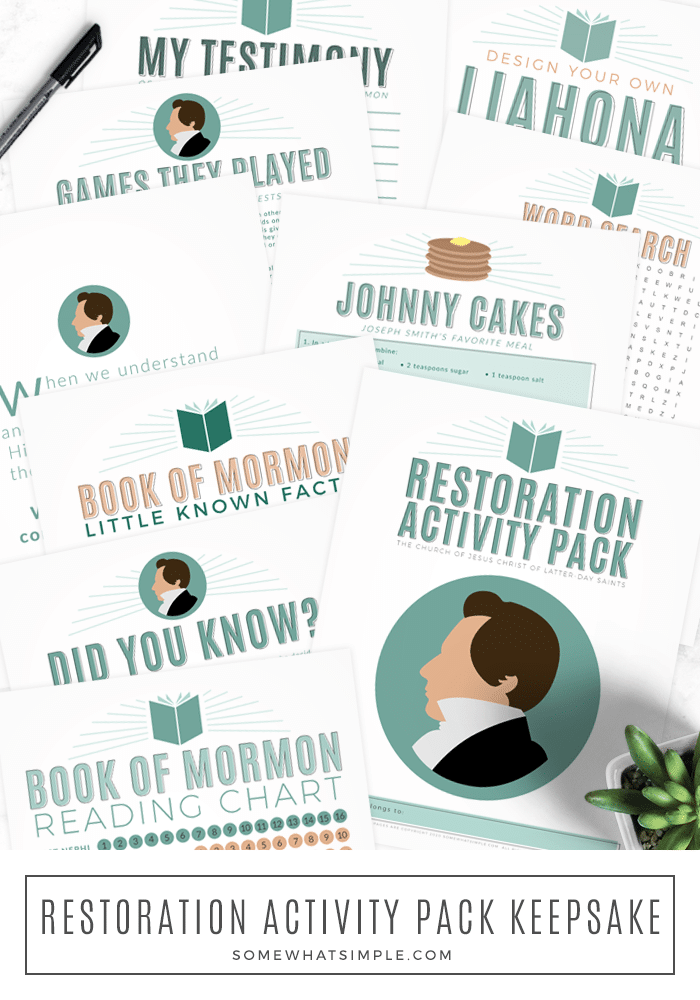 To learn more about my faith and why I believe what I do, click HERE.