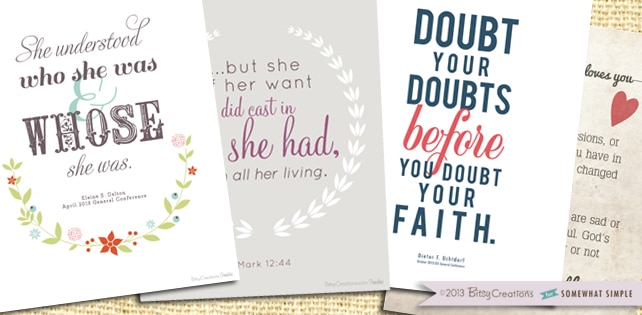 Enjoy these free LDS General Conference Printables. There are many to choose from! Most are 8×10 inches, but can be sized smaller to stick in your scriptures. 
Hello! It's Joan from BitsyCreations again. I've been enjoying one of my favorite projects: creating printables from General Conference quotes! I love General Conference! What an amazing opportunity to be taught. And for the past few years, I've taken the opportunity to make printables from some of our favorite Conference quotes. These are all over my house! I have 8×10 inch frames in a few places and I switch out the artwork regularly.
I use these as little reminders for me and for my family. Is there something I wanted to change? Something to try to do better? Maybe just a reminder of how loved I am or how special each one of us is.
So use these in your own home, hand out during a lesson at church, pass along to friends, or take with you when you go visiting teaching. The ones I created from both April and October Conferences are available below. I'm always happy to make more freebies. If you have something specific in mind, just let me know!
To download your free printable, click on the desired thumbnail(s) below. A high resolution JPG will open for you to save to your own computer. Print out yourself or take to a copy center to have printed.