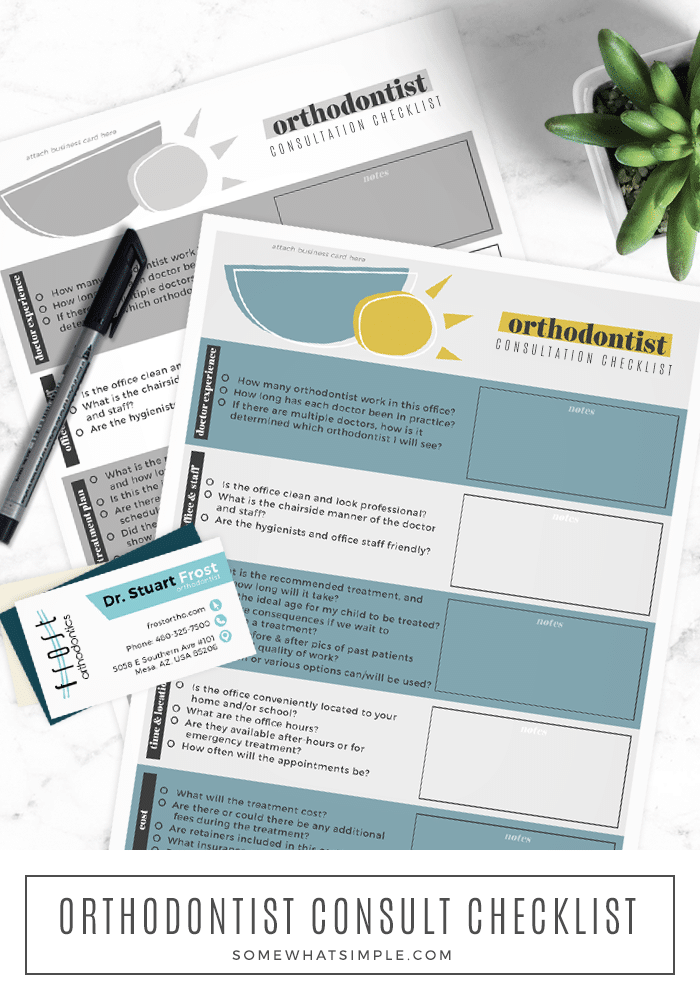 Download our FREE Orthodontist Consultation Checklist with 5 things to consider in finding the best orthodontist! Your experience should be something you can smile about!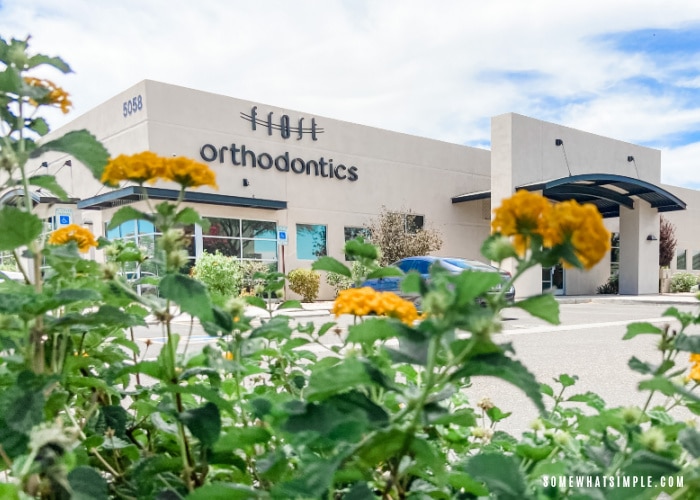 If you've been following along on social media, you've probably seen me talk about the amazing orthodontist office I've been taking my son to since the beginning of this year. Ryan is our 3rd child to get braces, but he is our first child to become a patient at Frost Orthodontic's in Mesa, Arizona.
We learned a lot about ortho treatment plans, procedures, expenses, and expectations with our two older kids, so I was more educated in my search for Ryan. There were some things I let "slip through the cracks" with the first two that I wanted to make sure we took care of with Ryan's smile. We met with 4 different orthodontists before ultimately choosing to work with Frost, and we couldn't be happier with our decision.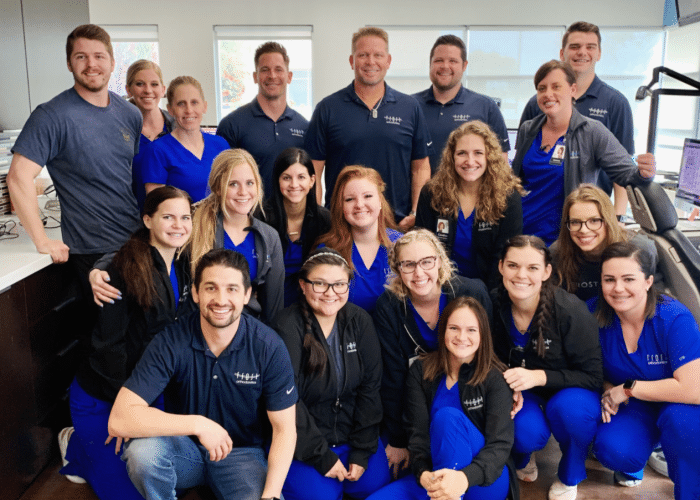 Many orthodontists do extensive consultations for little, or no cost to you! The more in-depth your consultation, the more information you'll have on the treatment plan. Frost offered a free consultation where X-Rays and photographs were taken, and a full medical history was discussed. Before we left, we were given an in-depth treatment plan with the goals, length of time, and total cost of treatment.
Here are 5 things I considered when making the decision on which orthodontist would be best for Ryan, and best for our family. (And we have a free printable checklist you can print and take with you to your first consultation.)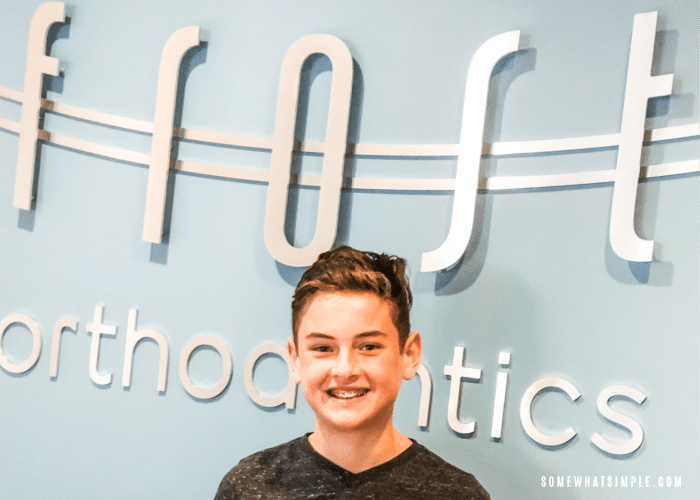 Finding the Best Orthodontist
1. Doctor Experience
It's important to be aware of how many doctors are in the office and what their experience is.
Questions to ask –
How many orthodontists work in this office?
How long has each doctor been in practice?
If there are multiple doctors, how is it determined which orthodontist I will see?
2. Office Ambiance + Staff Personality
Your treatment will take place over the course of several months to several years, so you'll want to make sure you are comfortable with the doctor and staff.
Questions to ask –
Is the office clean and does it look professional?
What is the chairside manner of the orthodontist(s) and staff?
Do the hygienists and office staff seem friendly?
3. Treatment plan
One of the big differences I noticed between the offices we visited was the technology used by the doctor and staff. We met with an Orthodontist who had decades of experience, but he told us he was using his "tried and true system" that he had been using for years. This might sound good to some, but for me, it seemed like he maybe wasn't up to par on the newer methods that could be better.
Frost Orthodontics has state-of-the-art technologies, and he was the only doctor who spoke about the actual system they use – the Damon System. This system is a unique bracket that widens your smile while straightening your teeth. It's less painful than traditional braces and your appointments are scheduled every 8-10 weeks instead of every month.
Questions to ask –
What is the recommended treatment, and how long will it take?
Is this the ideal age for my child to be treated?
Are there consequences if we wait to schedule the treatment?
Did the before-and-after photos of past patients show good quality of work?
What technology will be used, and are there various treatment options?
4. Time + Location
One of the big issues we ran into with my first two kids was the office hours and schedule availability. Most of their appointment times were during school hours, which meant we'd have to skip work and take the kids out of school in order to be seen. One month I had to reschedule my daughter's appointment and they couldn't fit her in for over a month! Save yourself some headache and frustration and find an orthodontist with flexible office hours.
Questions to ask-
Is the office conveniently located to your home and school?
What are the office hours?
Are they available after-hours or for emergency treatment?
How often will the appointments be?
5. Cost
Costs for orthodontic work may vary by doctor and by region, and depending on the treatment plan, it could vary from patient to patient.
Frost orthodontics not only offered a competitive rate for the proposed treatment, but they also had the best financing options available. Their flexible payment options include 0% interest options, same-day start bonuses, and much more! Our investment was one we felt good about!
Questions to ask-
What will treatment cost?
Are there any additional fees during the treatment?
Are retainers included in this cost?
What insurance plans do you accept?
Do you offer financing?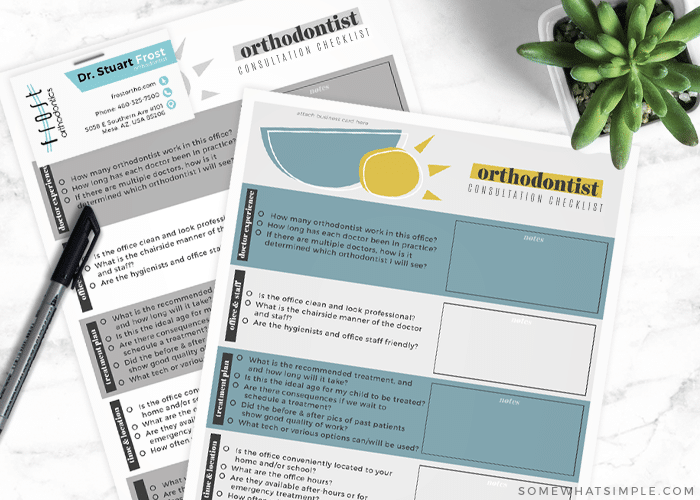 Orthodontist Consulation Checklist
We hope your experience in choosing and orthodontist is something to smile about!