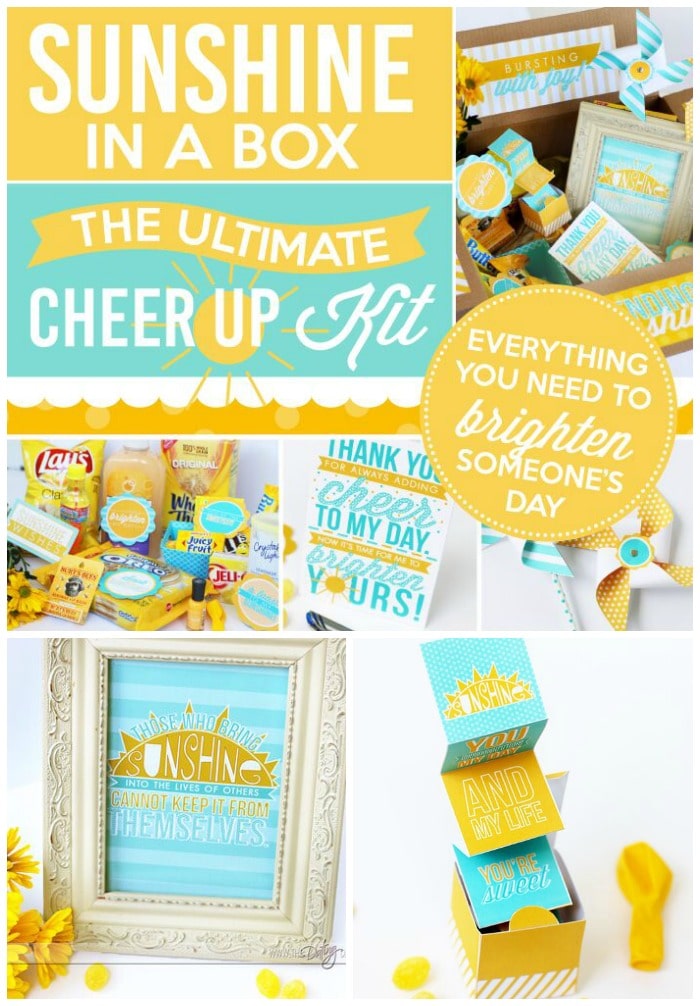 Who doesn't love to receive an unexpected gift? This cute box of sunshine gift idea is an easy and thoughtful way to let someone know you care.
Here are a few more thoughtful gift ideas we love – Going Away Gifts Ideas, Christmas In July, and Teacher Gift Basket.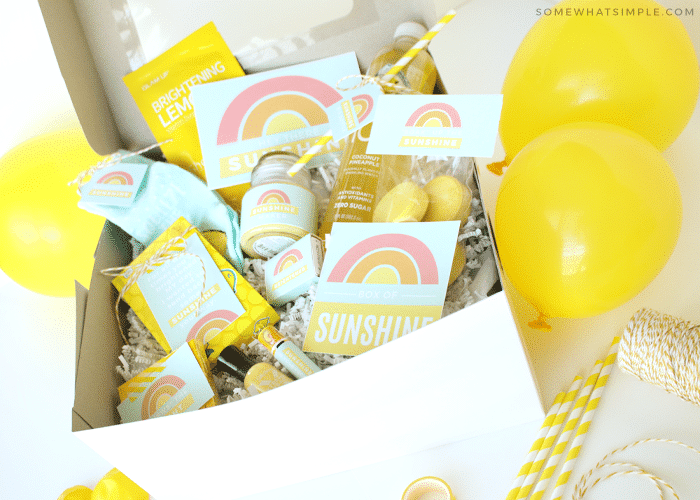 What Is A Box Of Sunshine?
Several months ago, I received a sweet package in the mail from my sister-in-law. The contents of the box were simple and fun and everything in it was YELLOW. My friend included a note, along with a bunch of wonderful goodies, telling me she was sending me a box of sunshine to brighten my day.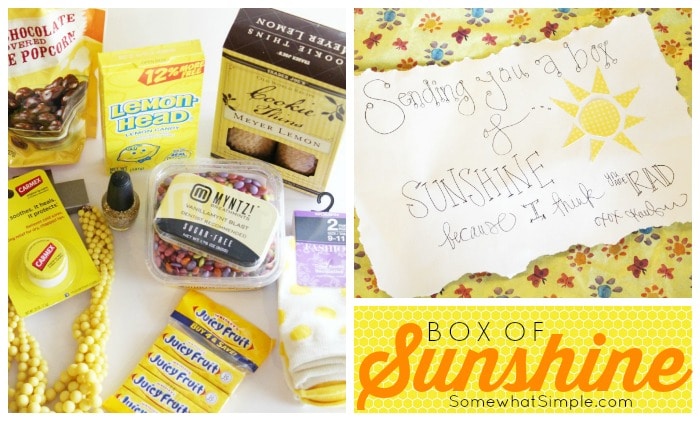 Isn't this the cutest little Pick-Me-Up?!?
Box of Sunshine Gift Ideas
I think putting together a box of sunshine is almost as much fun as receiving one. There are so many cute yellow items you can include in your box of sunshine – here are a few ideas:
candy – peanut M&Ms, Lemonheads, Mr. Goodbar, Raisinets, etc.
Juicy Fruit gum
yellow socks
jewelry
lemon cookies
sweet smelling lotion
bath bombs
candle
You'll be surprised how many yellow things will POP out at you while you're shopping! Head to Target or Walmart and I promise it's much easier than you think!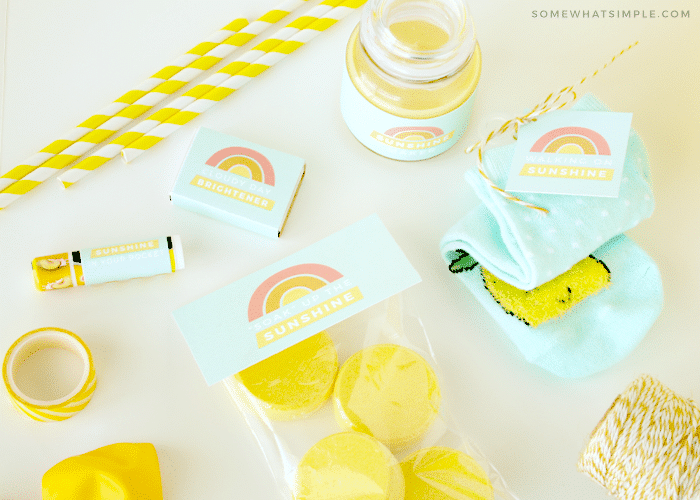 If you know of someone who could use their own box of sunshine, we've designed some fun printables we think you (and the lucky recipient) will love! Each tag in our kit coordinates with a fun item. Here's a list of what each tag says –
Box of Sunshine- for the front of the box
Hey there Sunshine – personal card
Sunshine poem – to explain what this box is all about
Walking on Sunshine – socks
Sunshine in your Pocket – chapstick
Sunshine Maker – candle wrap
Sunshine in a Bottle – drink
"Chew" the Light – candy or gum
Cloudy Day Brightener – matchbox wrapper
"Soak" up the Sunshine – bath bomb or bath salts
Feel free to come up with your own ideas if you come up with something better!
Sunshine Printables
Enter your name and email below for immediate access to these free printables-
Isn't this such a cute gift idea? All of those yellow sunshine goodies are so much fun!