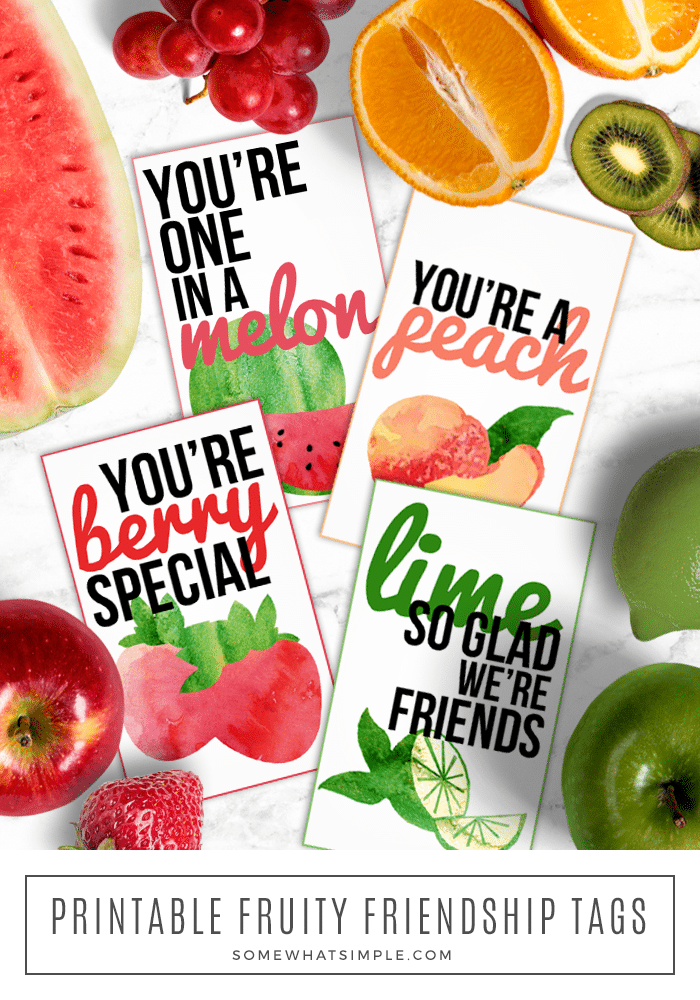 These fruit pun friendship gift tags are a fun way to spread kindness to a neighbor or friend!
Here are a few more gift ideas we think you'll enjoy – New Mom Gift Basket, Choose Your Own Adventure Birthday Gift, and Hanging Cupcake Gift.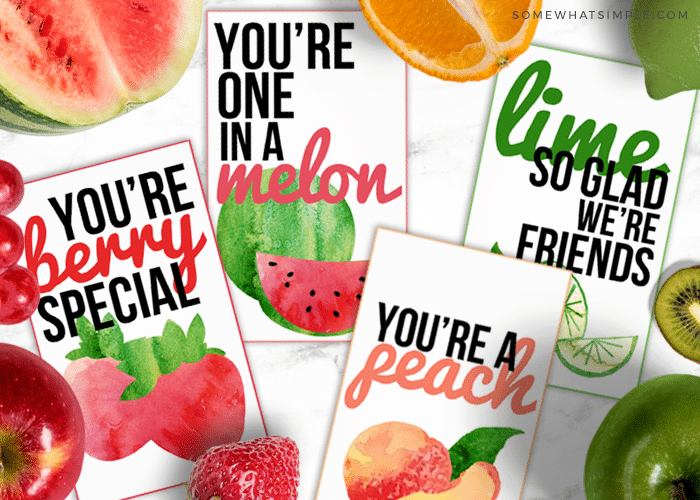 Fruit Pun Friendship Gift Tags
Cheesy puns and play-on-words are definitely our love language, and these fruit puns are speaking to our hearts! (I can't decide which one I love most – aren't they so darling?!)
Our free printable gift tags are generic enough for any occasion, so whether you're saying, "I'm thinking of you", "Thanks for everything", or "I'm glad we're friends", these gift tags are sure to make the recipient smile!
Gift Ideas
These adorable fruit pun gift tags would be adorable attached to any of the following –
fruit-flavored body wash/lotion
fruit-flavored candy, gum or mints
homemade fruity baked goods –
fruit basket
jar of berry lime fruit salad
fruit candle
smoothie gift card
What would YOU put these food-pun tags on? Any other ideas I might have missed? Tell me about it in the comment section below! (The options are endless!)
Fruity Friendship Gift Tags
To put them together, you'll need a printer, some cardstock, and our free file (linked below). Attach the printed tag to your gift with tape, or use a hole punch and some ribbon. (I'm pretty sure it doesn't get any easier than that!)
Printable Fruit Pun Gift Tags
Please remember, all free printables on Somewhat Simple are for personal use only. They may not be mass-produced, sold, or claimed to be your own. (You'd be surprised how many of our designs we find on Etsy – that is NOT cool!) If you need an exception, please email us – steph@somewhatsimple.com. We are super nice and would love to help! Thanks for your support and understanding!