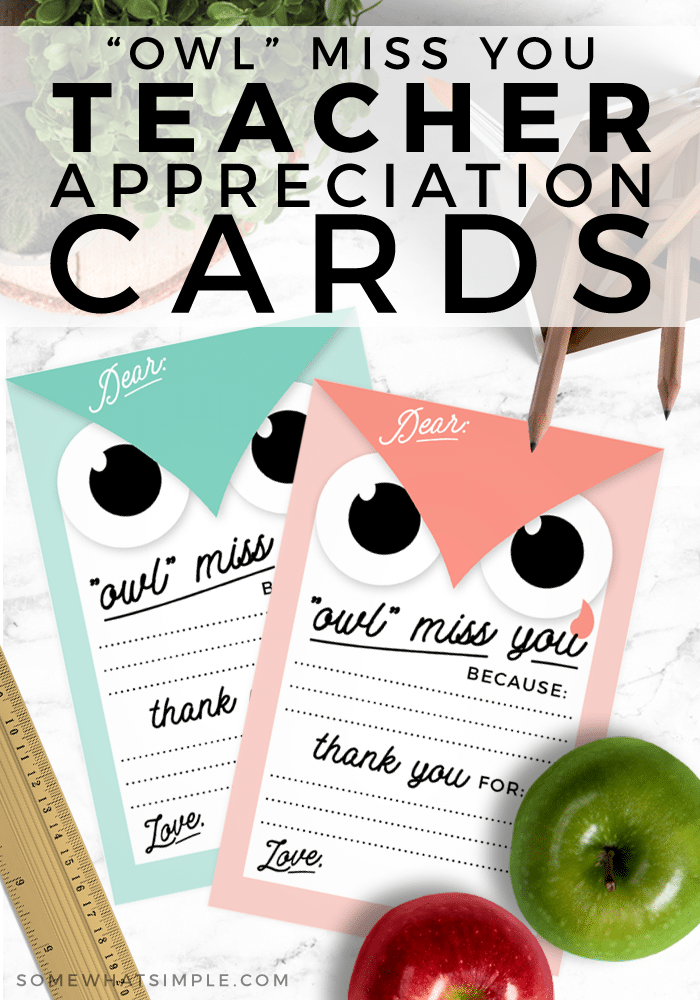 Looking to create the perfect thank you notes for teachers? These adorable "owl" miss you printables are a heartfelt way to say thanks for a great school year!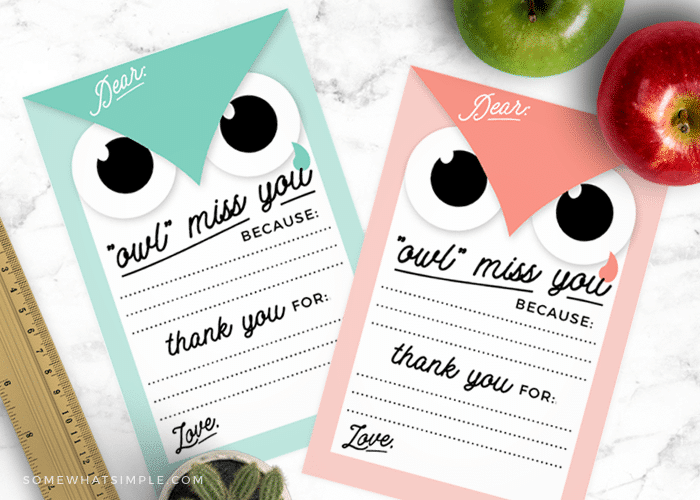 Thank You Notes For Your Teacher
It's here. The end of another school year. We made it. We survived. The teachers made it. And as far as I can tell, they have survived. They deserve a medal of honor, daily massages, and our sincere thanks.
My son is moving on to Jr. High next year. It was hard to say goodbye to all of the amazing special ed teachers that have worked with him throughout the years. I decided he needed to make sure to write out a note to them instead of the usual cute saying on a tag with him signing his name. (There is NOTHING wrong with that, I just wanted to add a little something extra special this time.) So I came up with these owl thank you notes.
"Owl" miss you thank you notes for teachers
supplies:
owl thank you cards (download below)
printer
paper or cardstock
scissors
pen or pencil
gift card or other gifts to go along with this (optional)
directions:
First, download and print off our adorable printables.
Cut out, and either you or your child can fill them out.
Have them sign their name, and if you'd like, write a little note from you on the back.
Attach a gift card, or anything else to your child's letter if you'd like, and make a teacher smile! (And probably cry) 😉
I love that it got my kids thinking about what their teachers have done for them. It gives them an opportunity to feel + show gratitude.
So print these off, attach it to a thoughtful gift (we did gift cards, and just used cute paperclips to attach them to the back of these), and you're set!
Ready to make your own teacher appreciation notes?
Click here to download our Owl Miss You Cards
My daughter's teacher sent this in his final weekly email, and I'm not going to lie, I got a little choked up:
"I'll be a story in your head, but that's okay, because we're all stories in the end. Just make it a good one, eh?" – Doctor Who
Thank you, teachers. From the bottom of my heart. We couldn't do this whole raising awesome kids thing without you. xoxo
More Teacher Gift Ideas