Hi everyone. Today I am super excited to share one of my favorite, one of an entire region of Upstate New York's favorite, Italian dishes, Chicken Riggies!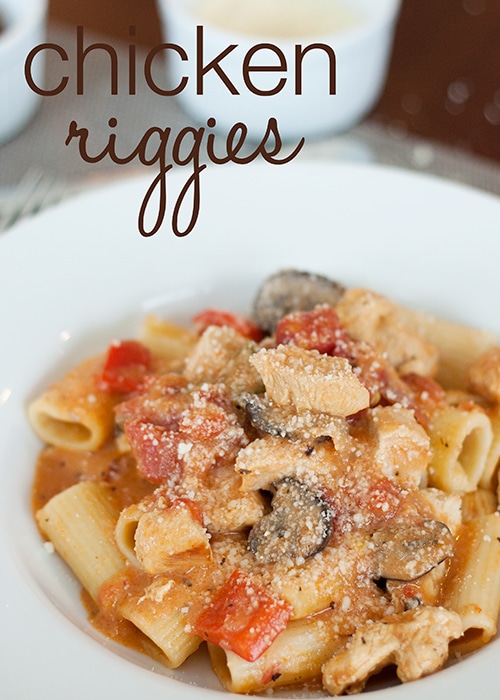 Many will dispute who's mother, grandmother, aunt, uncle, sister, or friend has the very best version of this dish and of course I will join in on the dispute to say that my mother's Riggies are the best I have had. (I actually felt obligated to ask her permission to share!) This dish is so popular, there has been an entire festival dedicated to it. And there are not to many places you can go in the Utica, New York area without encountering someone's version of it.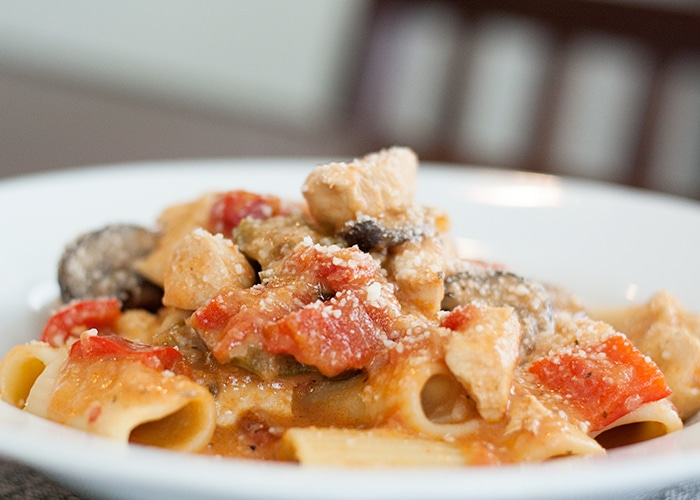 Don't be intimidated by the long list of ingredients below. This comes together pretty easily, and quick, and the bonus is the extra sauce you may have left when you are done. It is freezable!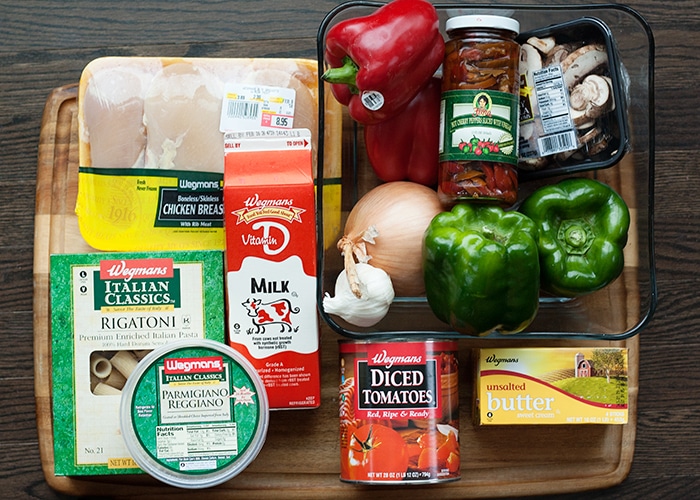 Some like this dish HOT…like sweat dripping off of you hot. Some don't. I personally do somewhere in the middle of the road and then let the person eating add more peppers if he would like. You be the judge. Just be warned, about 1/4 cup of cherry peppers goes a long way!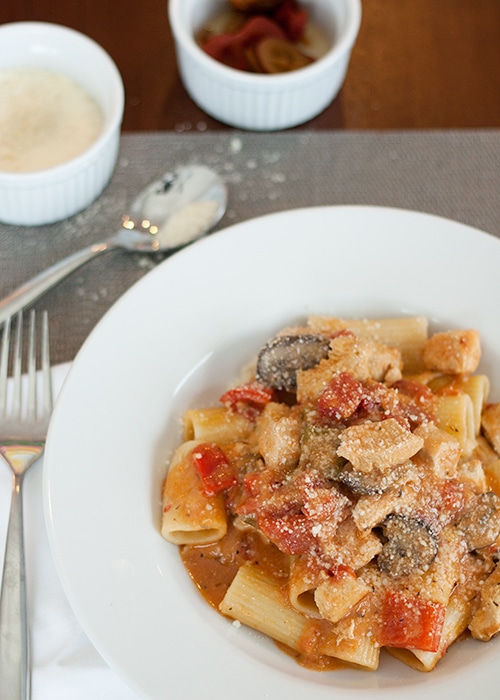 Chicken Riggies Recipe
2 Tbsp olive oil
1 large onion, chopped
3 (or more) garlic cloves, chopped
2 lbs boneless chicken breast, cut into cubes
salt & pepper
1 28 oz can diced tomatoes
1/2 tsp dried basil
2 cups green bell pepper, cut into 1″ pieces
1 cup red bell pepper, cut into 1″ pieces
1/4 cup (more or less to taste) sliced hot cherry peppers, rinsed
1 cup sliced mushrooms (optional)
1/2 cup butter
2 Tbsp flour
2 cups milk
1/2 cup grated parmesan cheese
1 lb rigatoni
Cook rigatoni according to package directions. Drain and keep warm.
While the pasta is cooking, sauté onion and garlic in the oil over medium heat until softened. Watch carefully to not burn! Add chicken and cook until no longer pink, about 8-10 minutes. Stir in the tomatoes, basil, peppers, and mushrooms. Bring to a simmer, reduce heat and continue to simmer until peppers are softened. Add salt and pepper to taste.
While the chicken and pepper combination simmers, melt butter in a small saucepan over medium-low heat. Stir in flour until a paste forms. Add the milk, stirring until heated through. Add the parmesan, stirring constantly until a thick sauce forms. Be patient and keep stirring. Add half of the cheese sauce to the chicken and peppers, stirring to combine. Pour the remaining sauce over the cooked rigatoni.
To serve, you may combine the pasta and the finished sauce all together or you may individually serve the pasta topped with the sauce. Sprinkle more parmesan or add more cherry peppers to taste.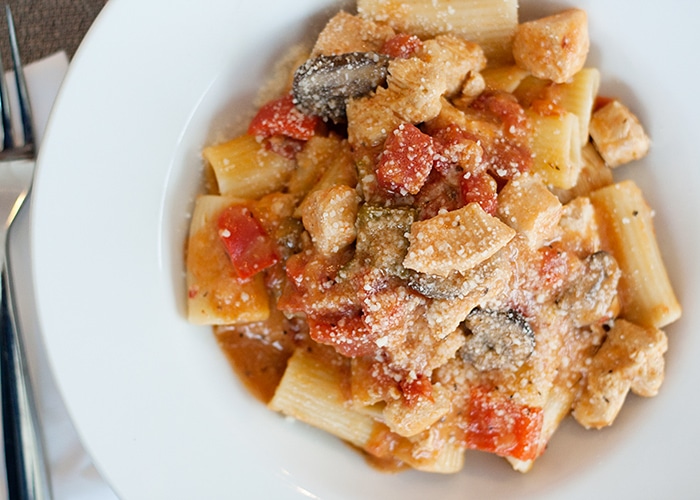 If you love these, you should also try our Cheesy BBQ Chicken Pasta recipe!