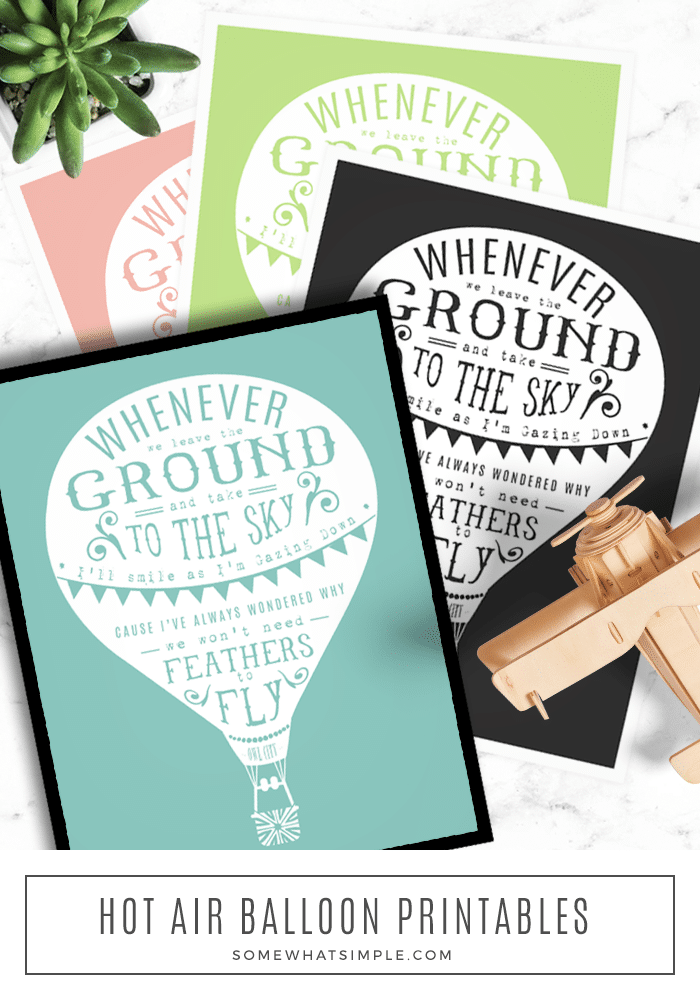 Nostalgia was the inspiration behind these Hot Air Balloon printables! Grab yours for FREE today!
If you're looking for some cute Hot Air Balloon Printables, you've come to the right place! Our fun printables are colorful, cute and totally FREE! Be sure to check out a few more of our favorite printable quotes – Arrow + Adversity, Live in the Moment, and Believe and Be Happy.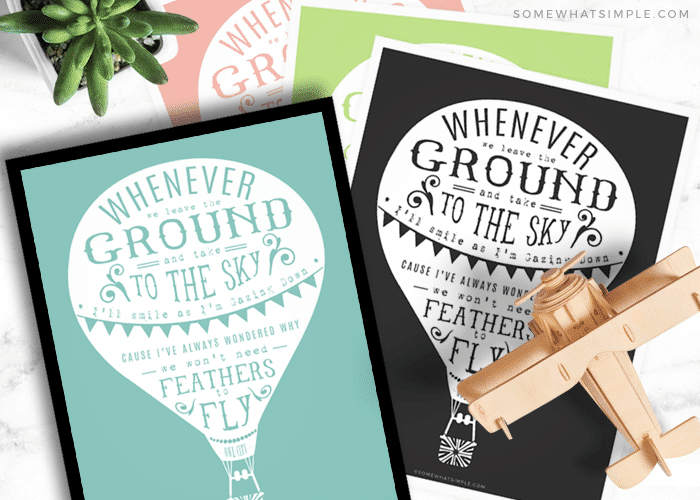 Hot Air Balloon Quote
I grew up in Utah, and as much as I love living Arizona and raising my family here, there's one time a year that I REALLY miss my old stomping grounds – the Fourth of July. Nothing beats waking up to a sea of hot air balloons in the sky, with the gorgeous Rocky Mountains as their backdrop. Since I don't live there anymore and I'm feeling a little nostalgic this time of year, I decided to create a hot air balloon printable with the perfect words from Owl City –
"Whenever we leave the ground and take to the sky, I'll smile as I'm gazing down, cause I've always wondered why we don't need feathers to fly." -Owl City, Butterfly Wings
I printed out the pink one to put in my office, but my daughter snagged the teal one for the front of her school notebook. These would be a sweet addition to a nursery or used as a thoughtful gift… the possibilities are endless!
Hot Air Balloon Free Printable
MATERIALS NEEDED –
free hot air balloon print (download below)
scissors
8×10 frame or washi tape
DIRECTIONS –
Download and print the hot air balloon quote.
Trim the edges so it fits in a frame, or tape to your wall with some cute washi tape!
Ready to download your own?
What will YOU use it for? Any other creative ideas?
I'd love to hear them all! Leave us a comment in the section below, or tag us on social media to show us your ideas!
Have a fabulous week! –xoxo