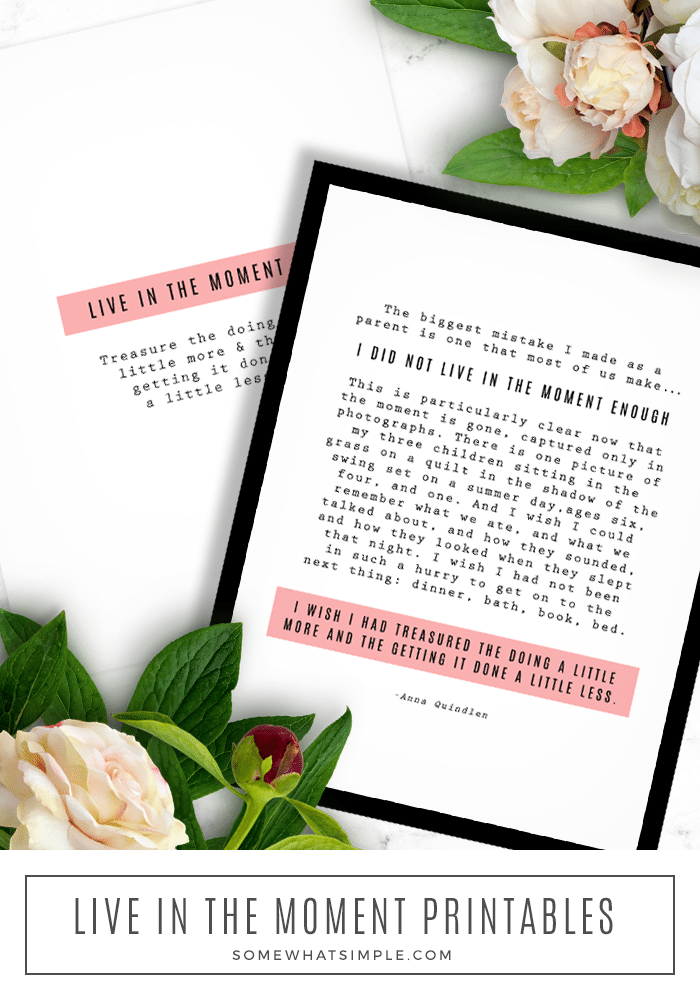 One of our favorite quotes made into a free printable! A great reminder to Live in the Moment and enjoy the parenting journey!
Here are a couple more printable quotes we think you'll love – Our Purpose in Parenting, and Printable Quote for Grandma.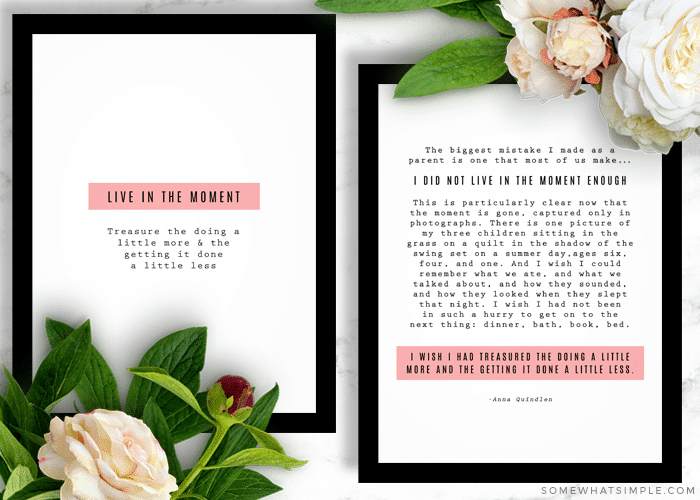 Have you guys heard this quote?
"The biggest mistake I made [as a parent] is the one that most of us make. … I did not live in the moment enough. This is particularly clear now that the moment is gone, captured only in photographs. There is one picture of [my three children] sitting in the grass on a quilt in the shadow of the swing set on a summer day, ages six, four, and one. And I wish I could remember what we ate, and what we talked about, and how they sounded, and how they looked when they slept that night. I wish I had not been in such a hurry to get on to the next thing: dinner, bath, book, bed. I wish I had treasured the doing a little more and the getting it done a little less" -Anna Quindlen

Don't you love this quote! All too often I find myself rushing through the day. All the "tasks" I need to get done not only stress me out, but they turn my focus on the chore at hand when I could be focusing on my kids and the memories we are making – right then and there – however plain they might seem.
I'm using this printable as a daily reminder to enjoy this time in my life – right here and right now! If you'd like to download one for your home, we'd LOVE to share it with you! (We even created a simplified version if you prefer that one instead!)
Live in the Moment Printable –
Enter your name and email address below for immediate access to this PDF.
Download, print and frame this quote and you'll have your own little reminder to live in the moment and create memories to treasure!
(This idea originally published on Somewhat Simple in July 2009)