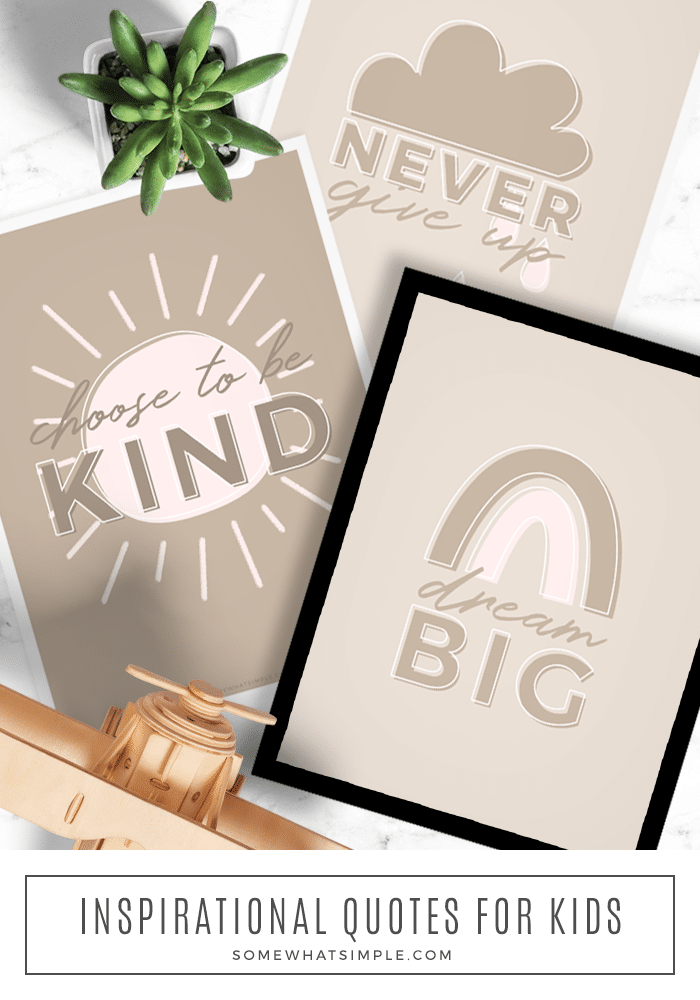 Download and print and display these motivational quotes for kids as a gentle reminder to be kind, dream big, and never give up!
Here are a few more inspirational quotes you can print from home – Enjoying Motherhood, Embracing Life, and Arrow Quote.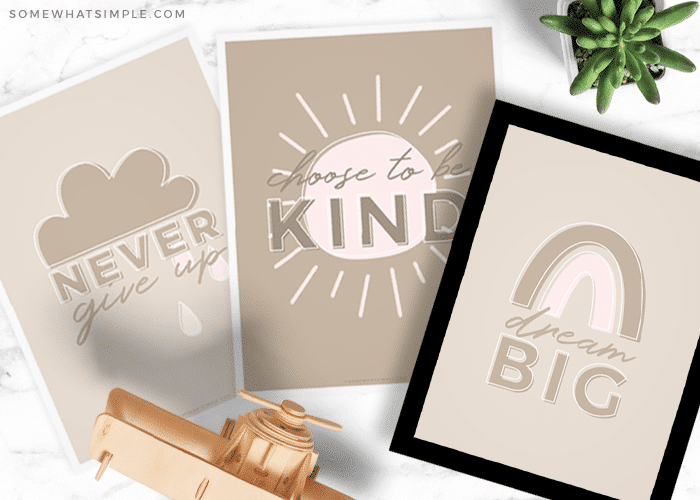 Recent events in our country have me feeling uneasy, sad, frustrated, and a strange kind of overwhelm. As riots and protests break out close to home, I am left wondering what my role is here and what I can possibly do and say that would make a difference. I've had close friends get called out on social media for not being sympathetic enough, and those same friends being called "disingenuous" when they try to speak out and sympathize. There is so much anger and hurt being felt, and I understand the reason behind it, but I still feel lost on what to say and what to do.
I've heard people say, "When you choose silence, you are choosing to side with the oppressor." And at first glance, that statement actually made me mad! 🙂 Because my silence over the weekend wasn't me turning my cheek pretending it wasn't happening. My silence was me being afraid of unintentionally saying the wrong thing. My silence was me feeling confused about what I could do with the little voice I have. My silence was me listening, watching, learning, and really trying to understand.
I sat and watched and anxiously listened, and I felt something that, for the first time in my life, made me see "the other side." And those words alone should have been enough to tell me something was wrong. There shouldn't be "another side" – there should be one side, with one goal.
And while I won't ever support violent protesting, I can have open conversations with my family and teach a message with my actions and example. Because let's be honest, a conversation on racism is more than saying "Let's be Kind". It should teach us how to be an ALLY. It should encourage us to continue the conversations that actively seek change. It should make us uncomfortable so we stand up, rather than hoping for things to work themselves out.
Printable Motivational Quotes for Kids
These printables were actually designed 2 months ago and weren't scheduled to post here on Somewhat Simple until today. While originally intended to be cute inspirational kid's decor, the "Choose To Be Kind" print is definitely taking on new meaning. I've made it a goal this week to have an open conversation (or two or three!) with my kids about kindness and how to treat others. I ordered a couple of different books (linked below) to help the conversation with my little ones. I want to print out one of these prints for each of my kids so they can look at it often and be reminded of our conversation.
And this is just the beginning.
I am hoping to do more. I WANT to do more. I need to figure out what that looks like.
In the meantime, this is me breaking my silence and doing my best to join the fight.
Free Download
Grab a copy of these printables below.
BOOK LIST –