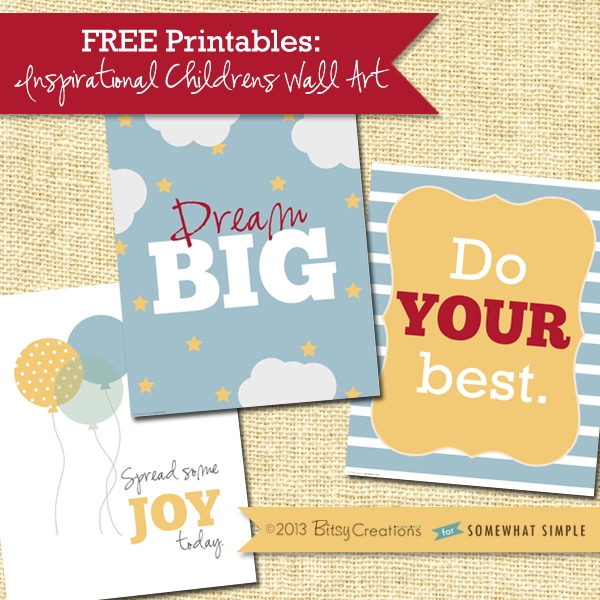 Getting ready for back to school? Enjoy these free children's inspirational printables for your kids! Handy little reminders to hang by the door to make sure they know you love them and believe in them!
*  *  *  *  *  *
Here we are again! Autumn is just around the corner and we're sending our kids back to school. We're sending them out into the world and really hoping we did a decent enough job as parents that they make new friends, learn new things, and thrive in life. While I was frequently concerned about the manners my children had out in public, the thing that was the hardest for me when sending them to school was knowing they'd be put in some harsh situations. Would their little spirits be crushed by sharp words? Could they be strong enough to be a friend and an example to those around them? Would they remember how much we love them for who they are?
I'm the first to admit I'm a pretty touchy feely mama. I pride myself on my brainy qualities, but let's face it: I'm super sensitive and often say things that start with, "My babies!!!" and they're 8 and 5 years old… I frequently grab my little ones before they leave and whisper a little something in their ears. Just a small tidbit of love to keep with them throughout the day.
So as I saw all the lovely and useful back-to-school printables pop up all over blogs and pinterest, I wondered what I could possibly add. And then it hit me: sweet little inspirational thoughts for our children. Something to put next to the front door for them to see and remember as they leave our homes. Small tidbits of love from us.
Do YOUR best. You are an individual! Don't compare yourself! Do YOUR best and that is good enough for you and for me.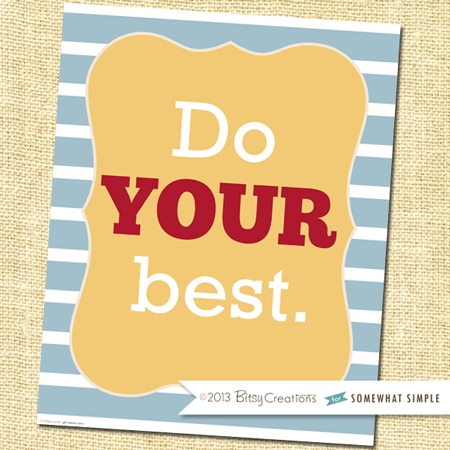 Download free "do your best" printable here.
Spread some joy today. Pick up a pencil another student drops. Be a friend to someone who needs it. Flash those pearly whites to another child. Spread some joy through simple acts of service.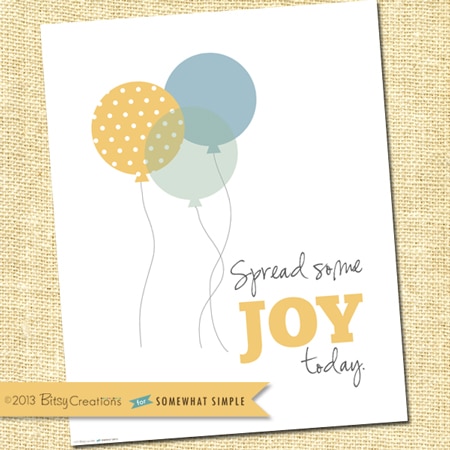 Download free "joy" printable here.
Dream big! Don't let anyone tell you there's something you can't do. Set goals. Put your mind to it and make it happen!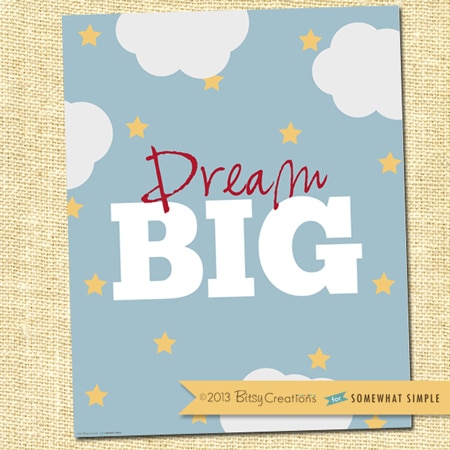 Download free "dream big" printable here.
Each free printable measures 8×10 inches. You're downloading a high resolution JPG that is ready to print. It is free for personal use and may not be altered or sold in any capacity.
*  *  *  *  *  *
On a side note, a quick thought from me, Joan from BitsyCreations! I've loved posting free printables for you these past few months. If you ever have an idea for a freebie for me to design and post here on Somewhat Simple, please let me know via Facebook here. You can also find more freebies from me on Pinterest here. Thanks so much!