Our free printable inspirational quote will offer words of encouragement during times of trial. Download and print it for free today!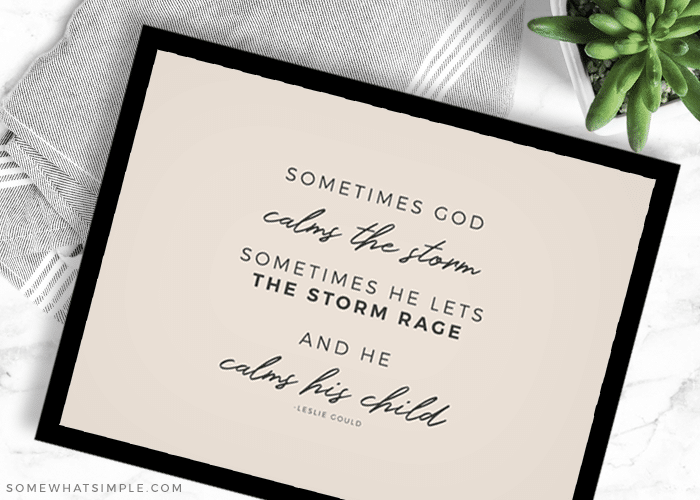 Oftentimes, simple words of encouragement from a thoughtful friend or an inspirational quote can touch our hearts and give us hope for the future. Here's an inspirational quote that I found years ago that has become one of my very favorites –
Sometimes God calms the storm. Sometimes He lets the storm rage and He calms His child.

Leslie Gould
I had an experience a few weeks ago while driving back from California that I've played back in my mind several times:
My family is going through the biggest trial of our lives and things have been pretty tough around here. While I was sitting in the car somewhere just outside Palm Springs, my thoughts started to wander to that dark place again. The place where fear is felt, sadness is debilitating, disappointment prevails, and anger takes over. These feelings have become so familiar to me over the past year and sometimes they are are extremely hard to shake.
I am a fix-it kind of girl but this trial is completely out of my control. And that is hard.
On this particular day, I was sitting in the car with my husband and 5 kids, but I felt alone. Knowing there was not anything I could do to fix the situation, I said a quiet prayer and asked for assistance to help shake this mood. In an instant, I felt comfort in my heart and some words came to mind that I will never forget: "It is all going to be ok."
So simple, nothing profound. (Or maybe they were extremely profound.)
By no means did those words fix my problem and end my trial. But they came at a time when I needed them most and made me feel exactly how I needed to feel- comforted, not alone and full of hope.
I know this trial is definitely not over. And even though the course of action might be out of my control, I am relying on those words- that promise– that it will all be ok.
I know my family will heal and eventually get to a place where our days are not consumed by sadness. For now, I need to have patience, stay calm, be faithful and not give up.
Inspirational Quote Printable
To download a copy of this printable for free, please leave your name and email address in the form below –
If you have an inspirational quote you'd like to share that has helped you through hard times, I'd love to hear about it! Please leave a comment in the section below.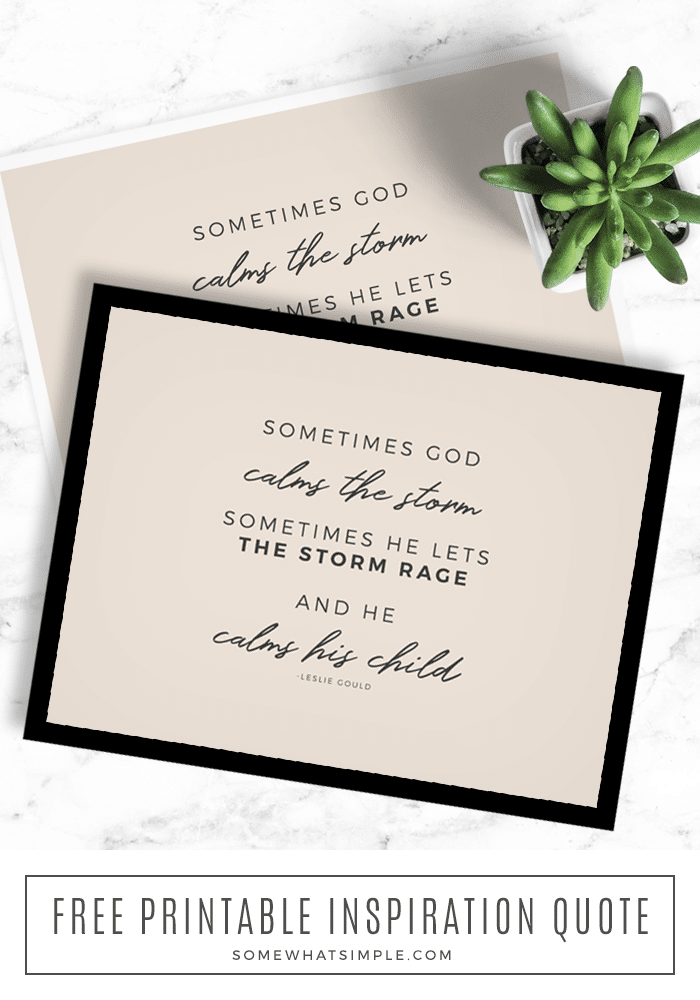 To learn more about my faith and why I believe what I do, click HERE.
(This post originally published in 2014. It was updated with a new printable in 2021.)