Get ready for a healthy dose of fun with 12 of our favorite funny diet memes! Because when it comes to our body and health, sometimes laughter is the best medicine.
Looking for more ways to decorate your home or office? Here are a few of our favorite wall decor ideas – Funny Memes Printable Pack, Best Office Quotes, and 30 Ways to Decorate a Blank Wall.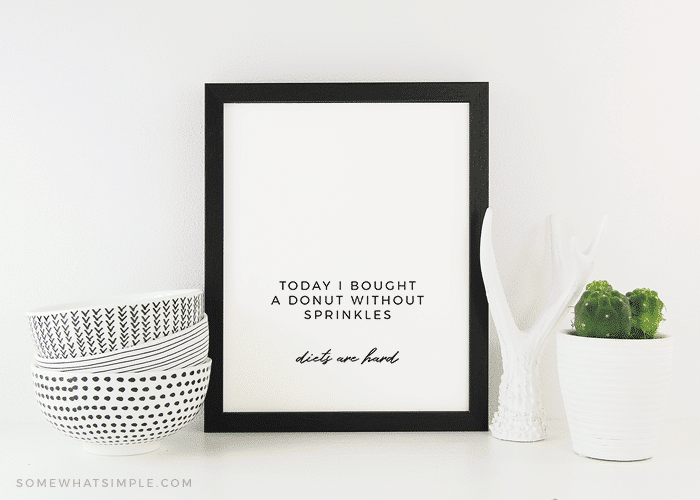 There is a reason that diet has DIE in it
Last week I was looking through some greeting cards and I found one with a funny diet meme that reminded me of the resolution I made (and broke) this year – "lose weight, eat healthy". (Sound familiar to anyone?)
The thought of eating better sounds like such a good idea… until I want a brownie. Or a cupcake.
I just wish losing weight was as easy as gaining weight. And there should be certain foods that make you gain weight (in muscle, of course) and then there should be certain foods that would make you lose weight (and have tight abs).
I also think you should lose weight anytime you pass on eating something that you really want to taste. Like when my son asks me if I want a bite of his donut. Of course I want a bite, but I'm trying to be good. "No thank you." I say. And I should lose a pound. Fair, right? But all of this is a rant for another day, I guess.
Funny Diet Memes
Anyway, that funny dieting quote was this inspiration for this printable pack – 12 Hilarious Diet Memes that you can frame for your home or office.
Download and print the pack, then grab a frame and put your favorite print on display. And since there are 12, you can change the meme every month. (Fun, simple way to change out your decor, right?)
Here is a little sneak peek at what is included: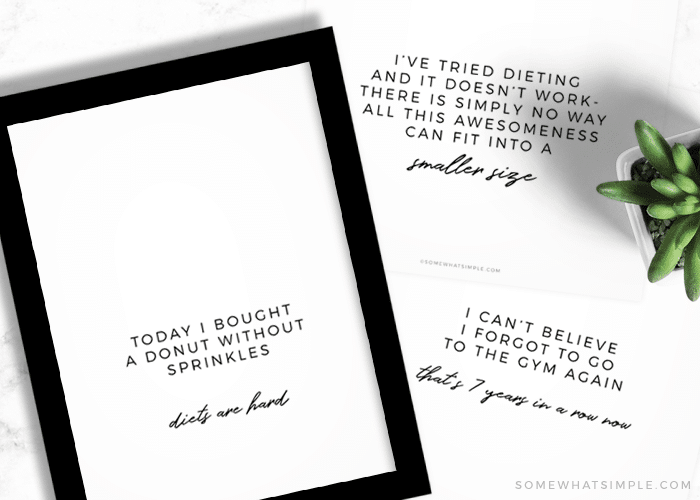 Diet Memes Printable Pack Download
As always, this printable pack is for personal use only and may not be mass-produced or sold. Please don't sell it in your Etsy shop (we've seen that happen!) or claim this to be your own. Thanks for understanding!