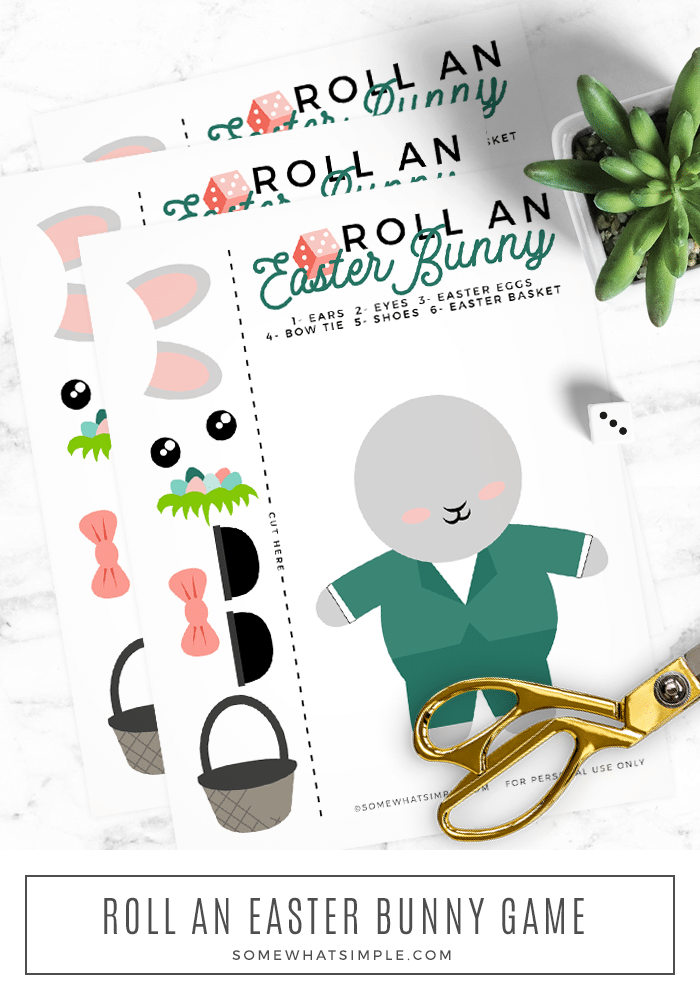 Roll A Bunny Easter game can't get any easier to prepare and play. Grab a dice + our printable game card and get ready for a fun family game night, perfect for all ages!
Here are a few more of our favorite variations of this game are Roll A Turkey for Thanksgiving, Roll a Snowman for Winter, and Roll A Leprechaun for St. Patrick's Day.
How to Play the Easter Dice Game
Roll a die, add the corresponding bunny piece to the bunny's body and the first person to build their Easter Bunny wins! It's a fun dice game for kids and adults of all ages. My young kids love it, but you could also have your teenage children play it to see who gets out of doing the dishes after dinner – get creative!
MATERIALS:
1 die
1 printable game piece per person (download below)
scissors
envelope or ziploc bag to keep your pieces in to use again
DIRECTIONS:
First, print off a printable for each player. Cut out all the accessories and set aside.
The game starts with the youngest person and will continue clockwise. Roll the die and collect the accessory for the number you roll. Place that piece on the body of your bunny.
If you roll a number for a part you already have, play passes to the next player.
The first person to have all their accessories on their bunny wins!
When you are finished, place all the pieces in a bag or envelope and save it until the next time you're ready to play!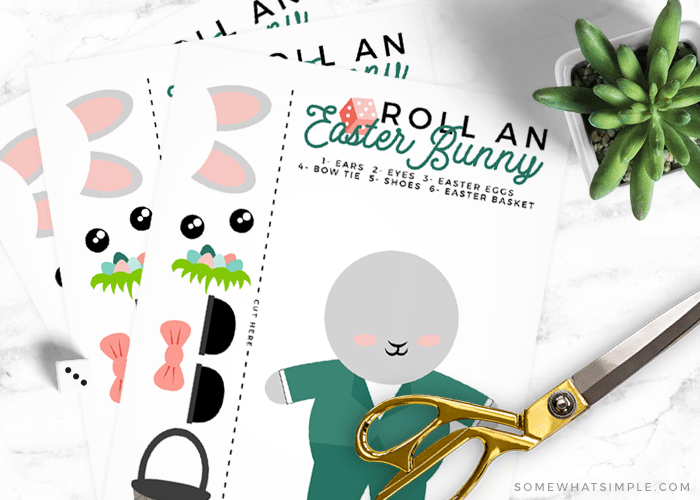 Easter Dice Game Variations & Printable
No Paper, No Problem – If you don't want to print and cut out the bunny printable, just give each player a pencil and paper and have them draw the bunny parts as they roll the various numbers.
Make It More Interesting – Our family loves to play this game after dinner – loser gets to do dishes! 😉
Play On The Go – Are you planning a road trip during the holidays? Grab a cookie tray or a large lid, and help pass some of the time away!
CLICK HERE TO DOWNLOAD THE BUNNY PDF!!!
I hope you all have fun with your family this holiday season!