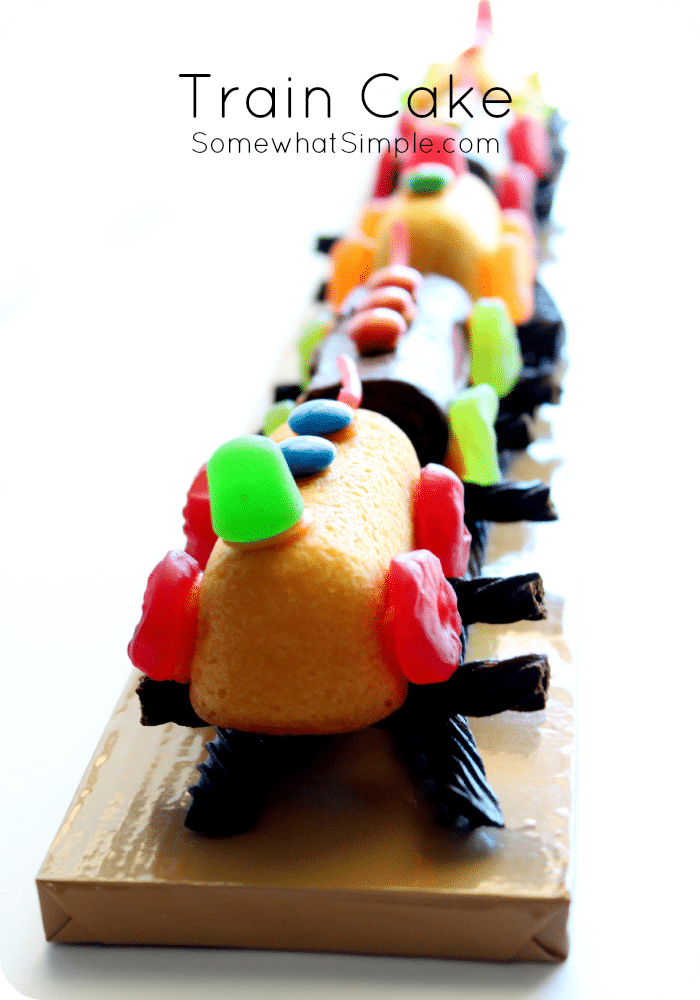 This post brought to you by Fisher-Price. All opinions are 100% mine.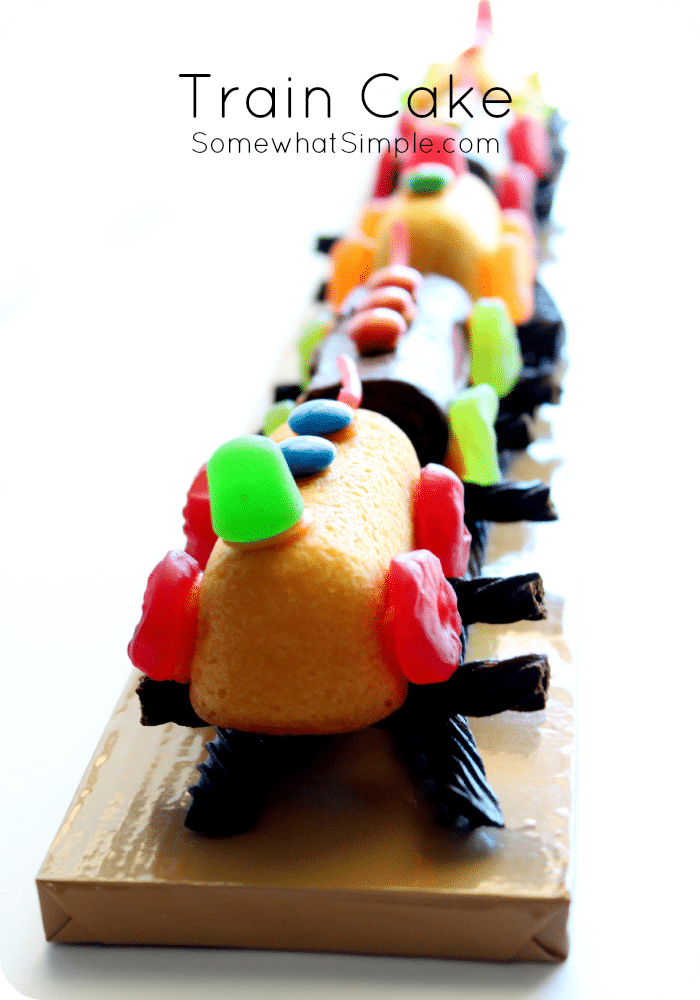 My 3 year old gets pretty bored during the day when his older siblings are at school. One day last month I decided to put together a small train party with him and a few friends to help bust his boredom. The party was a simple play date, but it was a lot of fun! We played with trains, watched a Thomas DVD, and we ate a train cake- 'cause it wouldn't be a party without cake, right?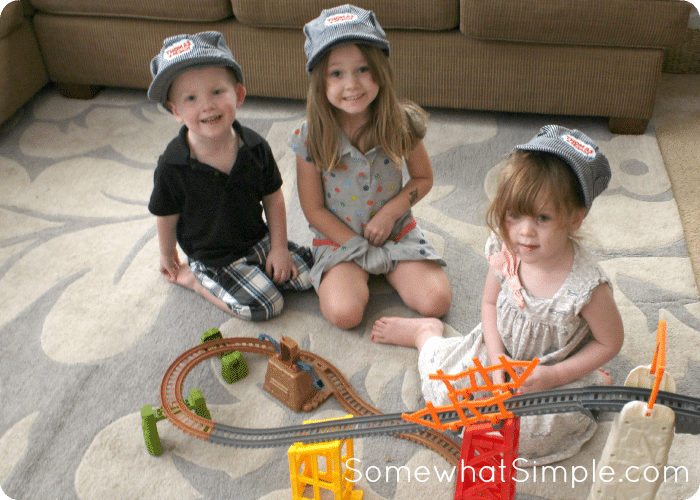 For our little party, I set up some Thomas & Friends™ TrackMaster™ trains, including this Avalanche Escape Set. In this play set, Thomas makes his way up a 30 degree incline before crossing an avalanche gap and racing down the other side! My son and his friends were so confused when I was putting it together- wondering how the train would get across the "broken" track. This set features fast and powerful motorized engines that make for the most action-packed Thomas & Friends™ adventure yet. They LOVED this train set and they played with it for at least an hour before I said it was time for some train cake.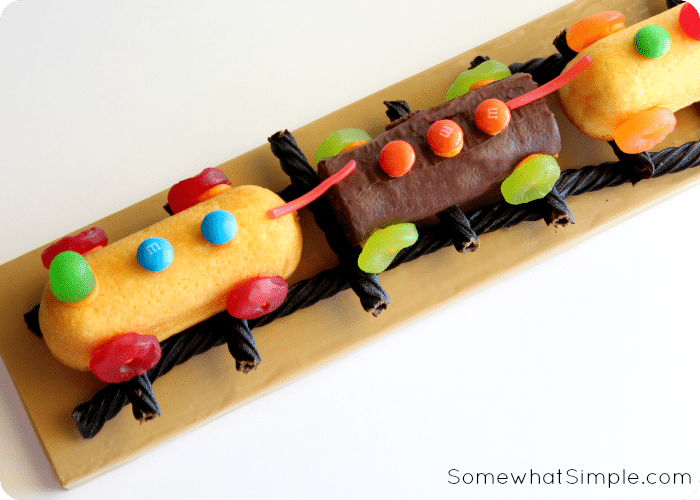 To make this cake, I used:
1 flat piece of wood or serving platter to assemble the train on
Twinkies
Swiss Rolls
Black Liccorice (for the track)
Red Liccorice (for the cables to string the "cars" together)
Frosting (to stick the candies to the train cars)
M&Ms (for decorations on the top)
Dots Candies (for the tops of the engine and caboose)
Gummy Lifesavers (for the wheels)
To make it:
Cut or break your black liccorice to the size of tracks you'd like and place them on the piece of wood.
Place the Twinkies and Swiss Rolls on top of the tracks.
Add a small amount of frosting to the backs of the candies and stick them in the desired location.
Lay a small piece of red liccorice in between each train car to "connect" them.
Eat & enjoy!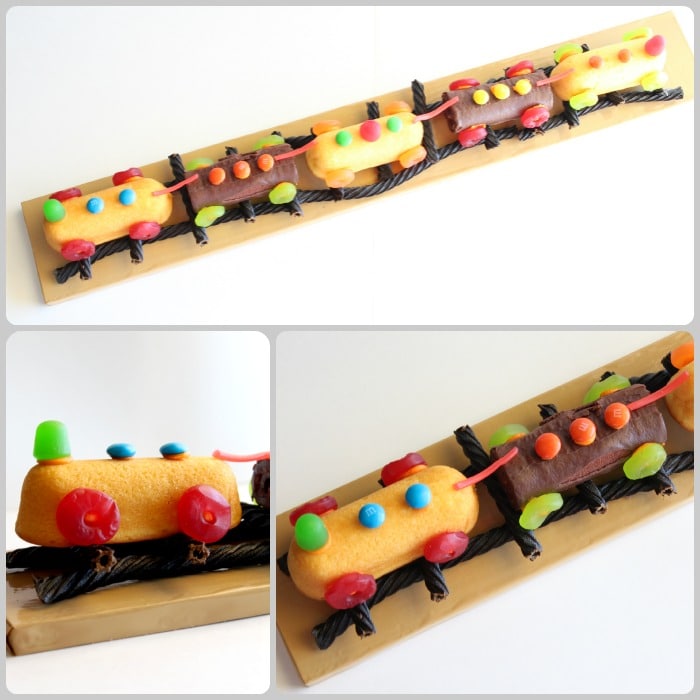 After some fun playtime and delicious train cake, we watched a new direct-to-DVD adventure, Tale of the Brave. We own other Thomas DVDs, but this one is my new favorite because the characters each have their own voice and more expressions on their faces.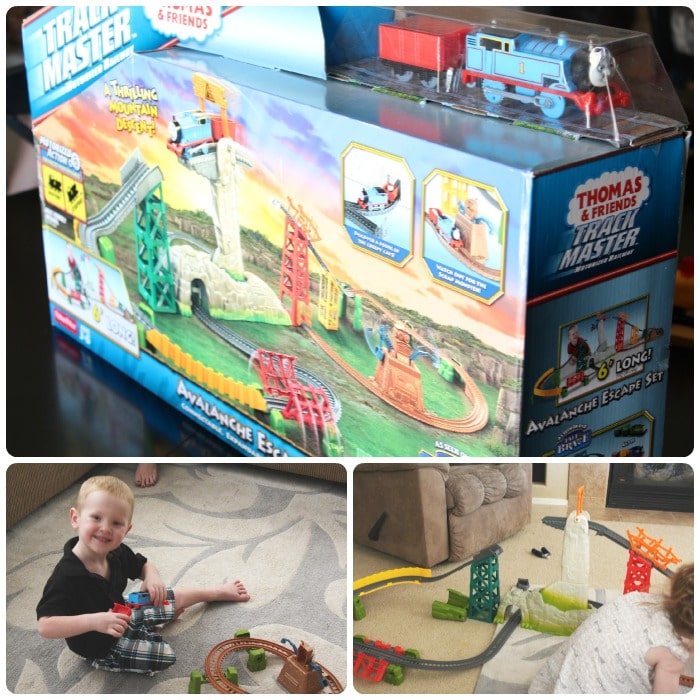 TrackMaster™ motorized engines have been redesigned with enhanced speed, power and performance. The new TrackMaster™ sets are compatible with the older versions, allowing your little engineer to continue to expand on and explore the exciting world of Thomas & Friends ™ TrackMaster™
Do you have any Thomas fans in your house?
Check out the new Thomas & Friends™ TrackMaster ™ Online and build your very own track design!
Keep up with Thomas & Friends™ on Facebook
Follow Thomas & Friends™ on Twitter