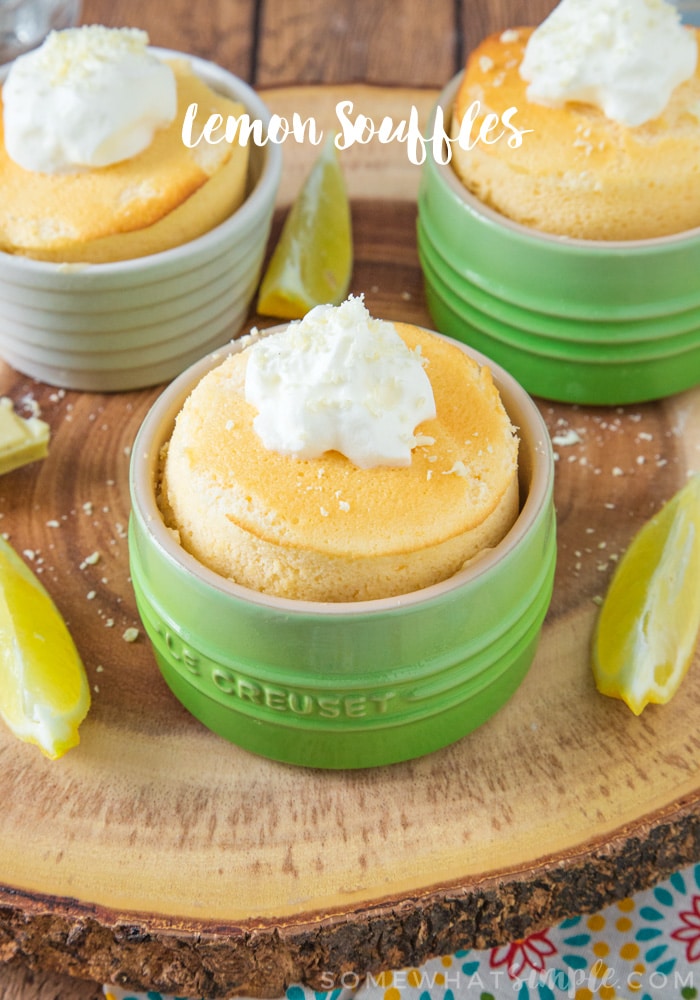 These light and fluffy Lemon Souffles are the perfect individually portioned desserts! Sky high, and so flavourful; these are light, zesty and utterly delicious!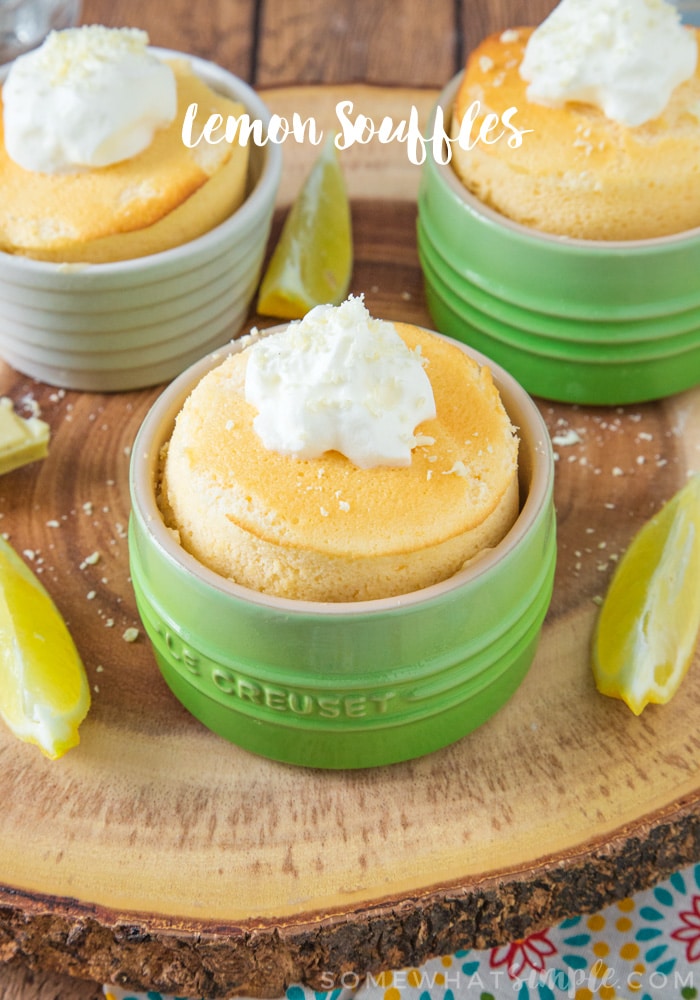 Before I made my first soufflé, I put it off for ages as I was worried they would be a disaster! I feel like there are certain desserts which I just put off because I have this fear that they will just fail and be awful! I'm happy to report, though, that these soufflés are super easy to make and (hopefully!) fail safe! Their lovely, light texture marries together perfectly with the tart burst from the lemons.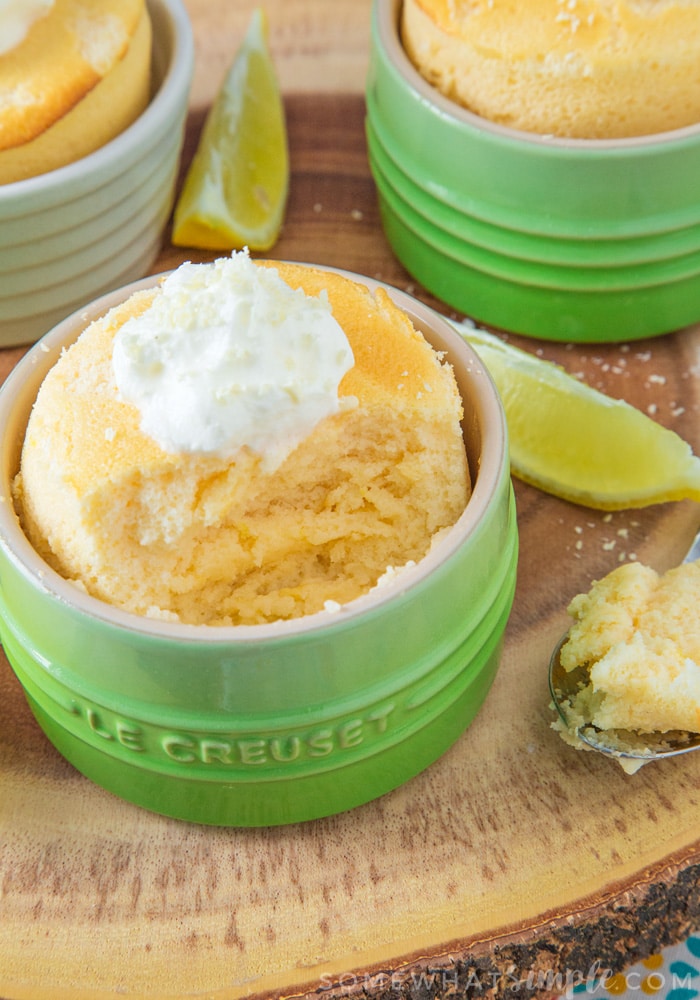 I actually put lemon juice and zest in these, so you're getting a double whammy of flavours! Topped with whipped cream and a little grated white chocolate, these are fast to make, ultra-satisfying and so good you'll not be able to share!
How To Make Lemon Souffles
Serves: 4 | Total Time: 45 mins
Ingredients –
Zest of 1 medium lemon
3tbsp fresh lemon juice (This was 2 lemons worth for me)
1tbsp unsalted butter, melted and slightly cooled
1/4 cup (35g) all purpose flour
1/3 cup (66g) white sugar
3 large eggs, separated
3/4 cup (180ml) whole milk
Whipped cream and grated white chocolate to garnish, optional
Directions –
Preheat the oven to 350F/180C and spray four 6oz ramekins with cooking spray. Place into a 13×9 inch pan.
Place lemon zest and juice, melted butter, flour and 3tbsp of the sugar into a medium sized bowl and whisk until you have a smooth paste. Leave to one side.
Place the egg yolks into a medium sized bowl and the egg whites into a large bowl; a metal one is preferable for the egg whites.
Add the milk to the egg yolks and whisk until smooth. Gradually pour the milk mixture into the lemon/flour mixture, whisking as you go, until you have a smooth, well combined mixture. Leave to one side.
Beat the egg whites on high speed, with a hand mixer or your stand mixer fitted with a balloon whisk, until they just hold peaks and are just past the frothy stage. Gradually add the remaining sugar, while continuing to beat the egg whites. (A stand mixer makes this super easy!) Keep beating until the egg whites are glossy and hold their peak; this will take around 5 minutes in total.
Using a metal spoon, add a 1/4 of the egg white mixture into your milk/egg mixture and gently fold until combined. Repeat another 3 times until all of the egg whites are incorporated. Be very gentle when folding, you want to keep as much air in as possible and end up with a really light, airy and somewhat runny batter.
Divide the mixture between your ramekins, filling them just below full. I got 2/3 cup of mixture into each ramekin.
Pour boiling water into the 13×9 inch pan making sure the water level is just below halfway up the ramekins.
Place in the oven for 15-20 minutes, until risen, lightly golden around the edges and they feel springy to the touch.
Leave to cool in the pan for 15 minutes before serving with whipped cream and grated chocolate.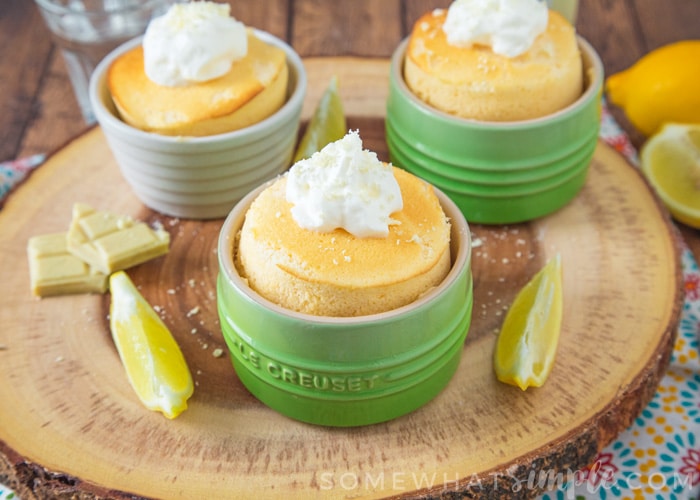 Lemon Soufflés are best eaten when fresh, but do still taste amazing when cooled!
Enjoy!
If you liked this lemon recipe, then how about trying some of these?

Lemon and Blueberry Tartlets // Blueberry Lemon Pancakes // Lemon Cheesecake Bars