We love how beautiful and simple these printable inspirational quotes are! A great reminder that we can enjoy life, no matter the circumstances!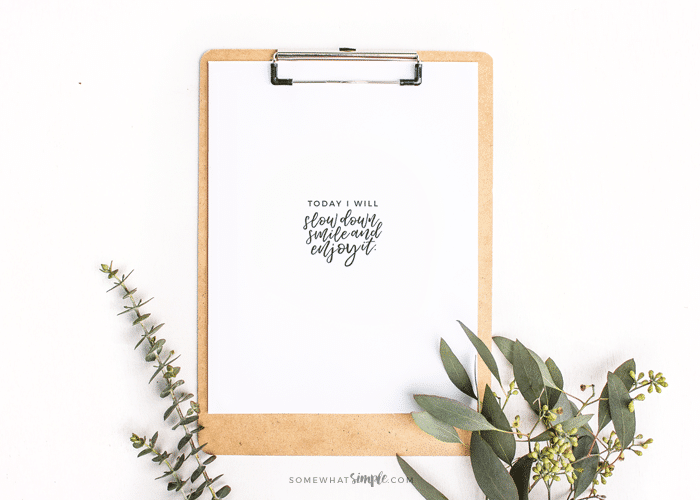 There was a time I thought my oldest son, Ethan, would be an only child. I always wanted to have a big family but I was struggling with Secondary Infertility – a condition in which a woman has the inability to become pregnant or to carry a pregnancy to term, following the birth of one or more biological children. Getting pregnant with our second child took years of medical procedures, and we found ourselves mourning the loss of a miscarriage in the middle of it all. (Definitely not a time in my life I want to relive!)

Fast forward 10 years and I am now a mom to 5 healthy kids! FIVE! It's the big family I always wanted, which means life is perfect now, right?
Um, no.
Life is definitely not all roses and laughter, and often times I have to remind myself that these "little crazies" are, in fact, blessings- little miracles I once prayed for. The messes, tantrums, the dreaded homework hour… it can cause stress and overshadow the joys of motherhood sometimes.
Are you with me on this?
(In fact, just 10 minutes ago, my one-year-old was rolling on the floor having a fit because I won't get her another package of fruit snacks!)
This past Christmas season, I found myself thinking on several occasions just how much I love being a mom. It was so nice to slow down and focus on my family. My kids are getting so big- when did that happen?! I am excited about the future but sad to see how fast it goes by.
That is why I want to make a more conscious effort to slow down, smile and enjoy this time I have. And not just at the holidays, but every day. I received an email from a friend with this quote from Carla White:
The most important gifts you can give are your love, time and attention. Slow down, take time to smile & enjoy loved ones"

– Carla White
If you're like me and love reminders (and encouragement!) to do better, perhaps you will enjoy these printable inspirational quotes as much as I do!
Quotes about Life and Happiness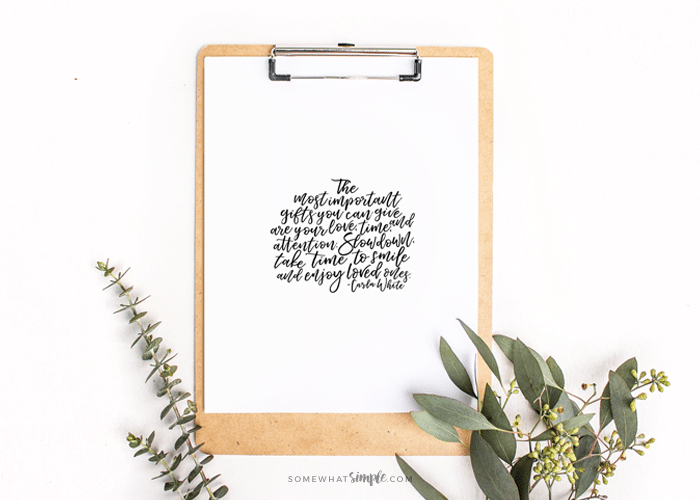 We made 2 versions of this inspirational quote for you to download and print. The longer version (pictured above) and the shorter version here –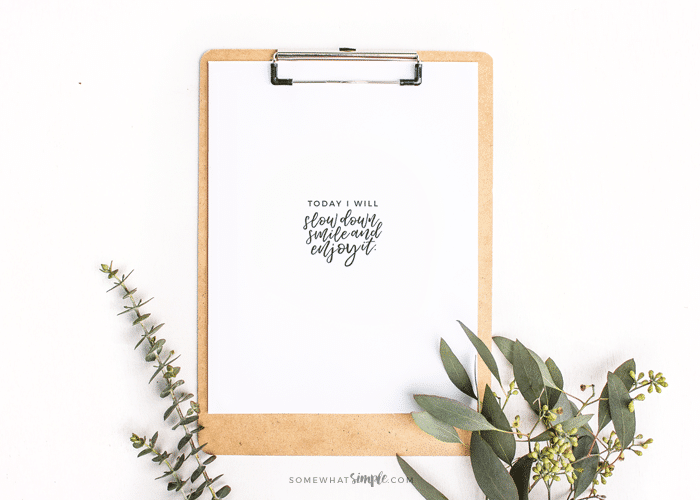 Click the links below to download your own inspirational quotes about life and happiness –
Click to download our "Today I Will…" Quote
Click to download our "The Most Important Gifts…" Quote
I am going to use this printable as a reminder to slow down, play with my kids, cuddle with them, talk with them, help them and to love them. Being a mom is the greatest job in the world, and I want to smile and enjoy every second of it.

This post originally published in April 2014. It was updated with a new printable in April 2018.