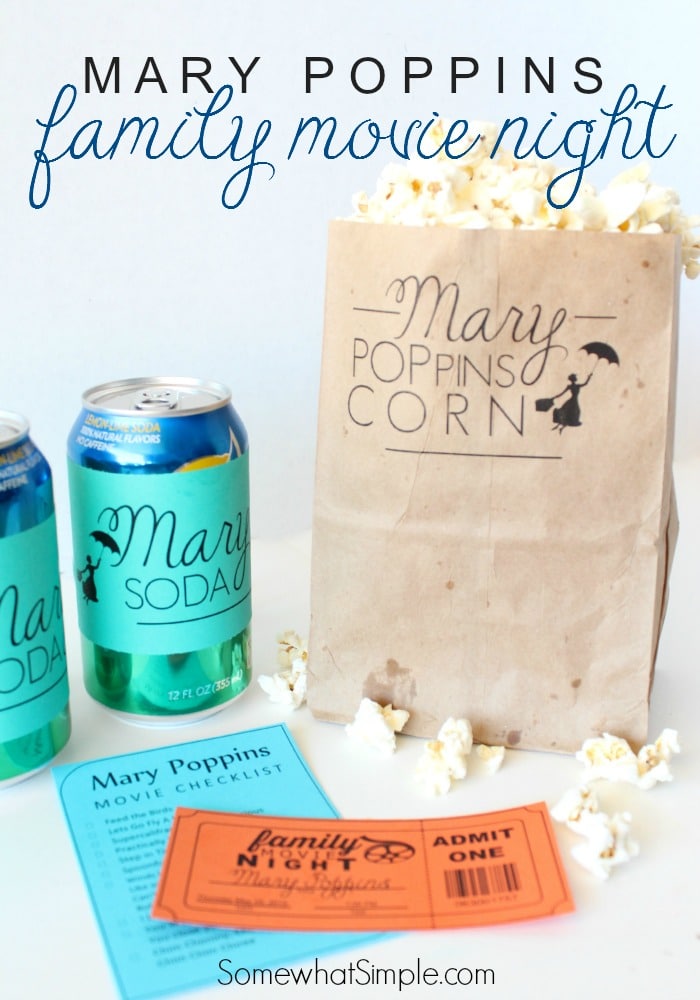 Get ready for the ultimate Mary Poppins family movie night with free printables from the classic Disney movie.
Looking for more family movie night ideas? Here are a few of our favorites: Hotel Transylvania Movie Night + Games, Family Movie Night Activities + Invites, and DIY Drive In Movie Night.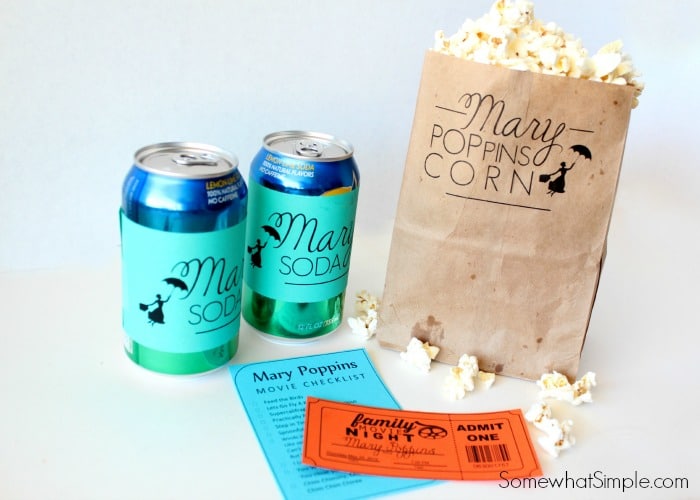 It was brought to my attention at our trip to Disney World last month that my kids haven't seen many of the classic Disney movies. (I am definitely failing as a parent!) I told my kids to kiss the video games goodbye 'cause we would be spending the summer catching up and getting to know all the characters and songs that I grew up loving! For our first feature film, we chose to have a Mary Poppins Movie Night. And it was "practically perfect in every way."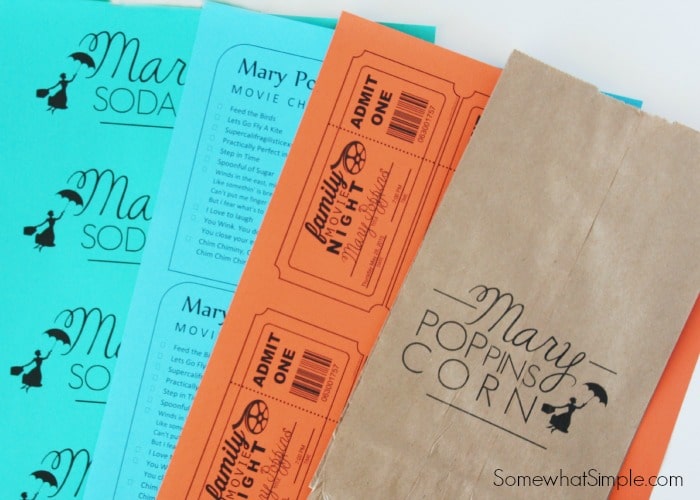 As always, I wanted this night to be festive, yet simple. I don't think you have to spend a lot of money and prepare over-the-top decorations for it to be fun! Why stress over food and entertainment for a small weeknight gathering? We stuck with the classic movie treats- popcorn and soda. I designed a couple printables that took very little time to prepare but added the simple, festive touch I was looking for.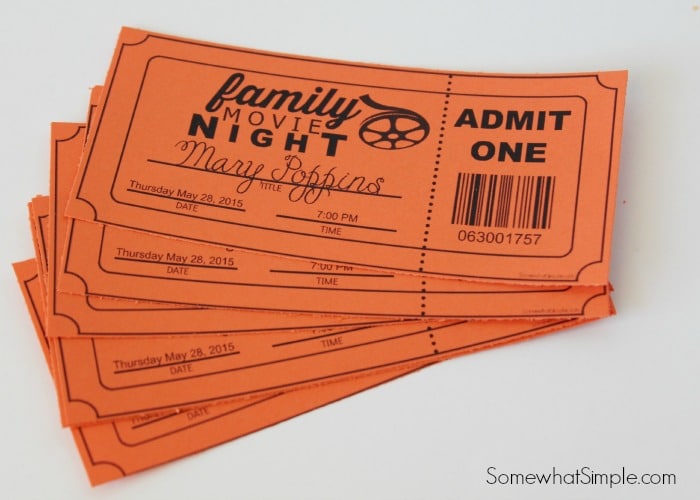 My kids love making our movie nights as legit as possible- so we always have tickets and the kids take turns being the worker who tears them up. This ticket printable is blank so you can add your own movie and date if you'd like to use it.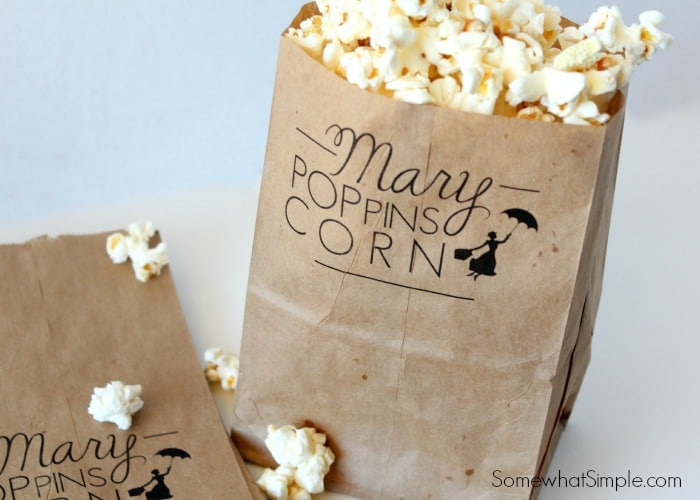 Our May POPpins CORN went into brown paper bags. I printed the labels directly onto the bag by feeding the bags into my printer. Easy!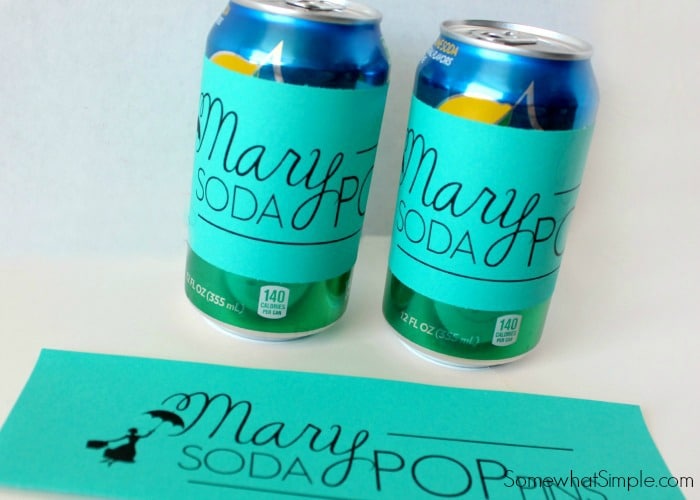 I also printed soda labels for our Mary soda POPpins.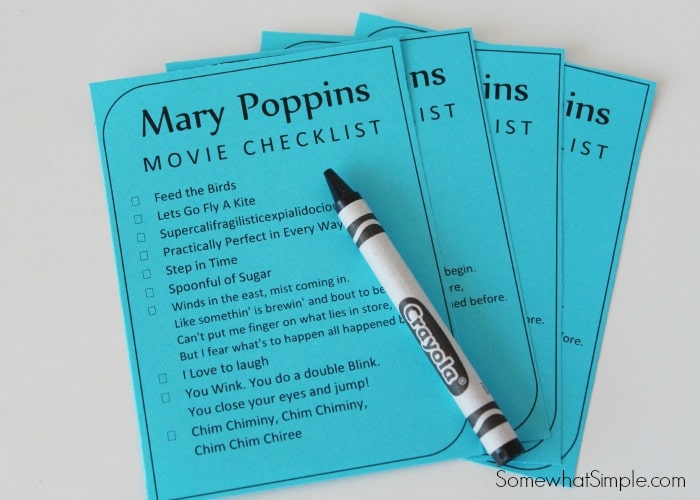 Lastly, I made a Mary Poppins Movie Checklist with some popular quotes from the movie. As they heard the quotes, they checked them off their list. This is such a simple activity that kept their attention and pointed out memorable parts of the movie- hopefully helping these scenes stick in their little minds!
My three-year old has been singing "Chim Chiminy, Chim Chiminy, Chim Chim Chiree" all week long.
…and I smile each time I hear it.
Ready to Plan Your Own Mary Poppins Family Movie Night?
'Cuz I totally want to share them with you!
Here are all the files I mentioned in this post- available for you to download for FREE!