This recipe for Paintbrush Sugar Cookies is in partnership with Scotch-Brite™. Over the next several months, I will be evaluating some of the Scotch-Brite™ products and I will share all about my tips and successes on Somewhat Simple, because #CleanFeelsGood! As always, the opinions expressed here are my own and the results you see in the post are 100% accurate.
Beat summer boredom with these fun (and tasty!) paintbrush sugar cookies!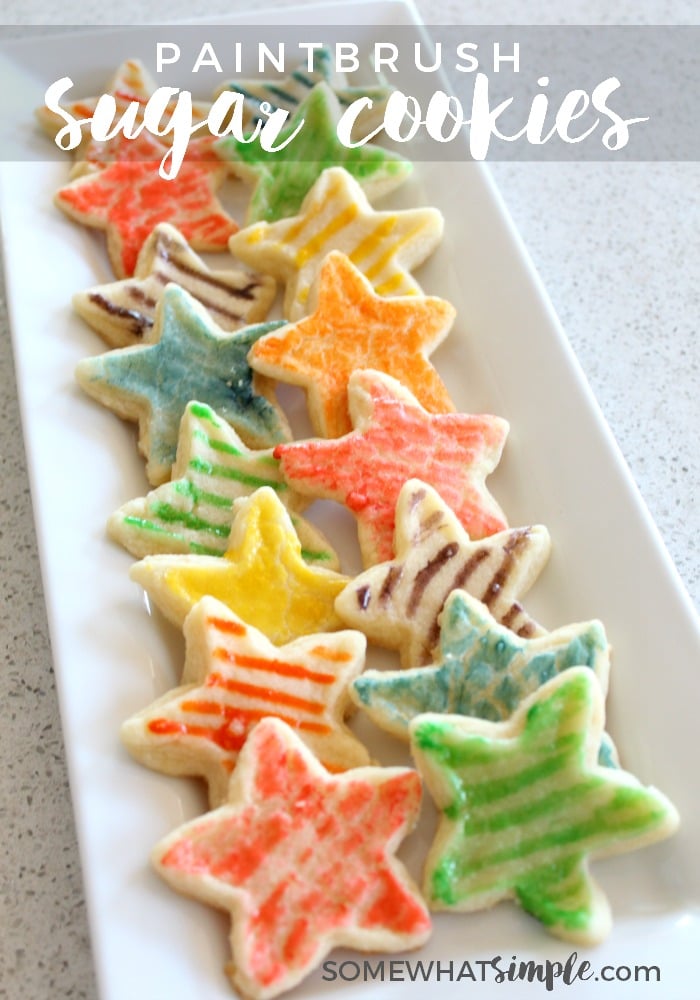 Sugar cookies are one of my favorite cookies to make, mostly because they are just so fun to decorate. (Ok, they also taste fantastic too!) This paintbrush decorating technique is like an art project + snack time rolled into one!
Here is how to do it:
You'll start by grabbing a few ingredients – your favorite sugar cookie dough, a few eggs, food coloring, and several paintbrushes.
The first step is to clean your counters reeealllly good so you can roll out the dough and not get particles of last night's dinner in your cookies. 🙂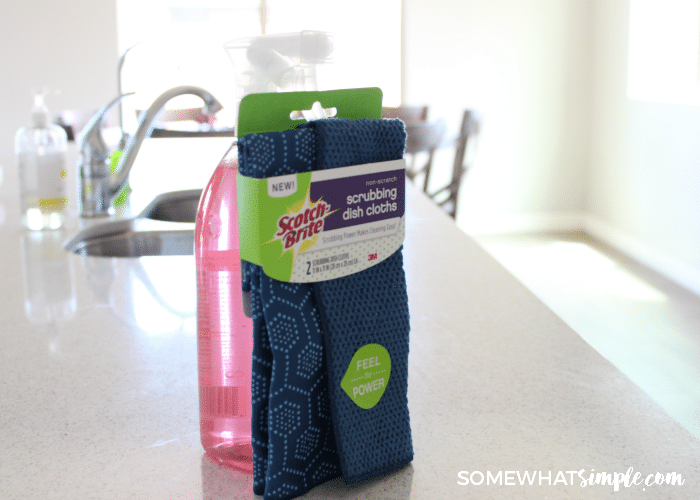 I used an all-purpose cleaner and Scotch-Brite® Non Scratch Scrubbing Dish Cloth. I was given a few of these to try and I absolutely LOVE them! Scotch-Brite® Brand has reinvented the dish cloth – not only is the Scrubbing Dish Cloth just as absorbent and versatile as traditional dish cloths, but it also offers these little scrubbing dots that help me tackle stuck on messes like a champ. It also rinses clean easily and then dries super quick. When they need to be washed, just toss them in the laundry!
After disinfecting my counter, I like to give it a good rinse with some warm water. (I don't like cleaner residue in my cookies!)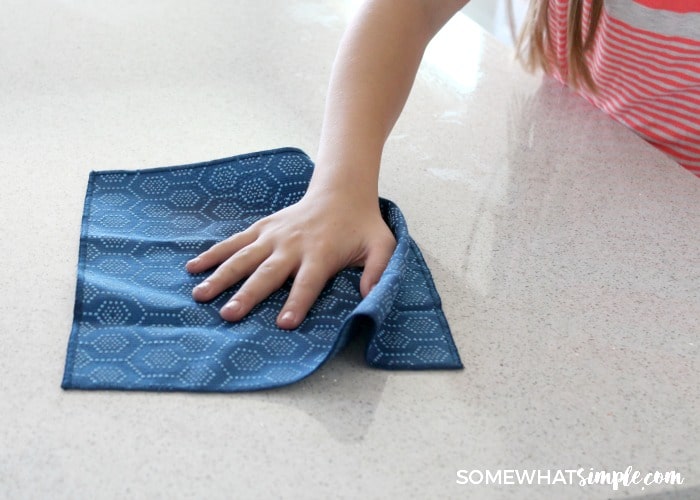 For this decorating technique, you'll need your favorite sugar cookie dough. Here is my favorite homemade sugar cookie recipe (made in only 10 minutes!) , but today I am using a store-bought dough 'cause I was all out of baking soda this morning. (I'm not the best at planning ahead!) 
Mix your dough, roll it out on a floured surface and cut your cookie shapes.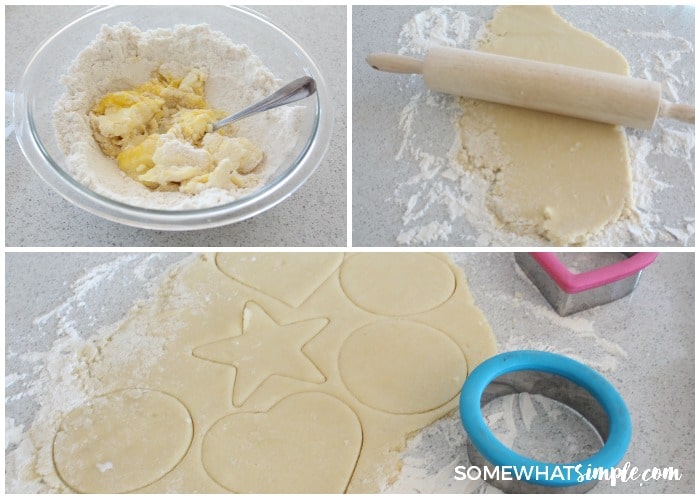 Now comes the fun part! Transfer your cookies onto the baking sheet, grab your egg mixture and start painting!
Once your cookie dough is painted and looking so pretty, pop them in the oven and bake according to recipe directions.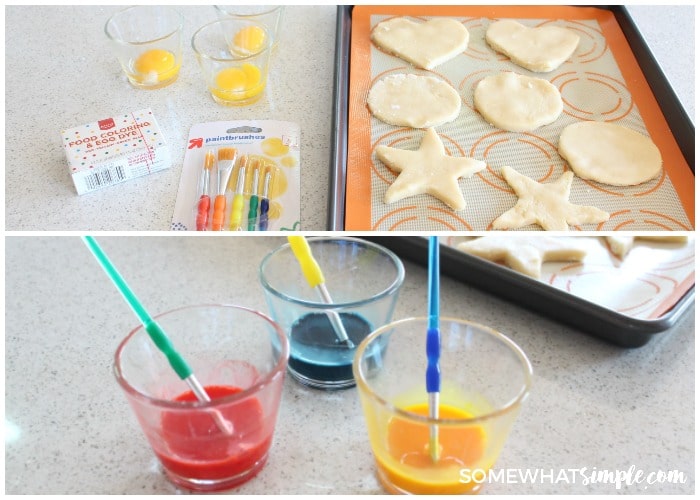 While baking, you can go ahead and clean your counters. This is where the Scotch-Brite® Non Scratch Scrubbing Dish Cloth comes in handy again!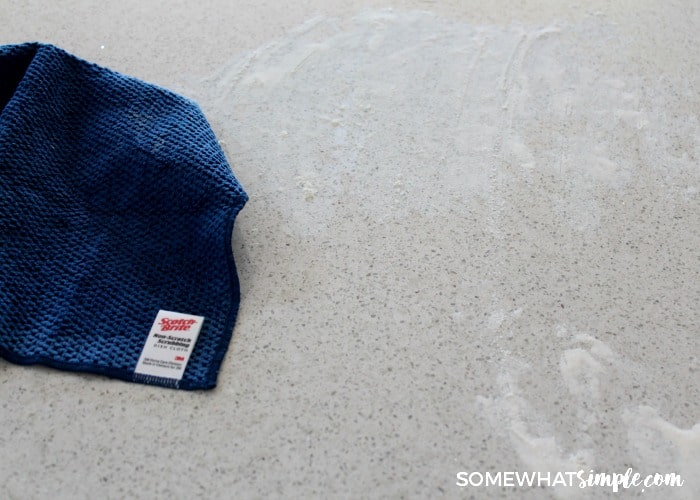 Easy simple and fun!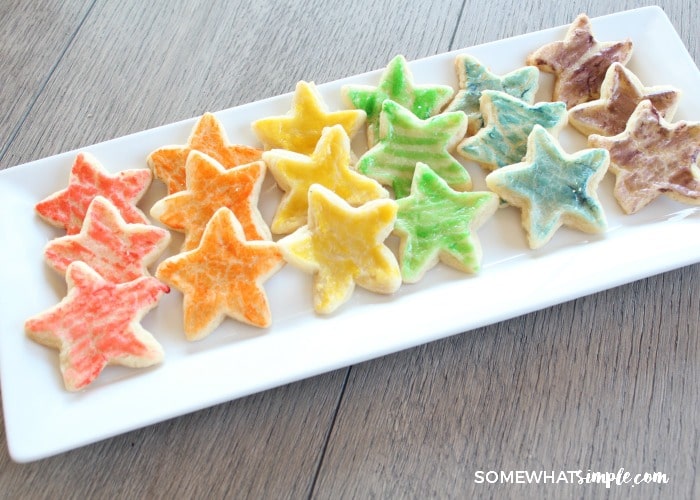 Paintbrush Sugar Cookies
INGREDIENTS:
Your favorite sugar cookie dough
eggs yolks
water
food coloring
small jars or bowls
paintbrushes
DIRECTIONS: 
Make your dough according to recipe directions, rolled out and cut into shapes. Place dough on baking sheet.
Mix 1 egg yolk with 1/4 tsp. of water and several drops of food coloring until you get your desired color. (I used 10+ drops of each color!) Repeat for all the colors you need.
Paint your cookies as creatively as you'd like, then bake according to recipe directions.
Cool completely and serve!
Paintbrush sugar cookies – simple, fun and delicious!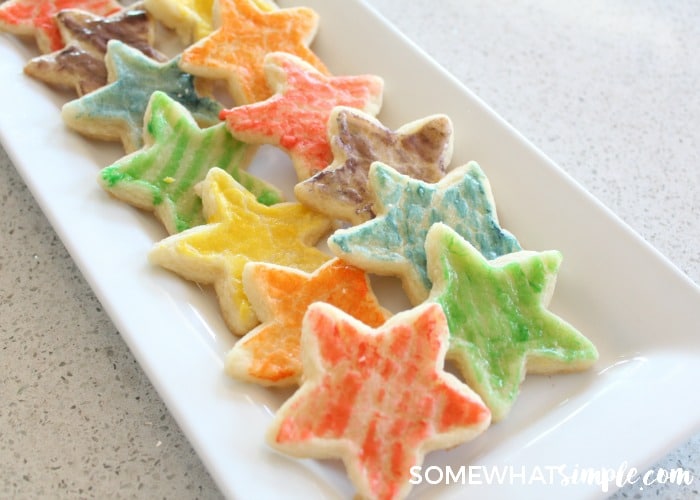 . . . . .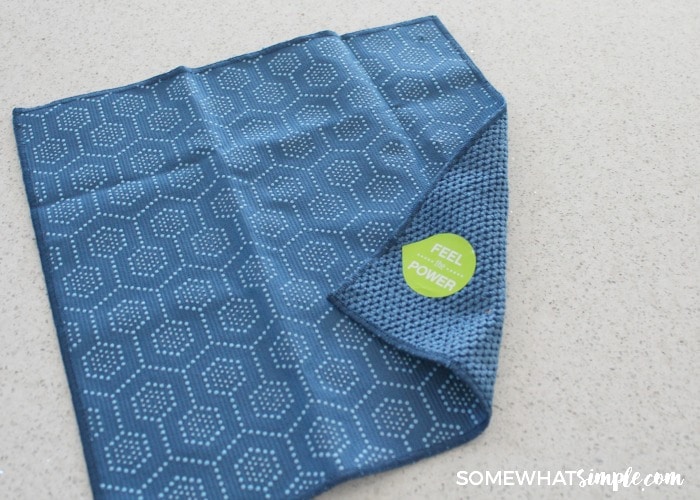 Whether you need to scrub it, wipe it or lift it away, Scotch-Brite™ Brand's broad range of cleaning tools make it quicker and easier to keep your home comfortable, inviting and clean, so you have more time to enjoy the moments that matter.
The Scotch-Brite® Non Scratch Scrubbing Dish Cloths eliminate fear of scratching as they are safe for most surfaces – non-stick cookware, glasses, countertops, utensils, etc.
What else I love about these dish cloths:
You can wipe and absorb with one side and then safely remove tough messes with the scrubbing dots on the other.
They rinse clean and dry quickly without food or mess sticking to its surface.
They are durable and machine washable!
Visit Scotch-Brite.com to find a retailer near you and join the conversation using #CleanFeelsGood.
 Facebook || Twitter|| Instagram || Pinterest
This is a sponsored post in partnership with Scotch-Brite™ Brand. Thanks for supporting our sponsors so we can continue to provide creative content to Somewhat Simple.