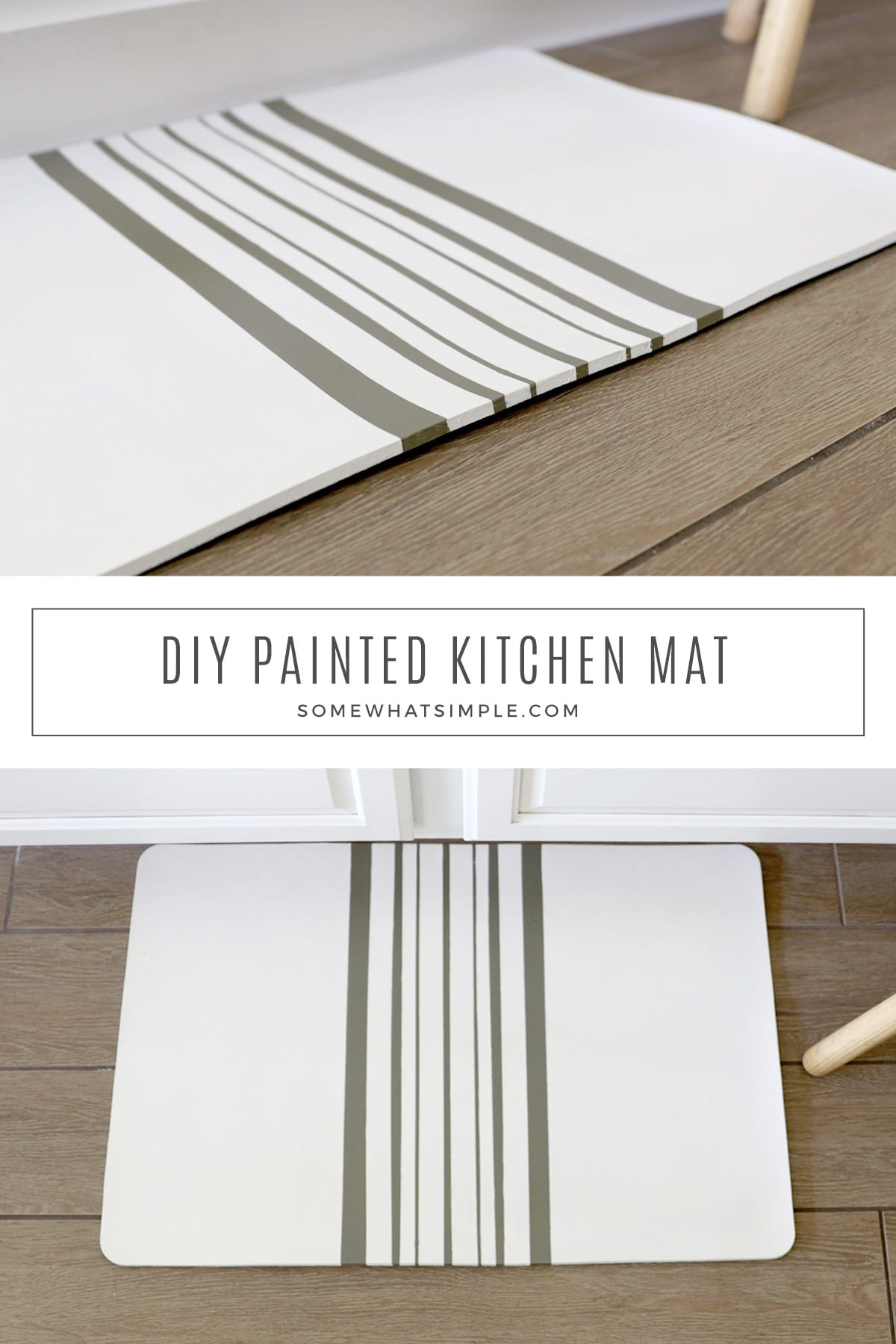 Adding some fun to your floors is as easy as making a painted kitchen mat! This easy guide will show you how to do it in just a few easy steps.
Be sure to check out our tutorials for a Funny Welcome Mat and DIY Bath Mat.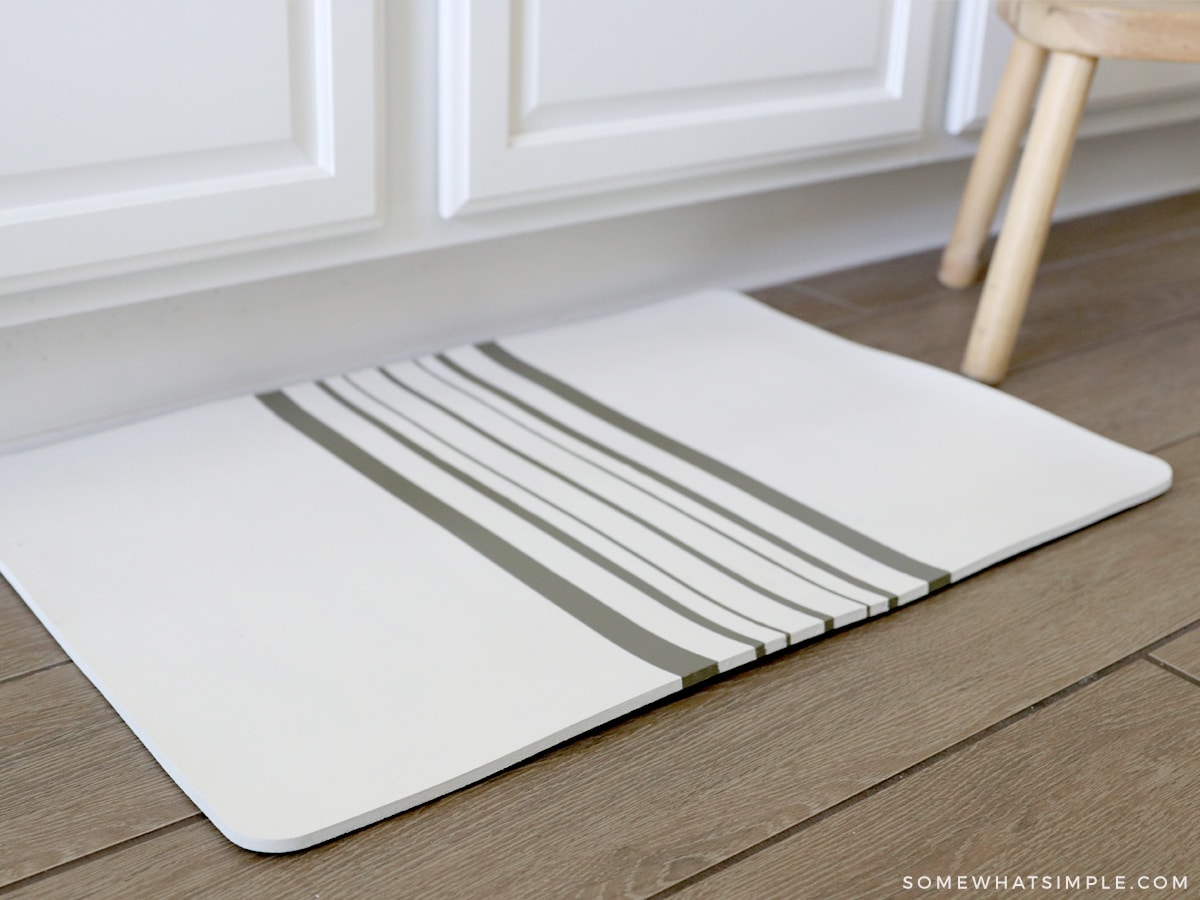 I bought a kitchen mat on clearance for $3. It didn't match my decor and it started looking dingy really fast, but I had big plans for this little mat that would solve both of these problems!
I wanted the mat to be simple – clean lines and neutral colors are my best friend – so I came up with a simple design that couldn't be any easier to paint. (And it looks amazing with my kitchen decor!)
You can definitely make this method work for any design you choose – I've done it before in a Greek Key pattern, and it would look cute in a chevron, plaid, abstract etc.
If you have any floor mats or rugs that need new life, here's how to make your own –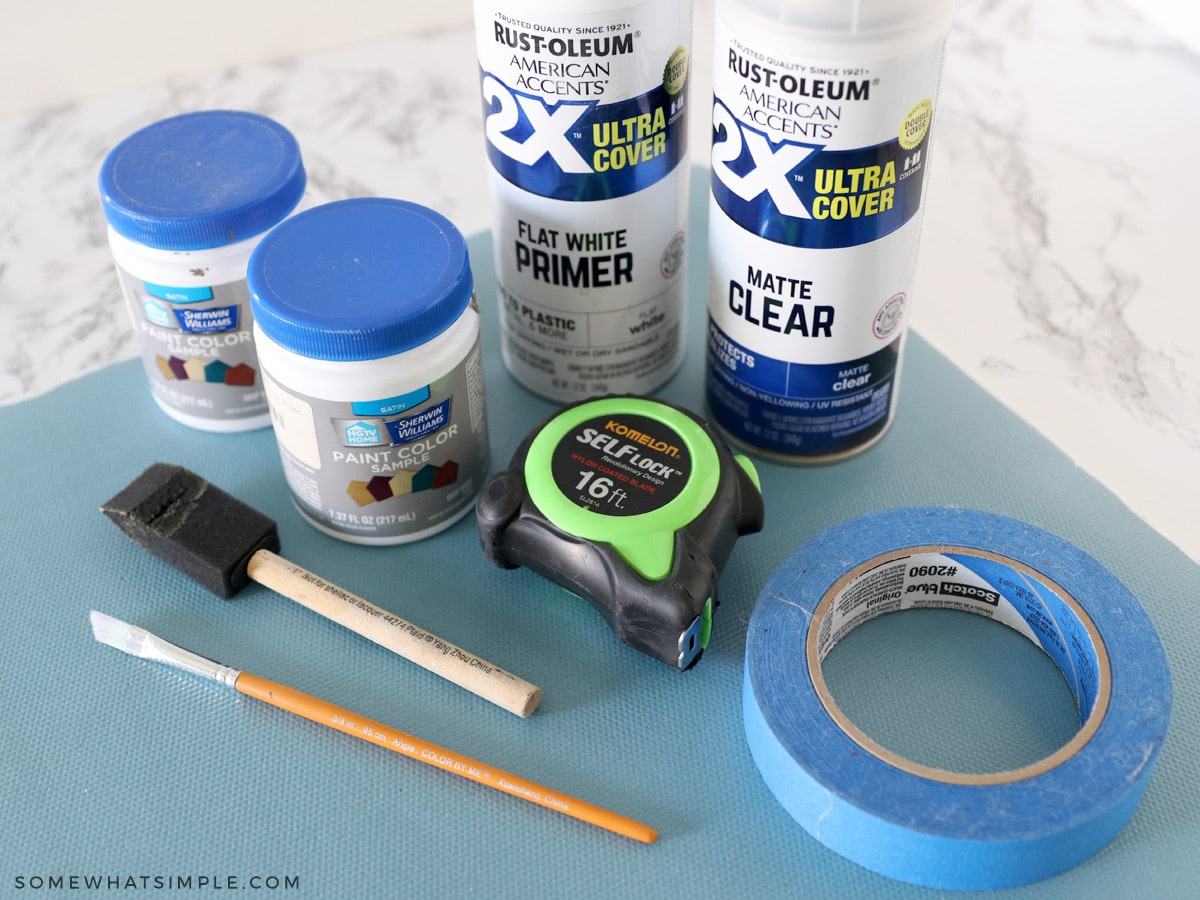 How to Paint a Kitchen Mat
MATERIALS NEEDED –
foam kitchen mat or runner: mine was a foam mat that was a rubber-like/ vinyl material with a little bit of a cushion.
primer
paint: 1 color for the base, 1 color for the design. I used leftover paint samples in a satin sheen. I've tried acrylic craft paint and it cracked as it dried, but the paint from Lowes worked great!
paint brush: I used a sponge brush for the all-over color and a paintbrush to get crisp lines.
painter's tape: to tape off the lines in your design.
ruler/tape measurer
sealant: this is optional, but sealing it will keep it from cracking and allow you to more easily wipe down your kitchen rug when it is dirty.
* If you are freehanding your design, you may not need the painter's tape. Instead use a pencil or chalk to draw your design.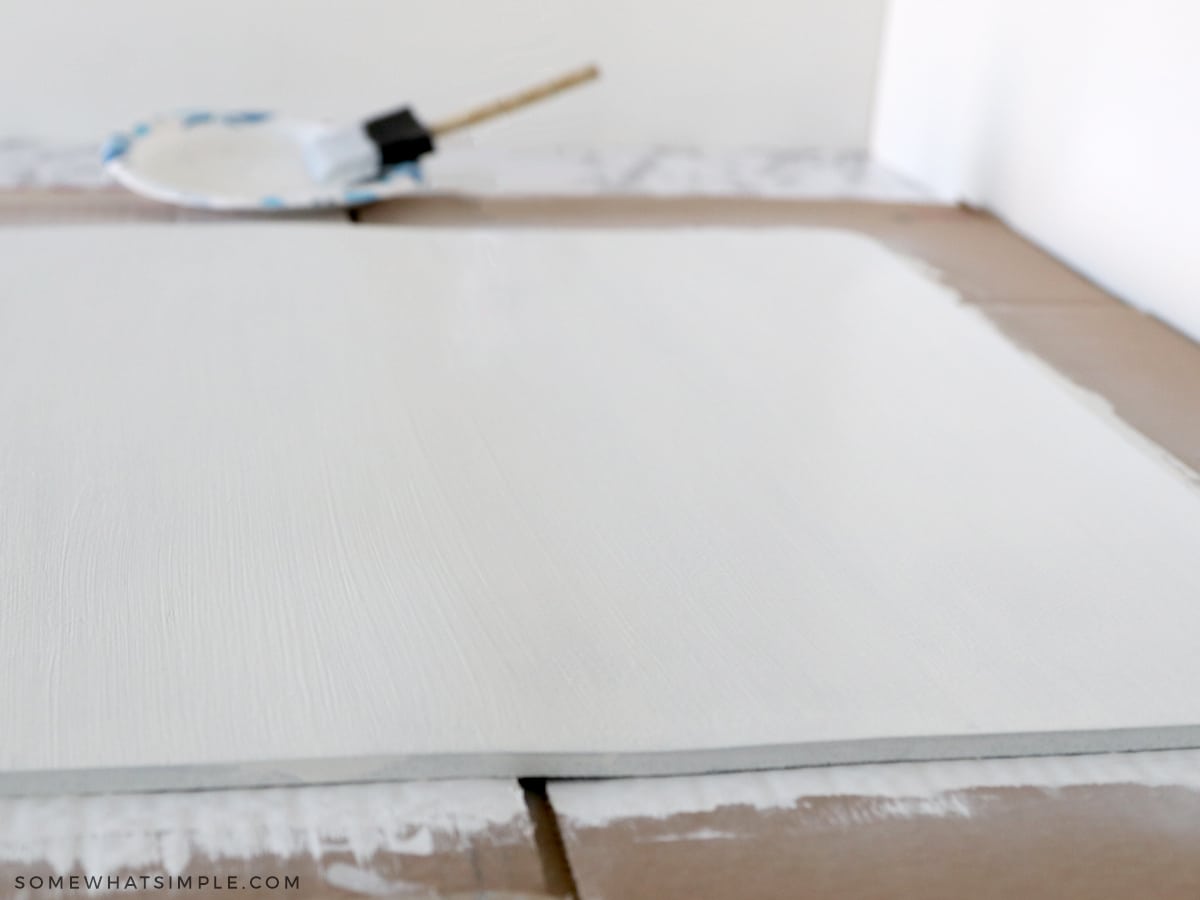 INSTRUCTIONS –
BASE COAT – Add a quick first coat of primer, then paint the entire area a base color you love.
DESIGN – Tape off your design. When your design is taped down, run your fingers along it to make sure there is a good seal around the edges. Then, paint over the taped design with your base color. This will help avoid any bleeding underneath the tape when you paint it.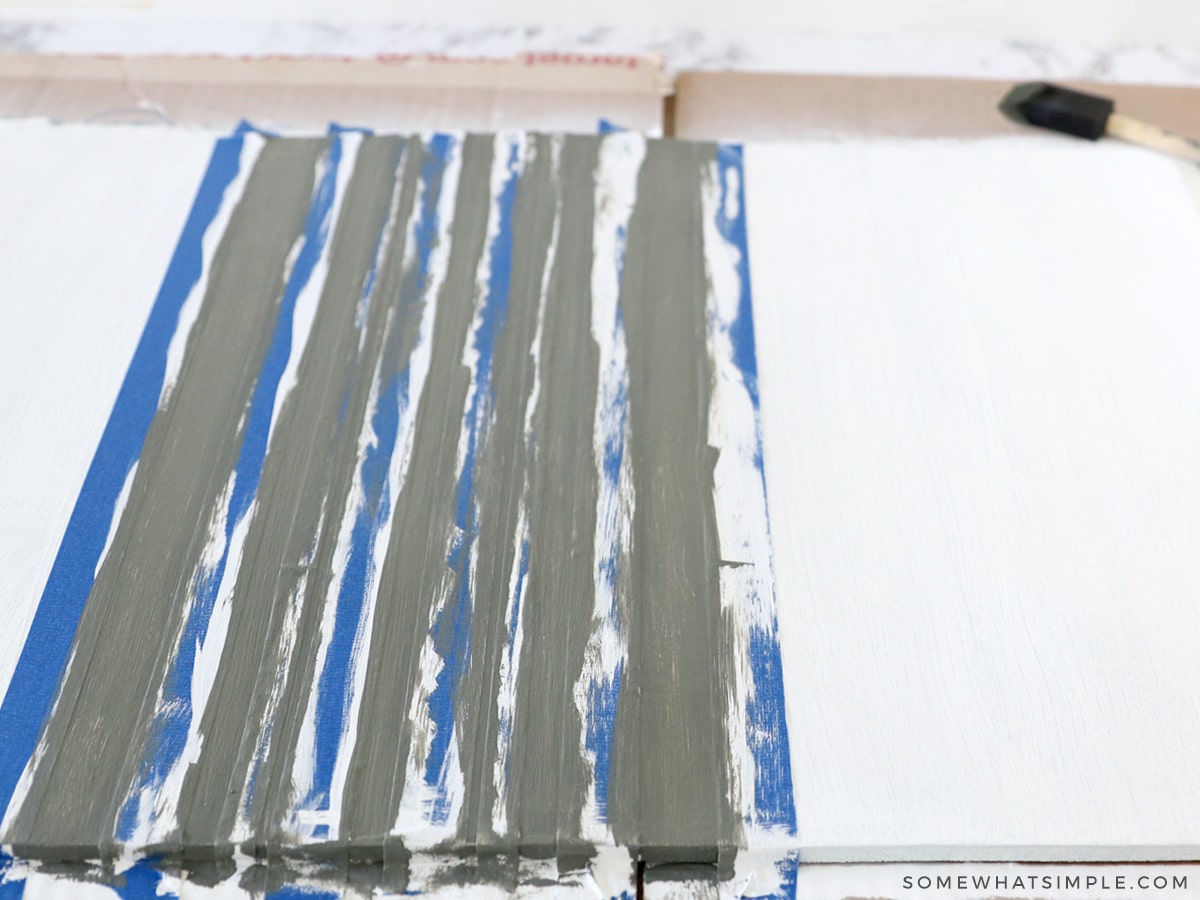 PAINT – Paint your design and let it dry completely. You may want to do a couple of coats of this to ensure nice, bold lines of color. Take off the painter's tape before your design dries to avoid any chipping in the paint.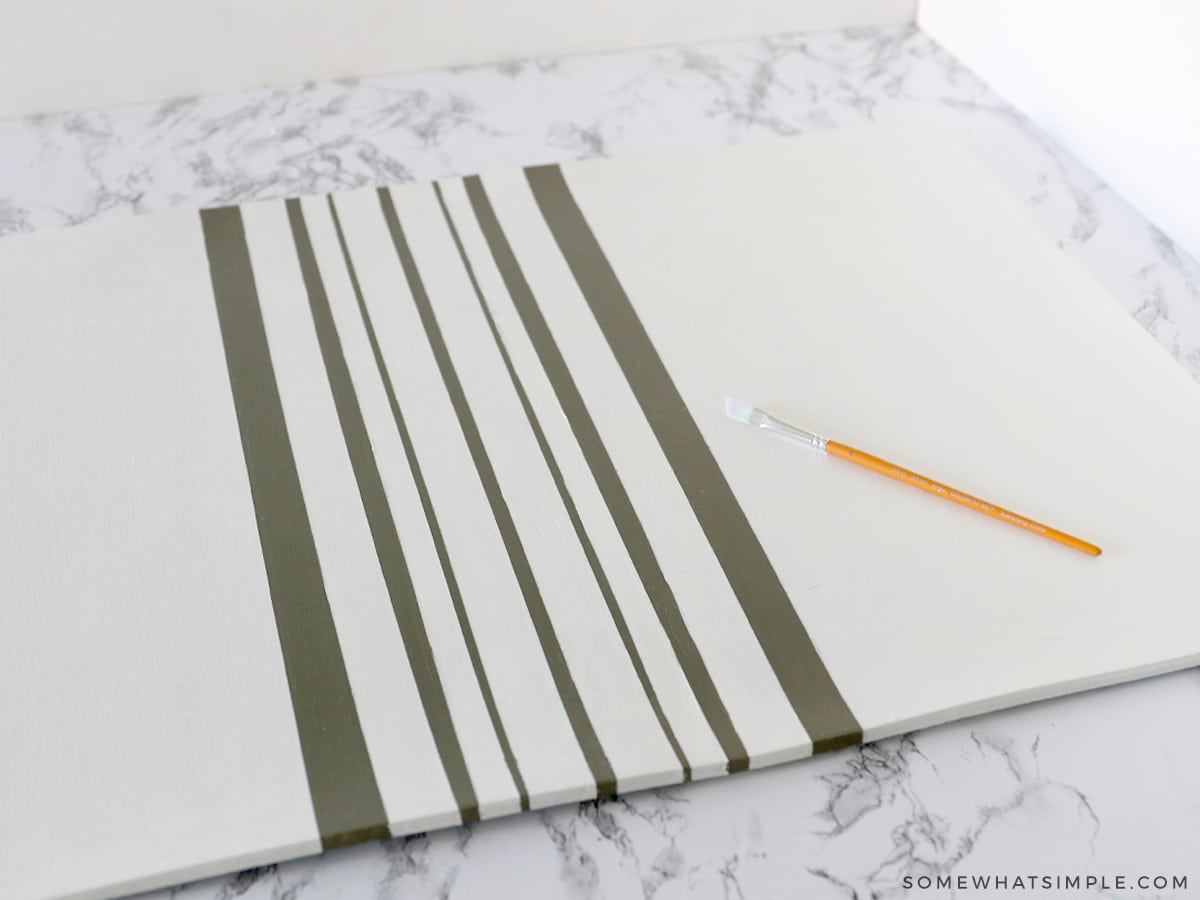 TOUCH UP – Use a paintbrush to touch up any parts of your design that bled or chipped.
LAST STEP – Add a coat of sealer. I'd use two coats if this is going to be in a high-traffic area.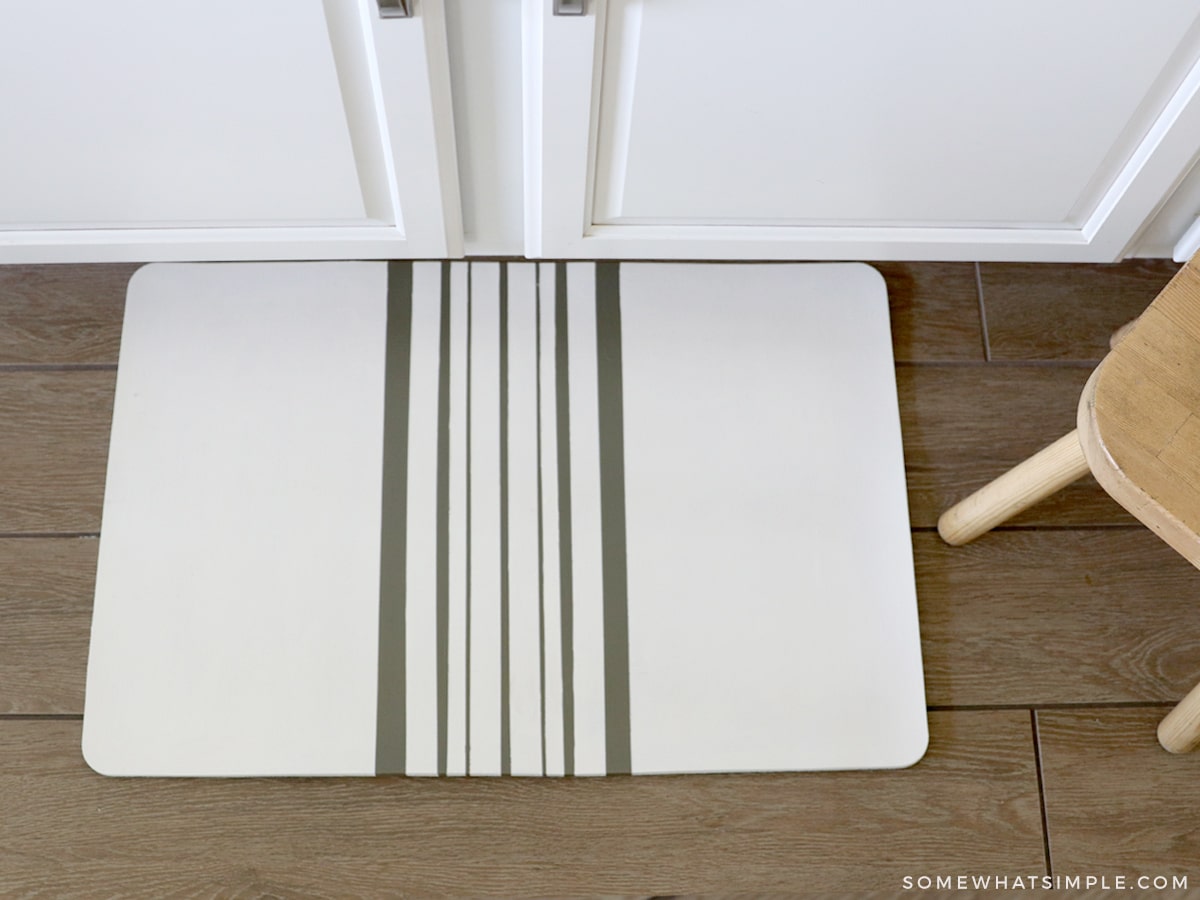 … and you're done!
I love how simple and affordable this idea is to make something that matches your decor! It'll look perfect in front of the sink in the kitchen or bathroom, and it's perfect in front of the dishwasher!
ENJOY!