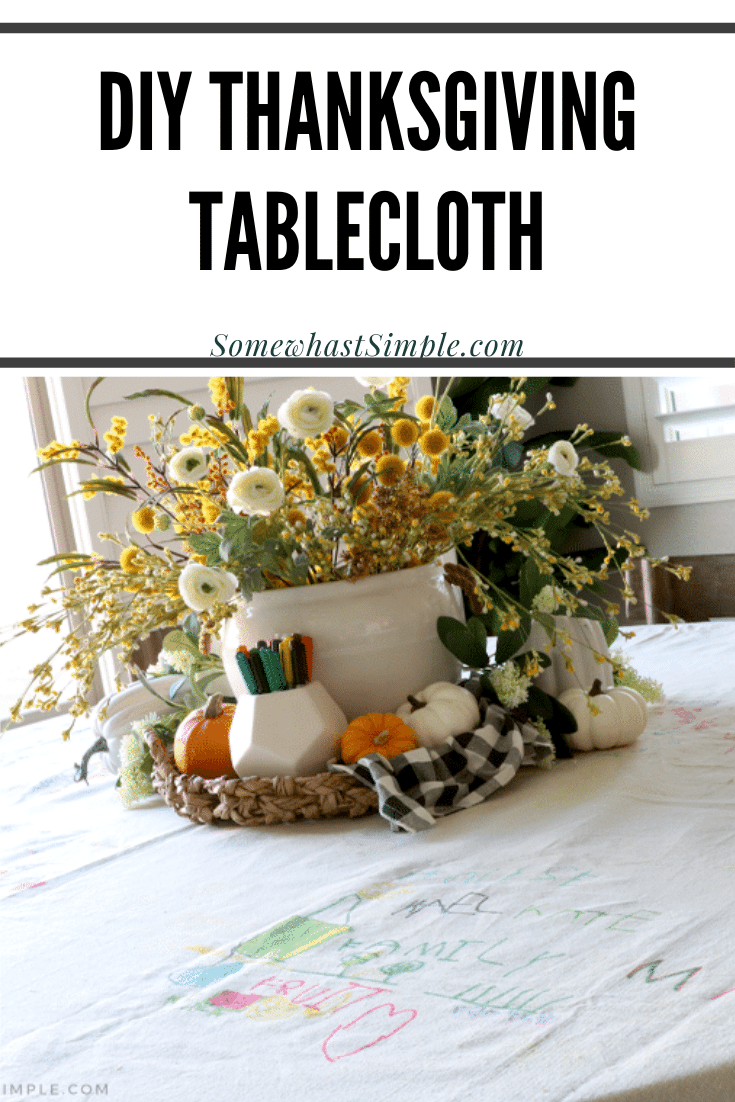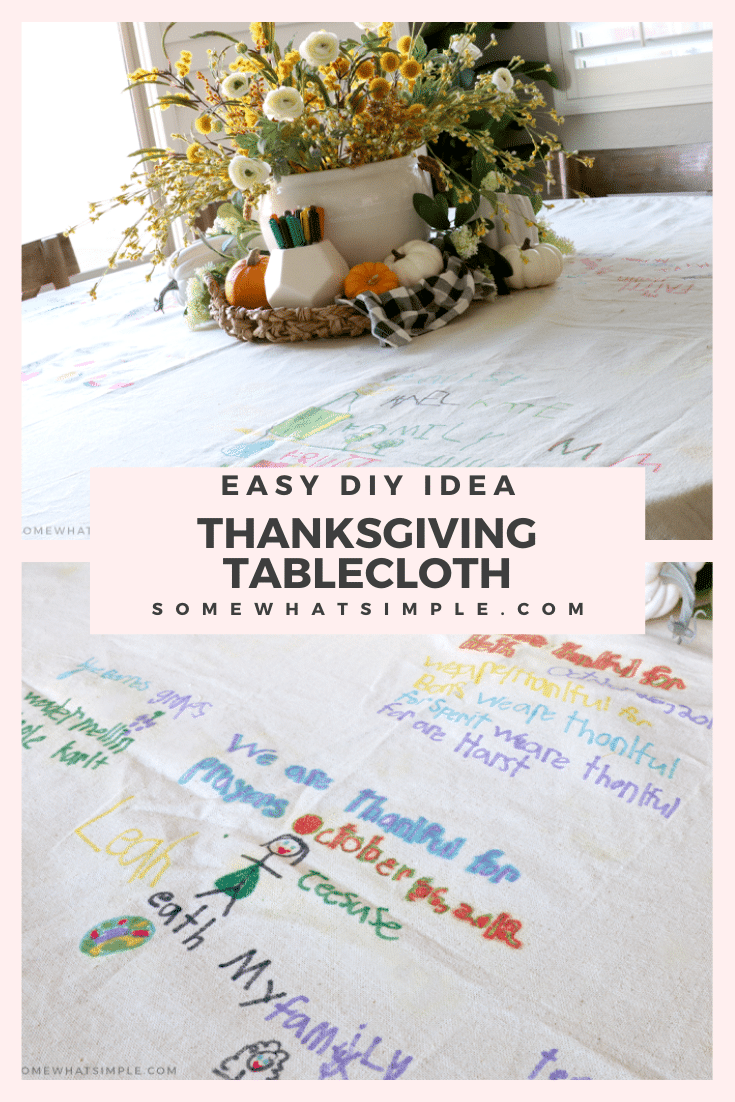 A simple tablecloth that is sure to become a family heirloom! This DIY Thanksgiving Tablecloth is affordable, fun, and the perfect reminder of all that you have to be grateful for!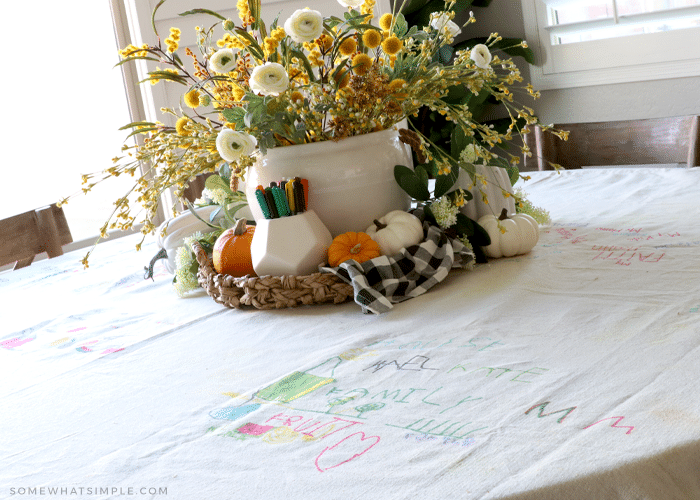 A Tablecloth Full Of Thanks
We have a lot of family traditions for the various holidays throughout the year, but this Thanksgiving tablecloth might be my very favorite out of allllllllll the things we do!
I made this tablecloth from a drop cloth back in 2012. I encouraged my kids to write things they are grateful for when we sit down for dinner. Each November since then, I pull out our tablecloth and we add to our list of blessings!
There is nothing sweeter than looking back at my little kid's handwriting and drawings as they list what they are grateful for year after year!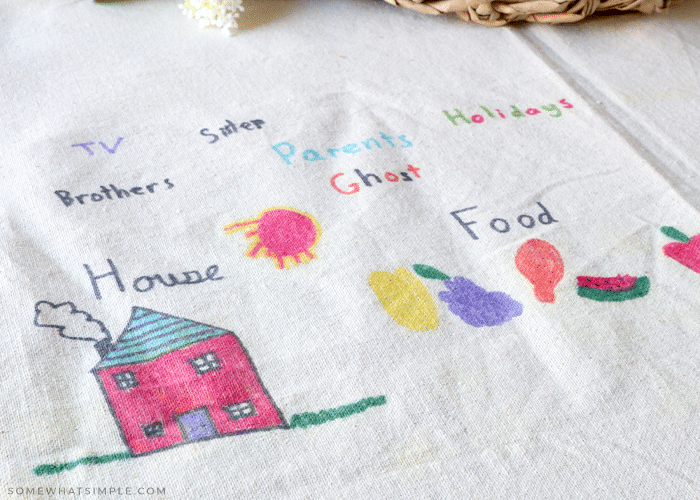 How to Make a Thanksgiving Tablecloth
MATERIALS –
Canvas drop cloth*
Sharpie markers**
Vinyl table cloth, sewing machine, pinking shears, optional
* Drop cloths come in a bunch of different sizes, so pick which one fits your table best, and sew 2 together if you need to. I'd definitely recommend going bigger than you'd think, especially if you plan to have a bigger table in the future. When we had a rectangle table, I just needed one drop cloth, but when we moved and bought a round table, I added two long strips of another drop cloth on each side of the original one.
**If you are worried about the markers bleeding through onto your table, put a cheap vinyl tablecloth under the canvas drop cloth.
DIRECTIONS –
Prewash your drop cloth so it shrinks and you get a better idea of how it will fit your table.
Put a vinyl tablecloth on top of your table, then place your drop cloth on top of it.
Add a vase with Sharpie markers to your table, and you're good to go!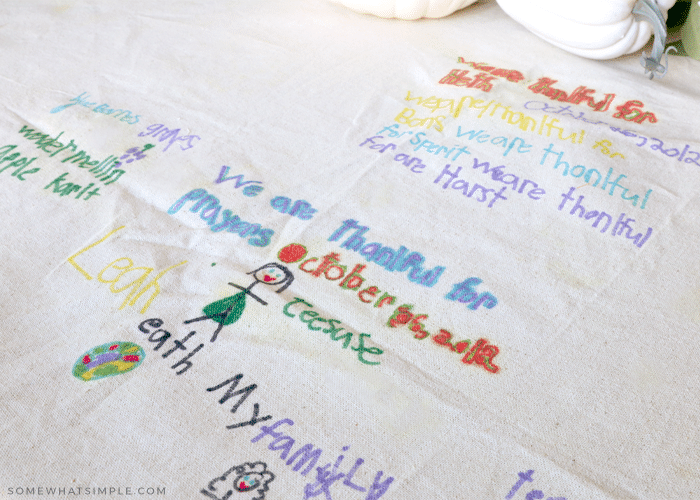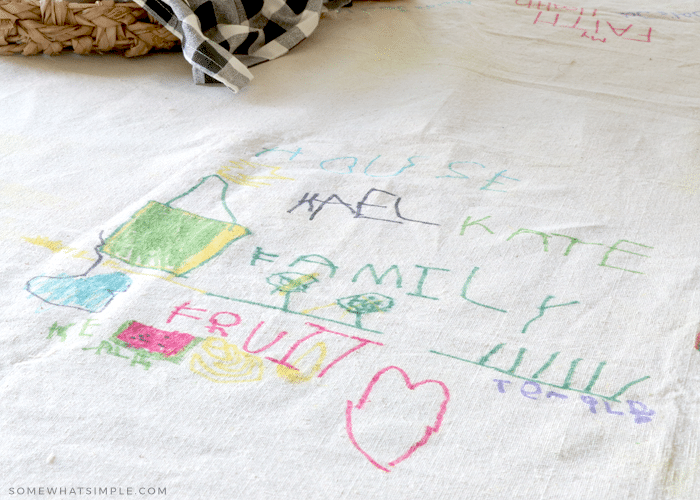 We don't eat Kale or "KAEL" so it took us a minute to figure out what our 12 year old wrote way back when he was 4! Then we realized that the "K" was actually an "H" and he was spelling Leah (his sister) backward! 🙂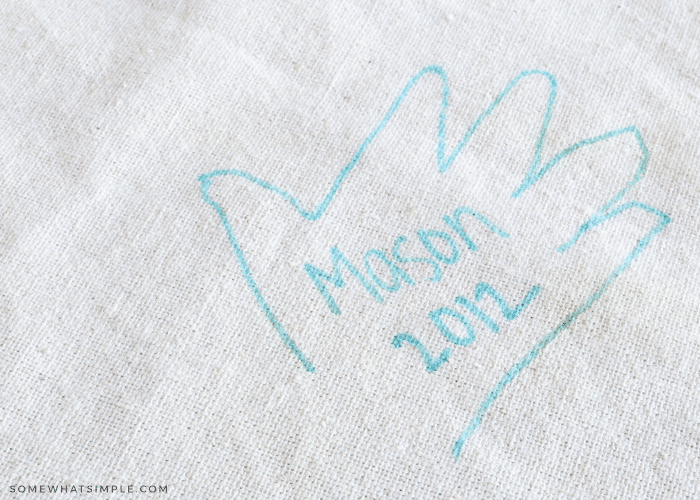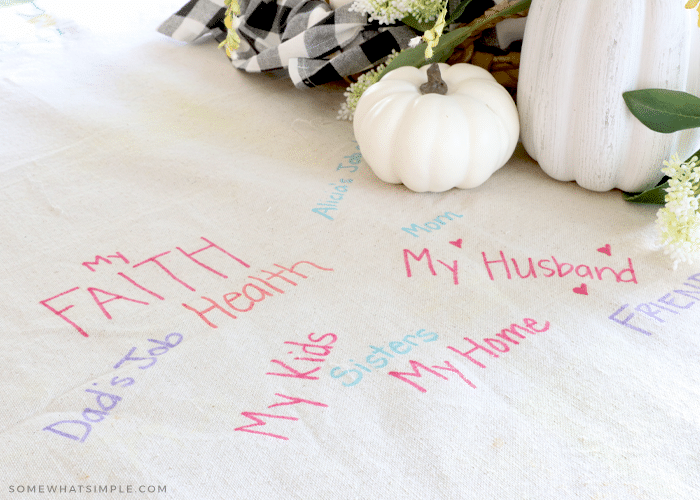 I hope to add to our lists as the years go on until it looks nearly impossible to find a blank area on the canvas! It will definitely end up being a treasured family heirloom, as my 14 year old has already asked if she can have it when I die, hahaha! 🙂
More Fun Thanksgiving Ideas