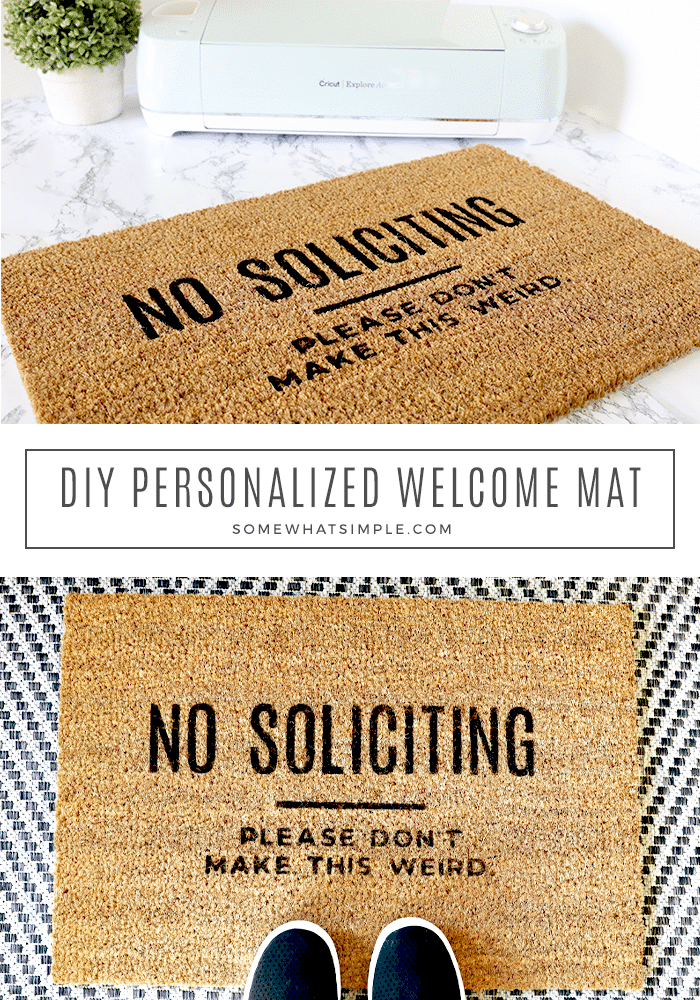 This is a sponsored post written by me on behalf of Cricut. All opinions are 100% mine.
Gone are the days of spending a small fortune on a cute welcome mat for your front porch! With the help of your Cricut machine and in 30 minutes or less, you can make your own funny welcome mat that looks exactly how you want it, for under $10!
Here are a few more Cricut projects we think you'll love – New Mom Gift Basket, Adventure Pack for Foster Kids, and Pajama Party Invitations.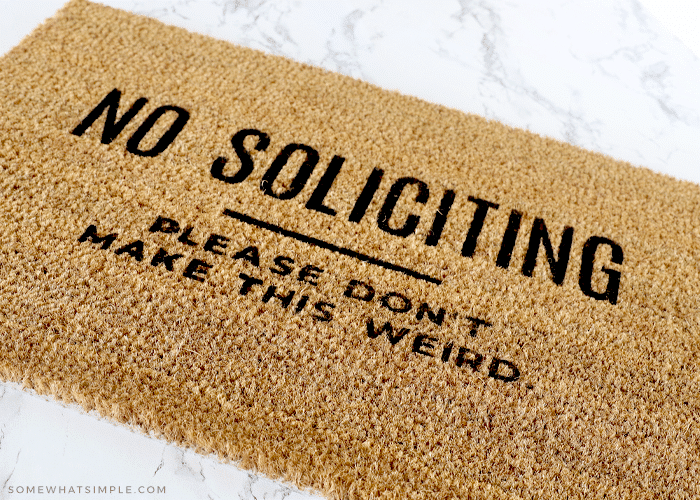 Painted Welcome Mat
I sure love a simple project that adds a fun element of design to my space, and this welcome mat does just that! Not only was I more than happy to ditch the faded one that sat on my porch all winter + spring, but in just one week of having it out, I've had 2 neighbors ask me to make them one! This project only cost me the price of the coir doormat ($5 at IKEA) and I had everything else I needed on-hand: black craft paint, a stiff-bristle brush, and my favorite crafting tool ever – the Cricut Explore Air 2.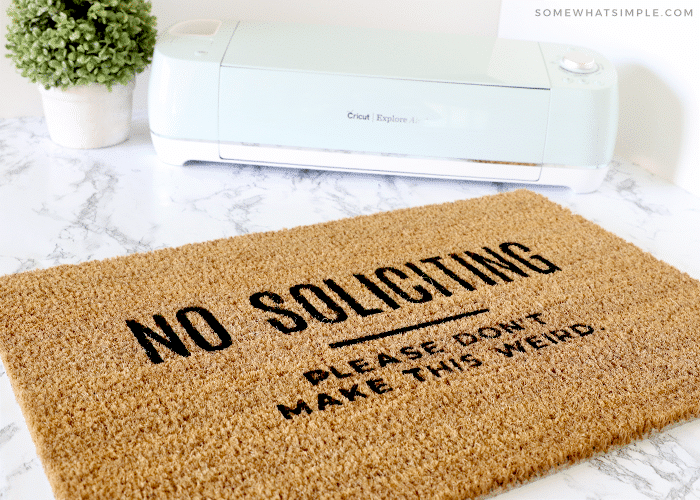 You can certainly use your Cricut Maker or Cricut Joy for this project, but my Explore just seems to be my go-to machine and the one I use most often. If you are looking to get your own cutting machine, the Explore Air 2 is absolutely perfect! Here are 3 reasons why I love it-
Versatility. This thing can accurately cut 100 materials, including-

iron-on
vinyl
paper
glitter paper
cork
bonded fabric
cardstock
poster boards
adhesive foil
birch
burlap
canvas
…. and so many more!!!

Value for investment: Not only can it cut a variety of materials, but it can also draw and score – so the sky is the limit when it comes to gifting, personalization, and home décor. Once you start making, you'll see it's well worth the investment!
Ease of Use: I was seriously so happy to see how easy it was to set everything up. I'll be honest, I'm not super tech-savvy, so any new machine or piece of technology is pretty intimidating to me. But the Cricut Explore Air 2 allows DIYers and makers to get up and running with projects quickly – set up literally took just a few minutes! And with Cricut Design Space on desktop and mobile, you can design and create from anywhere!
Have I convinced you to get one yet????
Maybe after I show you my newest Cricut creation you'll finally take the plunge! Take a look at how to make this awesome welcome mat –
How to Make a Welcome Mat
SUPPLIES –
Cricut machine
vinyl – you can use any color or scraps you have laying around.
transfer tape – the less sticky, the better! (I think next time I make this, I might try washi tape.)
coir doormat – I got mine for $4.99 from Ikea, but I've seen them at Target and on Amazon too!
paint – I used black craft paint
paintbrush – stiff-bristle brush works best
hair dryer – optional
clear sealer – optional. Krylon has a good one for outdoor projects.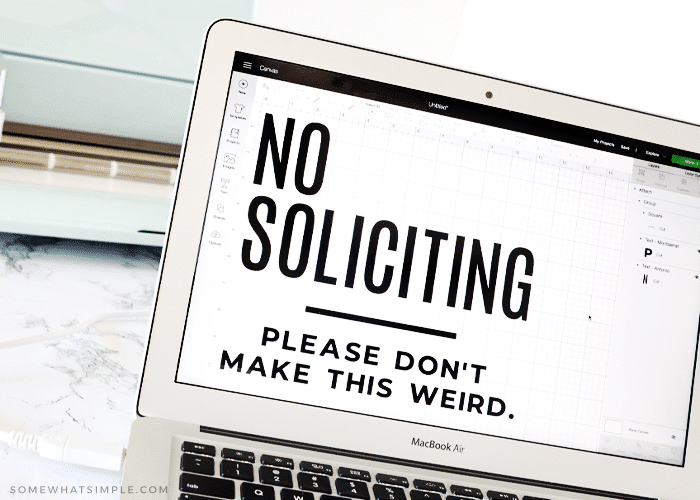 DIRECTIONS – 1. First, we are going to create a vinyl stencil in Design Space. I used 2 free fonts in the Cricut library for my design – Antonio for the top part, and Montserrat for the bottom portion. 2. Once you get your design looking perfect, select ATTACH on the bottom right corner, then click MAKE IT. 3. Load your vinyl onto the cutting mat, and follow the prompts until everything is finished.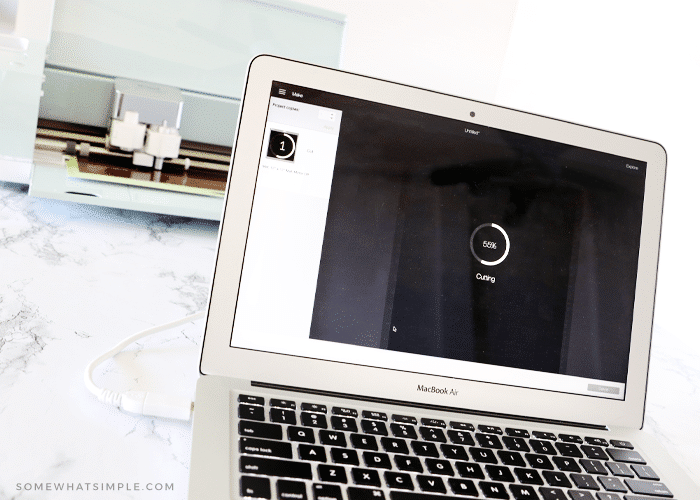 4. Pull your vinyl away from your mat, and then weed out the letters, leaving the negative part of the vinyl to use as a stencil.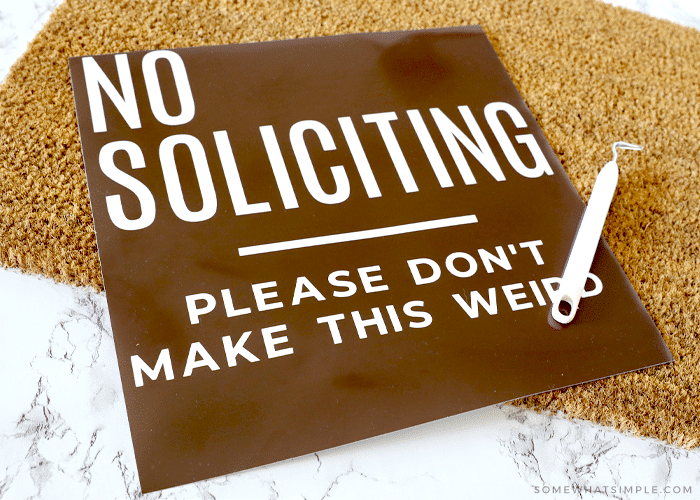 5. Add some transfer tape to your vinyl so you can easily keep all the spacing correct, then place the vinyl onto your welcome mat right where you want it. Remove the transfer tape (hopefully yours isn't too sticky!) * I wanted "NO SOLICITING" to be all in one-line, but my vinyl sheet wasn't long enough, so I broke it up into two lines to cut it and then placed the words side-by-side when I was ready to paint. 6. Press firmly on the vinyl around each letter/design so you paint is less likely to bleed through. If your vinyl isn't sticking very well, try heating it up with a hairdryer. The heat will help the vinyl hold onto the coir doormat.
7. Grab your paint and paintbrush and begin dabbing your paint onto the vinyl. DO NOT BRUSH THE PAINT ON, or it will get under the vinyl and your design will bleed. Just use straight up and down movements with a little paint at a time.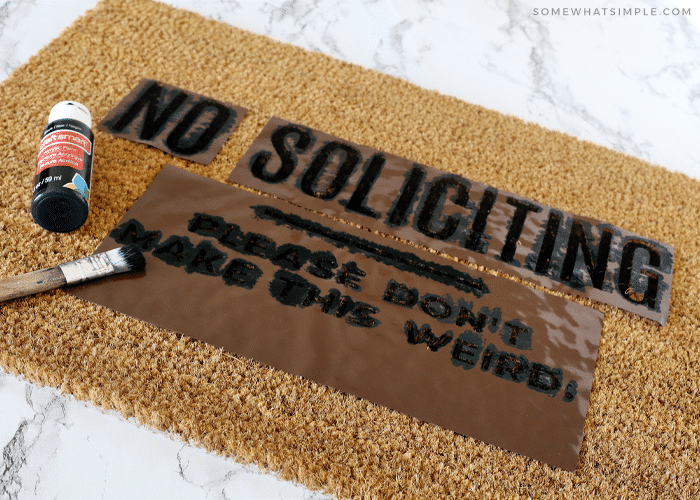 8. If you let your paint dry before pulling the stencil off, you might pull up some of the paint on your welcome mat too, so pull the stencil off immediately and then let the paint dry. Add a clear sealer, if you want, and then step back and admire your work!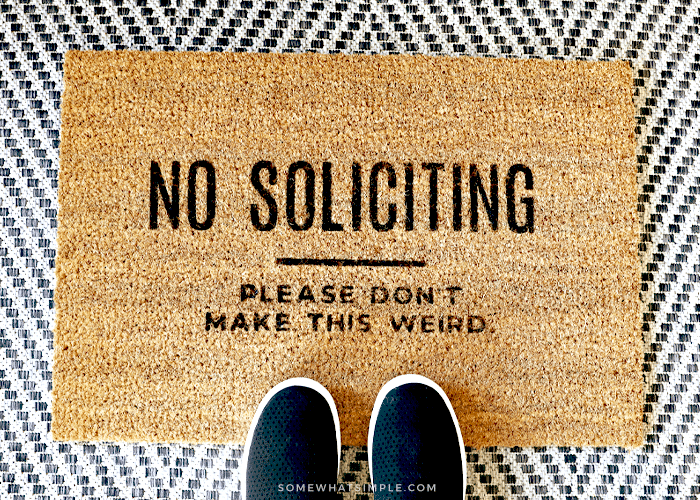 How fun is that welcome mat?!?!
For even more ideas of what you can make with your Cricut machine, including weekly home renovation projects, inspiration, and tutorials, visit the Cricut blog.