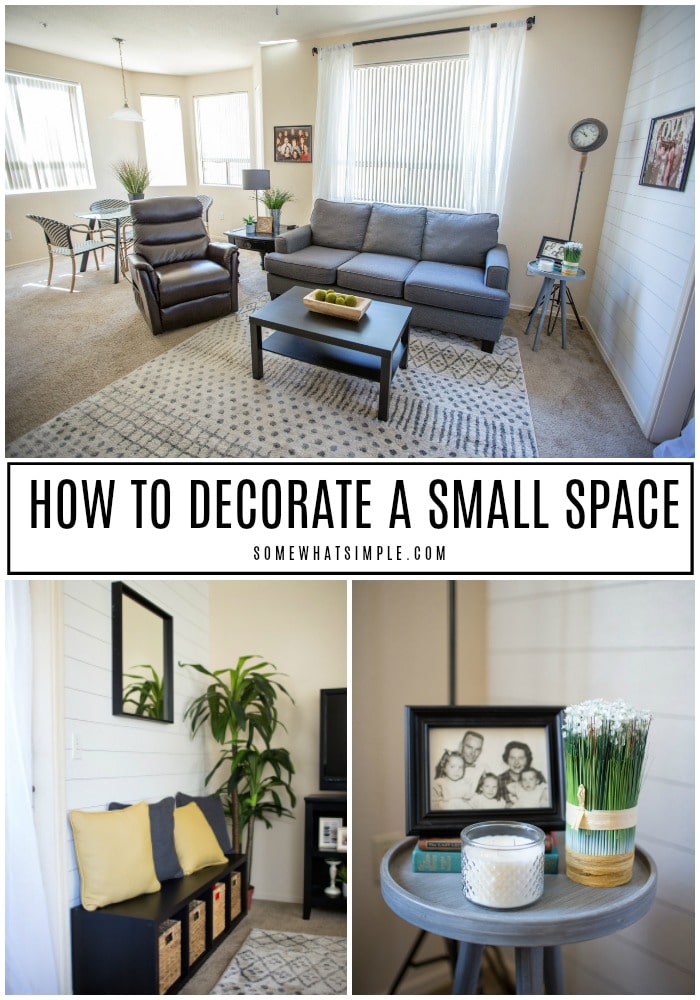 A small space doesn't have to be cramped and crowded! Even the smallest apartments can be cozy, inviting and functional with these 10 apartment decorating tips and tricks!
This small space decor post is in partnership with American Furniture Warehouse. All opinions are 100% my own.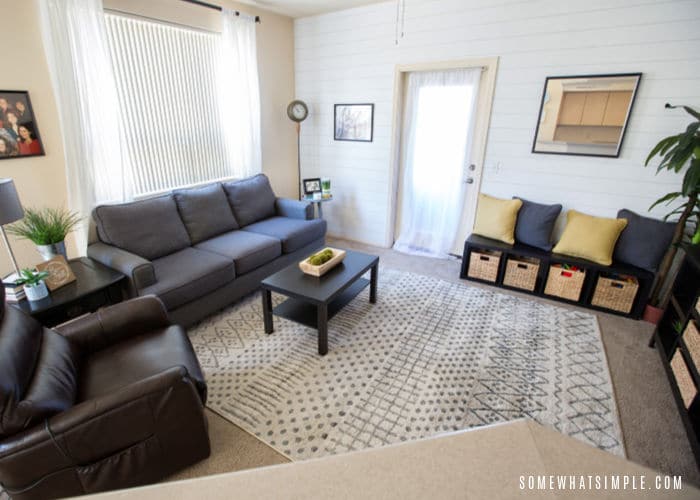 Apartment Decorating Ideas
I've shown a few sneak peeks lately on my Instagram stories of the current project I've been working on – my mom's new apartment! I finally put the finishing touches on it and I am excited to show you what it looks like now. If you live in an apartment or you're looking for some tips on decorating a small room, we are here to help! Your home is about to go from bleh to beautiful!
We've partnered with our friends at American Furniture Warehouse for the main pieces of furniture for this space, as well as some accent accessories too. Take a look at her new living room and patio: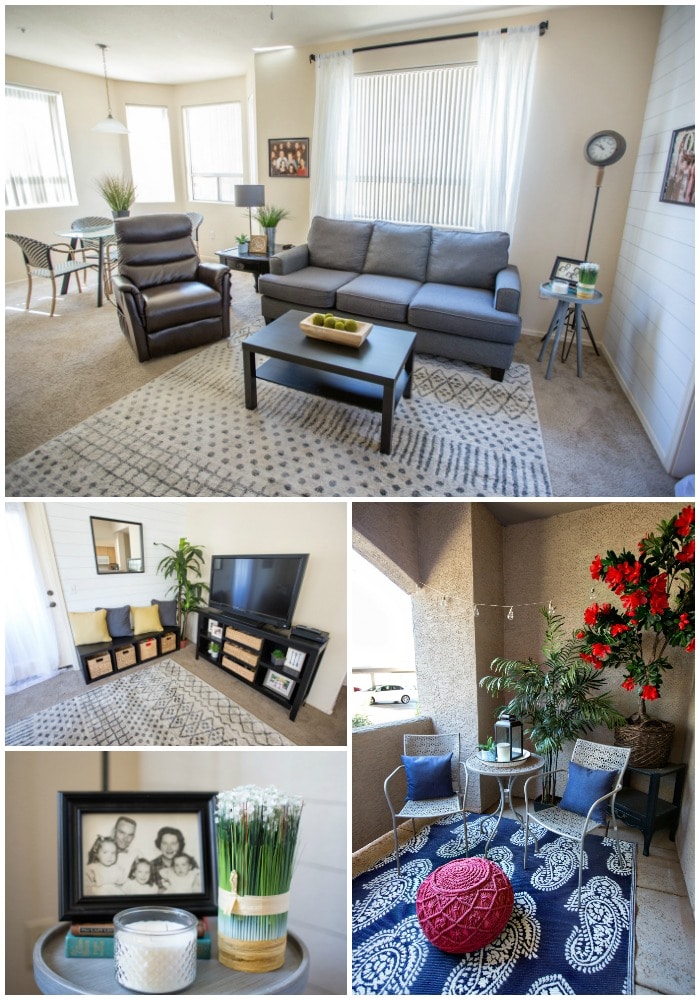 Doesn't it look amazing?!
We were able to do her entire family room, her dining room, and her small patio.
This project was something I've wanted to do for quite some time now. You might have heard me explain a little bit about my mom and the trial she was thrown into in 2014 – her 34 year marriage to my dad fell apart and she has spent the past 4 years living with her daughter's as she tried to pick up the pieces and move on. (Divorce is the WORST!!!)
This past spring, she decided she was ready for a place of her own and the apartment hunt began! We found a charming little complex close to my home and she moved in May. Despite of having practically NOTHING to her name, she has spent the past few months making her house a home, and she is doing SO GOOD!
Up until now, all the furniture she had was donated by friends and family. But with a couple quick trips to American Furniture Warehouse, all of that was about to change! (Not only do I love having this giant furniture store close to my home, I just have to say how friendly the staff always is, the prices are totally affordable, and the product selection is AMAZING!)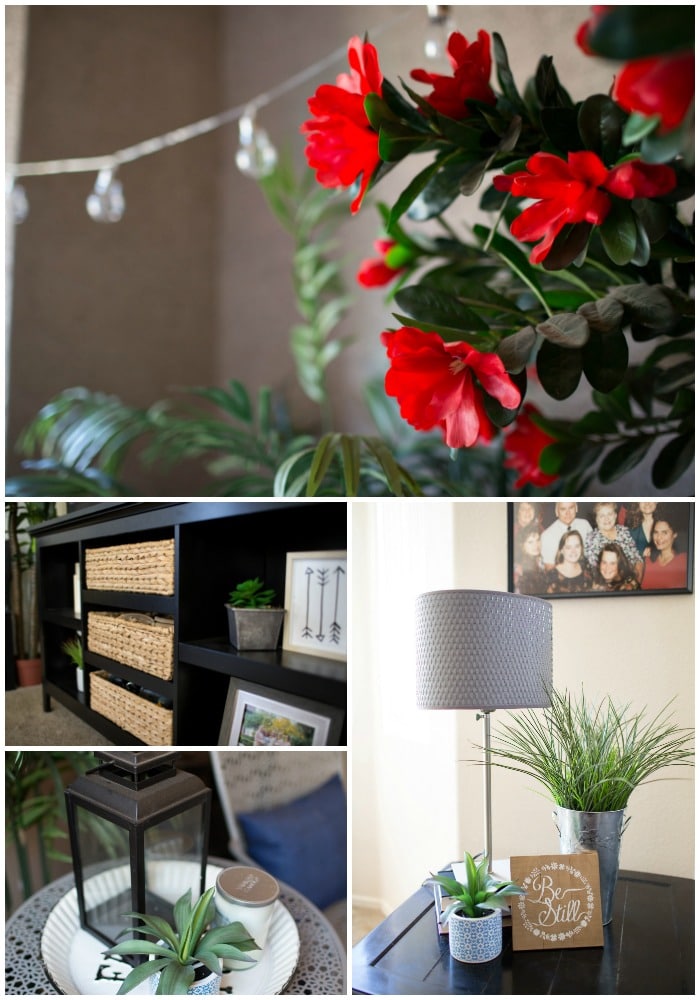 Small Spaces Decorating Tips
If you're struggling to decorate a small space in your home, here are some tips we hope you find helpful –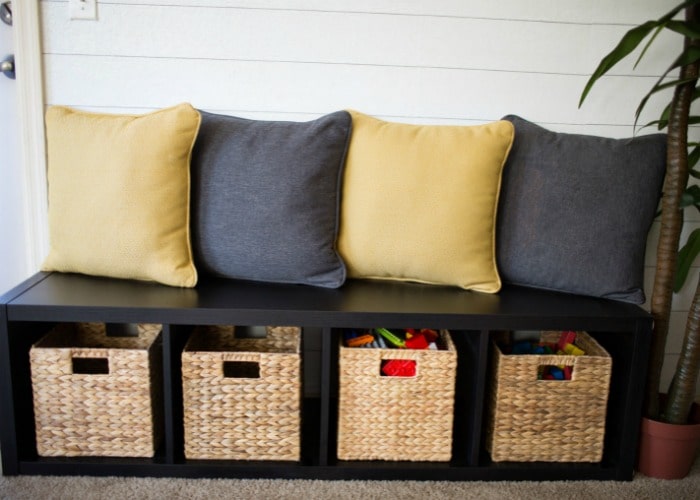 1. Select furniture pieces that double as storage.
A lot of storage options can act as additional seating, and visa versa. In my mom's apartment, we took a book shelf that usually stood upright, laid it down and added some pillows to the top. The baskets are still holding all of the items she wants to keep hidden, but the additional seating is sure nice when family and friends come over! Storage ottomans and coffee tables with hinges on the top are also great options for hidden storage compartments.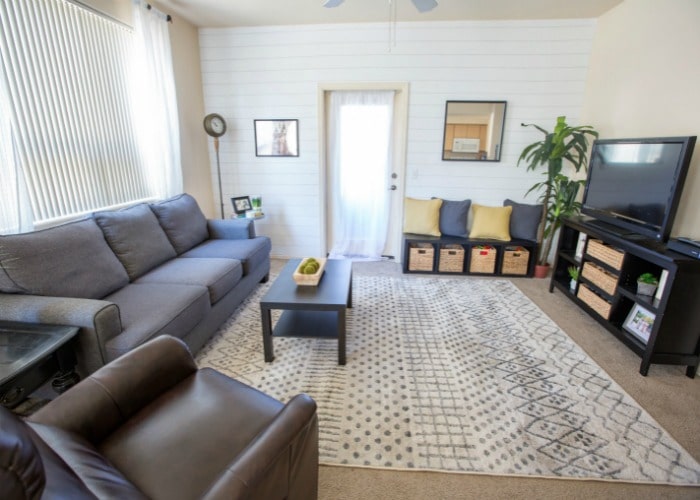 2. Think about heights.
When furnishing and decorating any space in your home, make sure you consider the horizontal/floor space as well as the vertical/wall space. If you have a room with lower ceilings, choose furniture that sits lower to the ground to make the ceilings appear higher. Then, add a 2-3 TALL statement pieces that draw the eyes up so that your room isn't "bottom heavy". In my mom's apartment, we found a tall industrial clock and added a tall plant on the opposite wall. We also did a tall window treatment. (More on this below!) Together with the lower furniture, the space looks well balanced and the room actually looks bigger than it did with just her old couch.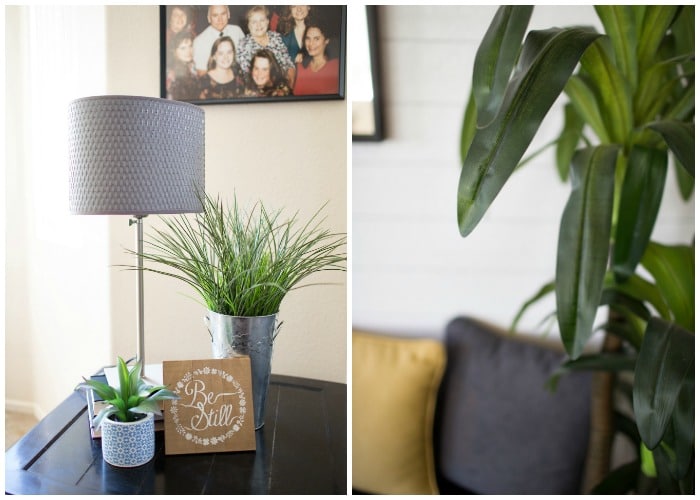 3. Plants are a good thing.
No matter how small your space, there's always room for some plants and greenery. I personally love to keep a neutral color scheme and I bring in a lot of color and dimension with plants – mostly faux or low-maintenance succulents. I think by bringing the outdoors in, you trick your senses into making the space feel open and fresh.
4. Show off your windows.
No matter what your view is, windows can make a room seem larger, not to mention that natural light does wonders in lifting spirits. Rather than hanging curtains to fit the size of each window, hang them high so they go from the ceiling to the floor. This draws the eyes up and gives the room a larger feel.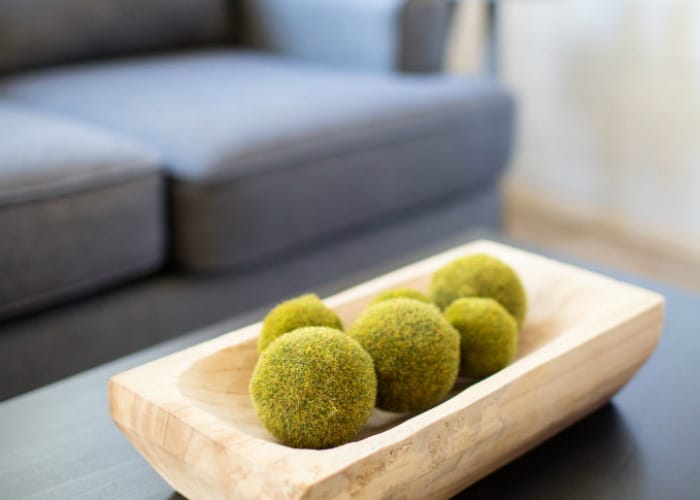 5. Stay neutral.
Colors are fun and they can totally show off your personality and personalize your space. But my suggestion is to pick a neutral color for your base, then play with bolder and brighter colors for your accents and accessories. And it's true: dark colors, no matter how cozy they might be, might make a space feel smaller, so keep that in mind when you make your decor plans. This was actually a "rule" we broke in my mom's apartment. She had all black wood furnishings, but we didn't have it in the budget to replace everything. Luckily it looks great because all of her pieces have straight, clean lines. Anything dark that is also bulky or ornate would probably be too much for a tiny apartment or living area.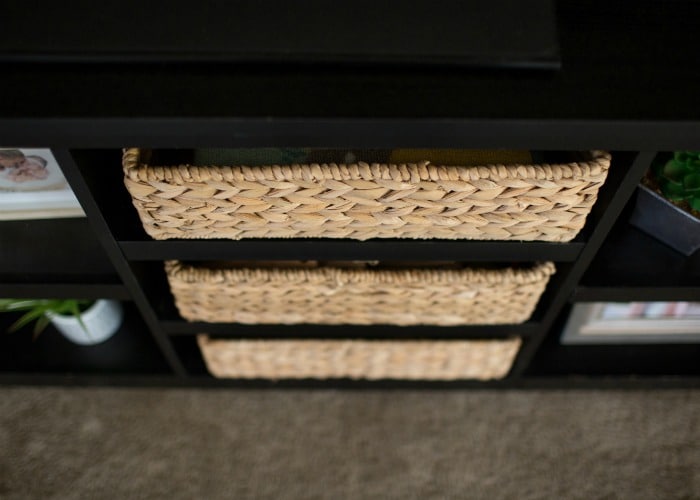 6. Clear The Clutter.
Clutter can ruin the overall look and feel of any space, but it can completely KILL a smaller apartment where space is sparse. Make sure everything has a place and keep things nice and tidy. In my mom's apartment, we made sure she had toys for her grandkids when they visit (she's the best grandma ever!) but we didn't let these things take over the room. A few baskets keep them easily accessible, easy to put away, and easily concealed.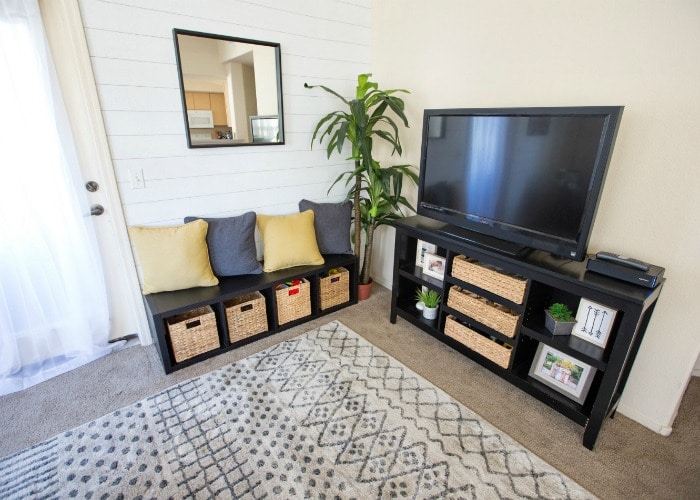 7. Mirrors = more space.
Another trick I love that makes a space feel bigger is to add a mirror. The reflection in a mirror acts almost like a window – giving the illusion that a room is actually more open and larger than it really is.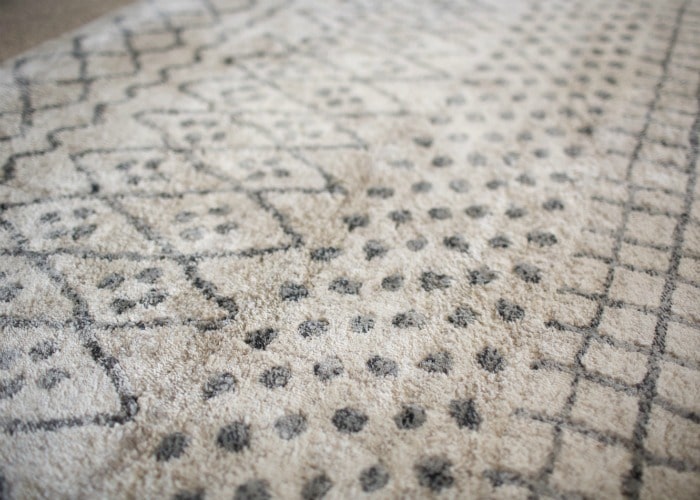 8. Make a statement.
Use large statement art pieces on the walls, rather than smaller framed prints or collages. You can also take the focus off a room's lack of wall space by adding some design to your floors with an oversized area rug.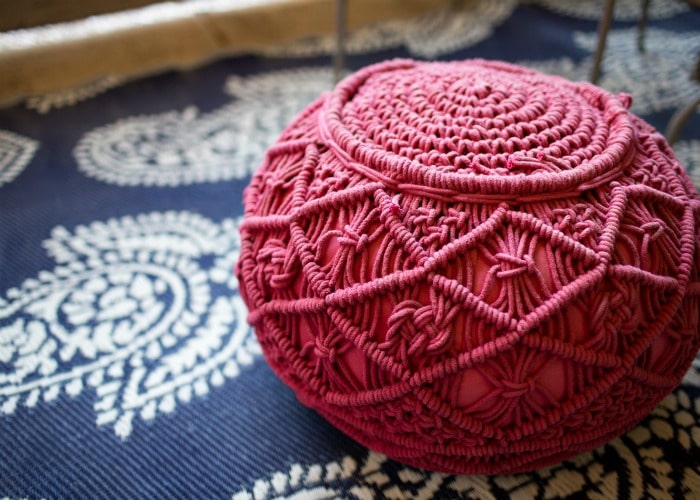 9. Keep it clean.
Small spaces collect dirt and dust faster because there are less places for it to hide. Get in the habit of sticking to a cleaning schedule to keep the mess in check.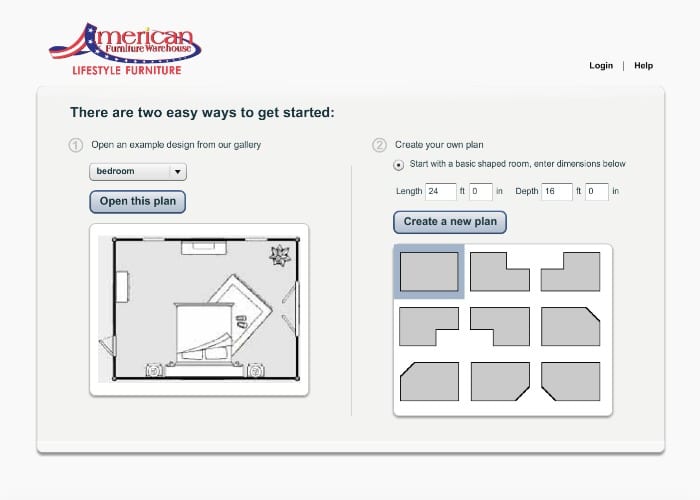 10. Come up with a plan.
I love the AFW Space Planner tool! It is a great way to visually see how your space will look and move around items before doing all the heavy lifting and shopping.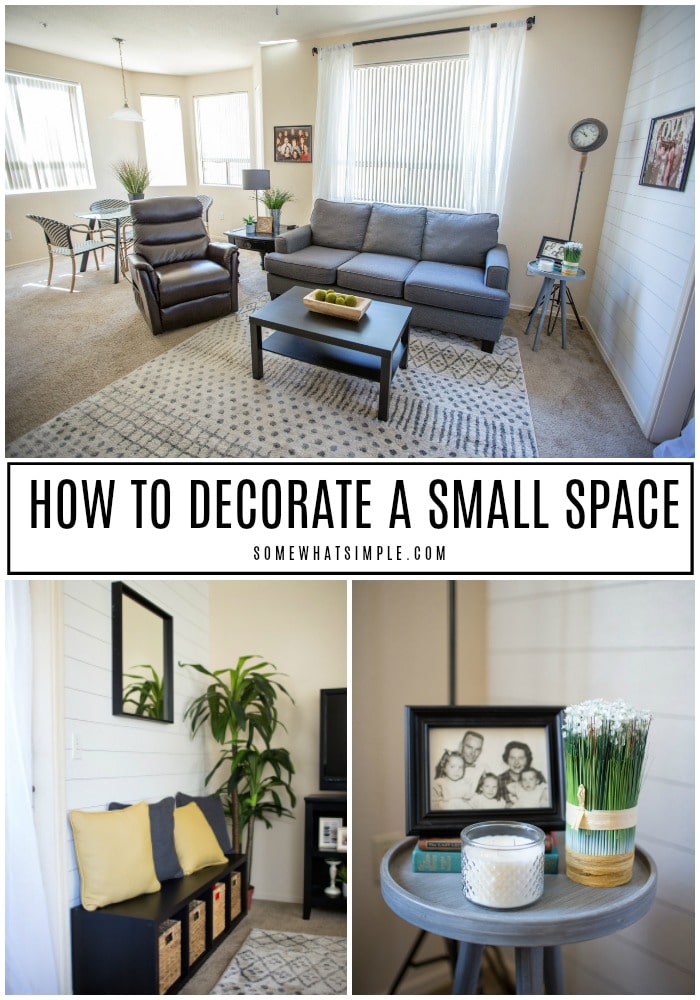 We hope we've inspired you to be creative with your space and make your house feel like a home!
If you're thinking about updating any room in your home with new furniture or accessories, I highly recommend that you visit American Furniture Warehouse. American Furniture Warehouse delivers to most places within the continental United States and the product selection and prices cannot be beat!
Styling / Design | Stephanie, from Somewhat Simple
Photography | Jessica Downey Photo
Sponsored by | American Furniture Warehouse