Roasted right, spaghetti squash is a tender, blank canvas just ready for a masterpiece (and consumption).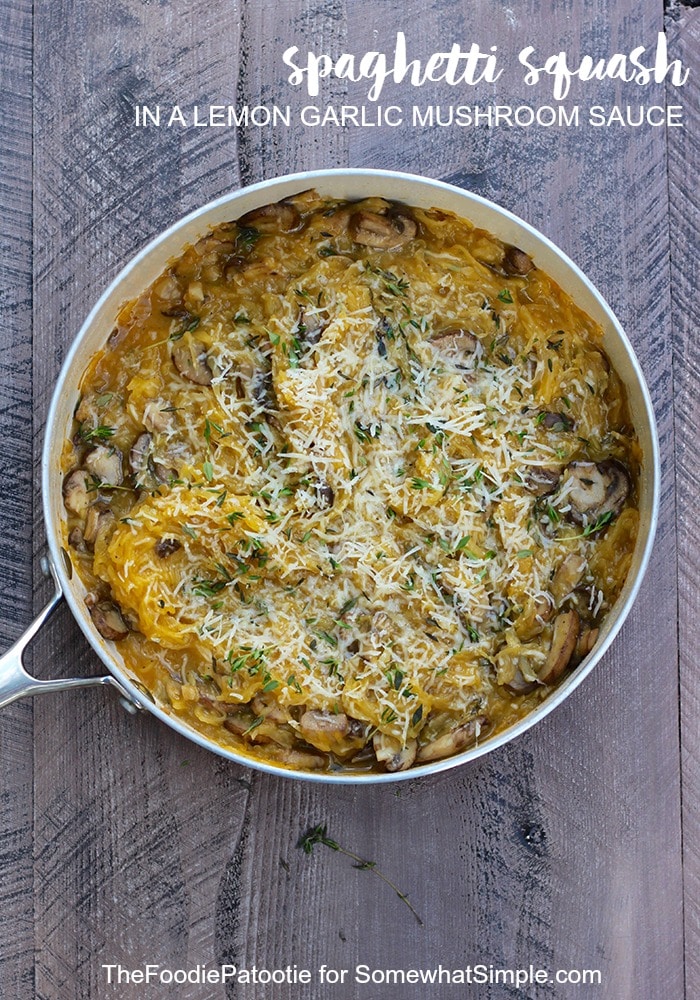 I'll let you in on a (not so) secret.
Lean in close.
I'm obsessed with pasta.
Pasta is such a staple. It's comfort food, it goes with anything, there are many sauces one can mix with it, and well, sometimes carbs are so worth it.
But, there comes a time (it only took me 30 years to get there!) when you look for healthier options. Whether it be because you swear you'll stick to this year's resolution or because you want to follow a trend, inevitably spaghetti squash comes into your field of vision.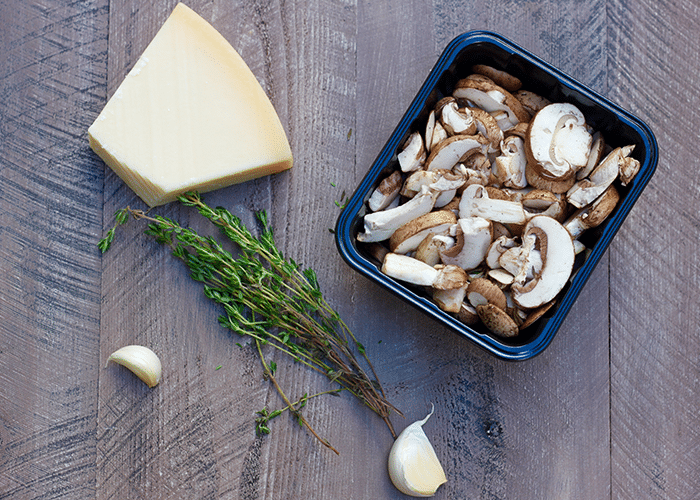 I truly have not found a sauce that I would normally use on my pasta dishes that doesn't go well with spaghetti squash.
The first step, though, is getting that perfect roast. Go ahead and start preheating your oven to 375°F because sometimes spaghetti squash, for all its good intentions, wants to give you a hard time in the beginning stages. There are articles out there that'll tell you how to more efficiently cut a spaghetti squash vertically in half and get through the tough outer skin. What I do is stick the point of the knife into the squash and then wield that blade down until it's broken the skin. I then continue all the way around the squash. It'll be harder at both ends, but you can do it!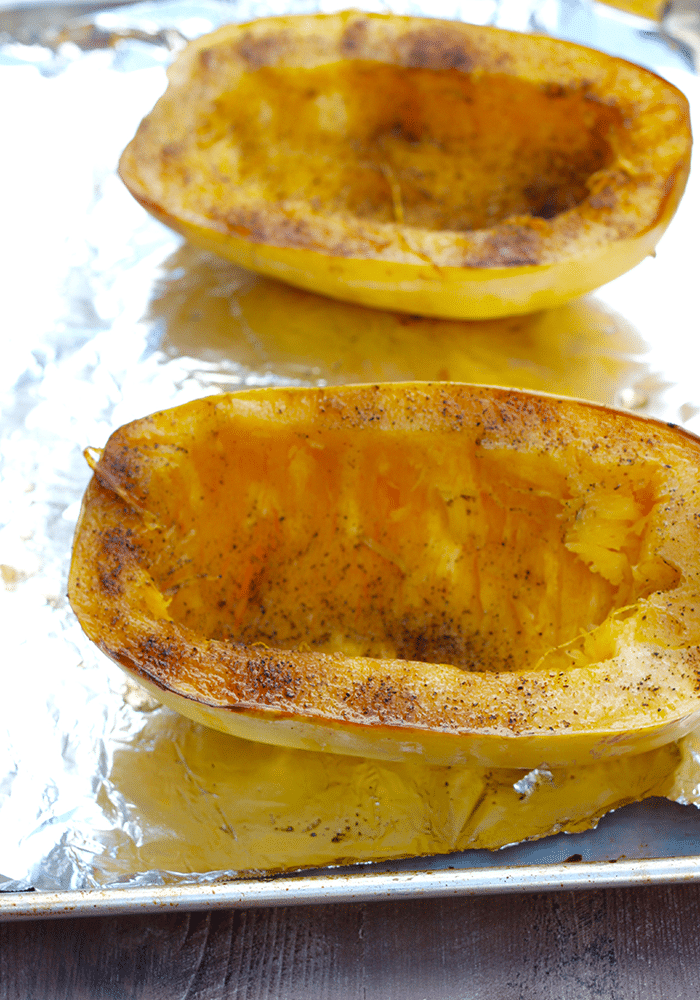 Next, the seeds need to be removed. Set them aside for roasting later with some salt and spices – they are delicious! Grab your handy olive oil dispenser and drizzle EVOO over the exposed halves of the squash, finishing with a generous dash of both salt and pepper. Then, turn each half over so the cut half is face down on a lined baking sheet. Put those beauties into the oven for about 40 minutes, or until the skin can be easily pierced with a fork.
And you'll have to wait a little while for the squash to cool enough to handle. Be patient.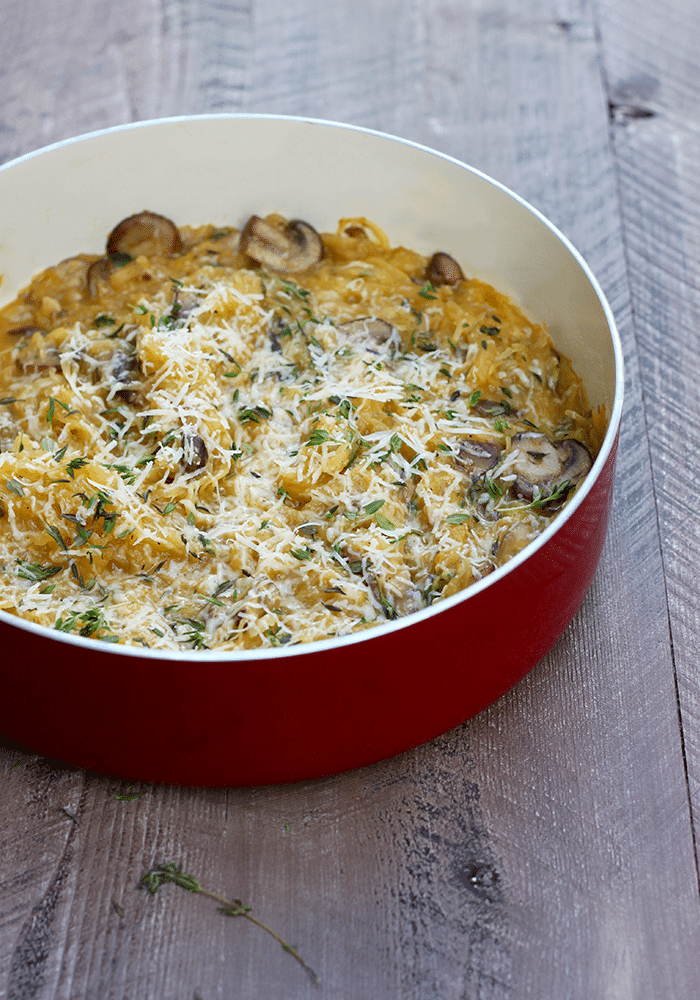 Now comes the really cool part. If you haven't made spaghetti squash before, prepare to be amazed. If you have made it before, you're probably still amazed every time, right? (I know I am!) Use your fork to scrape out the innards of the squash. Go ahead – it's a beautiful thing! Just look at those lovely strands of spaghetti!
Now, get to making the rest of the recipe (below). I hope you love it as much as I do!
Spaghetti Squash in a Lemon Garlic Mushroom Sauce
INGREDIENTS: 
Spaghetti Squash

1 medium or large spaghetti squash (you may end up with leftovers)
2 tbs extra-virgin olive oil
Large pinch each of salt and pepper
Lemon Garlic Mushroom Sauce

1 tbs extra-virgin olive oil
1 pint baby bella mushrooms, sliced
4 cloves garlic, minced
Juice from 1 lemon (or more, depending on preference)
Leaves from 6-7 fresh thyme stems
1 tbs all-purpose flour
1 cup chicken or vegetable stock
1/4 cup grated Parmesan cheese
Additional cheese and thyme to top
DIRECTIONS: 
Spaghetti Squash

Preheat oven to 375°F. Cut the squash vertically.
Drizzle one tablespoon and a large dash of both salt and pepper on both internal sides of the squash. Flip the squash over so the cut side is face down on a lined baking sheet.
Cook for 40 minutes or until skin is easy to pierce with a fork.
Remove from oven and allow to cool enough for handling. Once cooled, use a fork to scrape out the insides. Voila, spaghetti!
Lemon Garlic Mushroom Sauce

Heat olive oil in a slightly deep skillet set over medium heat. Add the mushrooms and cook 8 minutes, or until they are softened but still have a bite to them. Stir occasionally during this time and season with a pinch each of salt and pepper.
Add garlic and cook another 30-45 seconds being careful not to let the garlic burn.
Add lemon juice and thyme leaves; stir to combine.
Slowly add the flour to the pan, being sure to evenly distribute among all ingredients. Add stock and stir, allowing to thicken slightly.
Time to put that spaghetti squash into the sauce. I recommend using tongs to toss the squash and sauce together. You only need enough spaghetti in the pan to coat all the noodles with the sauce. Of course, you can add more or less, depending on your preference.
Top dish with Parmesan cheese and toss to combine. Finish with more cheese and thyme as desired. Add salt and pepper to taste.
ENJOY!