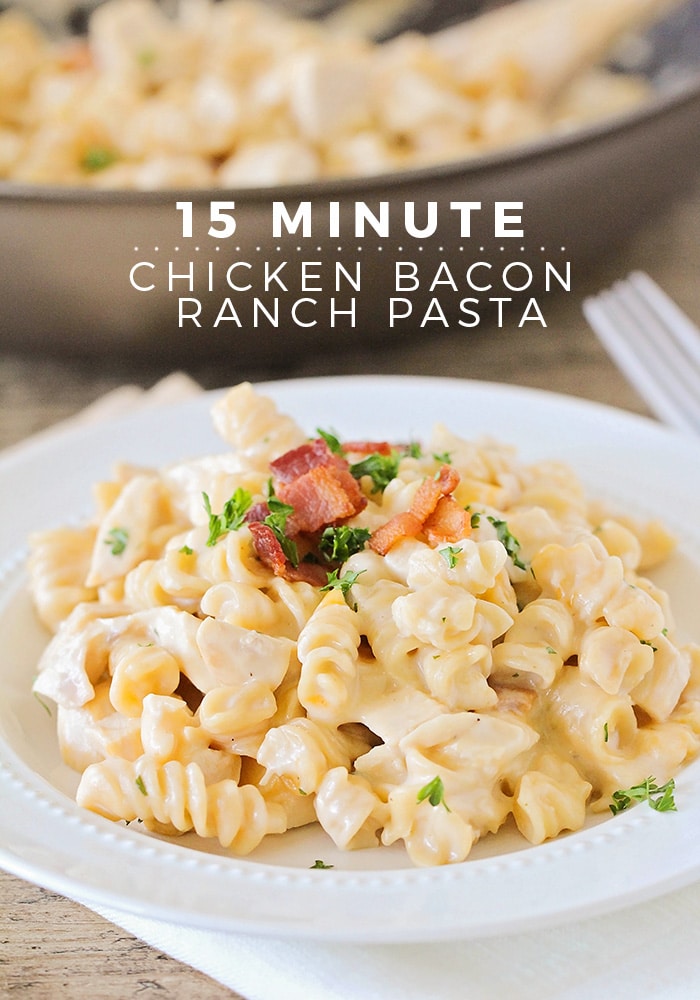 This is a sponsored conversation written by me on behalf of Barilla. The opinions and text are all mine.
The pasta used for this chicken bacon ranch pasta is ready in just 60 seconds and so delicious!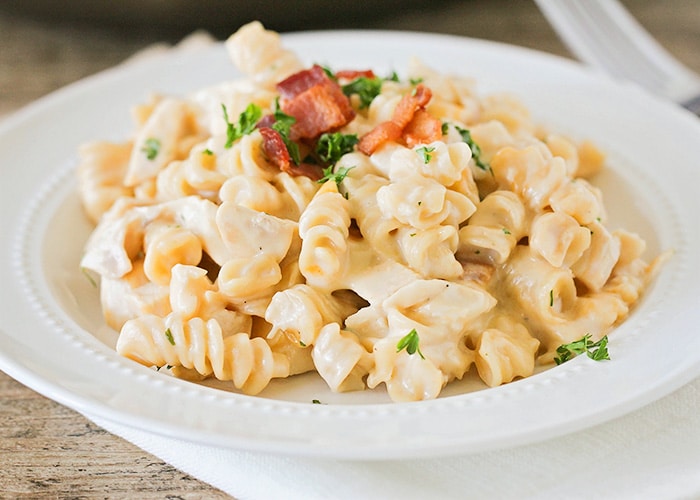 Chicken Bacon Ranch Pasta
When dinner time rolls around, I never seem to have quite enough time on hand. Between after-school activities, play dates, work obligations, and school events, our afternoons and evenings are usually pretty full. It's all too easy to just go through the drive-through for dinner, or to order takeout.
During the last year, I've made an effort to get back on track with homemade meals for my family. For me to get a quality meal on the table with busy schedules, it has to be quick easy, but also taste good! In order for me to get dinner on the table, it has to be quick and easy.
3 Easy Tips for Making Mealtime Faster and Easier
Along the way, I've discovered a few easy ways to stay on track with cooking meals at home. I hope they'll be helpful to you as well!
1- Prep Your Meals
I started meal prepping a few months ago, and it has made a huge difference. I shared all of the details in this post, but the gist of it is that I pre-cook most of my protein and prepare my vegetables at the beginning of the week, so when it's time to cook dinner, I have everything ready to go. It saves so much time to have everything already prepped, and I can just pull out what I need when I'm ready.
2- Use Barilla Ready Pasta
I can't tell you how many times I've started cooking dinner, made a delicious sauce or protein, and then realized that I forgot to start cooking the pasta to go with it. Twenty minutes later, the food is getting cold, while I'm still waiting for the pasta to cook, and I'm about ready to throw in the towel with dinner. That's where Barilla Ready Pasta saves the day! It's fully cooked to al dente perfection, and ready to eat in just 60 seconds. Imagine that, perfect pasta in just 60 seconds!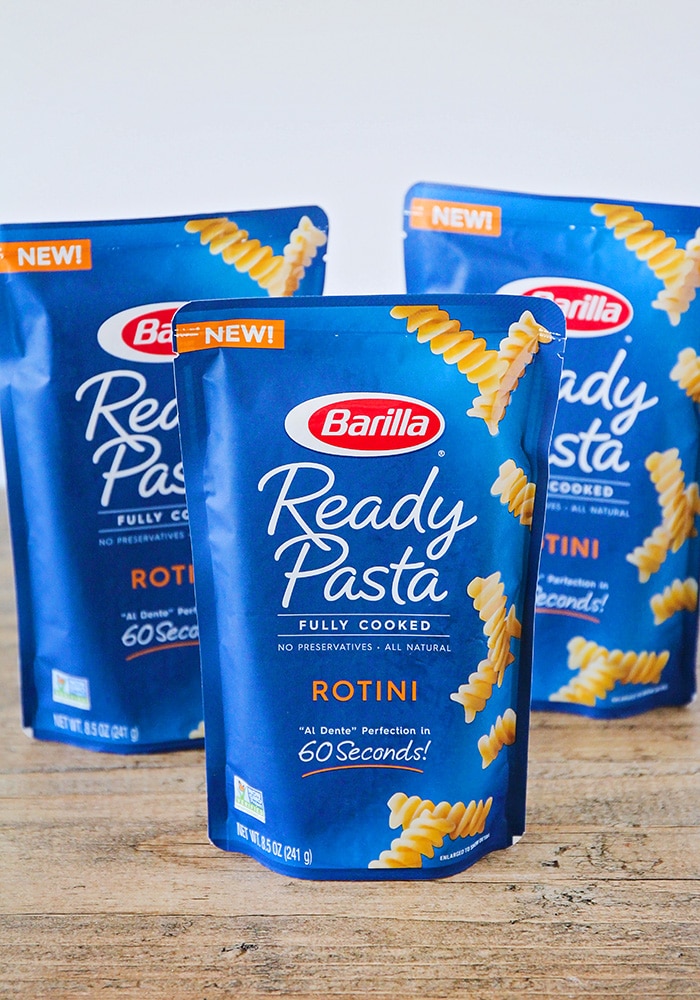 Barilla Ready Pasta is made with just three ingredients: fully cooked pasta, a pinch of sea salt, and a touch of extra virgin olive oil. It has no preservatives, is non-GMO, and is all natural. It also has a fantastic texture and tastes great! You can find Barilla Ready Pasta in the dry pasta aisle, and store it in the cupboard for those nights when you need a quick and easy route to delicious pasta.
3- Use Up Those Leftovers
This tip was a total a-ha moment for me. Why cook twice when I can just cook once? Instead of cooking just enough for my little family of four, I often double or triple recipes, and make enough for more than one meal. That way, a few nights later, when I'm busy or not feeling like cooking, I can just reheat the leftovers and have an easy dinner on the table. My husband's lunches at work are nearly always leftovers from dinner the night before. If I know we're not going to eat the extra food before it goes bad, I'll freeze the extra in serving-size portions, so it's easy to pull out of the freezer for a quick lunch. It's a great way to save both time and money, and make sure we're not wasting food!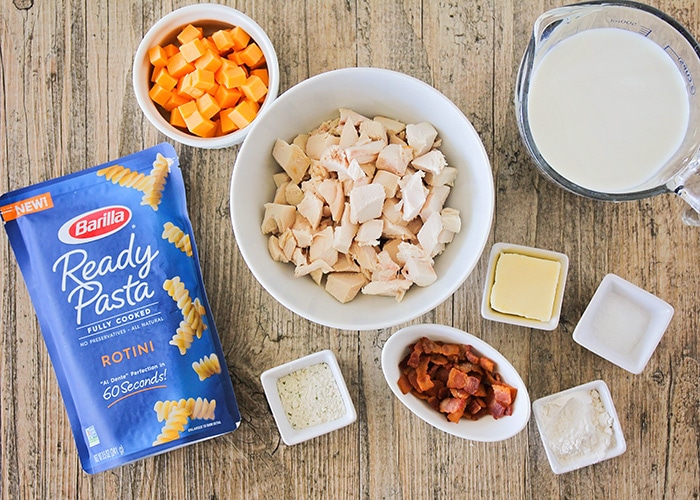 Now that I've shared some of my mealtime tips with you, here's one of my favorite recipes that utilizes all of those tips! This chicken bacon ranch pasta is incredibly flavorful and delicious, a huge favorite with both kids and adults, and (best of all) it takes just a few minutes to make! I made this pasta using rotisserie chicken that I had prepped at the beginning of the week, and I used Barilla Ready Pasta to speed things up. I served it with a leftover green salad from the night before, and it was an amazingly easy and super delicious dinner.
This chicken bacon ranch pasta is creamy and cheesy, loaded with chunks of tender chicken and savory bacon, and perfectly cooked al dente pasta. This recipe makes four adult servings of pasta, so feel free to scale the recipe up or down, depending on the size of your family. It's sure to be a new favorite!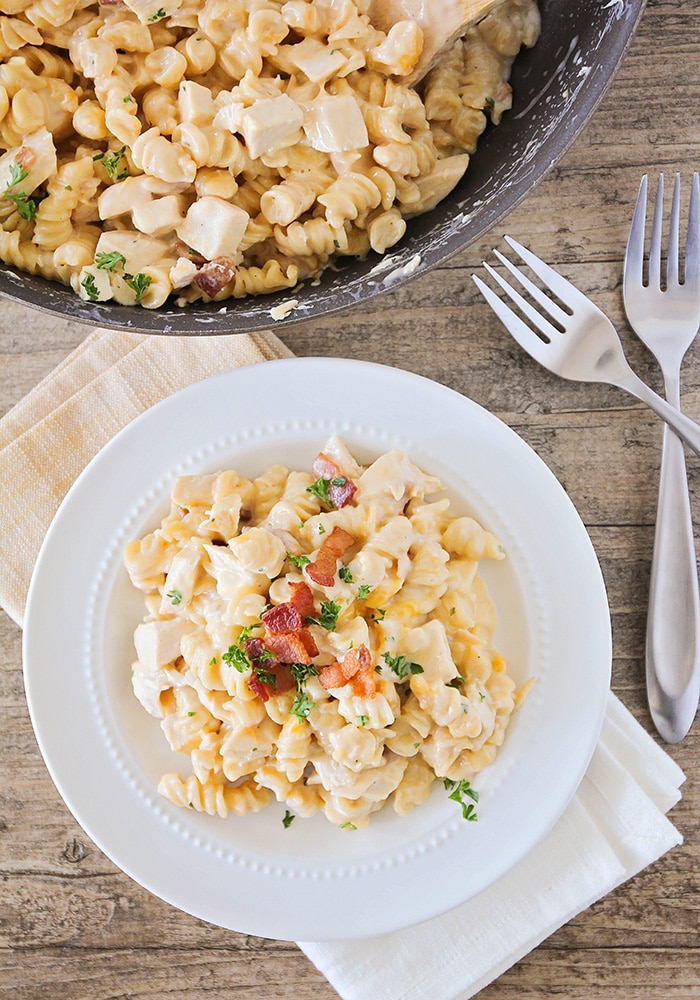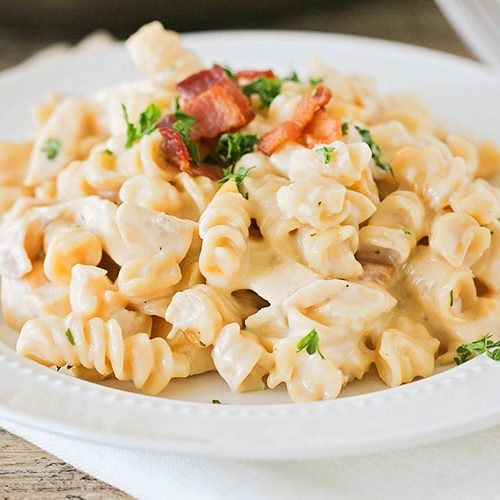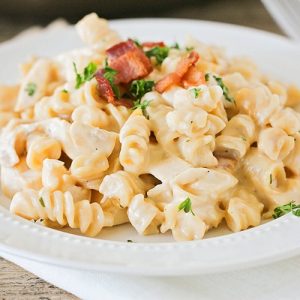 Chicken Bacon Ranch Pasta Recipe
The pasta used for this chicken bacon ranch pasta is ready in just 60 seconds and so delicious!
Ingredients
2

8.5 oz

rotini pasta

Barilla Ready Pasta Rotini packages

2

cups

chicken

chopped cooked rotisserie

4

slices

bacon

cooked and chopped (or precooked bacon)

1

tablespoon

butter

1

tablespoon

flour

2

cups

milk

1/2

teaspoon

salt

1

tablespoon

ranch seasoning mix

dry

2

ounces

cheddar cheese

cut into small cubes
Instructions
Heat the pasta in the microwave, according to the package directions. Set aside and let cool slightly.

In a large skillet, melt the butter over medium heat. Whisk in the flour and cook 2-3 minutes, or until golden brown and bubbly.

Slowly add the milk, a little at a time, whisking constantly. Continue to cook for 3-5 minutes, or until thickened. Whisk in the salt and ranch seasoning mix.

Add the pasta, chicken, and bacon, and cook until heated through. Remove from heat and stir in the cheddar cheese until the cheese has melted. Serve hot.
Nutrition Facts
Chicken Bacon Ranch Pasta Recipe
Amount Per Serving (1 Bowl)
Calories 326
Calories from Fat 216
% Daily Value*
Fat 24g37%
Cholesterol 69mg23%
Sodium 902mg39%
Potassium 270mg8%
Carbohydrates 10g3%
Protein 15g30%
Vitamin A 465IU9%
Vitamin C 1mg1%
Calcium 243mg24%
Iron 1mg6%
* Percent Daily Values are based on a 2000 calorie diet.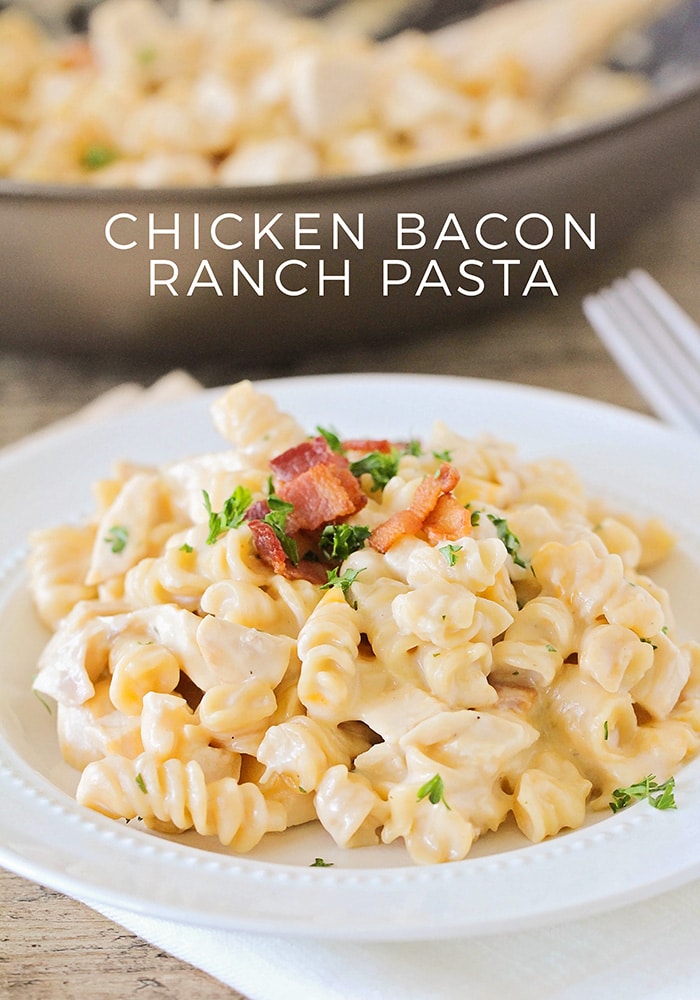 This post is a sponsored conversation written by me on behalf of Barilla. The opinions and text are all mine.