This simple and healthy one pot chicken parmesan skillet is ready in about 30 minutes and so delicious!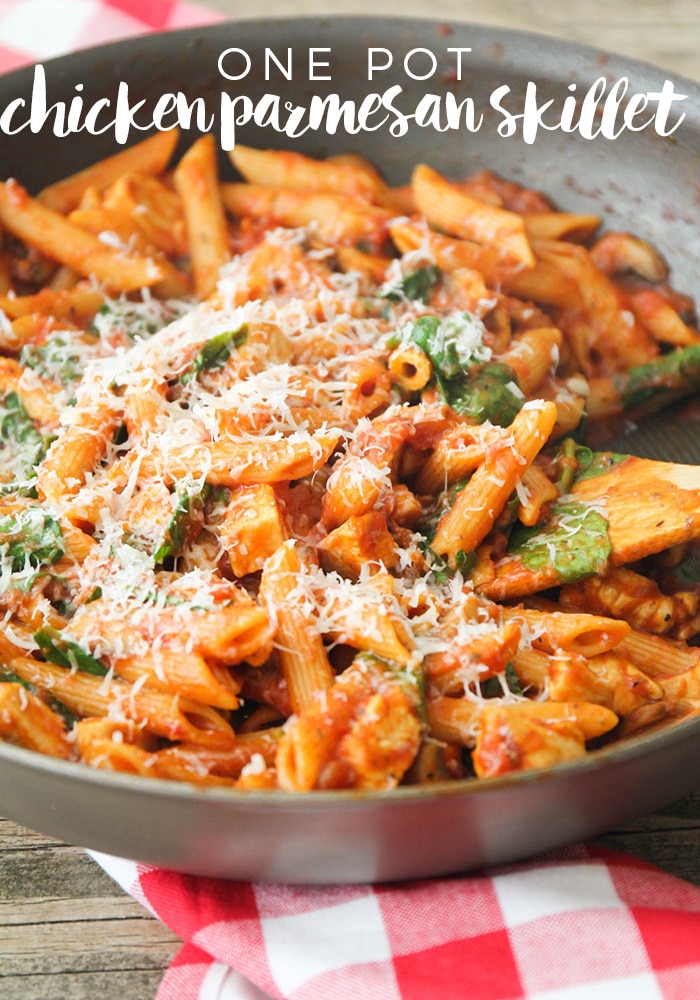 When it comes to cooking dinner, I think a lot of us are in the same place: we're busy, we're tired, and we want something healthy that also tastes delicious. Generally, I don't have more than thirty minutes or so to cook dinner, so I am always on the lookout for tasty meals that I can prepare quickly and easily. This one pot chicken parmesan skillet fulfills all of my requirements, and tastes fantastic, too! I made it using O Organics® products from Albertsons, Safeway and Vons, and I was really impressed with the quality of ingredients, as well as how affordable they are.
I recently had the opportunity to attend an event in Chicago with O Organics and Albertsons. It was such a fun experience and I learned a lot! We started the day with a fantastic breakfast of overnight oats (mine had strawberries and chocolate chips and tasted amazing!), and then had a cooking demonstration with registered dietician Annessa Chumbley. We learned some great tips for healthy eating, and watched her make several delicious recipes using O Organics products. I loved her idea of prepping all your protein for the week at the beginning of the week, to make dinner a snap on busy nights. I also really liked her idea of substituting zucchini for the noodles in a pasta dish. Such a simple and healthy substitution!

MY LATEST VIDEOS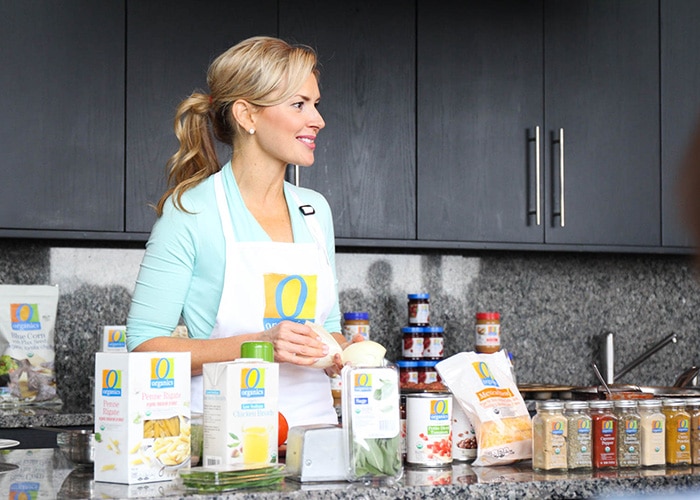 We had a really fun group of amazing food bloggers at the event!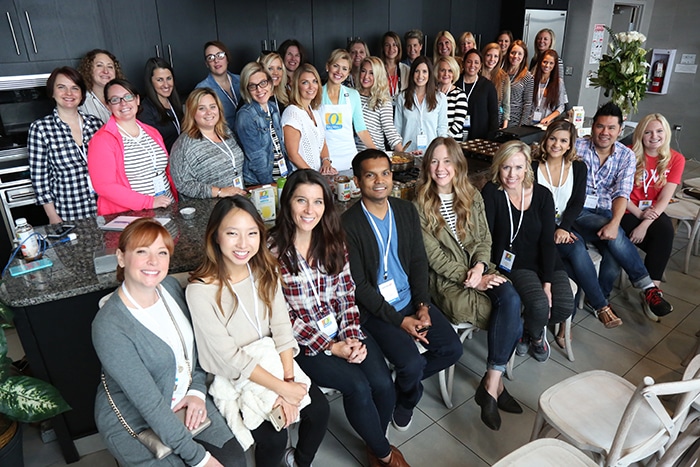 (image courtesy of Albertsons Companies)
After the cooking demonstration, we had the opportunity to try out some O Organics products by cooking with them in the kitchen. The range of products really surprised me, from baking basics like sugar, flour, and spices, to fresh produce, meats, fresh dairy, and even snacks! It was really fun to have so many food bloggers all in one kitchen, working together to create amazing recipes. My group made some triple berry muffins together, and they came out great. The ingredients were very high quality, and the finished product was so delicious!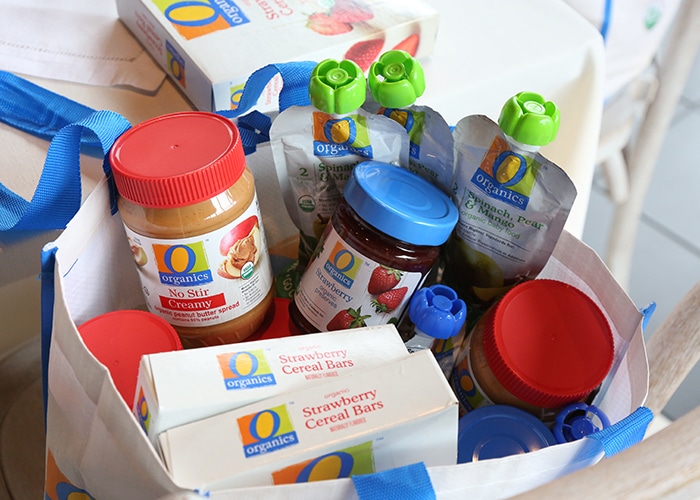 (image courtesy of Albertsons Companies)
When we were done cooking, we enjoyed a fantastic lunch of sweet potato tacos, then did some stretching and yoga, which was the perfect way to end the day. We also got to choose some O Organics products to take home, and I can't wait to cook with them! It was a great day, and I really enjoyed learning more about the O Organics line. I love that their goal is to make organic food accessible to all families!
After returning home, I was excited to try out some O Organics products to cook a nutritious and flavorful meal for my family. I made a quick trip to my local Albertsons to pick up everything I needed. The ingredients I needed were very affordable, and also convenient and easy to find in my store. I purchase my O Organics products at Albertsons Safeway and Vons, but O Organics products are available at the Albertsons family of stores across the country, including Jewel-Osco, Shaw's, ACME Markets, Tom Thumb, Randalls, Pavilions and Star Market. I had the opportunity to work with a vast selection of O Organics products, but please check your local Albertsons family store to see what's available in your area.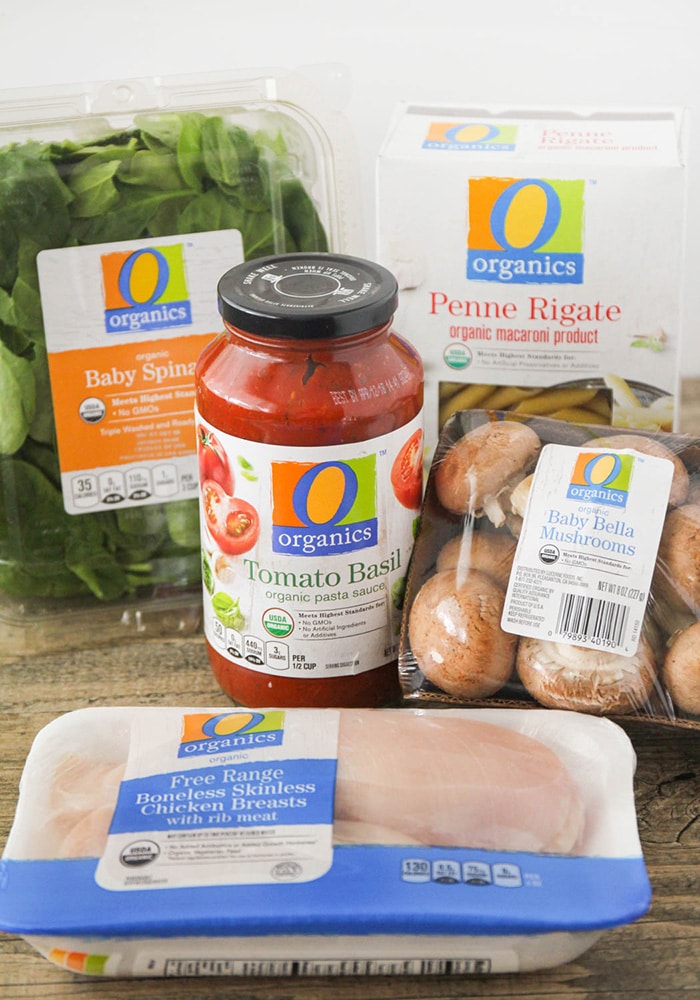 This one pot chicken parmesan skillet was simple and easy to make! I started with some O Organics boneless skinless chicken breast, which I sautéed until browned, then added some O Organics baby bella mushrooms and cooked until tender.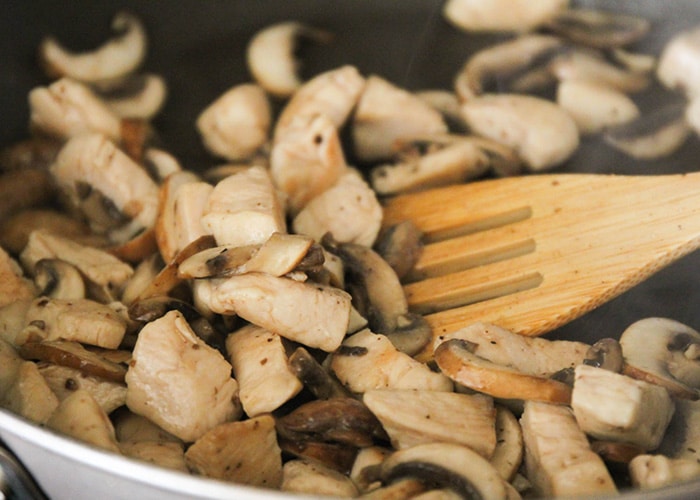 Next I added this delicious O Organics tomato basil pasta sauce. It is seriously so flavorful, and tastes like homemade!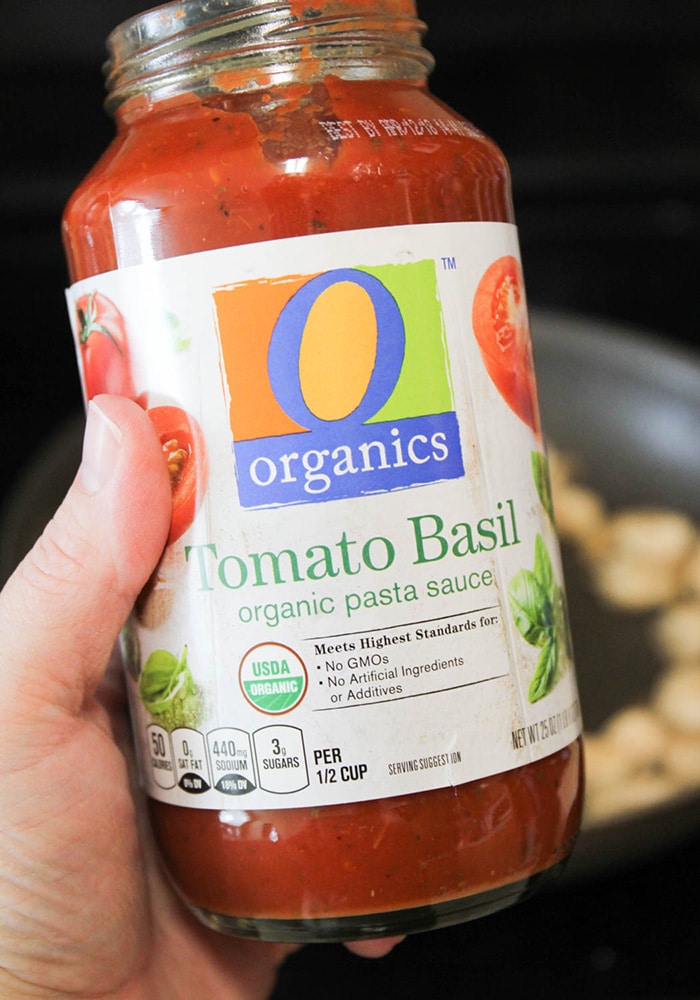 I then added some water to the skillet, and stirred in some O Organics penne pasta. The penne cooks right in the skillet with the other ingredients, which means one less pot to clean!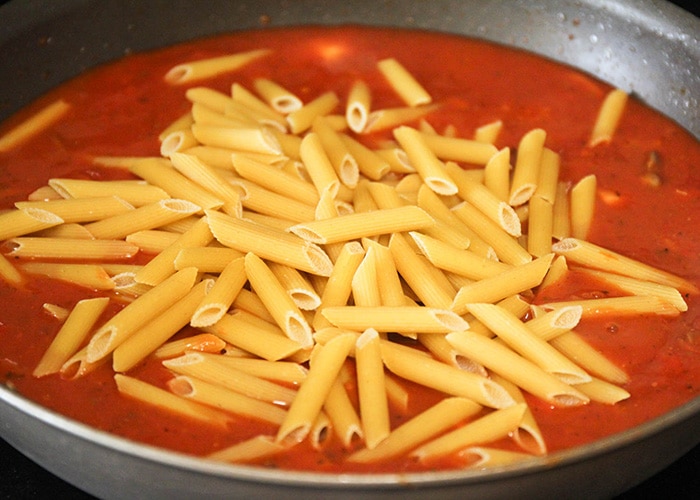 Cover and simmer 15-20 minutes, or until the pasta is tender. The pasta absorbs the liquid and becomes really flavorful.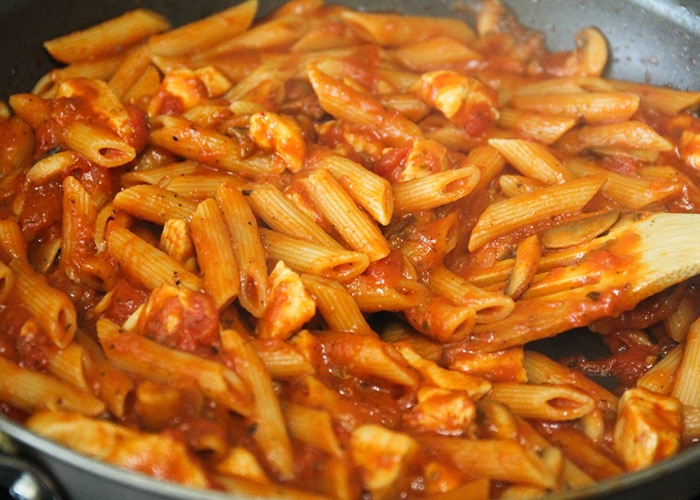 The last step is to stir in some fresh spinach, and add a little sprinkle of parmesan on top. So delicious and so simple, too! My kids (who ordinarily don't like mushrooms or spinach) both cleaned their plates and pronounced it a delicious dinner. This one pot chicken parmesan skillet is definitely one I'll make again, since it was so quick and easy!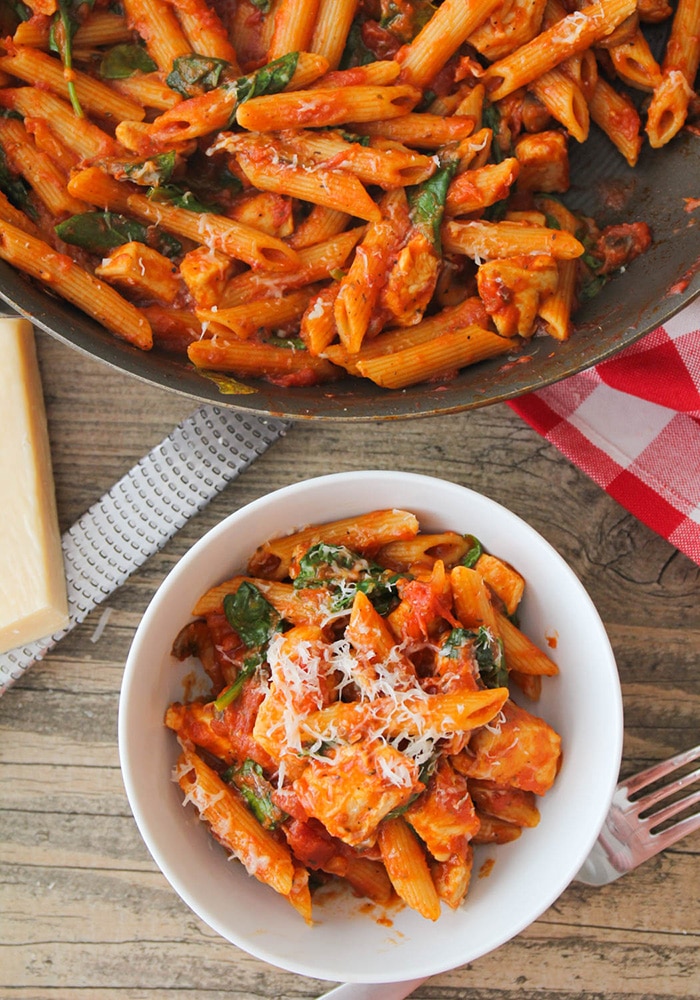 One Pot Chicken Parmesan Skillet
INGREDIENTS:
1 pound O Organics Chicken Breast, cut into bite sized pieces
1 teaspoon O Organics olive oil
8 ounces O Organics Baby Bella mushrooms, cleaned and sliced
salt and pepper to taste
1 jar (25 ounces) O Organics Tomato Basil pasta sauce
2 cups water
1/2 pound O Organics penne pasta
2 cups O Organics baby spinach
1/4 cup shredded parmesan cheese
DIRECTIONS:
Heat the olive oil in a large skillet over medium heat. Add the chicken breast and cook, stirring occasionally, until browned. Add the sliced mushrooms to the skillet and sprinkle with salt and pepper. Cook the mushrooms until tender.
Add the pasta sauce, water, and penne to the skillet, and stir to combine. Cover and simmer 15-20 minutes, or until the pasta is tender. Remove from heat and stir in the baby spinach. Sprinkle with parmesan cheese just before serving.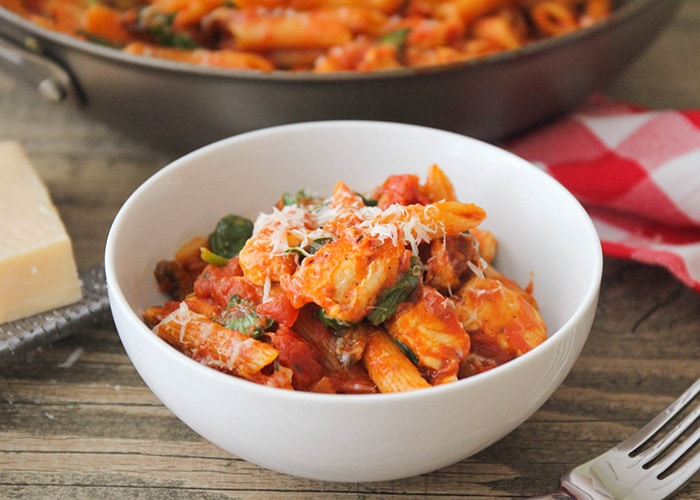 Thank you to Albertsons and Safeway for sponsoring this post. All opinions are my own.